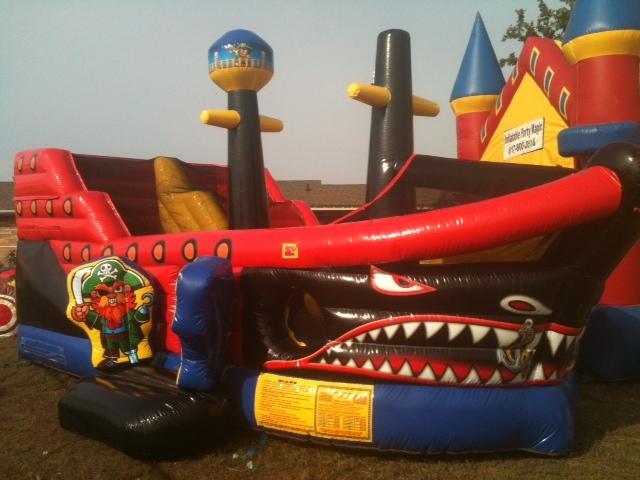 Lil Pirates Playground Toddler Combo dry use only
Actual Size: 13 'X 22'
Setup Area: 15' X 24'
Outlets: 1




This Lil Pirates Playground Toddler bounce house combo is a 13' X 22' inflatable designed specifically for toddlers. It truly looks like a pirate ship and will have your child and their friends feeling like real pirates as they interact with the pop-up characters and slide to the finish. This inflatable is great for ages 2 to 12 but don't worry, adults can do it with their children too since the top of the age rating is for fun factor only. The Toytown Toddler Combo makes it very easy for smaller kids to manage all of the activities as they are geared for smaller children. This unit includes a bouncing area, 3D vertical popup obstacles, horizontal obstacles, climbing wall, and slide. It features the following items for safety: entrance step, open top and netted windows for ventilation, and the ability to see what the kids are up to at all times.
Toddlers combos have become the favorite inflatable with toddlers and small children. Regular bounce houses only offer a jumping experience, which is sometimes quite frightening for a small child. Sometimes it is just the sound of the bounce house blower and the roof above them can make them feel trapped and overwhelmed.
The Toddler bounce combos have an open top concept so that toddlers can see the light above them and not feel so closed in. The noise level is not a factor either since is not a top and the sound escapes. Toddler combos offer bouncing throughout them, but the bouncing space is broken up with interactive popup characters and obstacles throughout the bouncing space. Additionally, they have a small slide and climbing wall that is slightly slanted and positioned in a manner that makes it very easy for a small child to climb up and slide without assistance.
The Little Pirates Playground Toddler Bounce House Combo provides time for exploration and adventure so they can sail away to look for hidden treasure at their next party!