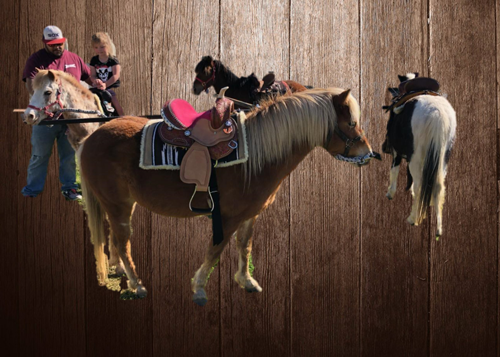 4 Pony Carousel Rides
4 Pony Ride Carousel from M&M Pony Express
M&M Pony Express offers a 4 pony ride carousel that will hold up to 4 ponies at time. The price for the 4 Pony Ride Carousel is $110.00 per hour per pony for the first hour and $75.00 per hour per pony for every hour after that. 4 Pony Ride Carousels have a minimum of 2 hours. This 4 pony carousel is a great option if you are going to have a larger event that requires more than one pony to work your guests through in a small time frame. Lead-in Pony rides are still your least expensive option if you are just needing one pony to ride, but if you need 2 or more ponies to ride, it might just be less expensive to rent a pony ride carousel with 3 or 4 ponies. With a 4 pony ride carousel, you can work a large volume of children through in a short time frame.
Additional Pricing for the Pony Rides
Your little girl can choose to have a carousel full of unicorns. A Unicorn 4 pony carousel is $135.00 per hour per unicorn and $100.00 per hour per unicorn after that. Each pony will be dressed with floral arrangements and unicorn horns for a beautiful presentation. You can visit our unicorn pony rental page to see the ponies dressed as unicorns. If you choose to rent a unicorn carousel, you would need to contact us at 817-800-8618.
We do require a $50 deposit to book pony parties. The parties are non-refundable. You can change your date or if the weather is bad on your date, we will credit your deposit to a future party date.
Call us to book ponies at 817-800-8618. Online booking is available, but can be confusing if you are booking multiple items or putting in a large time range as they are priced by the hour and choosing a larger time slot will increase the price you see for ponies.
It is possible to have ponies for only 2 hours from M&M Pony Express and still rent an inflatable for all day with Inflatable Party Magic LLC. We will deliver inflatables and the ponies at separate times. An attendant will arrive with your pony rides 30 minutes before your party begins to get setup and ready for your party.
4 Pony Ride Carousel Requirements:
4 Pony Ride Carousel are great for ages 3 to 10. We will provide a helmet for all children to wear to ensure safety while riding the ponies. All of our ponies are generally safe, friendly, and quiet ponies; however, they are animals and ponies like most animals can be unpredictable.

All Pony rides do require signed waivers for all participants. Each child must have one completed by their parent and/or legal guardian in order to participate:

Click here for Waiver