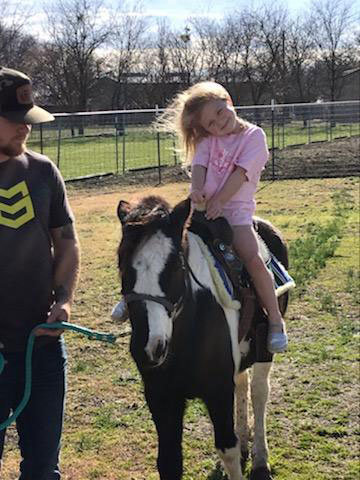 Pony Rides Lead In
Pony Ride Rentals Lead-In from M&M Pony Express
M&M Pony Express Servicing Cleburne, Burleson, Granbury, Fort Worth, Mansfield, and more.
M&M Pony Express offers lead in pony rides for smaller pony ride parties starting at $175.00 per hour per pony for the first hour and $100.00 per hour and per pony for every hour after that. Ponies are fully saddled and have a matching halter and lead rope. All tack is in new condition and maintained excellently so they always look great. Our trained staff will arrive 30 minutes before your party to get setup and get the pony or ponies ready for your party. Our staff will stay throughout your party and hand lead the pony giving the children lead around pony rides. Your kids will love the pony rides and will talk about them for years to come!
Pricing on the Pony Rides
You can turn your pony into a unicorn for an extra $25.00 per hour. Every little girl loves a unicorn. To choose this option, choose unicorn pony rides instead of just pony rides. You can even choose a carousel of 4 unicorn ponies if you are having a bigger event. If you would like to book the unicorn pony rides, you will need to choose that option instead of this one. you can simply hit the back button and choose the unicorn lead-in pony rides.
We also offer a pony carousel that will hold up to 4 ponies at time. The Pony Carousel is $110.00 per hour per pony for the first hour
and $75.00 per hour per pony for every hour after that. Pony Carousels have a minimum of 2 hours. Unicorn pony carousel is $135.00 per hour per unicorn and $100.00 per hour per unicorn after that. If you would like to book the pony carousel, we offer them in 3 pony and 4 pony and you can book these by hitting the back button and either choosing the 3 carousel pony ride or the 4 pony carousel ride.
We do require a $50 deposit to book pony parties. The parties are non-refundable. You can change your date or if the weather is bad on your date, we will credit your deposit to a future party date.
Call us to book ponies at 817-800-8618. Online booking is available, but can be confusing if you are booking multiple items or putting in a large time range as they are priced by the hour and choosing a larger time slot will increase the price you see for ponies.
It is possible to have ponies for only 2 hours from M&M Pony Express and still rent an inflatable for all day with Inflatable Party Magic LLC. We will deliver inflatables and the ponies at separate times. An attendant will arrive with your pony rides 30 minutes before your party begins to get setup and ready for your party.
Pony Ride requirements:
Pony rides are great for ages 3 to 10. We will provide helmets for all riders to ensure safety at all times. Even though our ponies are generally safe and friendly, they are animals and can be unpredictable.
All Pony rides do require signed waivers for all participants. Each child must have one completed by their parent and/or legal guardian in order to participate:
Click here for Waiver