20 X 20 Commercial Frame Tent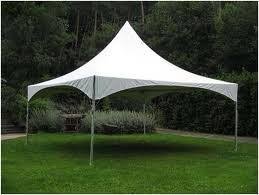 Setup Area: 25' X 25'
Actual Size: 20' X 20'
Monitors: Tents must be anchored either by 36" stakes in the grass or on concrete with water barrels or drilled anchors- For water barrels, you must have water within 100 foot of where you are setting up the tent. There are additional charges for concrete setups.
Outlets: If permits are required- the customer must pay for and obtain those. We do not obtain permits. All underground lines must be marked prior to our arrival.
Description
20 X 20 Tent Rental
20 x 20 Tent in DFW Texas
We do not do same day setups of tents. If you book a tent, you will need the flexibilty of having it setup the day before and picked up the day after.
Inflatable Party Magic offers this high quality 20 X 20 High Peak Frame Tent Rental to add shade to your next event. Our 20 x 20 tent offers your guests protection from rain and sun. This is the best 20 x 20 tent rental in the DFW area. If you are looking to impress, this 20 x 20 tent is the tent you are looking to rent. The High Peak offers an upscale look to the normal classic style tent. Not all canopies are created equal so make sure you know what you are getting from the company providing your rental. This tent is the perfect addition to your backyard party, corporate event, or any special event you may be having. If you are looking for a 20 x 20 tent rental, look no further. This tent is a beautiful addition to any party or event.
Know what you are getting when with a tent rental 20 x 20
The most requested tent is the tent rental 20 x 20. This is a smaller size tent that fits on most backyards or small venue to provide a place for food or a place to sit and eat for a small group. Our 20 x 20 tent rentals are the best in the DFW area. We keep our tents clean and well maintained.
We get many last-minute calls from people that thought they were getting a high peak canopy for their event until the company shows up with just a standard classic roof tent and it ruins the look of their whole event. When you rent a 20 x 20 high peak tent, the canopies form a peak in middle to create a more expensive look and appearance. Classic or standard style tents do not offer this same look. There is also a new style of canopy that is basically built no different than a popup tent and some companies are renting these as commercial grade. They are not the same look or safety that you get from a truly commercial canopy. Our tent rental 20 X 20 is a commercial grade canopy that is manufactured by Aztec Tents. Aztec is one of the leading manufacturers in commercial grade canopies. They are rated to withstand over 60mph winds.
20 x 20 Tent Rental Setup
We provide complete professional tent setup and take down of your 20 x 20 tent rental. Our staff will normally be scheduled to come out the day before your event to setup your rental items since the setup is lengthy and labor intensive. Please make sure our staff know if your items will be setup on concrete as this is a much different setup and requires us to bring additional items to make sure the tent is secured safely and properly for your event. If you need same day setup of your rental, please contact our office and talk with our staff. We do offer that in some instances.
What you Need for a 20 x 20 Tent Rental setup:
Grass Setup for 20 x 20 Tent:
If you are setting up your 20 x 20 tent on grass, you will need to have all water, gas, electrical, fiber optic, or septic lines marked before we arrive to setup and stake down the Tent.
Concrete Setup for 20 x 20 Tent:
There is an extra charge for concrete setup of tents. If you are setting up your 20 X 20 tent on concrete we must use water barrels or drill anchors into the concrete. If we are using water barrels, you must have water within 100ft of where you are setting the tent. For concrete anchors, we provide the anchors and drill.
Any Permits required are the customers responsibility to apply and pay for.
If you are having a hard time trying to find the correct size for your needs, please contact our office at 817-800-8618 and we can help you decide which size will best fit the layout of your event and the space you have to set your tent.
Additional Rental Items
Be sure complete your tent rental with tables and chairs so that your guests will have a place to sit and get comfortable. If you are having food at your event, make sure you add additional tables to setup your food and drink tables. We offer 6ft and 8ft. rectangle tables in both white and black. We also offer round tables in 48" and 60". Inflatable Party Magic has your chair needs covered as well by offering standard plastic rental chairs in both white and black as well as a more upscale wedding type white resin garden chair.
We rent 20 X 20 Tents to DFW Texas
We rent 20 x 20 tents to the DFW Texas cities of Cleburne, Keene, Alvarado, Burleson, Midlothian, Maypearl, Crowley, Godley, Joshua, Lillian, Granbury, Glen Rose, Acton, Tolar, Lipan, Aledo, Fort Worth, Southlake, Trophy Club, Rio Vista, Grandview, Venus, Waxahachie, Red Oak, Cedar Hill, Whitney, Covington, Itasca, Blum, Hillsboro, Kopperl, Morgan, Arlington, Mansfield, Kennedale, Everman, Rendon, Briar Oaks, Benbrook, River Oaks, Kennedale, Forest Hill, Grand Prairie, Weatherford, Cresson, and other cities in the following counties: Johnson County, Hill County, Ellis County, Hood County, Somervell County, Bosque County, and Tarrant County.
Trust Inflatable Party Magic LLC to properly install your tent and make your event a success!