20 X 20 Commercial Frame Tent with Sidewalls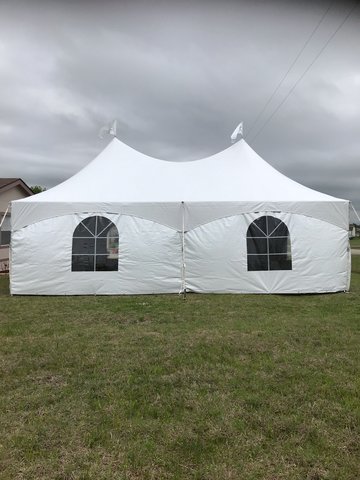 Setup Area: 25' X 25'
Actual Size: 20' X20'
Monitors: Tents must be anchored either by 36" stakes in the grass or on concrete with water barrels or drilled anchors- For water barrels, you must have water within 100 foot of where you are setting up the tent. There are additional charges for concrete setups.
Outlets: If permits are required- the customer must pay for and obtain those. We do not obtain permits. All underground lines must be marked prior to our arrival.
Description
20 X 20 High Peak Tent Rental with Cathedral Sidewalls
We do not do same day setups of tents. If you book a tent, you will need the flexibilty of having it setup the day before and picked up the day after.
Inflatable Party Magic offers this 20X20 High Peak Tent rental that includes Sidewalls with cathedral windows tent to add shade, protection from the weather, and offer a touch of class to your next event. Let us make your tent rental extaordinary! The sidewalls offer a form of protection from the wind and other weather elements. The cathedral window side walls are the perfect addition to your tent for backyard parties, corporate events, or any special events you may be having. You don't sometimes realize just how much protection adding sides to a tent can do for your event if it is raining, windy, or cold. These side walls will make people much more comfortable.

If you are looking for the perfect addition to your tent or event rentals, you have come to the right place. Inflatable Party Magic offers so much more! We offer inflatable rentals and backyard game rentals for your entertainment, concession machine rentals for your sweet tooth or just to snack, photo booths for lasting memories of your event, pony rides for the kids, and tables and chairs so your guests will have a place to sit, eat, and be comfortable at your event. The backyard party games are less expensive entertainment options that can enhance any party not matter if you looking to entertain children or adults or even if you are on a budget.
What you Need for a 20 x 20 Tent with sidewalls Rental setup:
Grass Setup for 20 x 20 Tent with sidewalls:
If you are setting up your 20 x 20 tent with sidewalls on grass, you will need to have all water, gas, electrical, fiber optic, or septic lines marked before we arrive to setup and stake down the Tent.
Concrete Setup for 20 x 20 Tent with sidewalls:
There is an extra charge for concrete setup of tents. If you are setting up your 20 X 20 tent with sidewalls on concrete we must use water barrels or drill anchors into the concrete. If we are using water barrels, you must have water within 100ft of where you are setting the tent. For concrete anchors, we provide the anchors and drill.
Any Permits required are the customers responsibility to apply and pay for.
Do you Need Additional Items to Complete your Tent Rental?
Many people remember the tent but forget to add the table and chair rentals. We offer tables in rectangle & round. The chairs that are offered standard folding chairs and the wedding or garden chairs for a more upscale look. These items go hand in hand to keep people comfortable and happy. Don't forget to add the tables for your food and drinks as well. Do you need help establishing a seating layout? Inflatable Party Magic can help you come up with that.
Ready to Reserve Your 20X20 High Peak Tent with Sidewall Rentals?
Need help reserving your tent and side walls? Please do not hesitate to contact us today. We are always happy to assist you in any way that we possibly can.
Trust Inflatable Party Magic to properly install your tent and sidewalls to make your event a success! We have been providing party rentals in the DFW area since 2002 so you can fully trust us to make your event the best it can be.