Backyard Party Package 2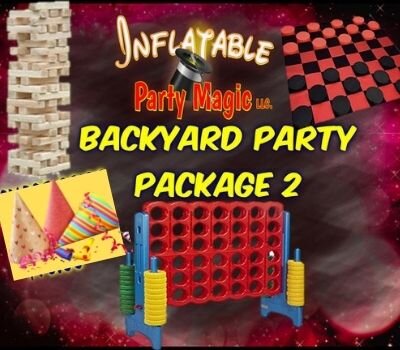 Setup Area: 47.6" L x 17.7" W x 46" H
Actual Size: 47.6" L x 17.7" W x 46" H
Description
Backyard Party Package 2 Rental
Rent Backyard Game DFW
Inflatable Party Magic is helping you take the DFW Texas fun of party games to new heights with this Backyard Party Package 2 Rental. This cool deal includes the following giant games: Jenga, Connect 4, and Checkers. These games can all be used inside or outside to create fun no matter what the weather decides to do on your event date. All of these games can be enjoyed by all ages and skill levels. You might even find your children are better than you at playing these activities. All three of the games in party package 2 have a way of getting everyone at your party involved in the fun.
Giant Jenga
Jenga will allow your creative side to meet your competitive side and you can decide which one you like better. How high can you build and then once you remove it, how long will it stand? Everyone at your party no matter what age, will have hours of fun from this game. You will find that people will do it over and over trying to see if they hold their position or mouth a certain way if the blocks will stay longer. It becomes a little addicting for kids and adults. It is the perfect activity to get adults, teens, and kids playing together.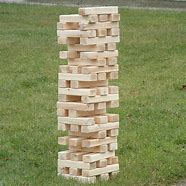 Giant Connect 4
This game is a Huge oversized version of the classic connect 4-in-a-row kid's game for two players or for teams. This connect 4 stands 4ft. tall and 4 ft wide so it stands almost as tall as the kids for a life-sized version of this hit activity. Adults can enjoy this game with their kids trying to see who can get 4 in a row with their discs first. It can be fun to play pairs and teams as well giving more people an option to play at one time.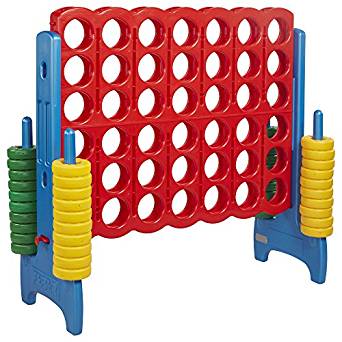 Giant Checkers
Giant checkers is an oversized version of the good old fashion checkers. It is really fun and exciting to play this classic family game in a life-sized version. You can play singles or even pairs with this huge checkerboard. You need to try this game out and see if you can jump your competitor more than they jump you. Will you still miss your move with this oversized version?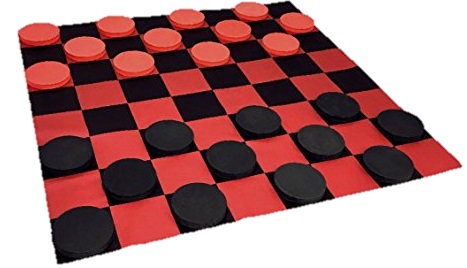 So clear some space in our backyard, home, school, garage, or parking lot and get your giant game on!

Great for backyard parties, carnivals, corporate parties, school events, church events, or indoor parties!