Bear Party Package Corporate- 25 kids included in price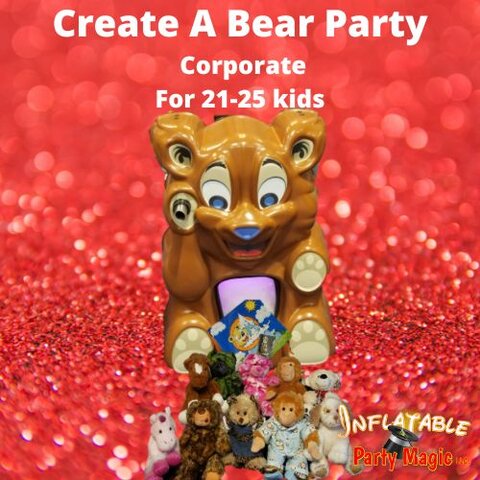 Setup Area: 10X10
Actual Size: 10'X10'
Outlets: 1
Description
Create a Bear Party Corporate 25 kids
This create your own bear party package is for 25 kids or more. 25 bears are included in the above pricing. Want to create a magical experience at your child's next Party? Ted can help them have a beary good time at your next party or event. Children get to pick out and help make their new stuffed best friend. Their animal will come with it's very own backpack so they can carry it around with them easily.

No need to leave your event place to make your own bears. Our trained staff will come to you and help your child and their friends' create their very own stuffed friend. It is no work or stress for the party giver. All we need is a small place to setup and we will handle it from there.bAny extra animals beyond the 25 the extra price per bear will be the package price divied by 25 for each additional bear beyond the first 25 included in your package
Clothing can be purchased separately. We have basic clothing and bear packages available to make it affordable to do bears with clothing. Clothing is not a must have item, but children do love to see their animals all dressed up.
Who are the bear parties the best for
This is a great option for Corporate Events, large Birthday parties, Churches, Schools, and Carnival type events. We come to you and make your event the best event ever. Children will remember and talk about these types of events for years to come. Please give us a call with any questions you may have! This package has become very popular for schools and fundraisers.

Does your school have a Christmas store or fundraiser that needs a boost? The traveling Create A Bear can provide the solution. All kids love stuffed animals and choosing their very own animal. Parents will normally give their children the money to create a bear since they do go home with someting they can love for many years to come. It is not empty money or just games. This party package is a win/win for everyone involved. We have gotten great feedback from our larger events. If you are looking for something different, this just may be the answer. The best part- we do the work and not you or your organization.
Ready to book your bear party?
Simply click add to cart and follow the directions to book your party online. If you prefer to speak to someone in person, feel free to contact us at 817-800-8618 and we can book it for you over the phone and take your deposit over the phone. We want to serve you in the best way possible to make your event special and stress free.

Don't forget to add tables & chairs, concession machines, party games or other awesome rental products we have available to make your party the best party ever!

Together we can create a magical experience that will last a lifetime!