Carnival Game 5 Pack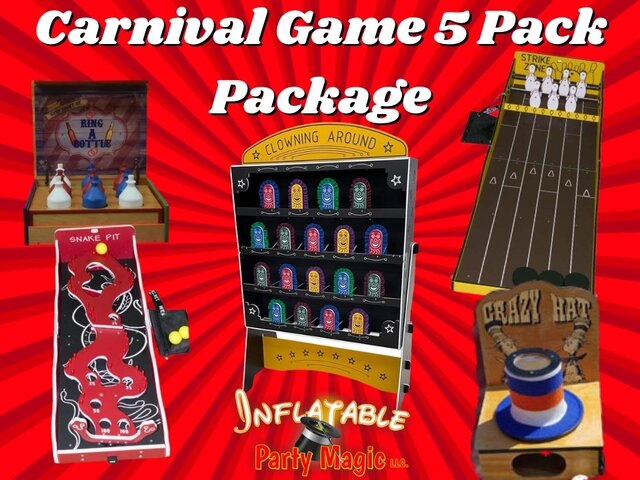 Description
Carnival Game 5 Pack Rental
Rent Carnival Games DFW Texas
With the Inflatable Party Magic Carnival Game 5 Pack rental you get 5 amazing games in one package. Your event will enjoy the Clowning Around Game, Strike Zone carnival Game, Crazy Hat Game, Snake Pit Game and the Bottle Ring Game. . Warning: These are all carnival games of skill and are very addicting!
Clowning Around Carnival Game
Knock down the clown! This game is a carnival classic loved by all ages. Contestants Knock down as many clowns as you can with bean bags.
Strike Zone Carnival Game
The Strike Zone yet fun! Contestants slide the pucks down the alley to flip the pins! You have three chances to hit all seven pins! Bowl away!
Snake Pit Carnival Game
Competitors want land the ball in one of the target holes without falling into the snake pit below. With your three tries, how many points can you score? This game is loved by kids, teens, and adults.
Crazy Hat Carnival Game
The Crazy Hat game can be played by any age group. Participants throw wiffle balls and try to make it in the hat. Every ball that makes it in the hat is a winner. You can make this game more exciting by giving out prices, points, or tickets and seeing who is the high point winner once all competitors have taken their chance at this awesome game.
Bottle Ring Carnival Game
The ring toss game has bottles lined up side-by-side. The aim of the game is to toss a ring and have it land over the mouth and neck of one of the bottles. This is a classic carnival or fair game of skill.
All 5 of these games are best played on a 6ft table each. The Block Island and Crazy Hat can share a table if you like. You can rent tables from us to put your game on. We even offer a carnival table complete with a classic red and white striped tablecloth<
Want to complete your 5 Pack carnival game experience?
You can always add extra game rentals to your 5 Pack rental to make your event the ultimate experience. The perfect combination of carnival game rental are exactly what your party needs to go from ordinary to extraordinary. You can keep all ages busy and having fun at your party or event with our awesome selection of carnival games. You will not find anyone looking for something more to do when you add the carnival games to your order. You will find the kids and adults with get involved in playing together in the challenge and the competition.
Ready to book your Carnival Game 5 Pack?
Simply click the add to cart button and follow the directions to add 5 pack to your cart. If you need assistance creating or finishing your order, you can contact us for assistance by phone at 817-800-8618. We are always here and ready to assist you in any and every way we can.
1