Create Your Own Package 2 Game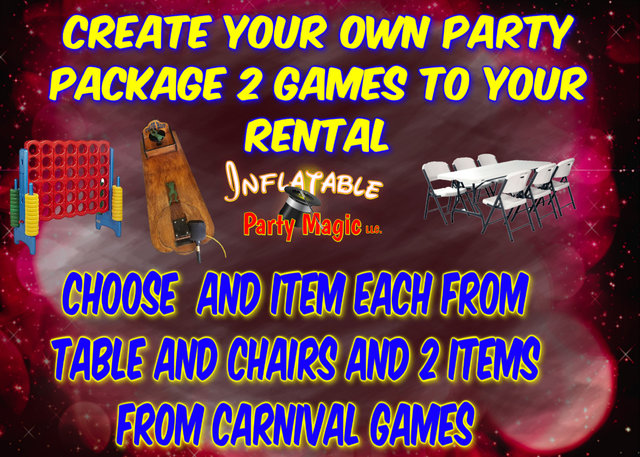 Description
Create Your Own Party Game Package Rental 2
Rent Carnival Games in Burleson
Inflatable Party Magic is finally able to offer a package that allows you to create you own party rental with items of your choice from 2 different categories. The create your own party game package rental 2 deal includes 1 table and chair package and 2 carnival games. The price includes the lowest priced items in each of the two categories. You can select one of the higher-priced items from each category, but there will be an additional fee for the higher priced items; however, those fees are discounted off of the full price as well so you save additional money on those higher-priced items. The 2 game party package includes the following categories to choose from:
2 Game Package tables and chairs rental:
The 2 game party pack includes your choice of 1 either black or white 6ft table and chair package, which includes 1 6ft. table and 6 chairs or 2 of our kid's picnic tables. You can add the 8ft table and chair pack, which includes 1 8ft. table and 8 chairs instead, but this will have a small fee added for the larger table and more chairs being added to the deal.
2 Game Package 2 carnival game rental:
The 2 game party package includes the rental of 2 carnival games valued at 40.00 each. You will be given a list of carnival games to choose from. If you choose any game priced over the $40, there will a small additional cost added to the deal depending on the cost difference of the item you choose to add, but at a discounted rate from the standard price.
To book the Create Your Own Package 2 Game:
If you would like to reserve the create your own 2 game deal, simply press add to cart and make your selections from each of the two categories. Our Booking system will assist you through the steps to enter your information and send you an immediate confirmation email of your rental. There is a $50 non-refundable deposit to book and hold your order. If you should need additional information, please feel free to contact us at 817-800-8618. We are always willing and eager to assist you with your order in any way we possibly can.