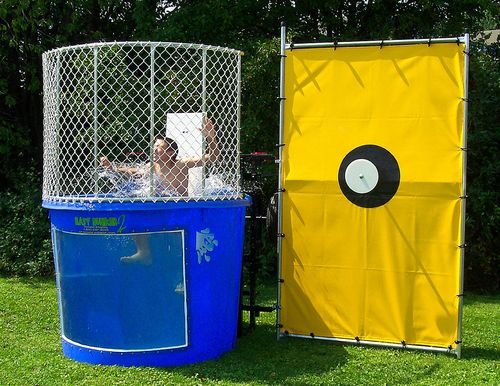 Setup Area: It will not go through a standard gate! You must have a double gate or be willing to set it in a front yard.
Actual Size: 61W×90Lx90H
Description
Dunk Tank Rentals
Dunk Tank rentals in DFW Texas from Inflatable Party Magic are the best dunk tanks to rent in DFW Texas area. Our company only features a quality dunk tank with built-in safety features and a safety window so you can see participants at all times, even when they are dunked into the tank. This keeps all participants having fun and staying safe at the same time. Many people refer to a dunk tank as a dunking booth. We can help you rent a dunking booth to make your event the best event ever.
Dunk tanks are only to be occupied by adults, but kids and teens can participate by throwing at target to try and drop someone into the water. Kids and teens under the age of 18 years old can't be inside or sitting on the platform. If you are under 18, you can throw at the target, but not be a target. We like to keep our dunking booths safe fun.
Dunk Tank's are also commonly referred to as Dunk Booth Rentals
A Dunk Booth is a timeless classic carnival attraction and a guaranteed crowd-pleaser. Many people have called them dunk booths for years before they were called dunk tanks. They provide hours of fun with a splash! This activity give patrons the opportunity to soak their rivals, co-workers, bosses, or even friends. They are a Perfect addition to community festivals, corporate, school and church events. Everyone likes to try out their throwing arm and show what they have what it takes to make a splash! There is no better sense of accomplishment than to aim, throw, and sink someone into the water. It is even better if the person before you missed the target (at least it is for those of us that are competitive). Who doesn't want to take the opportunity to dunk someone and let the competition begin?

Dunk Booth Rental Information
Please keep in mind the dunk booth is on a trailer and is 61W×90Lx90H. It will not go through a standard gate! You must have a double gate or be willing to set it in a front yard if at a home. If it will not fit where you want it, the rental price will not be refunded. Make sure it will fit in your area before ordering.
We provide the dunk tank rental fun and you provide the water source and water hoses (you will need as many as it takes to get from your water source to where you want the dunk tank set). The dunk tank holds 500 gallons of water. All Participants inside the tank must be 18 years of age or older and no more than 250 lbs. This attraction requires adult supervision at all times and must be drained if no one will be supervising. To book online, you simply click add to cart below and add it to your cart then follow the directions.

Ready to Rent a Dunk Tank?
If you are ready to rent a dunk tank, we can help. It is simple to book online. You just click the book now button and follow the directions. We completely understand that some of our customers do not like to book online; therefore, if you prefer to book over the phone, you can contact us at 817-800-8618 and we would be happy to assist you. Please do not hesitate to contact us to book or just ask questions. We love assisting our customers in any way we can.



We Rent Dunk Tanks in DFW Texas
We rent dunk tanks to DFW cities of Cleburne, Keene, Alvarado, Burleson, Midlothian, Maypearl, Crowley, Godley, Joshua, Lillian, Granbury, Glen Rose, Acton, Tolar, Lipan, Aledo, Fort Worth, Southlake, Trophy Club, Rio Vista, Grandview, Venus, Waxahachie, Red Oak, Cedar Hill, Whitney, Covington, Itasca, Blum, Hillsboro, Kopperl, Morgan, Arlington, Mansfield, Kennedale, Everman, Rendon, Briar Oaks, Benbrook, River Oaks, Kennedale, Forest Hill, Grand Prairie, Weatherford, Cresson, and other cities in the following counties: Johnson County, Hill County, Ellis County, Hood County, Somervell County, Bosque County, and Tarrant County.
Dunk Tank Rentals are for up to 8 hours for the price posted
You can rent dunk tanks for over 8 hours for an additional 7% per hour
You can keep dunk tanks overnight for an extra $50.00
Book your dunk tank rentals online 24/7 or call us at 817-800-8618
Dunk Tank Rentals Require a double gate to fit in a backyard. The dunk tank is on a trailer and cannot fit through a normal residential gate. Plan on sitting in your front yard if you do not have a double gate or do not want to remove fence panels. We will not remove fence panels. This would need to be done before we arrive.