Event Rental Toxic Package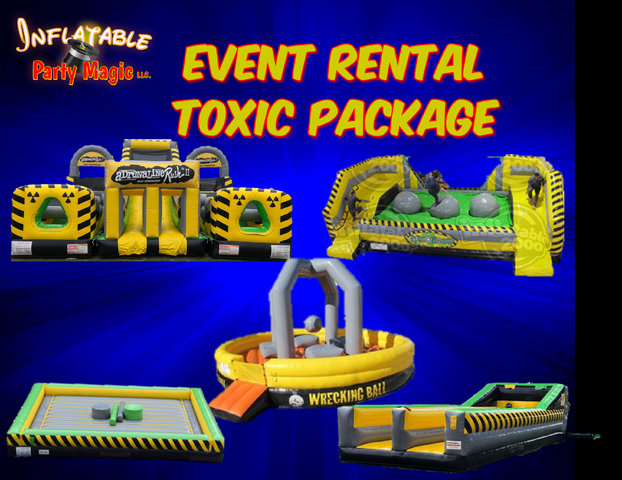 Setup Area: 47.6" L x 17.7" W x 46" H
Actual Size: 47.6" L x 17.7" W x 46" H
Description
Event Rental Toxic Package DFW Metroplex Area
Inflatable Party Magic Providing Texas with Easily Planned Larger Parties and Events!
Inflatable Party Magic LLC is helping you make your DFW Metroplex area event rentals come together in a click of a button with the event rental Toxic package. This package incorporates many of our toxic-themed inflatable rentals such as the dual lane Adrenaline Rush course, Leaps and Bounds Game, Wrecking Ball game, Gladiator Joust, and the Bungee Run. All of these items are great for ages 7 to adult. This package is Perfect for After Proms, College Events, Corporate Parties, or even a great combo for school field days. All of these items incorporate everything competitive.
What is included in the Event Rental Toxic Package?
Toxic Adrenaline Rush Obstacle Course: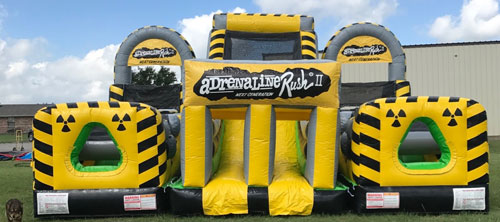 This Toxic Themed Obstacle course rental will help you turn up the fun and competition at your event. The Toxic Themed Adrenaline Rush Obstacle course features a 360-degree dual-lane challenge for 2 competitors at a time. The really cool about this obstacle is that you cannot see your competitor until you reach the rock wall and come together in the middle. 2 competitors start their race by entering in through the crawl hole on their side of the obstacle course and running through their side of the obstacles as fast as they possibly can to try and reach the 360 turns first where they will ultimately meet their competitor and climb the final rock-climbing wall and slide to the finish. This obstacle is so exciting and fun and brings on a definite adrenaline rush while trying to guess where your competitor is and trying to beat them to that final turn, climb, and slide. During your challenge you will find Vertical popup obstacles, obstacles you must crawl through or under, a tire race,a rock climbing wall, and finally a huge 17 ft tall slide to race to the finish.
Toxic Leaps and Bounds Game: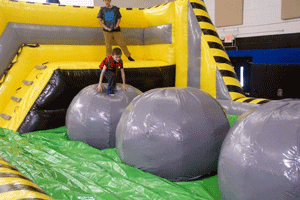 The Toxic Leaps and Bounds inflatable game is an awesome game and a new concept for kids, teens, and adults. It's an extreme challenge and hours full of toxic fun! Have you ever wanted to try your inner Ninja Warrior or Leap Frog skills? This game features three giant inflatable balls, which challengers must run or leap across from ball to ball like a frog to the other side! Don't worry! If you fall off, this floor of the pit protected by our super-soft Zero Shock landing mattress. If you have never landed on zero shock, you are missing out as it is a blast within itself.
Toxic Gladiator Joust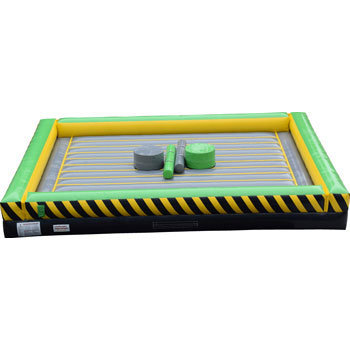 The Toxic Themed Gladiator Joust Rental. Did you ever watch the American Gladiators? This inflatable joust mimics that gladiator competition with 2 Competitors Standing on the Pedestals and trying to knock each other off with Large Padded Jousting Sticks. This toxic joust rental game requires skill and extreme balance from the participants making it fun and exciting for both participants and spectators both. The last one Standing Wins!! Gladiators Ready? Players can challenge each other as they each climb up onto their individual pedestals. Using over-sized joust poles, each player attempts to swat, and nudge each other off in an effort to be the winner!
Wrecking Ball Game Rental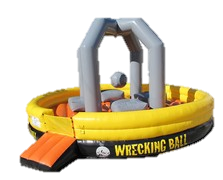 This Wrecking Ball inflatable game is a great competitive game for kids, teens, and even adults It is extreme and hours of wrecking ball fun! With this game, players stand on their individual pedestals and try to throw the huge swinging padded ball at each other to knock their other competitors off their pedestals. The pedestals they are standing on are inflated and can be a bit unsteady. That unsteadiness will sometimes cause the participants to fall off their pedestal when they just merely try to return the swinging ball to their competitor.
Toxic Bungee Run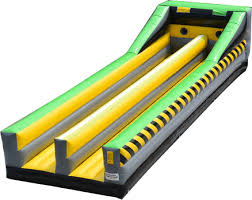 The Toxic themed Bungee Run rental is a 2 player game in which 2 Competitors strap into bungee cords and vests so they can try to be the first to make it to the end and lance and place their velcro marker further down on the lane than their competitor can before being pulled back by the bungee cord.
Delivery Area
Inflatable Party Magic delivers the Toxic Themed event rental package fun to the Texas cities of Cleburne, Fort Worth, Southlake, Keller, Burleson, Arlington, Mansfield, Crowley, Southlake, Grand Prairie, Cedar Hill, Duncanville, Midlothian, Waxahachie, Alvarado, Venus, Maypearl, Grandview, Godley, Granbury, Glen Rose, Tolar, Weatherford, Aledo, Whitney, and many other places in between. We would love to help you with your next party or event with our interactive inflatable and game rentals.
Ready to Reserve the Event Rental Toxic Package?
Inflatable Party magic offers online easy booking for the Event Rental Toxic Package by just clicking the book now button and following the directions. If you would rather book over the phone, you can contact us at 817-800-8618 to book over the phone.
Inflatable Party Magic Has been providing Inflatable Rentals, Game Rentals, and Party Rentals to the DFW Texas area since 2002. Try our services for yourself to see why our customers rate us #1 in the party rental and event rental industry. We have everything you need to make your party or event a magical experience.
The Toxic Event Rental Package is Great for field days, carnivals, corporate parties, school functions, church youth groups, college events, or indoor parties!