Event Rental Ultimate Package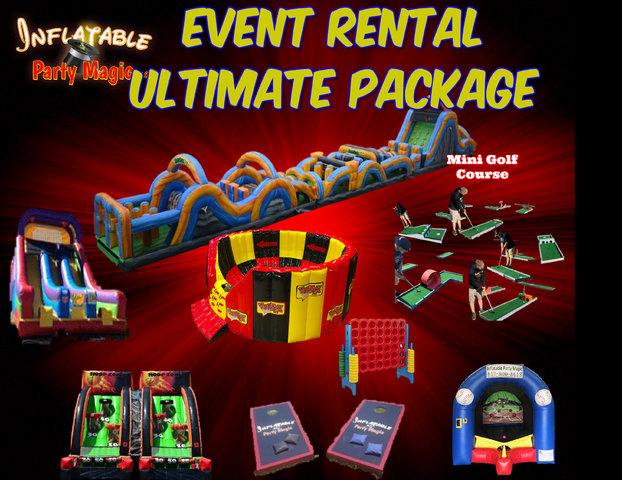 Setup Area: 47.6" L x 17.7" W x 46" H
Actual Size: 47.6" L x 17.7" W x 46" H
Description
Event Rental Ultimate Package Rental
Inflatable Party Magic LLC is helping you make your event come together in a click of a button with the event rental ultimate package rental. This rental package incorporates the dual lane 100ft. long Radical Run Obstacle Course, 9 hole Portable Mini Golf, Vortex Warped Wall Game, 18ft. Tall Wacky Dual Lane Slide, Baseball challenge game, Double Hoop Zone Basketball game, Corn Hole, and Giant Connect 4. All of these items are great for age 5 to adult. This ultimate package is the Perfect After Proms, College Events, Corporate Parties, or even a great combo for school field days. Al of these items incorporate fun and competitiveness.
What is included in the Event Rental Ultimate Package?
100ft. Radical Run Obstacle Course: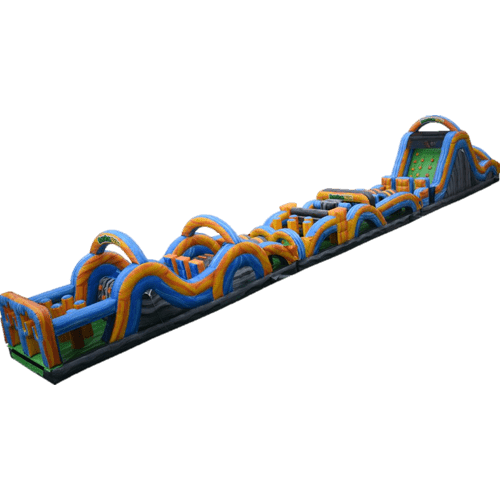 This
100ft. Obstacle course features a dual lane challenge for 2 competitors at a time. Take your event to the next level of fun with this huge and challenging obstacle. This obstacle is a whooping 100 ft. long radical obstacle course with the last climbing wall and slide reaching 17 ft. tall. The marble colors and look to this obstacle make it stand out in the crowd. To begin this 100 ft. radical obstacle challenge, two competitors enter in through the crawl hole on their side of the obstacle course and then turn on the heat by racing through each element of the obstacle course as fast as they can while watching the competitor right next to them is doing the same while both are trying to be the first to reach the final climbing wall and finally the slide to the finish.
This obstacle is great for ages 5 to adult. It is a perfect teen and adult obstacle as well offering a challenge for all ages.
Vortex Warped Wall Game: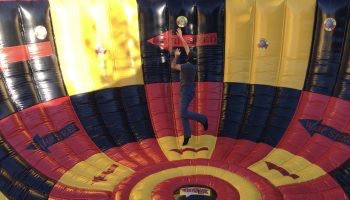 The Vortex Warp Wall Game with Interactive Play System lights (also referred to as IPS system) inside. Two opponents race against the clock and each other to see who can follow their own light pattern best inside this awesome warped wall. They have to run and scale the wall to get to their light as it goes off, but you have to be fast. This game will test your speed, skills, and agility. Each player will either be a green light or a red light and they have to watch and run after their light as it goes off. Scaling the wall takes a bit of a running start so they have to be super fast so they can hit their light and still be ready for the next set of lights. At the end of 45 seconds, the scoreboard will tell them the game is over and ask them to exit to see their score. The winner is the player that has hit the most lights correctly.
Portable Mini Golf 9 holes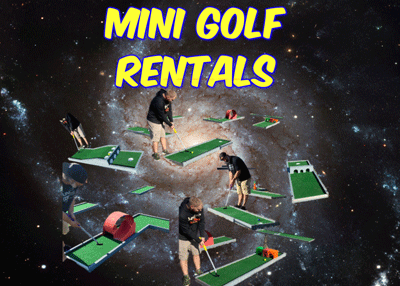 Play 9 holes of portable mini golf with obstacles and LED lights to set your event up right! Our mini golf is fun for all ages and all event types. Mini Golf can provide the perfect entertainment you are looking for. It is perfect for corporate events with that extra something needed for fun and excitement as well as bonding and ice breaking time if you are looking for activities to get your employees interacting well together. Mini Golf can also be used for backyard birthdays, church or school events. The possibilities are endless! This game is great for all ages no matter is if it is kids or adults.
18ft. Dual Laned Wacky Slide Rental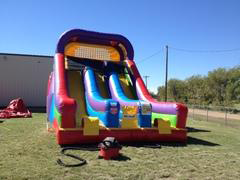 This 18 ft. tall Dry slide is dual lane for racing and takes 2 participants at a time. It has a great vertical sliding pitch to the slide so participants come down at a fast and thrilling pace. Everyone will want to try this slide at your event no matter how old they are. Since it has two lanes, this slide can work a large number of participants through in a short amount of time.
Baseball Challenge Game Rental
The Baseball Challenge inflatable game is a challenge for any age and skill level. This game will be enjoyed by all attendees. It has a floating ball that is blown up by air to make it unsteady while attempting to hit the ball with the bat. There are various holes and point values in the back of game so you can aim at the highest point value and then see what you can hit. Since the ball is floating and unsteady, it can be a hard to hit exactly the way you want too. Can you hit into the highest point value?
Double Hoopzone Basketball Game Rental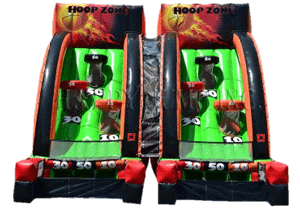 The This Double Hoop Zone Basketball Game provides fun for hours with the participants trying to score the highest point value. This is a two player basketball game. There are three different basketball hoops positioned in each side strategically with differing point values to shoot at and make it harder to achieve higher point values. It is harder to make the top highest point basket than it appears to be. This game is highly challenging and addicting so it will keep people playing for hours. Don't worry about having to chase balls since this game even has a ball return to keep two participants at a time shooting.
Corn Hole Game Rental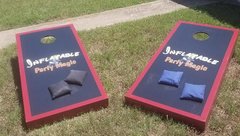 The Corn Hole game is regulation size and has everything you need for hours of fun and corn hole. Who doesn't love a game of corn hole. Play individuals or teams to make it fun for more at a time.
Giant Connect 4 Rental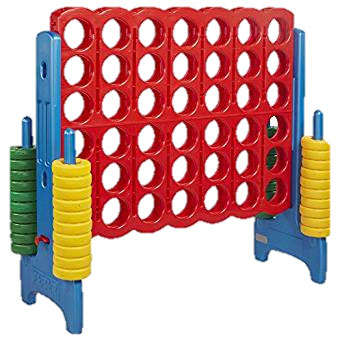 The Giant Connect 4 Game is a an awesome spin on the classic connect 4 game. Standing 4ft. tall, this game will keep players busy trying to connect 4 in a row for hours.
Delivery Area
Inflatable Party Magic delivers the Ultimate Event Package fun to the Texas cities of Cleburne, Fort Worth, Southlake, Keller, Burleson, Arlington, Mansfield, Crowley, Southlake, Grand Prairie, Cedar Hill, Duncanville, Midlothian, Waxahachie, Alvarado, Venus, Maypearl, Grandview, Godley, Granbury, Glen Rose, Tolar, Weatherford, Aledo, Whitney, and many other places in between. We would love to help you with your next party or event with our interactive inflatable and games rentals.
Ready to Reserve the Event Rental Ultimate Package?
Inflatable Party magic offers online easy booking for the Event Rental Ultimate Package by just clicking the book now button and following the directions. If you would rather book over the phone, you can contact us at 817-800-8618 to book over the phone.
Inflatable Party Magic Has been providing Inflatable Rentals, Game Rentals, and Party Rentals to the DFW Texas area since 2002. Try our services for yourself to see why our customers rate us #1 in the party rental and event rental industry. We have everything you need to make your party or event a magical experience.
The Ultimate Event Rental Package Great for field days, carnivals, corporate parties, school field days, church youth groups, college events, or indoor parties!