Flying Froggy Game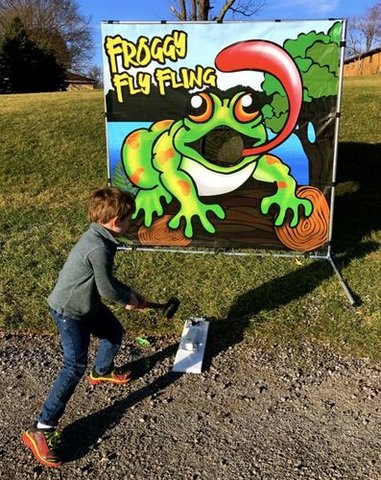 Description
Flying Froggy Game Rental
Inflatable Party Magic LLC is helping you add a level of fun that will fly off the ground at your next party! This game is an excellent test of skill and patience. Flying Froggy will have your party goers trying to fly the froggy right through the target. Flying Froggy is a game of skill and downright fun. You use your launching hammer to launch your frog through the hole as accurately as you possibly can. It is a little harder than it looks though. You have to hit your launching pad in just the right place to make it go through the hole. People will become addicted to this game trying to do again and again. This is a game that all ages can safely play. Don't be surprised if the kids beat you at this game because sometimes kids get it figured out sooner than the adults. It has a rubber mallet so it does not take much strength to hit the launcher and make the froggy jump. Do you have what it takes?
Flying Froggy is a great addition or main attraction to any backyard party, corporate event, school event, church event, carnival or inside party. Who doesn't like to test their skill?
Add Additional Party Rentals to Your Flying Froggy Order to Complete the Fun:
Don't forget the tables, chairs, party games, photo booth, concession machines such as cotton candy, popcorn, and snow cone, etc. Inflatable Party Magic offers everything you need to make your special day a magical success. You can add items or even packages to make your party the best it can possibly be and complete your event rental needs with just a simple click of the button. Backyard games are very relatively low in cost, but high in value to add to your order. Party rental items offer that special event accent to occupy the kids and keep them fully entertained.
How to Rent Flying Froggy:
It is simple to reserve online or if you don't like to book or reserve things online, give us a call and we will be happy to book your party rentals for you. If you choose to book online, you will choose your date and event times, and then simply answer all the questions and pay your deposit to secure your rental quickly and easily online. If you need assistance, we can take your deposit over the phone.

We look forward to providing the Party Fun at your next event and helping you to make your event a Magical Success!