Giant Horse Shoe Game Rental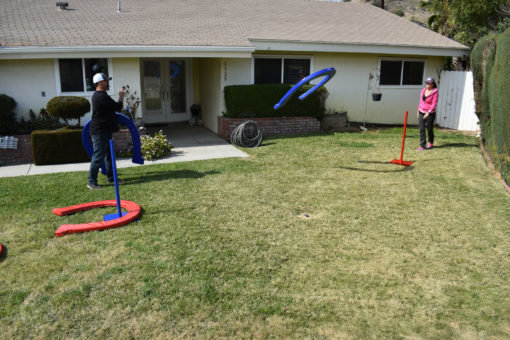 Actual Size: Horse shoes are 3ft. (36inches)
Outlets: 1
Age Group: 5 to adult
Description
Giant Horse Shoes Game Rental DFW Texas
Inflatable Party Magic Delivering Party Fun to Cleburne, Burleson, Fort Worth, Mansfield, Arlington, & other Texas Cities.
Inflatable Party Magic offers this life sized Giant Horse Shoe Game Rental. This version of horse shoes adds a whole new life to the game of horse shoes. You can play this horse shoe game indoors or outdoors so the possibilities are endless. All ages can play this classic game so the whole family can enjoy some together time. Horse Shoes is a family, but with our giant horse shoe game, it adds a twist and a brand-new level of competition. If smaller kids are playing, they made need some adult help since the horse shoes could be bigger than they are.

Specifics for the Giant Horse Shoe Game Rental
This giant horse shoe game includes 4 horse shoes. 2 of red and 2 blue each being 3ft. tall. Yes, you read that size right. They are 3ft. tall and absolutely huge. The overwhelming size of the horse shoes adds twist and new level of fun to this classic game! This horse shoe game rental will be a hit and a great addition to any event as well as corporate parties or events.
How to Play Horse Shoes and Score the Game
Rule 1: Ringers are awarded 3 points. To qualify as a ringer, a straight edge must be able to touch both points of the horseshoe.
Rule 2: If nobody scores a ringer, the closest horseshoe to the stake scores one point. This includes "leaners," or horseshoes touching the stake but not qualified as a ringer. The horseshoe does not have to lean to qualify as a leaner, and the points remain the same no matter how close the leaner is as compared to another leaner.
Rule 3: Give two points to the player who threw both horseshoes closer to the stake than his or her opponent's.
Rule 4: For the "closest to the stake" points, horseshoes must be within 6 inches of the stake to qualify.
Rule 5: Cancellation rules: The twist in the game of horseshoes is the ability to cancel out your opponent's points, allowing for strategy within the game. If one player scores a ringer, the points will be cancelled if the opposing player tops it with another ringer during the same turn. The same rule applies for all other equal plays during the course of one turn. For instance, if both players throw a ringer and a leaner, no points are awarded. If one player throws two ringers, and the other player throws one, the player with two ringers gets three points for that turn.
Rule 6: If a player scores one ringer and has the closest horseshoe with his remaining play, the player gets points for both.
How to Setup the Field: You should set the horse shoe ringers 40 feet apart. You can adjust if you have smaller kids playing. Make sure you pick a low traffic area so you don't have to worry about spectators getting hit by flying horse shoes.
Add Additional Party Rentals to Giant Horse Shoe Game Rental to Complete the Fun:
Need more items to go with your Giant Horse Shoes? Be sure to add the tables, chairs, party games, cotton candy, popcorn, sno-cone, photo booth, create a bear, bounce houses, obstacle courses, or more. Inflatable Party Magic offers everything you need to make your party a successful event or activity with just one place to shop. You can add additional items or even our party packages to make your party the best party you have ever had. What are you waiting for? Book today.
To Book the Giant Horse Shoe Rental
To reserve the Giant Horse Shoe Game for your next event, click on the add to cart button below, select your date and times, and follow the directions to complete your order & pay your deposit. The deposit goes directly toward the rental price and it is subtracted from the total you owe. It is not in addition to the total rental price of the Giant Horse Shoe Rental. If you do not like to reserve items online, please contact us and let our staff assist you with the booking process and even take your deposit over the phone. We are always available and eager to assist our customers in any way we can.
Inflatable Party Magic DFW Texas Delivery Area
Inflatable Party Magic provides party rental and event rental fun to most of the DFW Texas area. We Specifically deliver to the Texas cities of Cleburne, Burleson, Joshua, Godley, Fort Worth, Arlington, Mansfield, Midlothian, Alvarado, Grandview, Venus, Weatherford, Aledo, Granbury, Glen Rose, Whitney, & more. Please feel free to call us if you don't see your delivery area listed and we can help you to determine if we service your area.