Inflatable All Sport Backyard Party Package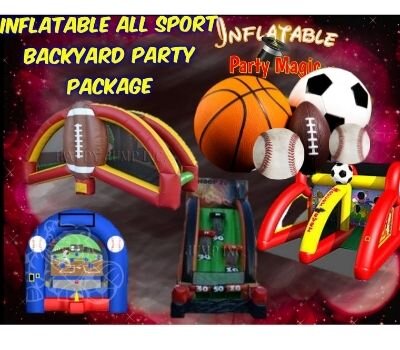 Setup Area: 47.6" L x 17.7" W x 46" H
Actual Size: 47.6" L x 17.7" W x 46" H
Description
Inflatable All Sport Backyard Party Package Rental
Rent Inflatable Games DFW Texas
Inflatable Party Magic is helping you take the fun of inflatable party games to new heights. This great inflatable all sport package rental includes these four great sports-themed attractions: You get the Baseball Challenge, Hoopzone Basketball, Quarterback Challenge, and Soccer Fever.. These inflatable game rentals can all be used inside or outside to create fun in all sorts of environments
The Baseball Challenge Game
This Baseball Challenge inflatable baseball challenge has a floating ball that is held up by air to make it a challenge to hit. There are various holes and point values on the back so you can take aim at the highest value. It becomes very hard to stop once you get started trying to get the most points. Since the ball is floating and unsteady, it can be a little hard to hit exactly the way you want too. Can you hit into the highest point value?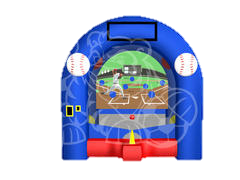 Soccer Fever Game
The Soccer Fever inflatable game provides fun for 2 players at a time trying to kick soccer goals and achieve the highest score. Various holes in the back of the inflatable with different point values make this activity fun and challenging. You can test your soccer kicking abilities with the thrill of using skill and agility to win.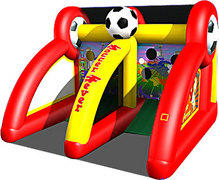 Hoopzone Basketball Game
This Hoopzone Basketball provides fun for hours while you try to score the highest point value. There are three different basketball hoops inside positioned strategically with different point values to shoot at so it makes it harder to achieve higher point values. It is harder to make the top basket than it appears. This attraction is highly challenging and addicting so people will keep playing for hours. Don't worry about having to chase balls, this inflatable even has a ball return to keep you shooting instead of running.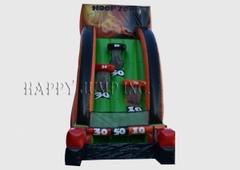 Quarterback Challenge Football Toss Game
This Football Quarterback Challenge gives two players a chance to perform like a real quarterback. It is a two-player game and one person can throw from each side since it has an opening on each side with a scoreboard and Holes for each point value. You grab your football and use your best quarterback throw to try and hit the most points you can score. See if you can throw the ball accurately enough to make it through the holes.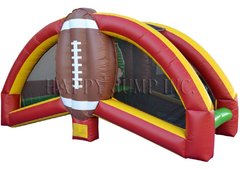 All of these inflatable game rentals are a great addition to backyard parties, carnivals, corporate parties, school events, church events, or indoor parties!
Together we can make your next party or event a Magical Success!