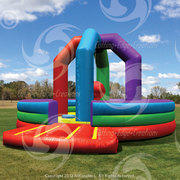 Wacky Demolition Ball
$295.00
Dimensions: 28' X 28' Round
Outlets: 2
Monitors:
Wacky Demolition Ball Inflatable Game Rental
Inflatable Party Magic LLC offers this Wacky Demolition Ball that is an awesome game and a new concept for kids and adults of all ages! It's extreme and hours of demolition fun!

It's the Ultimate game of challenge and competition for (4) Players as they each stand on their inflated pads. Each battle to grab the Demolition Ball and hurls it at their opponent in an attempt to knock the player off of their inflated pad. As the ball swings back, try and grab it! The last player standing is the champ.

This game is a 28' X 28' round. It is recommended for ages 5 to adult.

Do you have to what it takes to play Demolition Ball?