Ladder Ball Game Rental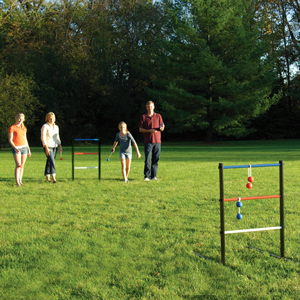 Setup Area: 47.6" L x 17.7" W x 46" H
Actual Size: 47.6" L x 17.7" W x 46" H
Description
Ladder Ball Game Rental DFW Texas
Inflatable Party Magic LLC is helping you take the fun of party games to new extremes with our ladder Ball game. This game is great for those with a competitive side. Play teams or play individuals and see who can throw the bolas the best to get to 21 first. This game will keep all of your party guests, yes even the adults, occupied for hours. The best part of this game is that it can be played inside or out so it will not matter if it is cold, wet, or too hot. Just move it inside.
How to Play Ladder Ball
The game of Ladder Ball is played in rounds and typically a coin toss will determine which player goes first. Each player has three bolas and must throw all three of their bolas before another player can go. The goal is to get the bolas to catch on one of the rungs, the top rung is worth three points, second is worth two and the bottom rung in worth one point. There is no set way to throw a bola, therefore a player may toss anyway he/she likes and can even bounce a bola on the ground. The player with the most points at the end of the round gets to throw first the next round. After a round is played, points are totaled. Whichever bolas are still hanging are awarded points. It is okay, encouraged even, to knock the bolas of other players off the rungs; in that case, those bolas do not count as points. The first player to get to 21 points exactly is the winner. If a player goes over 21 points, the points they earned during that round do not count.
Ladder Ball can be played in teams with four players with each player alternating turns each round. Extra bolas and ladders can also be purchased. With two ladders, the same rules apply yet two players from opposing teams would be on each side. Each side would toss bolas and the other side would then toss back.
This is one game that distracting your opponents is allowed and even encouraged. Try this when you play Ladder Ball and see is you can use distraction as part of your strategy.
Ready to Rent the Ladder Ball Game?
You can easily book online with our online booking system by clicking the book here button and following the directions. If you prefer to talk with someone, you can contact us at 817-800-8618 and we will assist you over the phone.
Let us provide party rentals at your next event in the DFW Texas area.