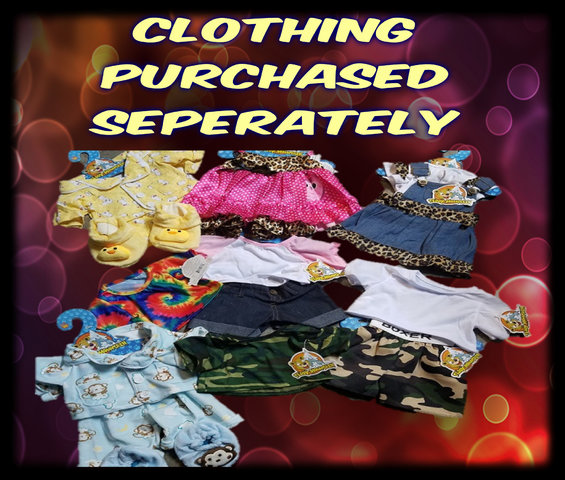 Regular Clothing purchased individually
Create A Bear Clothing Purchased Individually
Would you like to purchase just a few outfits and not really want to buy clothing for your whole party? We can do that for you. You can purchase clothing individually without doing it for a whole package for $8.25 each. We will let you select your outfit from many choices such as dresses with bows, famer overalls with baseball cap, Princess, Camo/army gear, pajamas with house shoes, and many more.
We understand that sometimes you just want clothing for the birthday child or maybe you have decided to let children add that on and their parents pick up the price of the clothing if they want that option. Many party hosts choose to let their guests add this option at their own cost and parents are always excited to do this and have a part in adding to the experience. Some even choose to purchase more than one outfit so their child will have different outfits to play dress up with. This option allows you to add clothing to just one or maybe a few. Please note that It is more expensive per outfit to just do a few. We offer a very discounted rate if you buy clothing for the whole party in the form of a bear and clothing package.
Do you Have Questions about the Build Your Own Bear Parties?
If you have questions about the bear party, purchasing bear clothing, or party packages, please do not hesitate to contact us. We are always available to answer questions and help our customers make the best decision they can possibly make. Clothing is not a necessity and the kids will love the bears with or without the clothing, but the option to play dress-up with the animals adds an extra level of happiness and excitement. We are confident that you and your children will love our bear parties. Our customers that have done them, have referred us to bigger events and all of their friends. We would love to add you to our bear party family.
To Purchase the Clothing online
To add clothing online, just add to cart and choose the number of clothing outfits you would like to purchase and then follow the directions to complete the order and make the deposit. If you do not care to book online, you can contact our office to make the booking for you and pay the deposit over the phone.
Why should You Trust Inflatable Party Magic to do your party?
Inflatable Party Magic Has been providing Party Rentals to the DFW Texas area since 2002. Try our services and see why our customers rate us #1 in the party rental and event rental industry. We have added so many innovative party ideas just like create a bear that comes to you to help make home birthday parties and events the best they can possibly be. We can help to make your party or event a magical experience.