Rescue Heroes Toddler Combo- Rents only Dry Year Round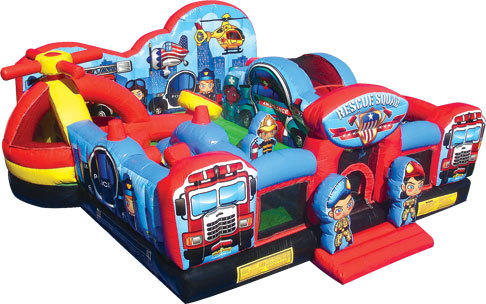 Setup Area: 20' X 21' x 8' tall
Actual Size: 18 'X 19' x 8' tall
Outlets: 1
Description
Rescue Heroes Toddler Bounce House Combo Rental
Inflatable Party Magic introduces this Rescue Heroes Toddler Combo. It is great for Paw Patrol, Fireman, Police, or Ambulance-themed parties as it includes all the emergency services including a police car, ambulance, fire Truck, and Helicopter so your child can become the town hero for the day. This unit is great for ages 1 to 6, but adults and teens and join as well. It makes it very easy for smaller kids to manage all of the activities as they are geared for smaller children. It includes a bouncing area, 3D vertical popup obstacles, horizontal obstacles, climbing walls, and slide. It features the following safety items: entrance step, open top for ventilation, and the ability to see what the kids are up to at all times. The entrance step lets the independent kids get in and out all by themselves.
Specifics and Booking
Rescue Heroes Toddler bounce house combo is an 18' X 19' and 8ft tall. inflatable designed specifically for toddlers. Toddler combos are a huge hit with toddlers and small children. Regular bounce houses only offer a jumping experience that can be quite frightening for a toddler when sometimes just the sound of the bounce house blower and the roof above them can make them feel trapped and scared. Parents are able to get in and join in on the fun or watch from the outside. The Rescue Heroes Toddler Bounce House Combo provides time for exploration and adventure so your child can be a hero at their next party! You can book this combo easily online, or give us a call and book over the phone.
Why Do Parents Prefer Toddler Combos?
The Rescue Heroes toddler bounce combo has an open top and feels so that toddlers can see the light above them and not feel so closed in. The noise level is completely different since the top is open and the sound escapes. However, with the open-top, you may want to find a shaded area to set it and apply sunscreen on hot, sunny days. Toddler combos offer bouncing throughout them, but the bouncing space is broken up with detailed interactive popup characters and obstacles throughout the bouncing space. They also offer a small slide and climbing wall that is slightly slanted which makes it very easy for even toddlers to climb up and slide without assistance.