Ring the Horn on the Unicorn Carnival Game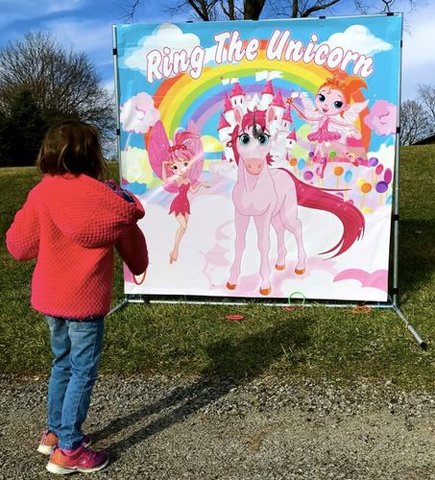 Description
Ring the Horn on the Unicorn Rental
Inflatable Party Magic LLC is helping you add a level of fun to your next party with the Ring the Horn on the Unicorn Carnival Game! Ring the Unicorn is a whimsical game that is a challenge for all ages. Getting the ring onto the unicorn's horn is not an easy task (depending, of course, on the distance the players stand from the game). This is a different take on the old ring toss game with an added cute little unicorn. What little girl can pass up a unicorn? This game is a great additional and attraction at any birthday party or carnival.
You can use this game to get adults interacting and playing games together. It doesn't matter the age, young or old, they will want to play this game over and over trying to make all of their rings on the unicorn. You can play this game as singles, play doubles, or even teams.
Add Additional Party Rentals to Your Ring the Horn on the Unicorn Order to Complete the Fun:
Be sure and add the tables, chairs, party games, cotton candy, popcorn, snow cone, photo booth, etc. Inflatable Party Magic offers everything you need to make your party a successful one. You can add items or our party packages to make your event the best ever and complete your party rental needs with just a simple click of the button. Games are low in cost, but high in value and fun to add to your order. Carnival and Backyard game items offer that specialized and unique party accent to occupy the kids and keep them entertained.
How to Reserve Ring the Horn on the Unicorn:
It is a simple process to reserve online or if you don't like to book or reserve items online, give us a call and we will be happy to assist you in reserving your party rentals. If you choose to reserve online, you will choose your date, event times, and then answer all the questions and pay your deposit to secure your rental quickly and easily online. If you decide you need assistance, we can take your deposit over the phone.

Inflatable Party Magic Has been providing quality game and Event Rentals to the DFW Texas area since 2002. We know that if you try our products and services, you too will see why our customers rate us #1 in the the industry. We provide exactly what you need make your party or event a magical experience.
We look forward to providing your Party Fun and helping you to make your event a Magical Success!