The Sports Package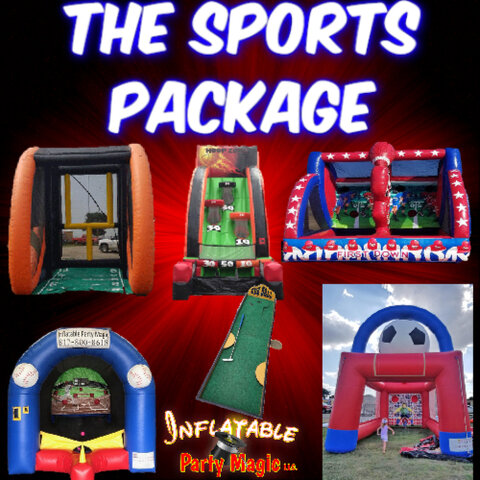 Description
The Sports Package Game Rental
Inflatable Party Magic introduces The Sports Package Game Rental for sports enthusiasts. This package includes 6 awesome sports activities to everyone happy. No matter what sport you like or how competitive you are, this package offers something that will challenge you. All 6 games included in the package are listed and detailed below:
Field Goal Challenge Game
The Field Goal Challenge rental gives participants the opportunity kick a field goal and compete like they are on the field. This is the first game of its kind and has proven to be a bit addicting. This Field Goal Challenge Football Game rental gives each player a chance to Kick like a Pro. How competitive can you get?

Participants start by placing a football on a kick holder, put it as far as they want to test their skills and accuracy. Once you are ready line up and kick between the field goal posts. Great for practicing your field goal kick or for competing with other sports-minded people to see who has the best kicking skills.
Specifics on the Field Goal Challenge Rental
This Field Goal inflatable is 13' X 11' and 15ft. tall. It is great for all ages. T
Hoopzone Basketball Game
This Hoop Zone Basketball provides hours of fun shooting hoops with participants trying to score the highest point value. There are three different basketball hoops positioned strategically with differing point values to shoot and make it harder to achieve higher point values. It is much harder to make the top highest point basket than it appears. This hoop shooting game is highly challenging and addicting to keep people playing for hours. Don't worry about having to chase balls since this game even has a ball return to keep you shooting.
Hoop Zone Game Specifics
This game is an 8' X 13' and is 15ft. tall and is great for all ages.
First Down Football Game
This First Down Football gives two players at a time the opportunity to see how well they perform as a quarterback. See if you can throw the football accurately enough to make it through the hole. First Down is a two-player game allowing one person can throw from each side since it has an opening on each side with a scoreboard and Holes for each point value. With this game, you simply get your football and use your best quarterback throw to try and hit the highest point value to score the most points you can score. Can throw the ball accurately enough to make it through the holes?
Specifics on the First Down Football Game
This inflatable is 10 1/2' X 13 1/2' and 11ft. tall and is great for all ages.
Golf One-Shot Carnival Game

With Golf One-Shot, you get one shot to see if you can make a hole in one with the one-shot golf. How amazing is your golf swing? This game will be a favorite amongst golf enthusiasts and even those who know nothing about the game of golf. It is a game of skill that will keep them wanting to try over and over. Test your skill and golf swing with our awesome one-shot golf game.
Baseball Challenge Game
The Baseball Challenge inflatable game is a challenge for any age. All ages and skill levels enjoy this with a floating ball that is blown up by air to make it unsteady while attempting to bat the ball. There are various holes and point values in the back of the game so you can aim at the highest and see what you can actually hit. It becomes very hard to stop once you get started trying to get the most points. Since the ball is floating and unsteady, it can be hard to hit exactly the way you want to. Can you hit the highest point value?
Specifics on the Baseball Challenge Game
This inflatable baseball game is 10' X 12' and is 15 ft. tall and is great for all ages.
Penalty Kick Soccer Game
Penalty Kick Soccer is a massive-sized soccer inflatable that provides fun for players to kick goals and try hard to kick the highest score slot. There are Various holes with different point values in the back of the soccer game to make this game fun and challenging for kids, teens, and adults. This game is a game of skill and agility. Since two participants can play at one time, you can work a large number of participants through in a short time frame. This is great for the opening day of soccer as it stands 20ft. tall and catches attention.
Specifics on the Penalty Kick Soccer Game
inflatable is a massive-sized game measuring 28' X 15' and is 20ft. inches tall. It is a great game for all ages!
Want to complete your Sports Game Package experience?
You can always add extra games or carnival rentals to your Sports Game rental to make your event the ultimate experience. The perfect winning combination of games can be exactly what your party needs to go from ordinary to extraordinary. You can keep all ages occupied at your party or event with our awesome selection of games from Inflatable Party Magic. No one will ever be looking for something more to do when you add games to your order. You will find the kids and adults will get involved in playing together in the challenge and the competition. Entertainment solved in one place with our huge selection.
Ready to book The Sports Game Package?
Simply click the add to cart button and follow the directions to add The Sports package to your cart. If you need assistance creating or finishing your order, you can contact us for assistance by phone at 817-800-8618 so that we can help! We are always here and ready to assist you in any and every way we can.