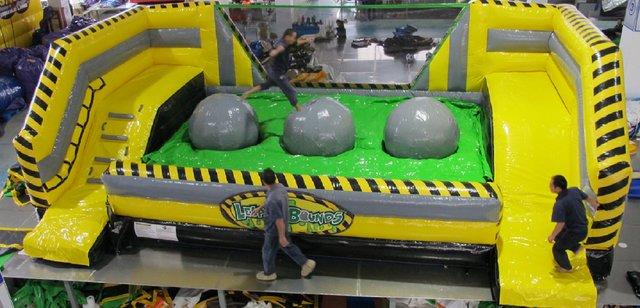 Toxic Leaps and Bounds
Actual Size: 30' X 18' and 10ft tall- 30′ wide x 30' length x 26' high - Price is for up to 3 hours- This is a larger unit that Requires a 48" (4ft) gate to backyard and 4 ft. clear path to setup area.
Setup Area: 32' X 22 and 10ft tall- 30′ wide x 30' length x 26' high - Price is for up to 3 hours- This is a larger unit that Requires a 48" (4ft) gate to backyard and 4 ft. clear path to setup area.
Outlets: 1
Age Group: 5 to adult




Toxic Leaps and Bounds Inflatable Game Rental
Inflatable Party Magic presents the Leaps and Bounds inflatable game rental which is an awesome game and a new concept for kids, teens, and adults. It's an extreme challenge and hours of toxic fun! Have you ever wanted to try your inner Ninja or Leap Frog skills? Toxic Leaps and bounds is a game, where you try to jump from ball to ball until you make it all the way across can you make it? Interactive Inflatable Game rentals from Inflatable Party Magic in Texas. The toxic-themed Leaps and bounds inflatable game offers a challenge for players jumping from inflated ball to inflated ball to reach the other side. Sound easy? Not a chance, these inflatable balls become unstable as you jump onto them and it is hard to stand your ground. Does it hurt to fall? Not at all!! This inflatable game has a zero shock pad when you land that absorbs the shock and makes not only an inflated landing but an absorbed one. If you have never landed on zero shock, you are missing out as it is fun within itself. This game is a great addition to a Ninja Warrior Course. If you are setting up a Ninja Warrior Challenge, you won't want to leave this game out. This game will challenge your jumping skills. Do you have what it takes to be toxic?
Leaps and Bounds in the ultimate teen bounce house rental! Smaller kids can do this as well, but it is hard to find a game that is challenging enough and fun for Teens and Adults. This game is also commonly referred to as the big baller inflatable game. If you need an adult bounce house game, try the leaps and bounds today!

Specifics of Toxic Leaps and Bounds
This game is a 30' X 18'. It is suggested for ages 5 to adult. This game is challenging for children, teens, and adults and will get them all playing together. Sometimes kids are more agile and can do this quicker and better than adults. The Leaps and Bounds is a new game that offers a different type of challenge that goes great for field days, obstacle challenges, Ninja Warrior courses, and more. It is a great game for competition and to test your speed and agility.
Rent Leaps and Bounds Inflatable Game Rental Today!
To reserve the Leaps and Bounds for your next event, click on the add to cart button below and then select your date and times, and follow the directions to complete your order and pay your deposit. Your deposit goes to the rental price and it is subtracted from the total and not in addition to the total rental price. If you need assistance with your order, please feel free to contact us and we will do the booking for you and take your deposit over the phone. We are always available and ready to assist our customers in any way we can. You can trust Inflatable Party Magic to provide outstanding service and amazing quality rental products for your next event. We have been serving the DFW Texas metroplex area since 2002 and had stood the test of time and quality.
Checkout our Video of the Leaps and Bounds Game in Action