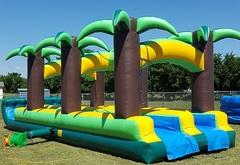 Island Slip N Slide
$205.00
Dimensions: 14' X 33'
Outlets: 1
Monitors:
This Island Slip N Slide is 33ft. Long and Dual laned for racing. The water comes down from the arches above the two lanes and keeps the participants wet at all times before they come to the stopping wall at the end of the 33ft. The tall palm trees give it the perfect look for a luau or tropical themed party.

It is a 14' X 33'. This inflatable is great for teens and adults as well as children ages 7 and up. The grown ups will have as much or more fun than the kids on this attraction.

Can you beat your competititor on this slide? How fast can you run and dive?