Carnival Game Trio Package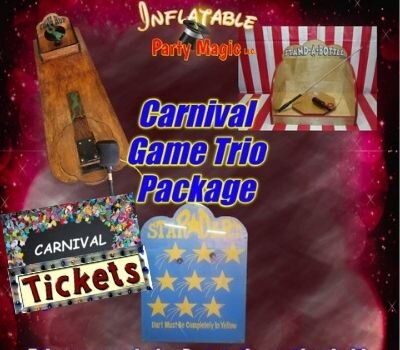 Description
Carnival Game Trio Rental
With the Inflatable Party Magic Carnival Game Trio rental you three amazing carnival games in one package. Your event will enjoy the Frog Hop Carnival game, The Star Darts Carnival Game, and the Stand A Bottle Carnival Game. . Warning: These games are games of skill and are very addicting!

Frog Hop Carnival Game
To play Frog Hop, you place your frog on the launcher pad (make sure the hinge board launching pad is flipped back over the launcher) and use your padded hammer to hit the launcher and send the frog flying through the air at just the right height and speed to reach it's lillypad. The Frog Hop game is loved by very young children all the way to adult. Each player gets 3 frogs and 3 attempts with each frog to hit the lillypad.

The Frog Hop carnival game is great for carnivals, school or church festivals, or even added entertainment at birthday parties or family get togethers. Add it to your next party or event and keep the attendees busy.
Star Darts
The Star Darts game is played with rubber Suction cup darts for safety. Participants will throw 4 darts and see how many of those darts can hit a star. You must hit a star to count. You can play many different ways for a win. You can make each participant only get one star to get a prize or required they 2 to 4 stars to get a prize or maybe the more stars they hit, the more prizes they get.

Stand a Bottle
The Stand the Bottle game rental is a nostalgic carnival attraction that has been played in midways all over the world for years. Players use the fishing pole provided by Inflatable Party Magic to try and stand the bottle with a simple pole and string. This game is harder than it looks though. Let your party or event goers try their hand at this carnival game. You cannot go wrong with this game of skill and a steady hand. You can make this game more fun and add to your event by giving prices for each win or by simply giving points or tickets and seeing who is the high point winner once all competitors have taken their chance at this exciting carnival game.

These games is best played on a 6ft table. The stand a Bottle and the Star Darts can both set on the same table, but Frog Hop will need a table of it's own. You can play it from the ground, but it is more difficult to get to. You can rent tables from us to put your game on. We even offer a carnival table complete with Carnival striped tablecloth.

Want to complete your carnival game experience?
You can always add extra carnival game rentals to your Trio rental to make your event the ultimate experience. The right combination of carnival attractions can be exactly what your party needs to go from ordinary to extraordinary. You can keep all ages occupied at your party or event with our carnival games. No one will ever be looking for something more to do when you add carnival games to your order. You will find the kids and adults with get involved together in the challenge and the competition.
Ready to book your Carnival Game Trio Package?
Simply click the add to cart button and follow the directions to add Carnival Game Trio to your cart. If you need assistance creating or finishing your order, you can easily contact us by phone at 817-800-8618. We are always here and happy to assist you in any and every way we can.