Carnival Game Ultimate Package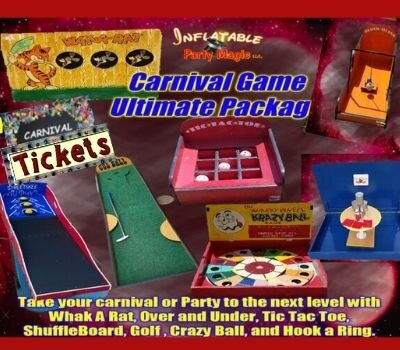 Description
Carnival Ultimate Game Package Rental
Rent Carnival Games DFW Texas
With the Inflatable Party Magic Carnival Ulitmate Game Package rental you get 6 amazing carnival games in one package. Your event will enjoy the following carnival games: Whak A Rat, Over and Under, Golf One-Shot, Shuffle Board, Tic Tac Toe Carnival Game, Crazy Ball, and the Hook a Ring. Warning: These 6 carnival games are tests of skill and are very addicting!

Whack A Rat Carnival Game
Who doesn't want to take the chance to Wak A Rat? The Wak A Rat is simple enough to be played and enjoyed by everyone, but it may not be as easy to win as it appears. Participants throw bean bags at the rats to see if they can knock down a rat or maybe even 3 rats if they are good enough. You can give prizes or points for every rat they knockdown or require they knock all three down to win. This game is awesome and will keep all ages entertained and playing over and over again.
Block Island Carnival Game
To play the Block Island, you stack 6 dice in a pyramid shape on the middle wooden platform the easily pull back on the swinging ball (that is attached a crossbar by a chain) and drop the ball to try and knock all of the dice over. After you hit the dice and they fall, you total up your score to see if you win the high score prize. To give prices or set a standard for a win, you will want to decide what you want the high score to be and if someone dice total that amount or more, they win. A suggestion for a winning high score is 30 as the most you could score would be 36. Kids and adults alike will go crazy for this game
Street Skee Carnival Game
Streetskee is a fun and challenging classic game similar to the arcade game Skee Ball! The goal: roll the balls up the alley and land them in one of three holes. Each hole gets progressively smaller and is worth more points than the last!
Golf One Shot Carnival Game
With Golf One-Shot, you get one shot to try and make a hole in one with the one-shot golf game. How amazing is your golf swing? This game will be a favorite amongst golf enthusiasts and even those who know nothing about the game of golf. It is a game of skill that will keep them wanting to try over and over. Test your skill and golf swing with our awesome one-shot golf game.
This game is the perfect addition to a carnival, fall, fall festival, church event, corporate event, or even just the backyard party. All ages and skill levels will line up to test their skill and so they can prove they can do it in one shot. You can add more fun to this game by giving prizes to those players that can make this hole in one shot.
Krazy Ball Carnival Game
This game is fun for all ages. Participants simply pick a color palette and lay a hand on the color they choose then the operator will spin the Krazy wheel and throw the ball on the wheel and when the wheel comes to a stop, the palette slot the ball falls reveals the winner. This game is enjoyed by everyone and will keep participants coming back for more. The Krazy Ball game works similar to roulette, but with a lot more color and fun to get the kids involved in the fun. Everyone will line up to play this carnival game. It is a must-have carnival game rental.
Tic Tac Toe Carnival Game
The Tic Tac Toe is played much like the original tic tac toe game since your goal is to get 3 balls in a row. However, this game offers a twist by having each player throw 3 wiffle balls and try to get 3 in a row. Any pattern of 3 in a row will win. You can make this activity even more fun by giving prices for each win or by simply giving out points or tickets and seeing who is the high point winner once all competitors have taken their chance at this awesome game.
Can Toss Carnival Game
The Can Toss carnival game is a nostalgic carnival game that has been played in midways all over the world for years. players simply toss the bean bag and try to knock over all the cans. This game can be harder than it looks. Let your party or event-goers try their hand at this awesome carnival game. You cannot go wrong with the game of aim and a steady hand. You can make this game more fun and add to your event by giving prices each time someone wins or by simply giving points or tickets and seeing who is the high point winner once all competitors have taken their chance at this awesome game.
All 6 of these carnival games are better played on a 6ft table. The Hook a Ring and the Tic Tac Toe can both share a table. The Crazy Ball and the other activities will need a table of their own. You can rent tables from us to put your game on. We even offer a carnival table complete with Carnival striped tablecloth.

Want to complete your Ultimate Carnival Game Package experience?
You can always add extra carnival rentals to your Ultimate Carnival Game Package rental to make your event the ultimate experience. The perfect winning combination of carnival activities can be exactly what your party needs to go from ordinary to extraordinary. You can keep all ages occupied at your party or event with our awesome selection of carnival game rentals. No one will ever be looking for something more to do when you add our awesome carnival games to your order. You will find the kids and adults will get involved in playing together in the challenge and the competition.
Ready to book your Carnival Game Ultimate Package?
Simply click the add to cart button and follow the directions to add the Ultimate package to your cart. If you need assistance creating or finishing your order, you can contact us for assistance by phone at 817-800-8618 so that we can assist you. We are always here and ready to assist you in any and every way we can.
Delivery Area:
Inflatable Party Magic is located in Cleburne, Tx., but our Delivery area covers most of the Fort Worth and DFW area including Texas cities of Cleburne, Keene,
Burleson
,
Fort Worth
, Keller,
Southlake
, Trophy Club,
Grand Prairie
,
Cedar Hill
, Crowley,
Mansfield
, Arlington, Aledo,
Weatherford
, Godley,
Joshua
,
Midlothian
,
Maypearl
, Waxahachie,
Venus
,
Alvarado
,
Granbury
, Glen Rose, Tolar, Whitney, Itasca, Grandview, Whitney, Blum, Hillsboro, and more. Rent carnival games and bounce houses to complete your event!