Carnival Game 4 Pack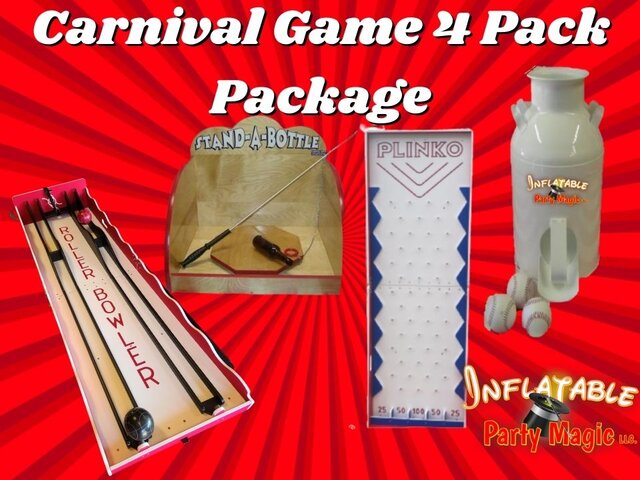 Description
Carnival Game 4 Pack Rental Package
Carnival Game Package Rentals
With the Inflatable Party Magic Carnival Game 4 Pack package rental you get 4 amazing carnival activities in one package. Your event will enjoy the Roller Bowler Carnival Game, Ka Plunk Carnival Game, Milk Jug Toss, and the Stand A Bottle Carnival Game. . Warning: These are all games of skill and are very addicting!

Roller Bowler Carnival Game
The Roller Bowler game offers a bit of nostalgia to your ultimate carnival experience played. No midway is complete without this game. Can you roll the bowling ball just enough to get it over the hump without roller so hard it comes back to you?. This ball should go over and stay on the downside of the hump without returning to you. Just when you think it is going to stay on the other side of the hump, it comes back to you. Players will be hooked on this game and want to try "just one more time". This game is harder than it appears. Your party or event-goers will want to try their hand at this exciting carnival game.
Plinko Carnival Game
Plinko is played just like the beloved Plinko Game from the Price is Right. You lay your Plinko chip flat against the board, look at it carefully, and try and decide which set of pins to release your chips in. The goal is to pick the right path for your chip to land in the middle winner spot. Each player will receive 3 chips so they have the potential to win up to 3 times. You can spice up this activity by giving prizes for each win or by simply giving points and seeing who is the high point winner once all competitors have taken their chance at this awesome game.
Stand A Bottle
The Crayz Ball game is fun for all ages. Players simply use the fishing pole provided by Inflatable Party Magic to try and stand the bottle with a simple pole and string. This game is harder than it looks. Let your party or event-goers try their hand at this epic carnival game. You cannot go wrong with this game of skill and a steady hand
Milk Jug Toss Carnival Game
The Milk Jug Toss is played by giving each player a turn to throw 3 softballs each. Each ball that lands in the can is a win. You can make the Milk Jug Toss more fun by giving prices for each win or by simply giving points or tickets and seeing who is the high point winner once all competitors have taken their chance at this awesome game.

The Stand a Bottle and the Roller Bowler are best played on a 6ft table each. The Milk Jug Toss and the Ka Plunk are best played on the ground, You can play it from the ground, but it is more difficult to get to. You can rent tables from us to put your game on. We even offer a carnival table complete with Carnival striped tablecloth.

Want to complete your carnival game experience?
You can always add extra carnival game rentals to your 4 Pack rental to make your event the ultimate experience. The perfect combination of carnival activities can be exactly what your party needs to go from ordinary to extraordinary. You can keep all ages occupied at your party or event with our awesome selection of carnival games. No one will ever be looking for something more to do when you add the carnival games to your order. You will find the kids and adults getting involved in playing together in the challenge and the competition.
Ready to book your Carnival 4 Pack Game Package?
Simply click the add to cart button and follow the directions to add Carnival Game 4 pack to your cart. If you need assistance creating or finishing your order, you can contact us for assistance by phone at 817-800-8618. We are always here and very happy to assist you in any and every way we can. Check out other packages also such as the Carnival Trio and the Carnival 5 Pack.
Inflatable Party Magic Has been providing a wide selection of carnival game packages and party rentals to the DFW Texas area since 2002. Try our services today to see exactly why our customers rate us #1 in the party rental and event rental industry. We can help to make your party or event a magical and successful experience.
Delivery Area:
Inflatable Party Magic is located in Cleburne, Tx., but our Delivery area covers most of the Fort Worth and DFW area including Texas cities of Cleburne, Keene, Burleson, Fort Worth, Keller, Southlake, Trophy Club, Grand Prairie, Cedar Hill, Crowley, Mansfield, Arlington, Aledo, Weatherford, Godley, Joshua, Midlothian, Maypearl, Waxahachie, Venus, Alvarado, Granbury, Glen Rose, Tolar, Whitney, Itasca, Grandview, Whitney, Blum, Hillsboro, and more. Let us deliver party package fun with your event rentals! Checkout our
Midlothian carnival games
and our
Waxahachie carnival games
.