Event Rental Platinum Package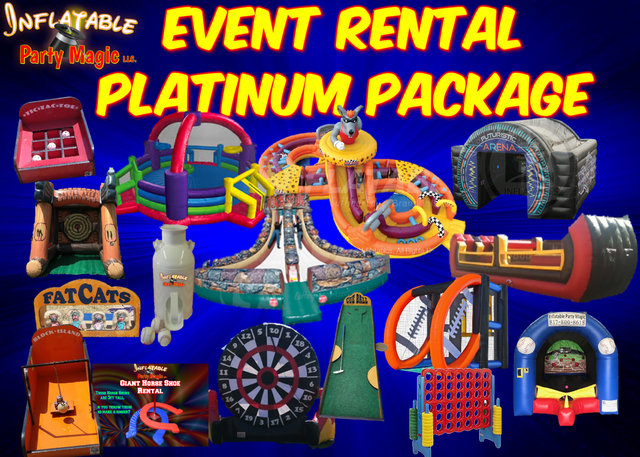 Setup Area: 47.6" L x 17.7" W x 46" H
Actual Size: 47.6" L x 17.7" W x 46" H
Description
Event Rental Platinum Package Rental
Inflatable Party Magic LLC is helping you make your event come together with a click of a button with the event rental Ultimate Package. This package incorporates the dual lane Rat Race Obstacle Course, Warp Zone Futurstic Arena, 18ft. Tall Slippery Slope Warped Wall, Tugga Touchdown Game, Defender Dome, Soccer Darts, Axe Throw, Baseball challenge, Field Goal Challenge, Giant Horse Shoes, One-Shot Golf, Tic Tac Toe, Frog Hop, Milk Can Toss, Fat Cats, Backlash carnival game, and Giant Connect 4. All of these items are great for age 5 to adults. This ultimate package is the Perfect After Proms, College Events, Corporate Parties, City Events, or School Field Days. All of these items incorporate fun and competitiveness for a large crowd.
What is included in the Event Rental Platinum Package?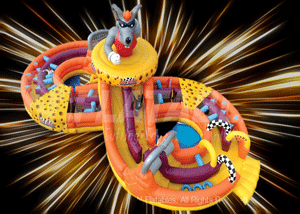 This Rat Race
Obstacle course is our largest obstacle course and features a

figure 8 shaped course where competitors race from opposing ends and provides huge suspense and thrill. The Rat Race is fast and exciting for kids, teens, and adults with a series of cool interactive obstacles that await you around every crook and corner. Two competitors race in opposing directions through tackle dummies, tire runs, climbing walls, and then finally come together for to slide to the finish on a large slide. The first to make it to the finish line wins the rat race! This obstacle is a great wow factor piece for larger events. It will definitely catch your attention
This obstacle is great for ages 5 to adult. It is a perfect teen and adult obstacle as well as offering a challenge for all ages.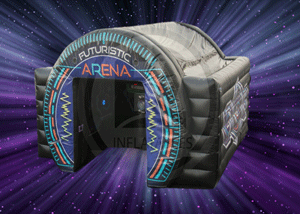 The Warp Zone Futuristic Arena, there are two sets of Interactive Play Systems inside, which are also referred to as IPS systems. Two opponents race against the clock and each other to see who can follow their own light pattern best and the fastest. Inside the arena, it limited lighting which makes the lights show up well, but you have to be fast. Each side is divided and you can't see how well your competitor is doing until the Timer goes off and you come back to the scoreboard to see who is the winner.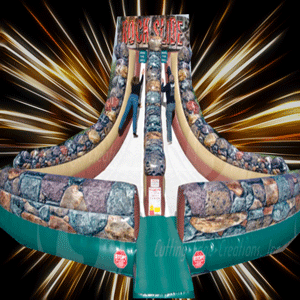 The 18ft. tall Rock Slide/Slippery Slope warped wall inflatable game is one of the coolest new interactive activities that provide unique hours of fun for kids, teens, and adults! Two players compete to see who can scale the steep-sloped warped wall (which is a reverse very steep slide) to be the first to ring the bell at the top. One will slide down the victor - the other will slide in defeat!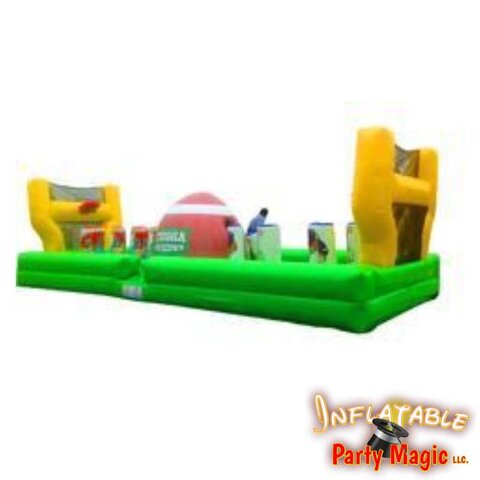 This Tugga Touchdown is also commonly called Football tug o war. 2 Competitors strap into bungee cords and vests so they can try to be the first to make all their team's balls into the targets in the middle of the game while having to pull against the bungee cord to get as close as they can to their target before being pulled back.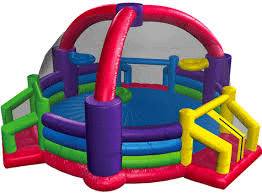 Defender Dome game rental is a great arena for Dodge Ball or Soccer within the dome!! Competitors get ready to defend their goal and keep other players from making a score. The middle of this arena is raised and makes it hard for the players to always keep their balance and see what is coming to them. This area is so fun and competitive that all your hard to please competitive attendees, will not want to stop playing and trying to win.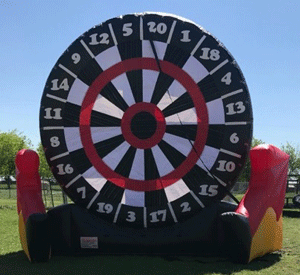 This is Soccer darts and participants kick the soccer ball to score the highest point value they can.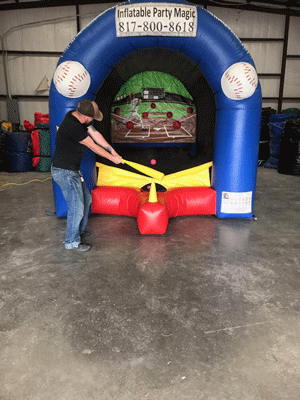 The Baseball Challenge inflatable game is a challenge for any age and level of skill. All participants will love this challenge! It has a floating ball that is blown up by air to make it unsteady while attempting to hit the ball with the bat. There are various holes and point values in the back of the inflatable so you can aim at the highest point value and then see what you can hit. Since the ball is floating and unsteady, it can be a little hard to hit exactly the way you want to. Can you hit the highest point value?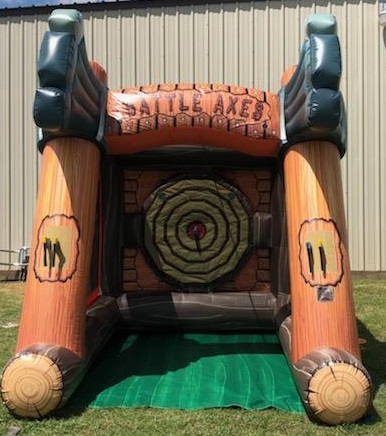 Meet the ever-popular Axe Throw Game! How accurate can you throw your axe? Don't worry these, are not real axes and are safe play for everyone.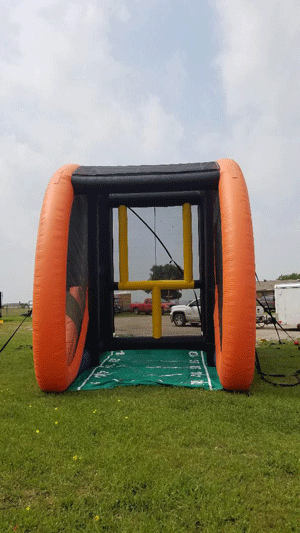 The Field Goal Challenge is the best game of skill that we have seen. It is like kicking a real field goal in the huge arena. Let's see what you got!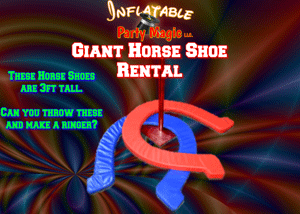 Play our Giant Horse Shoes!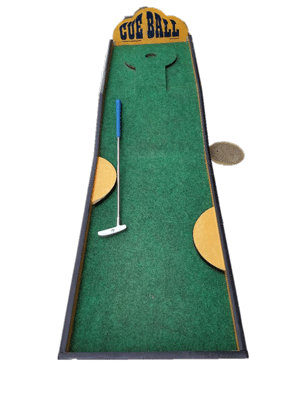 Try the one Shot at a hole in one!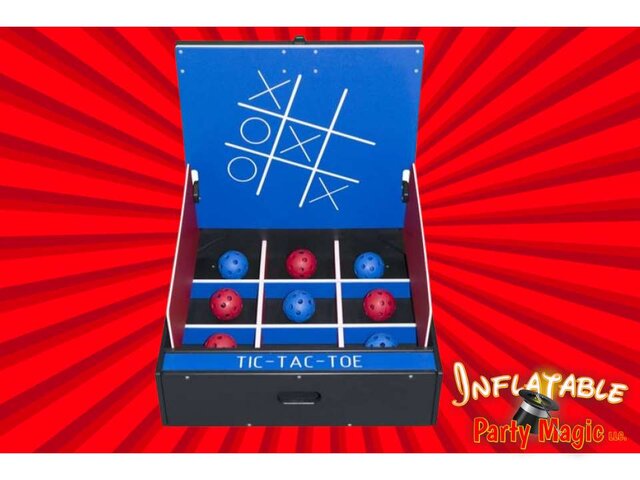 Tic Tac Toe is an oldie, but goody type game for pretty much any type of event.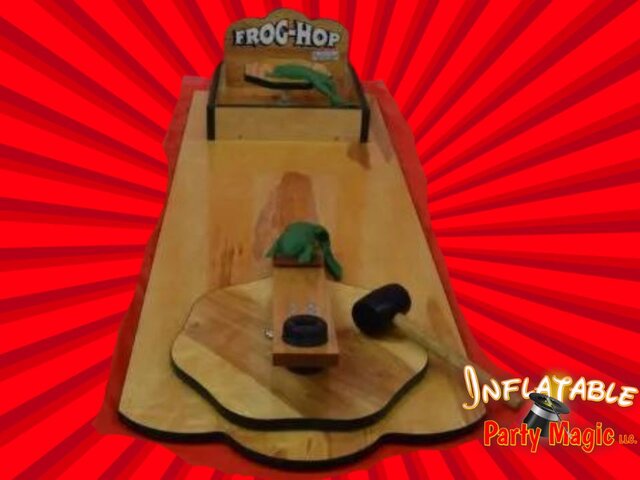 Frog Hop is one of the carnival game favorites! Take your mallet and leap your frog. Can you make the lily pad?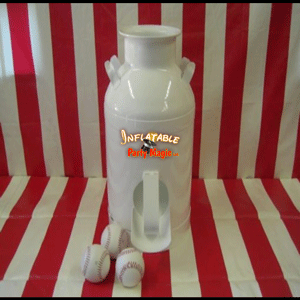 The Milk Can Toss is a classic carnival game enjoyed by all. Toss your softball into the jug!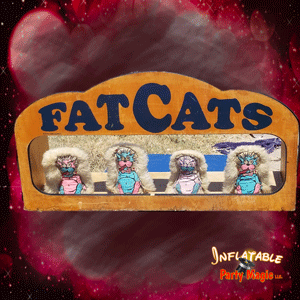 To play Fat Cats - use your bean bag to knock down the fat cats.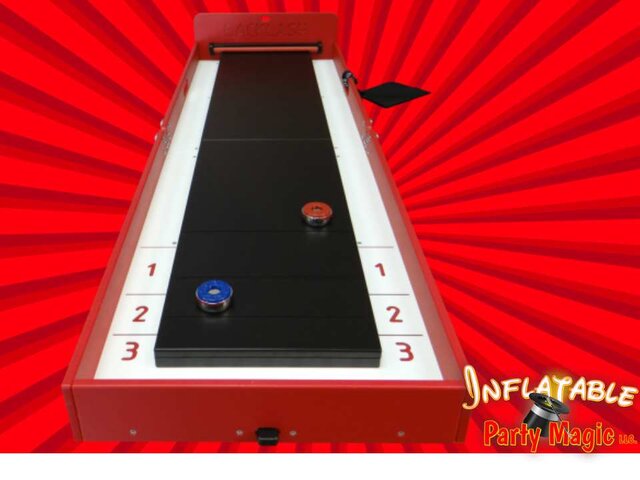 Backlash is so much fun! Bounce the puck off the backboard while trying to land on a high score. Don't push too hard! bounce too hard and you will fall off the edge.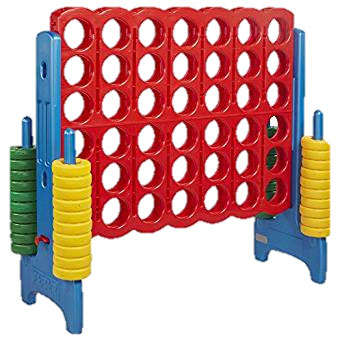 The Giant Connect 4 is an awesome spin on the classic connect 4 game. Standing over 4ft. tall, this life-sized connect 4 game will keep players busy trying to connect 4 in a row for hours.
Delivery Area
Inflatable Party Magic delivers the Platinum Event Package fun to the Texas cities of Cleburne, Fort Worth, Southlake, Keller, Burleson, Arlington, Mansfield bounce house and party package rentals, Crowley, Southlake, Grand Prairie, Cedar Hill, Duncanville, Midlothian, Waxahachie, Alvarado, Venus, Maypearl, Grandview, Godley, Granbury, Glen Rose, Tolar, Weatherford, Aledo, Whitney, and many other places in between. We would love to help you with your next party or event with our interactive inflatable game rentals.
Ready to Reserve the Event Rental Platinum Package?
Inflatable Party magic offers online easy booking for the Event Rental Platinum Package by just clicking the book now button and following the directions. If you would rather book over the phone, you can contact us at 817-800-8618 to book over the phone.
Inflatable Party Magic Has been providing Inflatable Rentals, Game Rentals, and Party Rentals to the DFW Texas area since 2002. Try our services for yourself to see why our customers rate us #1 in the party rental and event rental industry. We have everything you need to make your party or event a magical experience.
The Platinum Event Rental Package Great for field days, carnivals, corporate parties, school events, church youth groups and children's groups, college functions, or indoor parties!