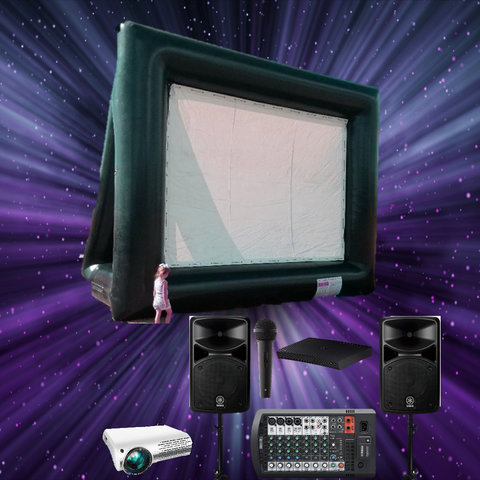 Inflatable Movie Screen Backyard Rental
Actual Size: 11' tall X 13' wide X 8' deep
Setup Area: 11' tall X 13' wide X 8' deep- rental price if for 2.5 hours
Outlets: 4
Age Group: All Ages




Inflatable Movie Screen Rental Backyard Sized Package
Inflatable Party Magic DFW Party Rental Leader
Inflatable Party Magic LLC Bounce House and Party Rentals features this awesome new backyard sized inflatable movie screen rental that is huge measuring 11'x13' total with border & 10'x 6' actual Screen Size. Are you ready for a night at the movies in your backyard? Let us bring the movies to your home with our huge movie screen. It is like being back at the drive-in only you don't need a car. This screen is perfect size for big showings of up to 150 people. Please keep in mind that movies cannot be viewed well until dusk so schedule your movie viewing for dusk or later.

With this package we provide the 11X13 Movie Screen, the projector, the complete top of the line PA system, and a Dvd/Blu Ray player. You pick and bring the DVD or Blu Ray that you would like to watch you can do that easily with our state of the art equipment. What could be better than a movie under the star?. We do not handle any movie licensures. It is your responsibility to find out what licensures are needed to project your movies. Swank Movie Licensures can help you figure out if you need a movie license and how to obtain if you do need one. If you already have all the equipment you need and just need a movie screen, we also rent the movie screen by itself.
Our Audio Video Equipment is very high quality and projects the best picture and sound possible. All components do have blue tooth capability so we can offer you the ability to play wirelessly and directly from your phone, tablet, gaming system or computer as well. Our PA system is a Yamaha 600 watt Blue Tooth PA system. I will not dissapoint in quality of sound or area that it will cover. I will easily project quality sound outdoors in a large area even with a noisy crowd in the background.
Projector specifications: This video projector offers giant and wide screen capabilities. This projector has blue tooth capabilities so you can do wireless streaming from phone or tablet as well. It is compatible with iphone, android phones, PC's, tv box, PS4, Xbox, and more. It offers
real native resolution of 1920*1080, remarkable 5500 lumens bright and high dynamic contrast ratio of 8000:1 and provides sharp and detailed images from HD content without any downscaling or compression, which is actuallly four times higher than 720p. This projector combines an innovative high-refraction 5 layers glassed lens, ensuring the best video experience.
This video projector will make the difference in your event.
Please keep in mind that movies cannot be viewed well until dusk so schedule your movie viewing for dusk or later. In spring and summer- a movie should start about 7:45 to 8pm. In fall and winter when it gets dark earlier, you can usually start a movie at about 6:45 and be fine.
Just imagine being able to watch fights, football games, and play video games directly from this Huge Screen. Our equipment makes that dream a reality and brings the fun to you.
Also, don't forget to add on the popcorn machine & chairs!! No movie is complete without the popcorn. The popcorn machine comes with all the supplies you need to make your night under the stars a magical one to remember.
Inflatable Party Magic Backyard Movie Screen Rentals are based on a rental that is up to 2.5 hours. Any amount of time over 2.5 hours, will require an extra charge. Our latest normal pickup time is 10pm. Anything past 10pm, will have an additional charge of $50.00. If the pickup time needs to be after midnight, it is an additional charge of $100.
Do you have questions about our backyard movie screen or audio and video equipment rentals? Don't hesitate to contact us at 817-800-8618.
Inflatable Party Magic Delivery Area:
Inflatable Party Magic delivers to the DFW Texas cities of Cleburne, Burleson, Mansfield, Arlington, Fort Worth, Southlake, Grand Prairie, Cedar Hill, Midlothian, Waxahachie, Maypearl, Grandview, Alvarado, Godley, Venus, Joshua, Granbury, Glen Rose, Itasca, Hillsboro, Blum, and more.
Ready to Book the Backyard Movie Screen Complete Package rental?
Simply click add to cart and follow the directions to book your movie screen rental. If you are needing t rent this item over 4 hours, please contact us at 817-800-8618 and we will assist you with booking since there will be extra charges.