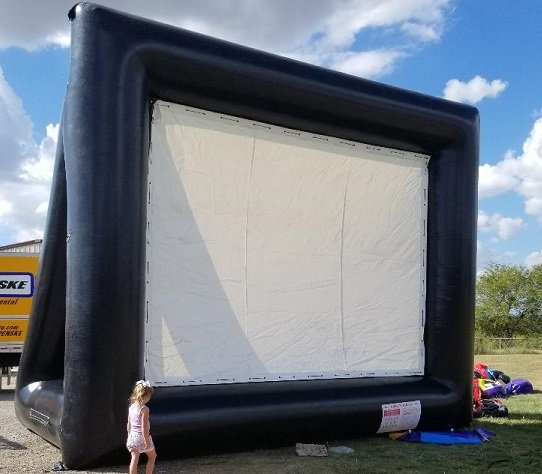 Inflatable Movie Screen Only Backyard Size
Actual Size: 11' tall X 13' wide X 8' deep
Setup Area: 11' tall X 13' wide X 8' deep. Rental price is for 2.5 hours
Outlets: 4
Age Group: All Ages




Inflatable Movie Screen Only Backyard Sized Rental DFW Texas
Rent a Movie Screen
Inflatable Party Magic LLC Bounce House and Party Rentals features this amazing new movie screen for the Fort Worth and DFW Texas area that is huge in size measuring 11'x13' total size with border & 10'x 6' actual Screen Size. This screen is perfect for the backyard sized setting. Are you ready for a night at the movies under the stars? Let us bring the outdoor screen entertainment to you with our huge inflatable movie screen rental. This big screen entertainment will have you feeling like you are back at the drive-in- only you don't need a car. This big screen is the perfect size for big showings of up to 150 people sitting in lawn chairs. It will fit in a backyard well, and still accommodate a crowd.
Please note that movies should start after dusk or dark to be viewed outdoors. In Spring and Summer months when the days are longer, it is typicaly 7:45 to 8pm before an outdoor movie can start. In fall and winter months when the days become shorter, it is typically between 6:45 and 7pm before an outdoor movie can start.
Remember, this is the screen only and includes no video or sound equipment. If you will need the video and sound equipment as well, rent our Movie Screen complete Package Backyard Rental.
Also, don't forget to add on the popcorn machine!! No backyard showing is complete without adding the popcorn and that smell of popcorn. Everyone loves popcorn with their movie.
Movie Screen Rental Pricing Information
Our Backyard Screen Rentals are based on a rental that is up to 2.5 hours. Any amount of time over 2.5 hours, will require an extra charge. Our latest normally priced pickup time is 10pm. For any pickup time past 10pm, we will charge an additional charge of $50.00. If the pickup time needs to be after midnight, it is a $100 extra charge. Please keep in mind that movies cannot start until dusk. You will not be able to see the movie if it is still daylight.
Ready to Book your Movie Screen Rental?
You can book your movie screen rental online by clicking on the click now button and following the directions. If you would prefer to book your screen rental over the phone, we would be glad to assist you. Still have questions? Please do not hesitate to call us. We would love to help you with any questions you might have.
Inflatable Party Magic has been providing party rentals to customers in the DFW Texas area since 2002. We would love to gain your business and show you how great our products and customer service are so you can see why our customers voted us number one in the party rental industry. Let us be a part of your next event.
Have questions about our movie screen or our audio and video equipment rentals? Don't feel free to contact us at 817-800-8618.