Inflatable Movie Screens and Sound Equipment
Movie Screen Rentals
Inflatable Outdoor Movie Screen Rentals
Movie Screen Rentals are at their best with Inflatable Party Magic. We rent the Best Inflatable Movie Screens in DFW Texas. Our outdoor movie screens are offered in two sizes help find the perfect match for your party size. We offer a smaller backyard movie screen for backyard venues with a smaller guest list and a larger inflatable screen for bigger events with more guests. Our company offers outdoor movie screen rentals by themselves or movie screen packages that include the inflatable movie screen, movie projectors, dvd players, and a PA system for ultimate sound quality.
Things to Know about Inflatable Movie Screen Rentals
Inflatable movie screen rentals should be used at dark. You can not show a movie during daylight hours. It will not show up. When planning your movie party, schedule your party to begin around dusk. Keep in mind that time will change with different times of the year. In summer months, it is hard to start a movie before 8:30 or 9pm. In the fall, it is already dark by 6:30 or 7:00 during some months.
We do not handle any movie licensures
. It is your responsibility to find out what licensures are needed to project your movies. Swank Movie Licensures can help you figure out if you need a movie license and how to obtain if you do need one. We do not provide movies or licensures. We only provide the movie screen equipment to show the movie.
Backyard Movie Screen
The backyard sized inflatable movie screen rental is still huge measuring 11'x13' total with border & 10'x 6' actual Screen Size. This is the perfect size for backyard movie showings or for smaller church groups. This is the ultimate outdoor movie screen to rent.

Giant Movie Screen Rental
The Giant Movie Screen is just that measuring 22'x18' total size with border & 16'x12' actual Screen Size. If you are you ready for a night at the movies, let us bring the movies to you with our huge movie screen. It is like being back at the drive-in only you don't need a car. This screen is perfect size for big showings of up to 600 people. Keep in mind these numbers for guests are assuming they are seated in lawn chairs or on blankets on the ground. To do an actual drive-in movie, you would need to limit the vehicles to about 25 vehicles to be able to view it appropriately.
Why Rent an Inflatable Movie Screen?
Inflatable Screens are becoming very popular. After all, you can invite the guests you wish and show the type of movie you want your family and friends to enjoy while enjoying the stars above you. You are free to move around and if your kids make a noise, you don't have to worry about other moviegoers being angry with you or turning you into the movie theater. The inflatable screen rentals can be enjoyed by so many guests at one time and that makes it the perfect way to entertain large groups of huge parties.
Are you ready for a night at the movies in your backyard? Let us bring the movies to your home with our huge movie screen. It is like being back at the drive-in only you don't need a car. . Please keep in mind that movies cannot be viewed well until dusk so schedule your movie viewing for dusk or later.
How to Rent the Movie Screen
To rent the movie screens, you simply click add to cart and follow the directions to book your rental. If you are needing to rent this item over 2.5 hours, please contact us at 817-800-8618 and we will assist you with booking since there will be extra charges.
Inflatable Movie Screen Backyard Rental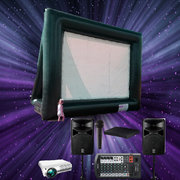 Giant Inflatable Movie Screen Package Rental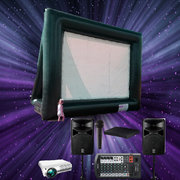 Inflatable Movie Screen Only Backyard Size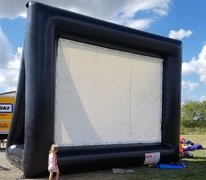 Giant Movie Screen Only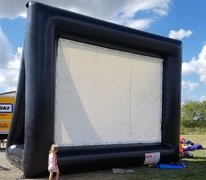 PA System and Speaker Rental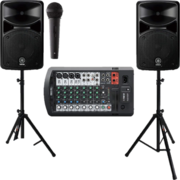 Video Projector Rental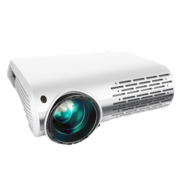 FM Transmitter Popcorn Machine Rental

Bluetooth Speaker Rental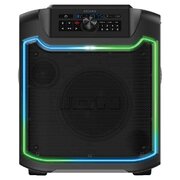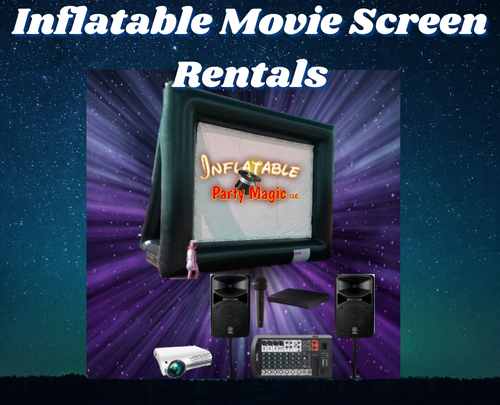 Looking for Party Rentals to add on to your Movie Screen Rental?
Inflatable Party Magic rents everything you need to complete your party! We are your one stop party shop. You can rent tables and chairs, tents,
dunk tank
, mini-golf courses,
bounce houses
,
waterslides
, rock climbing wall, euro bungee trampolines, popcorn machines, cotton candy machines,
mechanical bulls
,
casino tables
, and even
Create A Bear
. If you need help deciding what you might want to add to your Movie Screen Rental, don't hesitate to contact our professional staff at 817-800-8618.
We Rent Movie Screens Near Me to DFW Texas:
We rent movie Screens near me to the DFW Texas cities of Cleburne, Keene, Alvarado, Burleson, Midlothian, Maypearl, Crowley, Godley, Joshua, Lillian, Granbury, Glen Rose, Acton, Tolar, Lipan, Aledo, Fort Worth, Southlake, Trophy Club, Rio Vista, Grandview, Venus, Waxahachie, Red Oak, Cedar Hill, Whitney, Covington, Itasca, Blum, Hillsboro, Kopperl, Morgan, Arlington, Mansfield, Kennedale, Everman, Rendon, Briar Oaks, Benbrook, River Oaks, Kennedale, Forest Hill, Grand Prairie, Weatherford, Cresson, and other cities in the following counties: Johnson County, Hill County, Ellis County, Hood County, Somervell County, Bosque County, and Tarrant County.