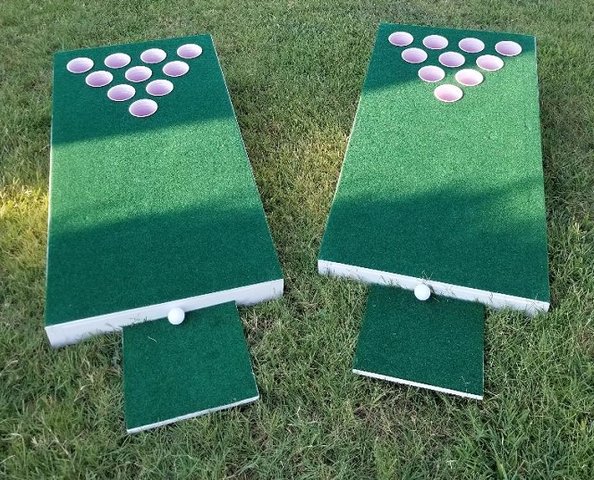 Golf Yard Pong
Actual Size: 47.6" L x 17.7" W x 46" H
Setup Area: 47.6" L x 17.7" W x 46" H




Golf Yard Pong Game RentaI
Inflatable Party Magic Party Rental Specialist serving Cleburne, Burleson, Fort Worth, Arlington, Mansfield, Midlothian, Granbury, & More
Inflatable Party Magic LLC is helping you take the fun of party games to new heights with our custom golf yard pong game rental. This game is great for those with a competitive golfing side. Your grab your golf club and see how accurately you can hit the golf pong ball into the cups. The board is a raised board that is very similar to a corn hole board, which make this game all the more difficult.. You can play teams or play individuals and see who can hit the ball the most accurately.. This game will keep your party guests occupied for many hours. If you are looking for a game that will occupy the adults while the kids play, this game is your game. This game will bring all the golfing dads out to your party. While you may not have their full attention at the party, at least you will have them there. They might have to fight the kids a little for playing time though as this game is enjoyed by all ages and can be a bit addicting.
Rules for Golf Yard Pong
Player Skill Level:
Novice Start with boards 6 ft apart
Beginner Start with boards 8 ft apart
Intermediate Start with boards 10 ft apart
Advance Start with boards 12ft apart
Expert Start with boards 15 ft apart
Starting the Game
Fill cups with water
Boards are set up apart based on skill level.
Game Play - Adheres to typical Yard Pong Rules
Bounces are allowed - no defensive swatting of the ball away on bounces
If playing in teams each player gets one opportunity to make a shot, if the game is played one on one, players are allotted (2) opportunities to make a shot
if (2) consecutive shots are made and you get the ball back
1 re-rack is given after 4 cups are made
The first person or team to make all the cups is the winner or whoever has the least cups left after time expires (if timing-ave time is 30 mins) is the winner.
If the game is tied when time expires the game goes into a (3) cup over time with 5 minutes on the clock. whoever has less cups wins or if the game is still tied the match ends in a draw.

Choose 3 cups at shooters discretion on the board but must be next to each other, and cannot use the very front single hole on the board