Southlake Bounce House Rentals
Best Bounce House Rentals in Southlake Tx
Southlake Bounce House Rentals & Party rentals are perfected with Inflatable Party Magic. If you are looking to rent the best bounce houses in Southlake, you have found the right party rental company. We are your premier resource for Southlake party rentals and offer much more than just standard bounce house rentals. Our company has been in business for over 20 years and have established a name you can trust.
Our company offers event rentals, bounce house rentals, Dunk Tanks, water slide rentals, mobile rock climbing wall rentals, Southlake mechanical bulls rental, euro bungee rentals, mini golf rentals, Southlake Inflatable Obstacle Course Rentals, mechanical bulls, tents, bumper cars, mini golf courses, carnival games, bungee trampolines, table and chair rentals and many other Southlake bounce house, inflatable rentals, and Southlake party rentals. If you are looking for high-quality and impressive rental equipment in the DFW Texas area, Inflatable Party Magic is the Event rental company you are looking for. Our staff are fully trained to ensure proper setup of your party rentals and safety for you. We think you will find our rentals and our customer service to be top-notch.
Shop By Category Category Name Category Name Category Name Category Name Category Name Category Name Category Name Category Name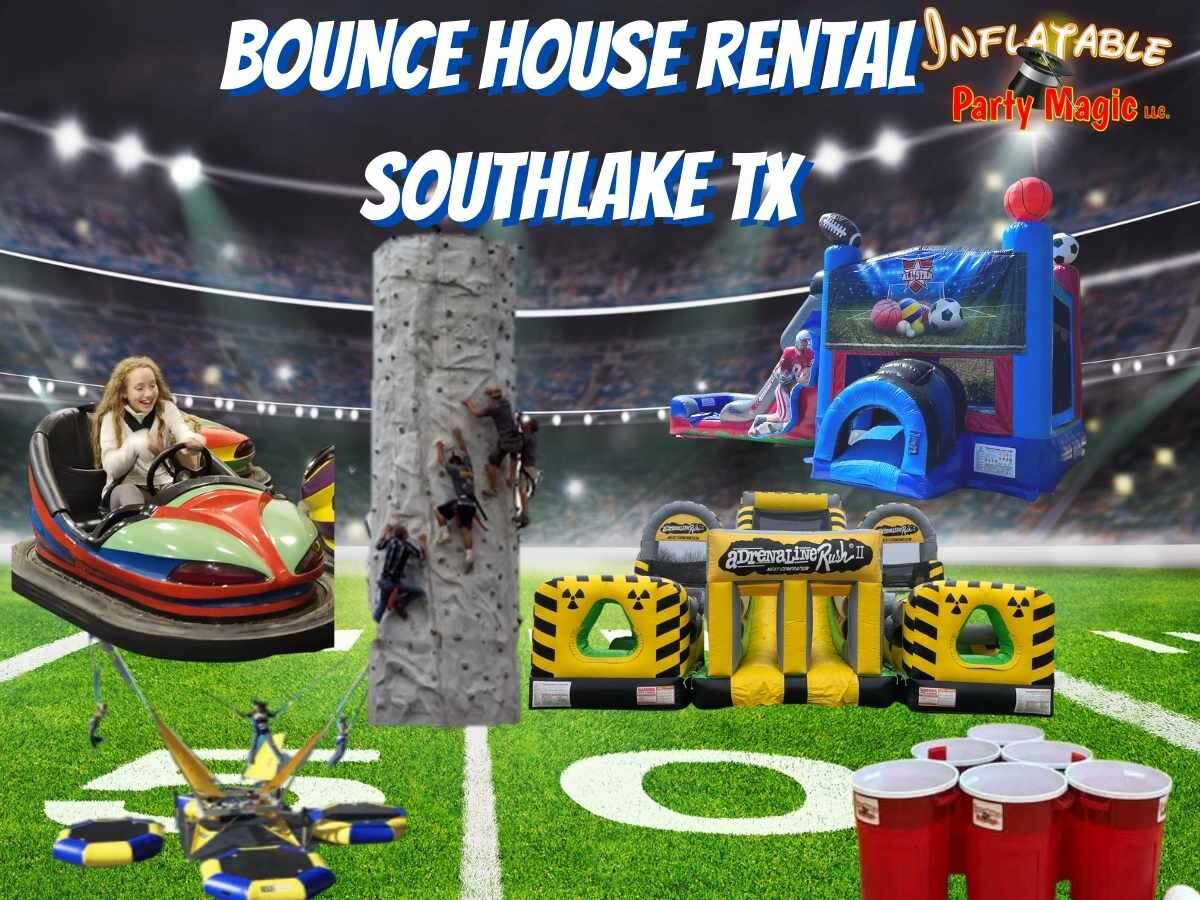 Bounce House Rentals in Southlake Tx
if you're looking for a fun and exciting way to entertain your guests, look no further than Inflatable Party! We offer bounce house rentals in Southlake Tx, as well as party and event rentals. Our team of experienced professionals will help make your next gathering a success with our wide selection of inflatable options. From classic bounce houses to interactive obstacle courses, we have something for everyone. With our top-notch customer service and quality products, you can be sure that your guests will have an unforgettable experience. So don't hesitate – contact us today to rent the perfect bounce house for your next event!
We have the latest styles and current themes for your Southlake Bounce House Rentals. Check out our full line of
bounce house rentals.
Bounce houses for rent in Southlake Tx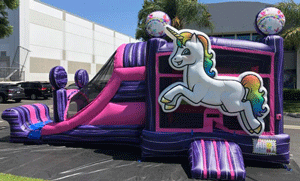 Southlake Bounce House with Slide Rental- Bounce House Combos
Bounce House with Slides are the most popular bounce house rental in Southlake, Texas. These are also referred to as bounce house combo rentals and they are becoming the most popular inflatable party rental for kids since they incorporate a standard bounce house, a slide, and other elements such as small obstacle courses, pop-up interactives, climbing walls, and basketball goals all within one Inflatable. These will keep the kids busy for hours upon hours since there is so much to do inside. Your party and event crowd will wear themselves out and you will not be hearing that phrase every parent dreads to hear "I am bored". These bounce house with slide rentals are the cure for boredom and encourage a fun form of exercise. Bounce House Combo rentals have become party and event essentials since they offer kids a variety of varied experiences. At Inflatable Party Magic, we pride ourselves with an outstanding selection of bounce house with slide rentals. Some of these bounce house combo with slide rentals are strictly rented for dry use and some are rented so they can be used wet and become water slide bounce house inflatable rentals as well. Don't forget table and chair rentals for your Southlake party. You can easily add to your order!
Bounce House Combo Rental Inventory Southlake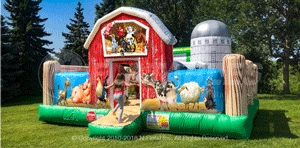 Southlake Toddler Bounce House Rental
Toddler combos are the latest bounce house sensation with toddlers and small children. Regular bounce houses only offer a jumping experience, which can be quite frightening for a little one. Sometimes just the sound of the bounce house blower and seeing the roof above them can make them feel trapped and overwhelmed. Since toddler bounce combos have an open top concept, toddlers can see the light above them and not feel closed in or trapped. Not to mention the noise level is so much less since there is not a top and the sound escapes. Toddler combos offer bouncing options throughout them, but the bouncing space is broken up with interactive popup characters and obstacles throughout the entire bouncing space. Additionally, they will have a small slide with climbing wall that is slightly slanted and positioned in a way that makes it very easy for even a toddler to climb up and slide without assistance.
Toddler Bounce House Rentals Southlake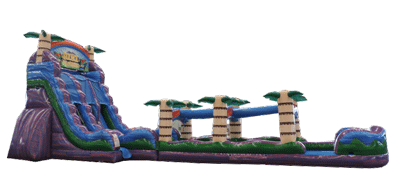 Southlake Water Bounce House Rentals
Southlake bounce house with water inflatable rentals from Inflatable Party Magic offers the best selection bounce house water bounce house inflatables to rent in the Southlake area. We offer slip-n-slide water inflatable rentals, bounce house combos with Water rentals, and all sizes of vertical water bounce house rentals ranging from 12ft. tall to 24 ft tall. Our inventory includes slide rentals for all no matter what age you are looking to entertain. No matter what you call them water bounce house inflatable rentals, inflatable rentals, bounce house with water rentals, wet bounce house rentals, Inflatable Party Magic offers what you are looking for. We have water bounce house inflatable rentals for small kids, teens, and even adults. Giant inflatable bounce house water bouncer inflatables are our specialty. We carry the huge bounce house water inflatable rentals that will entertain teens and adults as well as bouncy water inflatables for small kids. You will not find a better selection of water bounce house inflatable rentals anywhere else in the DFW or Southlake Texas area.
Southlake Water Bounce House Inflatable Rental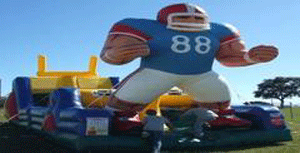 Southlake Bounce House Obstacle Course Rentals
Southlake bounce house obstacle course rentals are a great way to entertain competitive kids, teens, and adults. Inflatable bounce house obstacle course rentals are one of the most popular interactive inflatables we have. They are two player obstacle races in which the competitors race through different challenges and climbing walls and slide to the finish to see who has the most speed and agility. Obstacle course bounce house rentals are great for school field days, after prom celebrations, college events, corporate events, birthday parties, city events, and much more. Inflatable Party Magic LLC offers Southlake an awesome variety of bounce house obstacle course rentals in all sizes and price ranges to fit your event no matter what age range you are looking for.
Southlake Bounce House Obstacle Courses for Rent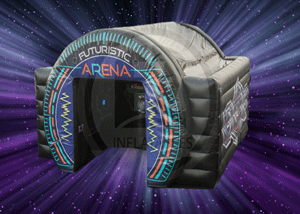 Southlake Inflatable Game Rentals
Interactive inflatable game rentals are everything competitive. Inflatable Party Magic offers Southlake and incredible selection of inflatable game rentals. Items that you will find in this category include Bungee inflatable rentals such as Hungry Hippo Chow Down, Rapid Fire, and Tugga Touchdown, The Wrecking Ball, Interactive Play Systems, and games such as Soccer darts, Baseball Games, and Football Tosses, and more. Interactive inflatable game rentals have have become huge party rentals items. Event rentals for Southlake school and church events use all things interactive to involve multiple age groups from small kids, teens, and adults. This type of inflatable rental is the perfect addition for field days, after proms, graduation parties, and adult events. Interactive Inflatables are often referred to as adult bounce house rentals. Type of inflatables you will find under interactive games are detailed in this paragraph. The Wrecking Ball, which is an interactive rental that has taken the entertainment business by storm. since it involves multiple players at one time It is a four-player game in which participants stand on a pedestal and try to knock each other off with an very large and padded swinging ball. Interactive play system light game rentals and inflatable rentals have also become very popular and challenging. We offer the interactive play system cones and the Warp Zone arena that uses the interactive lights. These lights challenge players to carefully watch their area and follow the pattern of the lights while tapping each light they see. At the end both players receive a score electronically. The term interactive also includes games such as Soccer Darts, Inflatable football toss, field goal kicking, baseball, and so many more. You have to check out our interactive inflatable rental selection, Southlake Bounce House Rentals, and Southlake Party Rentals from our main website you will be impressed with our selection. We offer more than any other party rental company in the DFW Metroplex.
Southlake Inflatable Game Rentals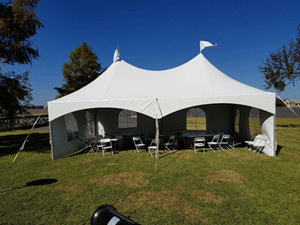 Southlake Tent Rentals
Southlake tent rentals are made easy with Inflatable Party Magic. We are the tent rental experts in the DFW Texas area providing only high quality high peak tent rentals. We have tent sidewalls as well to add to your tent rentals. Inflatable Party Magic would love the opportunity to service your commercial tent rental needs in Southlake. Our company also provides smaller 10X10 popup tents for smaller tent needs. Popup tents are stocked in the colors of white and grey,
Southlake Tent Rentals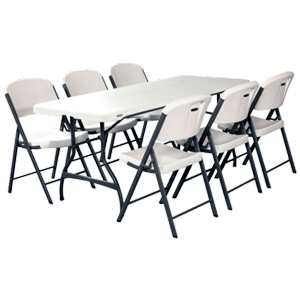 Southlake Table and Chair Rentals
Inflatable Party Magic offers Southlake table and chair rentals. We are able to offer different sized tables, table and chair packages, cocktail tables, standard rental chairs in white and black, and higher end resin garden chairs. The tables and chair rentals we offer are high quality and kept very nicely to make a statement at your party or event. The type of table and chair rentals we offer can do large scale nice events and just your smaller backyard venues as well. We stock a variety to suit your needs. Let us help keep your guests comfortable.
Southlake Table and Chair Rentals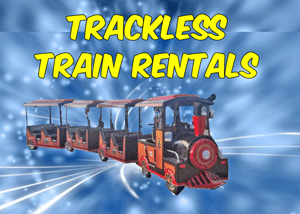 Trackless Train Rentals Southlake Texas
All Aboard the Party Magic Express in Southlake! If you are looking for a trackless train rental in the Southlake Texas, or surrounding areas, look no further! Inflatable Party Magic has just added this beautiful trackless train party rental to make your next event magical. The Party Magic Express train rental Southlake offers a nostalgic look and feel. The details on this train are unbelievably beautiful. You will see lights and hear whistles & horns all while enjoying your train ride experience. This train is not just a kiddie train rental. At Inflatable Party Magic, we want adults and kids to enjoy our train together for a total family experience. Inflatable Party Magic's Kiddie Train rental is the best train you will find in the Southlake area. We specifically delivery trackless train rentals to Fort Worth, Keller, Arlington, Burleson, Mansfield, Crowley, and more DFW Texas cities.
Trackless Train Rentals Southlake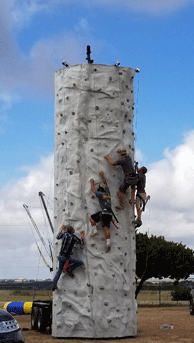 Southlake Mobile Rock Climbing Wall Rental
Inflatable Party Magic now offers Mobile Rock Climbing Wall rentals in Southlake, Texas. We are taking you to new heights with our 24ft. mobile rock climbing wall rental. Our new rock climbing wall rental Southlake is a four station wall so we can have four participants at a time climbing the wall. The Inflatable Party Magic rock wall rental is great for ages 7 to adult. This rock wall rental can take your DFW Texas party or event from ordinary to extraordinary.
Southlake Mobile Rock Climbing Wall Rentals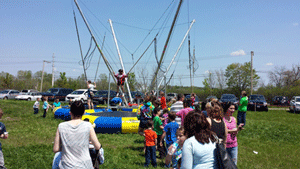 Southlake Texas Euro Bungee Trampoline Rental
Inflatable Party Magic has recently added a euro bungee trampoline rental to it's rental fleet in Southlake Texas. Want to Rent a Euro Bungee in Southlake? Let Inflatable Party Magic take you to the next jump. We added a quad jump Euro Bungee to our rental fleet. This allows 4 participants at a time to jump, flip, and create their own fun. The Euro Bungee is a very safe and fun interactive piece that allows participants to feel uninhibited and ready to the world. The cool thing with the bungee trampoline rental is the sky is the limit! The quad jump Euro Bungee trampoline rental is a great addition to private parties, corporate parties, school field days, church youth group functions, and college events. Quad jump rentals are the center attraction for any event and will attract a large crowd.
Euro Bungee Trampoline Rental Southlake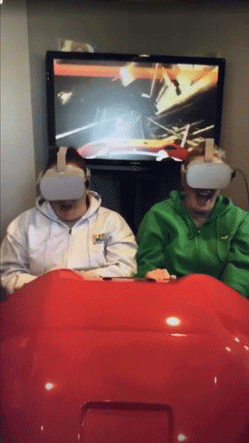 Virtual Reality Roller Coaster Rental Southlake
Looking to rental a virtual reality roller coaster rental in Southlake, Texas? Inflatable Party Magic now offers this virtual reality coaster rental that brings gaming to a whole new level. This VR coaster allows 2 riders at a time to experience the thrill of over 28 different roller coaster rides. This Southlake Virtual Reality coaster is perfect for all different age levels and experience levels. If your next event needs a boost, this coaster will keep even the biggest thrill seekers and gamers entertained and begging for more. At the same time, it also offers rides that are good for toddlers, school age children, high school, college, and even adults. There are so many virtual coaster rides to choose from so we can customize the experience to the individual rider. The Virtual Reality Coaster is a complete virtual reality roller coaster simulator with awesome visual sceneries, scenarios, vibrations, and even wind blowing in your face and hair. No matter which way you turn, you will see different sceneries and can even look at a 360 degree view all around you while in the coaster. You will feel like you are on a real coaster ride and find yourself screaming and moving from side to side at times just like you would on a roller coaster.
Southlake Virtual Reality Roller Coaster Rental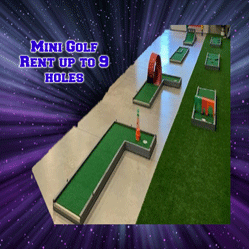 Southlake Mini Golf Rentals
Looking for a mini golf course rental in Southlake, Texas? Inflatable Party Magic rents an awesome mini golf course. We offer portable mini golf course rentals in different hole options so you can customize your golf rental. Mini Golf course options are 3 holes of mini golf rentals, 6 holes of mini golf rentals, or 9 holes of mini golf rentals. Our mini golf course rentals are challenging and fun for all age groups including adults. Our mini golf set does have LED lights and has a very upscale appearance with obstacles and everything you need to have a true golf experience at your next party in Southlake. Don't let your next party or event go on without mini golf rental.
Southlake Mini Golf Course Rentals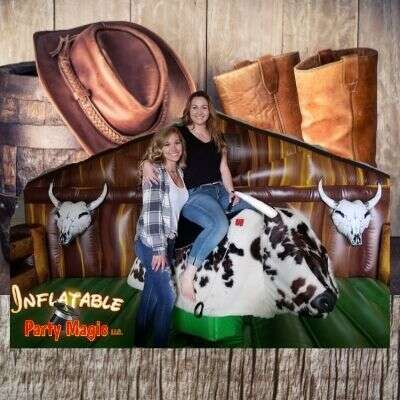 Southlake Mechanical Bull Ride Rentals

Looking for a Mechanical Bull rides to rent in Southlake? Inflatable Party Magic offers mechanical bull ride rentals in Southlake and near you in the DFW Texas area. Our bull rental is a deluxe bull and offers extra settings as well a an upgraded landing mat with a quality look and feel.

Our Southlake mechanical bull ride rentals are priced for up to three 3 hours. You can add additional time for an added cost. The bull rental is staffed by our trained employees for safety and fun.

See if you can ride the bull and make an 8 second ride at your next Southlake event! Mechanical Bull ride Rentals in Southlake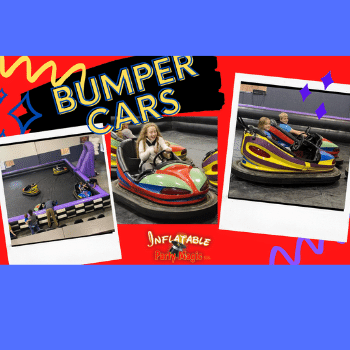 Southlake Bumper Car Rentals

Bumper car rentals in Southlake create the most awesome party! If you have been searching for something different for your next event, bumper car rentals are it! The arena features 4 bumper cars and a fully padded side wall arena allowing participants to bump and have fun without worry to the spectators. Participants will love how fast and furious these cars actually are while inside the bumper cars and will also love how comfortable the seat belts are while in use. You will get a staff member who operates the cars via remote with a kill switch if in the event for a safety reason such as a child decides to unbuckle the seatbelt and get out we can stop all riders instantly to ensure a safe transition from riding to exiting the bumper car rental ride. This is also equally important to note if participants are not following rules and listening to directions given by the operator is able to completely stop the ride. This will be the best event you have ever hosted! Price is for a 2 hour rental. Give our bumper cars a try at your next party! Bumper Car Rentals Southlake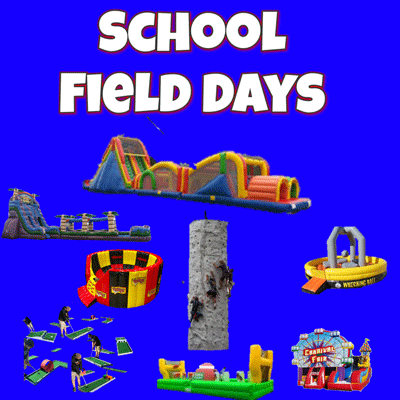 Southlake and Trophy Club Field Day Rentals

Are you looking for fun school field day events in Southlake and Trophy Club? Inflatable Party Magic can help make your field day the best field day ever. We not only stock bounce house rentals, but also obstacle course rentals, competitive interactive inflatable games, carnival style games, rock climbing walls, bungee trampolines, tug o war ropes, water slides and so much more.

Check out our field day webpage. Southlake Field Day Rentals
Southlake Party Rentals and Southlake Event Rentals
Inflatable Party Magic is your party rental specialist in Southlake, Tx. We have everything our need to create a magically perfect party. Our business have been providing party rentals for over 20 years so we not only stock the party rental items you need, but have the experience to guide you in creating the ultimate party no matter the size.

We have successfully helped with backyard parties, larger school and church parties as well as corporate parties. Southlake event rentals can also be taken care of by Inflatable Party Magic. Parties and events are somewhat the some same, but events tend to be on a larger scale.

Corporate event rentals include things such as team building, staff events, customer appreciation rentals, and so much more. Church event rentals tend to incorporate children's events and youth events that cater to a wide variety of age groups interacting. Our company has the rental equipment you need to accomplish the task of church event rentals in Southlake. College Event rentals are more geared to young adults that want a challenge and yet still desire the fun on a unique basis. Inflatable Party Magic has inflatable rentals and extreme attraction rentals to capture the Southlake college event rental market. We have more available on our main rental page.

Please visit our home page for a complete listing of party rental and event rental services. Inflatable Party Magic has been in business for over 18 years providing Southlake bounce house rentals and Southlake party rentals. Our business has seen bounce house rentals called moonwalk rentals, bouncy castle rentals, jumpy thing rentals, rental bounce houses, bouncey house rentals, jumper jacks rentals, bouncing house rentals, jumper rentals, waterslide rentals, and more. No matter what they have been called over the years, they provide a chance to bounce and have fun.

We strive to be the best at what we do. Inflatable Party Magic is fully insured and are state inspected annually in the area of bounce house rentals and amusement rentals for safety and as required by Texas State law. Our awesome staff are fully trained and held to the highest standards and accountability in the bounce house rental and party rental industry. Our mission is simply to provide the best quality party rental equipment at the lowest prices we can offer them while at the same time, maintaining a high level of customer service and satisfaction.

If you want to stand out from the crowd, we offer many unique Southlake inflatable party rentals with different themes to choose from. Our business offers a complete line of party rentals such as bounce house rentals, inflatable water slide rentals, bounce house with slide rentals, toddler inflatable rentals, obstacle course rentals, interactive inflatable rentals, Create A Bear Parties, Rock Climbing Wall rentals, Euro Bungee Rentals, Mini Golf rentals, trackless kiddie train rentals, tent rentals, table and chair rentals, carnival game rentals, backyard game rentals, dunk tank rentals, virtual reality roller coaster rentals, frozen drink/margarita machine rentals, concession machine rentals and even more Southlake party rentals. Complete party packages are also offered so you can save on renting multiple party rental items. Check out our complete inventory here to see how we can make your next event a success. Inflatable Party Magic LLC is proud to be Southlake's #1 bounce house rental, party rental, and event rental company. Check out our Google business listing as well.
We Rent Bounce Houses in Southlake
Southlake is a great area to raise kids and throw parties it is located in the heart of the Fort Worth area without all of the traffic and commercialization. Located in Tarrant County,
The city of Southlake,
provides Dallas/Fort Worth area families with great lifestyle options and so much to do.
The Southlake School District is one of the best districts in the DFW Metroplex area offering many campuses that we are proud to say we service. The Southlake Carroll Football team is known throughout the state of Texas for greatness. Southlake definitely has bragging rights in the Friday Night Lights department. Southlake is a great place to have party rentals and event rentals. Many neighborhoods have parks in them. For a full listing of the parks in Southlake you can click for
Southlake Park Information.
Most cities do require that your inflatable rental or any party rentals you might have be covered by insurance. Inflatable Party Magic the required insurance for Southlake bounce house rentals and party rentals so that we can meet the requirements of the Texas Parks Departments.
Customers give our business a 5-star rating in the Southlake and Trophy Club area for quality and customer service. If you are looking for bounce house rentals in Southlake, Tx or Trophy Club, give us an opportunity to show you why our company can best serve you.
Our Southlake Bounce House Rental Service Area
If bounce house rental for your party is outside our normal service area, just let us know! We do deliver even farther out, and special accommodations can sometimes be made for your party or event near Southlake.


NOTE: Extra travel fees may apply to some areas.