Water Slide Rental in DFW TX: Make a Splash with Inflatable Party Magic
Water Slide Rentals offered for all ages

High Quality Water Slides and Products

Up to 8 hour rentals for one low price- Don't accept 4 hour rentals for the same price

Safe, Reliable, and Quality Service- 20 years of experience with over 500 customer reviews

Confirmation and reminder email communications so you can feel confident in your waterslide rental.

Largest Selection of Water Slide Rentals in DFW Texas

Fully State Inspected and Insured

Clean and Sanitized Inflatable Water Slide
The Best Water Slides for Rent in DFW TX: Choose from a Variety of Sizes and Themes
Looking for the best water slide rental options in DFW TX? Look no further than Inflatable Party Magic! Our extensive inventory of water slides offers a huge variety of sizes and themes to choose from, ensuring that you'll find the perfect option for your event. From the towering "Tropical Oasis 24 foot tall Water slide" slide to the fun and colorful "Baja" water slide, we have something to suit every taste and age group. Our water slides are designed with safety in mind, featuring safe designs, sturdy construction, and even dual lane slides that can support multiple riders at once. In addition to our selection of water slides, we also offer a range of other inflatable party attractions, including bounce houses, obstacle courses, and interactive games. So whether you're planning a birthday party, a corporate event, church party, or a community festival, Inflatable Party Magic has everything you need to create a fun and memorable experience for your guests. Contact us today to learn more about our water slide rental options in DFW TX! Below you will find our selection of water slides to rent.
  Water Slides
Hours for Water Slide Rentals
Displayed price is for up to an 8 hour water slide rental.
Inflatable Party Magic still offers 8 hour rentals for the same price most companies charge for 4 to 6 hour rentals.
8.5 to 12 hours just adds 7% per hour to your water slide rental order
$50.00 for Overnight Rental (pick-up after 8:00am following morning)

Please note: Water Hoses are not provided for your water slide rental. You must provide your own water hoses (enough to get from your water outlet to where you want to set the water unit)
Grow water hoses will not supply enough water pressure to correctly operate most water slide rentals. (grow water hoses are the ones that are small and coiled and expand as you stretch and add water) You will have to have other water hoses available if you typically use grow hoses.
Tropical Water Obstacle Course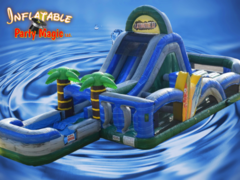 Rainforrest Obstacle Course Water Slide Rental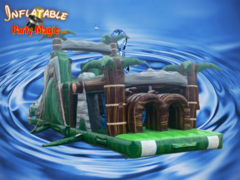 24 ft. Tall Tropical Oasis Water Slide Rentals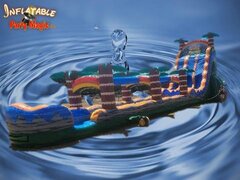 24 ft. Twin Turbo Waterslide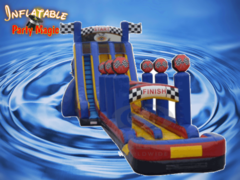 24 ft. Free Fall Water Slide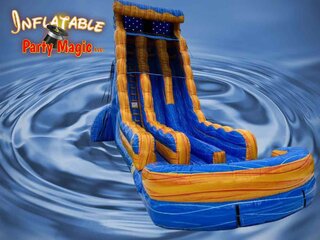 24 ft. Scream Water Slide Rentals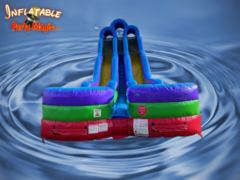 22ft. Tiki Plunge Water Slide Rental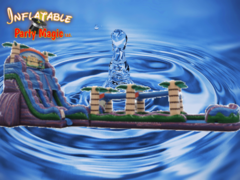 22ft. Pipeline Inflatatable Water Slide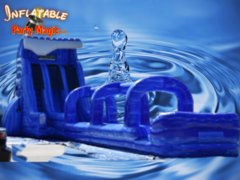 20 Foot Tall Caribbean Inflatatable Water Slide with Pool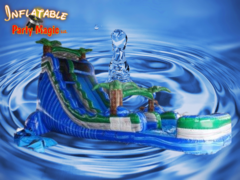 20ft. Caustic Drop Extreme Water Slide Rental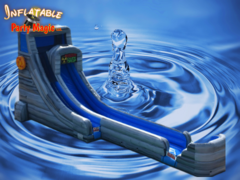 20 ft tall Midnight Fire Water Slide Rental with pool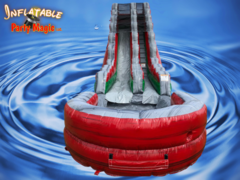 20 Foot Tall Titanium Waterslide with pool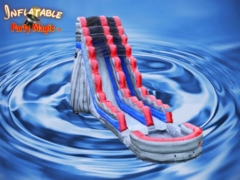 19 ft Monster Wave Dual Lane Water Slide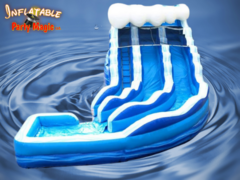 18' Lava Rush Dual Laned Waterslide with Pool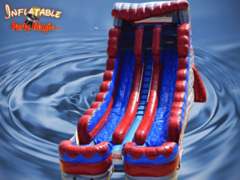 18 Foot Tall Plummeting Lava Double Lane Water Slide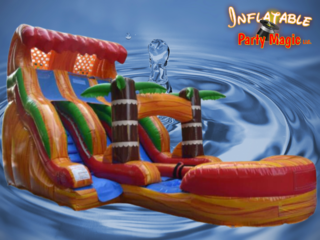 18 Ft Tall Tidal Wave Inflatable Water Slide Rental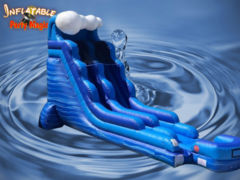 18 Foot Tall Purple Crush Water Slide with Pool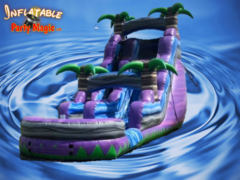 18 Foot Tall Blue Crush Water Slide Rental with Pool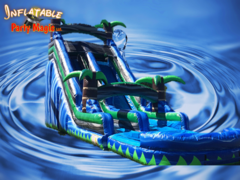 18 Foot Tall Super Storm Inflatable Water Slide with Pool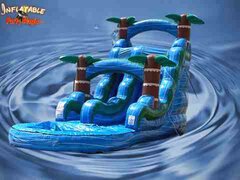 Aloha 18 foot tall Water Slide with Pool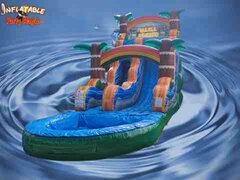 17 foot tall Ocean Inflatable Waterslide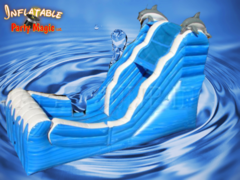 16 foot tall Baja Waterslide Rental with Pool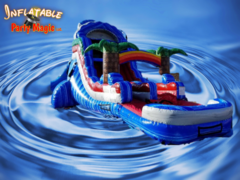 16 ft tall Mermaid Water Slide Rental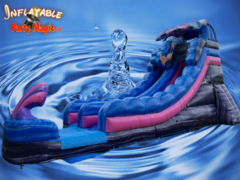 15ft Cyclone double lane water slide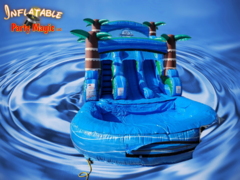 15 Foot Tall Double Jeoparty Water Slide Rental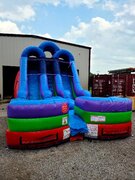 15 ft Lego Adventure Water Slide Rental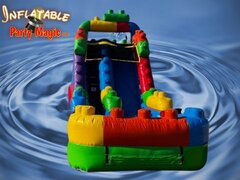 15 Foot Tall Race Car Waterslide Rental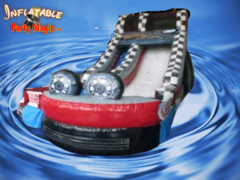 15 ft tall Nuclear Water Slide Rental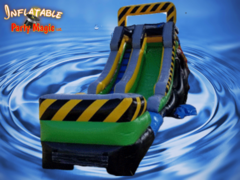 15 Ft Tall Super Slide Waterslide Rental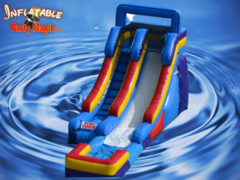 15 ft tall Lil Splash Inflatable Water Slide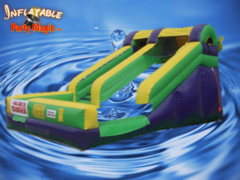 15 foot tall Ahoy Mate Pirate Ship Inflatable Water Slide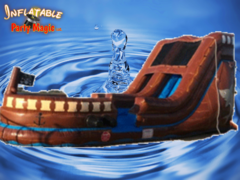 12 foot Wave Inflatable Water Slide Rental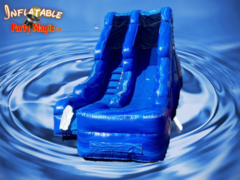 Hawaiin Slip N Slide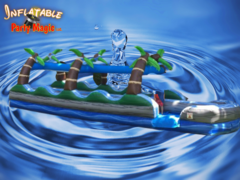 Competition Slip N Slide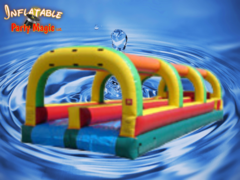 Blue Marble Slip N Slide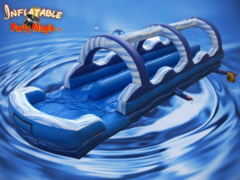 Wild Splash Slip N Slide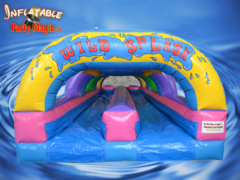 Tropical Rampage Bounce House with Double Water Slide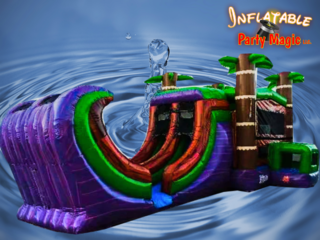 Jurassic Dinosaur Water Slide Combo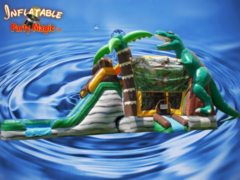 T-Rex Jurassic Dinosaur Bounce House with Double Lane Slide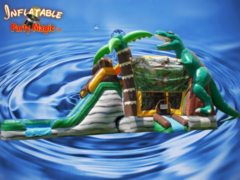 Despicable Me 4n1 Waterslide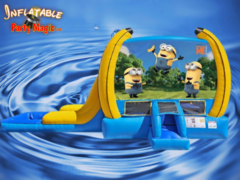 Platinum 4n1 Water Slide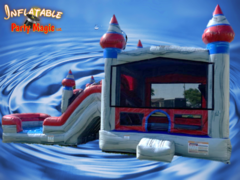 Unicorn 4N1 Water Slide Dual Lane Slide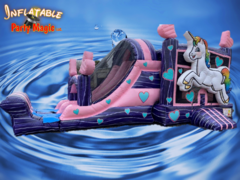 Unicorn Rainbow Water Slide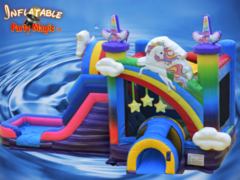 Mermaid Combo Water Slide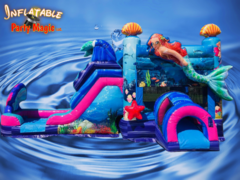 Lego Land Small Bounce House Water Slide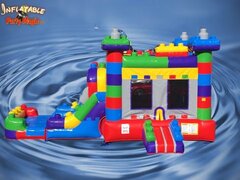 Pirates Revenge Bounce House Water Slide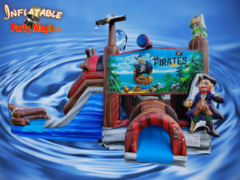 Pirates of the Carirbean Bounce House Water Slide Combo Rental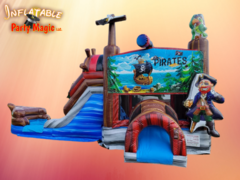 Hurricane 4n1 dual laned Water Slide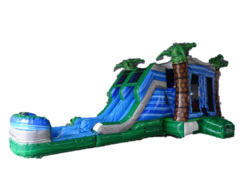 Cave 4n1 Combo with Dual Water Slide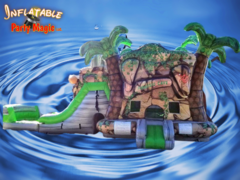 Storm 4n1 Water slide with dual laned slide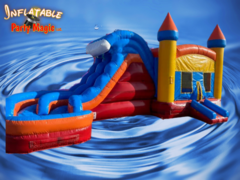 Fire Truck Water Slide Rental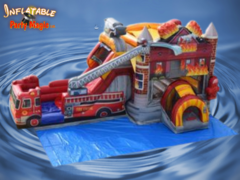 Dump Truck Bounce House Water Slide Double Lane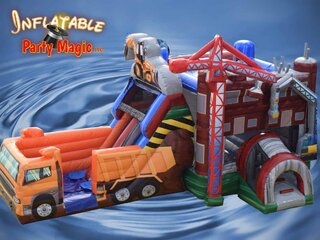 Farm Double Water Slide Bounce House Rental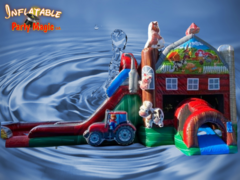 Candy Land Water Slide Combo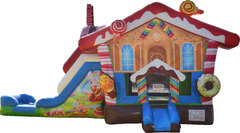 Fun House with Water Slide Combo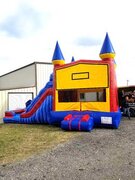 Circus Bounce House water slide Combo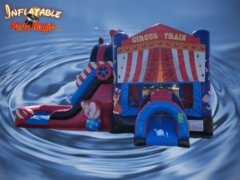 Castle 4n1 Waterslide Combo with dual laned slide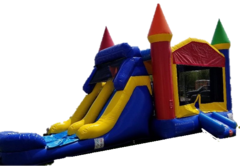 Surf the Wave Combo Water Slide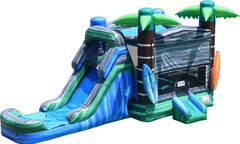 Purple Passion 4n1 Waterslide Combo with pool landing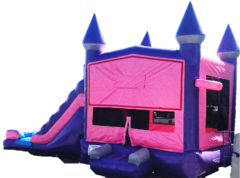 Extreme Sports Bounce House Water Slide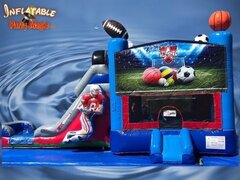 Butterfly Bounce House Water Slide Double Lane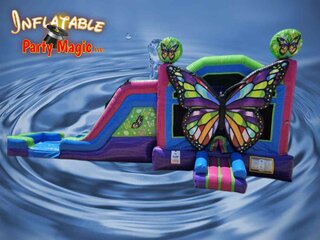 Pink Princess 4n1 Waterslide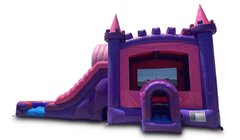 Queen Water Slide Bounce House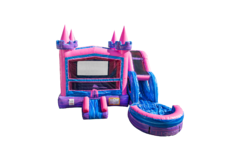 Majestic 4n1 Waterslide Combo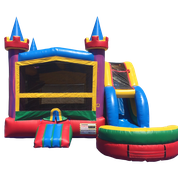 Bahama Breeze 4n1 Water Slide Combo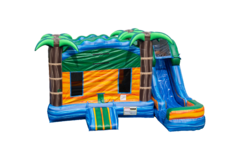 Mega Marble Mansion Bounce House Water Slide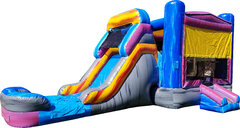 Spider Man 5n1 Combo water Slide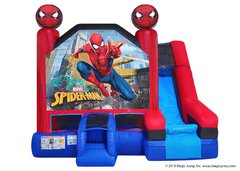 Paw Patrol 5N1 Water Slide Combo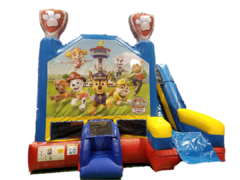 All Sports 5n1 Bounce House Combo Waterslide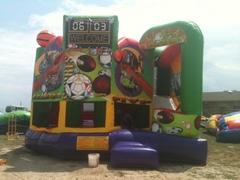 Justice League 5n1 Water Slide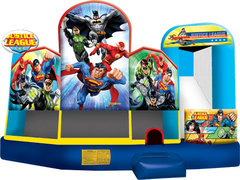 Disney Cars 5n1 Waterslide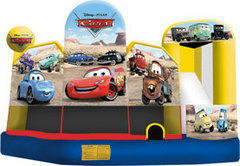 Choo Choo Train 3n1 Water Slide Combo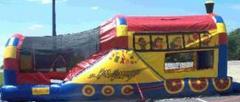 Create Your Own Package Standard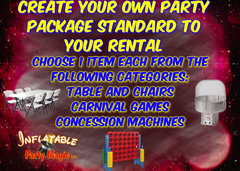 Create Your Own Package 2 Game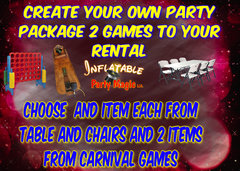 Create Your Own Package Basic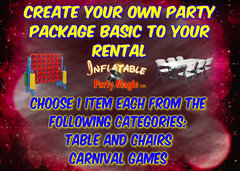 Inflatable Water Slide Rentals You can Trust
Why choose Inflatable Party Magic for your
inflatable water slide rental
? We offer the best options for
inflatable water slide rentals near me
. Our company has over 20 years of experience renting
inflatable waterslides near me
in the entire DFW Texas area. We train our staff thoroughly on safe setup and extensive customer service. You can feel confident that our staff are fully trained from sales team to our delivery team and everyone in between to provide excellent customer service and a safe and accurate setup of rental equipment. Inflatable Party Magic's blow up water slide inflatables are Texas-sized so we can offer the best in huge water slides rentals at a better value than any other company can.
o top that off, our selection of inflatable water slides to rent is unparalleled in the industry. You will find our entire selection of DFW Inflatable Water Slides below. You should have no problem finding an inflatable water slide to rent that is perfect for your water slide party with the over 70 inflatable water slide rentals near me we have to choose from. Need help deciding which water slide to rent? You will find a how to rent a waterslide help below all of our water slide rentals are shown below. Rent an inflatable water slide to beat the Texas Heat and provide the best summer fun! Inflatable Party Magic was one of the first party rental companies to offer water slide inflatables so you can trust our experienced staff to make your party the best party ever! Whether you are renting a water slide for a backyard birthday party or need to rent an inflatable water slide for a large event or church party, we can help with our huge selection and varied sizes.
How to Choose a Reputable Company for Your Water Slide Rental
Renting a water slide for your upcoming party or event is always exciting, but making sure you are renting from a reputable company is essential. With the right steps, you can ensure that you are getting the best water slide rental service possible.
Inflatable water slides
for rent in the DFW Texas area can be easy to find when searching, but make sure you are choosing a reputable company to rent a water slide from. Water slides to rent come in many forms. With i
nflatable water slide rental
you will find people renting them out of their garages and offering low prices, but they will often cancel if they can get a higher price from someone else. Inflatable Party Magic is a trusted resource for
Texas water slide rentals near me
. A larger company such as our company has set prices and we don't offer lower prices or auction our water slides for rent off to the highest bidder. Our prices and service remain constant. You can rest assured that if you have a rental booked with our company, we will show on the day of your party. You will not be left without a water slide for your party! We get phone calls every weekend from people needing a last miniute water slide rental and wondering why their rental company did not show and now they can not reach them. At Inflatable Party Magic, our reputation can easily be found online so you can feel confident in your decision to rent a water slide
.
Water slides for rent near me are our speciality.
Don't take our word for it, check out
our reviews online
to see what our customers have to say about our products and services. Over 500 customers have left 5-star reviews about our company. See what they have said to feel more confident in your water slide rentals with Inflatable Party Magic.
Steps to Check out a Company's Reputation and Service Record Before Renting a Water Slide:
Google Reviews- Google the company and find their Google Reviews. That will tell you alot about a company. Remember that no company is perfect and will have some negative reviews, but look at the companies repsonse to bad reviews. That will tell you alot. Also, the good reviews should far out number the bad reviews.
Texas State Board of Insurance- In Texas, inflatable companies are required to maintain an insurance policy and be inspected annually. You can go to the state's website and verify this on a company before renting from this.
Social Media- Look on Facebook or other social media outlets and see how active the company is and if their are reviews there as well. A company that is active in social media tends to care about their customers and interacting with customers. This can be a sign of how they handle and prioritize customer service.
Better Business Bureau- This can tell you if the company has ever had a claim against them and if they took the time to respond or not.
These recommendations are not the only way to make sure a company is trustworthy and reputable for what they do, but it is a good start and will provide you with some background information.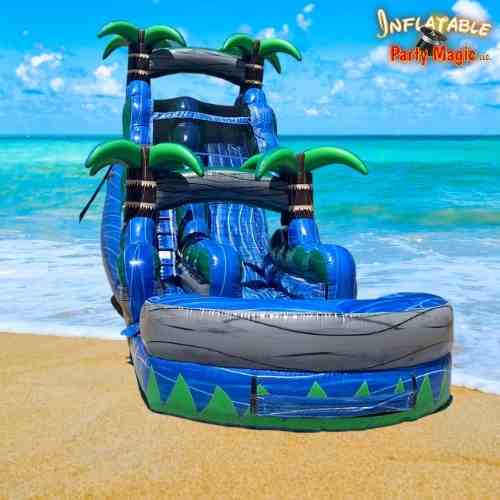 Steps to Planning Your Water Slide Party
Determine the location: Choose a place with enough space for the water slide and consider accessibility for guests.
Measure the location you have chosen so you know the area size you are working with. Look to see if there are any overhead obstructions such as trees or power lines. If there are obstructions, you will need to know how the distance from the ground to the obstruction so you know how tall of a water slide you can rent.
Determine the date and time:
Get the water slide and any tables and chairs rented for your date: Planning early is helpful as spring and summer weekends book quickly.
Set up the inflatable water slide delivery time at least one hour before your party: Ensure that the rental company delivers and sets up the water slide when you make the reservation and setup the time. Some companies do not provide full service setup and takedown.
Plan food and drinks: Provide refreshments and snacks for guests, including water and shade for hot days- pop-up tents can be perfect for housing a table or two of food and a couple of guest tables.
Don't forget to order the cake if you are having a birthday party. Some cake decorators are scheduled out for weeks or even months.
Consider adding additional forms of entertaniment such as giant games, music, etc.: A bluetooth speaker can provide your guests with the music of your choice and something they can enjoy. Music can be what reminds you of a good time or a party. For some reason we tend to associate the music that was playing with the good times in our lives.
Water Slide Rental Details
Water slide rental come in many forms and sizes .
Water Slide Rentals
are the most popular spring and summer rental for all types of parties. The best Water Slide rentals come from Inflatable Party Magic. Our rentals are for up to 8 hours for one low price. All pricing is shown with that individual water slide Delivery and set-up is included in the rental price. Depending on your location, there could be a travel fee. Our inflatable water slides offer fun and unique entertainment from a company that focuses on safety and professionalism. We thoroughly train our staff before they get to you on how to properly and safety setup your water slide. Inflatable Water Slide safety does not get any better than Inflatable Party Magic. Our company is located in the Cleburne Texas and we provide the largest selection of inflatable water slides in DFW including the hard to find slip n slide water slides. We rent inflatable water slides for kids, water slides for teenagers, and even adult water slides.
Water Slide Rental
are the centerpiece of any summer party. Let us make your party a magical success with one of our water slides. If you are looking for the largest selection of fun
water slides to rent
, look no further. We offer huge water slide rentals, toddler water slide rentals, slip and slide water slide rentals, and everything in between.
DFW Water Slide rentals
are made easy with our 24/ online booking. We know that your decision to rent a water slide needs flexibility and should be at your convenience so we made our online booking fast and super simple. Let us help you find the perfect inflatable water slide to rent! It can be hard to find a teen water slide to rent and adult
water slide rentals
, but we have you covered. Let us help with your water slide rental. We realize that all ages love to play on water slide inflatables and our company wanted to make sure we could accommodate all ages and customers with the water slides we offer. Most companies don't offer many adult inflatable water slides to choose from, but we offer the best water slides to rent for adults and teens. You will find a huge selection of inflatable water slides for teenagers and adults in our giant water slides to rent. Don't worry, we rent just as many
inflatable water slides
for kids and toddlers.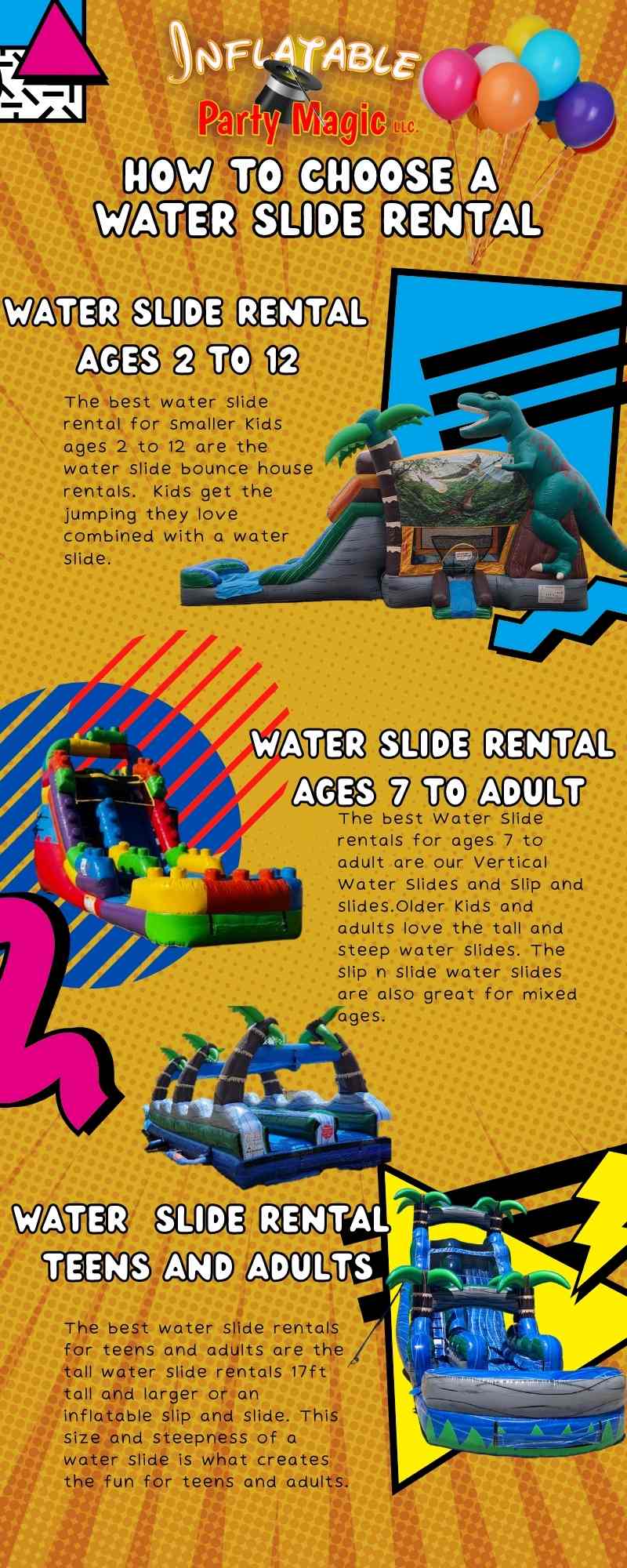 How to Choose the Perfect Water Slide for Every Age
Inflatable
water slide rental
in DFW are great for any age if you choose the correct water slide. Many companies, like our company, offer a selection of water slides for all ages. We get many questions on
how to rent a waterslide
and feel some of our highlighted references will assist you in making that decision. Based on the questions our customers have asked, we developed an age range chart for water slide rentals as well and listed below. We are always how to choose
water sldies to rent near me.
Our recommendations for ages on
Inflatable Water Slide Rentals in DFW TX
are as follows:
Water Slide Bounce House rental for ages 2 to 12
The best
water slide to rent
for smaller kids ages 2 to 12 are the water slide bounce house rentals. The jump house water slides are the best all-around water slide for children this age. The reason we recommend this type of water slide for rent with the younger ones is for several reasons. One reason is that smaller children like to do multiple things and get bored with just one water slide option. The water slide bounce house allows children to bounce, climb, and slide. The water bounce house combos are a bounce house and water slide all in one inflatable. A bounce house and water slide together will keep your kids and party guest occupied and happy. The slides on the bounce house
water slides
are smaller than stand alone water slides and are also not a steep. Even parents and teens can enjoy the bounce house water slide rentals, but the fun factor ends at about 10-12. Not to Mention that you have to crawl in a hole to enter the bounce house and get to the slide. This is a little difficult for larger guests and teens. The a max-age we list for the water jump house is for the fun factor. Water jump houses are fun for kids and for family reunions with multiple age groups to satisfy. Water jump houses are one of the favorite water slides for rent.
Water Slides Rentals for Ages 7 to Adult
The
best water slide rentals
for ages 7 to adult are our Vertical Water Slides and Slip and slides. Older kids and adults love tall and steep water slides. The faster the better! Inflatable Water Slide rentals come in tall water slides that can range from 10ft. tall to 24ft tall and kids 7 and all the way to adult love these types of slides. Tall Inflatable Water slides are also available in double lanes so the participants can race adding another element of fun. and the slip and slide water slides are flat waterslides and are usually double-lane water slides. The Slip N Slide Water Slide rentals require participants to run and dive onto the slide and race to the end so they are no recommended for children under age 7. All of the slip n slides we rent are double lane slip and slide rentals. Double slip and slide rentals are the only way to go with water slide for rent for older participants. The competition is what makes slip n slides fun.
Best Water Slide rental for Teens
The
best water slide rental
for teens are the tall water slide rentals 17ft tall and larger or an inflatable slip and slide. This size and steepness of a water slide is what creates the fun for teens and adults. Choose a double lane water slide and the added bonus of a double lane water slide rental adds a level competition and fun. The
Slip and Slide water slides
are also great for teens and adults as it requires physical agility and speed to be the first to the end of the lane. All of our slip and slide water slide rentals are double slip and slides so the participants can race. Adult slip n slide rentals are the most fun. We won't promise that you feel great the next day as slip n slides use muscles in your body that you forgot you had. That is what makes a slip n slide fun and challenging. Giant inflatable
water slides for rent
are always going to be the most popular with older participants. The perfect water slide to rent for teens is much different than that of a smaller child. Pick a slide that is 17ft or taller or an inflatable slip n slide.
Adult water slides
can be the hardest to find. Not every company has water slide rentals for teens and adults. They make up a huge part of our rental base. You are never too old for an inflatable rental. We hope this age recommendation for different types of water slide rentals helps you make your choice more easily on which DFW Water Slide to rent. Still need more help selecting the correct water slide for you party? This article is great for learning
How to Choose a Water Slide Rental
. This article combined with the recommended ages for water slide rentals above should help you choose the correct
inflatable water slide rental
for your party or event. You can learn about multiple types of water inflatables to rent such as bouncy water slide rentals that have a bouncy house and waterslide, blow up slip and slide, big waterslides for rent like our huge vertical water slides, and giant water slides with pools.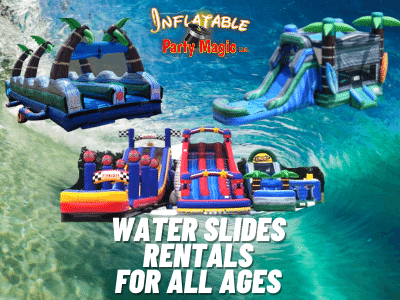 We Make Renting Water Slides in the DFW Tx area Simple
We try to make renting a water slide in the DFW area simple. Our 24/7 online booking makes it easy to book a water slide at your luxury and in the comfort of your own home. We understand that sometimes it is hard to plan a party when the kids are home and needing help with homework and winding down from their day. Our online booking makes it possible to book after our normal hours when your kids are fast asleep. We may be a bit prejudice, but we believe that the
best inflatable water slides
to rent in DFW are from Inflatable Party Magic! We want to make your rental experience awesome and give you access to the largest selection of DFW water slide rentals near me every day all day. You can
Rent water slide bounce houses
with confidence from Inflatable Party Magic and see the difference our many years of experience makes. Our staff are trained to put your safety first. Water slide inflatable rentals from Inflatable Party Magic are truly the best in Texas! We make water slide rentals near me easy! If you want to rent a giant inflatable water slide, you have come to the right place as we have the biggest selection of giant water slide rentals in the Dallas Fort Worth Texas area. Try one of our giant inflatable waterslide rentals to cool off and turn up the heat at your birthday party or event. Our bounce house water slides are the best in the industry. Our customers say our
inflatable water slide
inflatables are the best in DFW. Check out all of the
water slide rentals
we offer.
How to Rent an Inflatable Water Slide
To rent a water slide, you simply choose from the selection of inflatable waterslides above and click on the title or image for more details and to make an easy online reservation. If you prefer not to use online booking, you can simply call us at 817-800-8618 and we will happily make your reservation for you. Let us help you rent an inflatable water slide. When renting a water slide, make sure you are choosing the correct waterslide inflatable for the guests you are entertaining. We have briefly described below the different types of water slides and the age-appropriateness of each type. On our website, you will also find more detailed information about each individual water slide by clicking on the picture of that item. The correct water slide can make all the difference in your party. You want to make sure you have rented a slide that will be fun for in attendance. Renting a water slide can be the most fun you can add to your party if you choose the correct water slide to rent.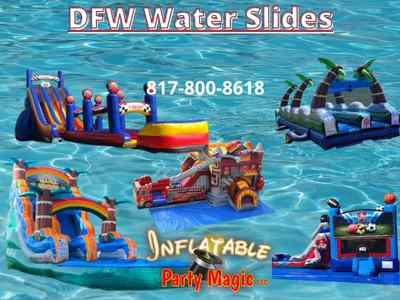 How Much it Costs to Rent a Water Slide
The cost of renting an inflatable water slide is huge question with a complex answer. We are asked daily how much for water slide rental? The prices on inflatable water slides vary based on size and style. You can rent a water slide as cheap as $250.00. We have listed the prices for each of our water slide rentals with the picture and description of each slide as displayed above. Some people just search for cheap water slide rentals near me. Be careful as you get what you pay for in inflatable water slide rentals. Some companies buy the cheapest water slides they can find to get a quick return on investment and don't worry about safety features. We only purchase slide from reputable U.S. manufacturers. Make sure the blow up water slide you choose is safe for your party guests.
Searching for the Cheapest Water Slide Rental?
Our water slides are not the cheapest waterslides you will find to rent, but they are the best value. Some people just search "cheap water slide rentals". If you are searching for cheap water slide rentals near me, make sure you choose a company that offers quality water bounce houses at a price you can afford. Cheap water slides are not what you truly want when you are renting a water inflatable slide for your family and party guests. Inflatable Water Slides near me are easy to find, but ensuring quality is a little more difficult. You want to make sure you are renting a waterslide that is safe for use, clean, and inspected annually by the state of Texas. If a company is advertising cheap water slide rentals, they are more than likely not providing a quality product and could be cutting corners by purchasing and renting cheap China made water slides that could contain lead or have features that make then unsafe, not cleaning and sanitizing their inflatables, or not insuring and inspecting their bounce house water slides per Texas State Law.

Not all cheap blow up water slides are safe or clean. The price of a waterslide rental also determines the quality of setup you will receive. Water slides can be dangerous if they are not properly set up. You want to rent a water slide from an inflatable company that is experienced and has a good reputation. Not all inflatables are created equal! We inspect and maintain them after every use as well. If repairs need to be made, we repair them professionally. You will never find duct tape holding our inflatables together. We only purchase our inflatables from reputable U.S. manufacturers that carry product liability insurance. Your safety is more important to us over cost of purchase. We work hard to make sure you get the most value for a quality rental.

We may not be the cheapest inflatable company to rent a waterslide inflatable from, but we do keep rental costs as low as possible for the service we provide. Our company fully trains our staff for weeks before they ever arrive at your home. You can trust that your family and friends will be safe on waterslide rentals from Inflatable Party Magic. Our staff will take care of you during delivery and pickup. Rest assured your water party and guest will be in great hands with Inflatable Party Magic. So stop looking for the cheapest waterslide rentals and treat yourself to the best water slide rentals in DFW Texas!
Check Out our Waterslide Video for DFW Texas
Ready to Rent a blow up water slide inflatable near me? We have you covered in the DFW North Texas for water slide inflatable rentals. Check out our video and our huge selection of water inflatables. Our water bounce house are the best in North Texas! Water Slide birthday party rentals are the best parties ever. This video shows you
Waterslide Rentals
at their best. Let Inflatable Party Magic help you make a splash at your next birthday party when you rent a water slide!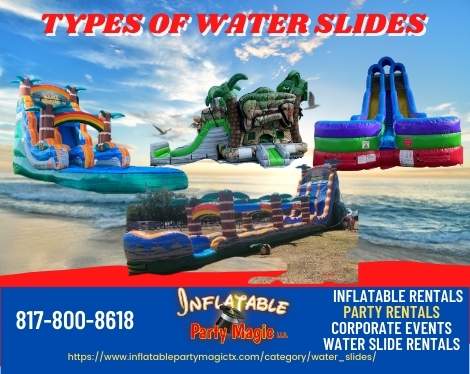 Types of inflatable Water Slides to Rent
There is always some debate over
inflatable water slide rentals
. Water slide inflatable is very popular in Texas. Many people like to make it two words and call them water slide rentals, others call them waterslide rentals with one word, some call them waterslide inflatables, and some refer to them as water slide inflatables. Inflatable Party Magic offers rentals of inflatable water slides, water obstacle courses. No matter how you want to spell it, we have the waterslide rentals to make your event the hottest event around. We rent giant water slides in Dallas-Fort Worth Texas and surrounding areas. Big water slides for rent are what is hot in Texas. Remember, bigger is always better. Bigger is the only way to get a truly steep water slide. One of our steep water slides is the
Pipeline Water slide
. The Pipeline is a 22foot tall water slide that is so straight down that you can't stop yourself once you let go and then you fly into the 33 foot long slip and slide landing. This inflatable slide is one of the best steep water slides to rent.
Vertical Inflatable Water Slides
Vertical Inflatable Water Slides are the most popular inflatable rental in Texas since it is hot and people love to slide down fast. Some people refer to the vertical water slides as tall water slides. Inflatable Party Magic has a large variety of water slides ranging from 10 foot tall to 24 foot tall. Water inflatables are also offered in single lane and double lane for racing. The size that you will need will depend on the age range of your participants, their skill level, and of course your budget. We definitely offer something for everyone! Most vertical water slide rentals are great for ages 5 to adult, but each slide details the age requirements.
Slip and Slides
Inflatable Party Magic
slip and slide rentals
were the first ever waterslides rentals in the DFW Area. The slip n slides are the ultimate water slides for adults. They were the original inflatable water slide for adults. Slip N slides are very popular teen water slide rentals since they have such a competitive side to them. Inflatable water slides for teens can be hard to find as they get bored. With the competition aspect of the Slip and Slide, they are the perfect teen inflatable. Slip n Slide inflatables have dual lanes so that two competitors can race each other to the finish. They get a running start and dive belly first on their sliding lane and try to beat their competitor to the end. These water inflatables take speed and agility! Slip n Slides blow up water slides are perfect for ages 5 to adult. The fun will never end with this type of waterslide inflatable.
Water Slide Bounce Houses
Water Slide Bounce Houses
, sometimes called
bounce and slide water combo rentals
, are great for the younger crowd. These water bounce house rentals combine a standard bounce house with a water slide and climbing wall. Some of them even offer pools at the end and obstacle courses inside. They will keep younger kids occupied all day. Bounce house water slide combos are perfect for ages 2 to 12. These are also referred to as bouncy castle water slide. These waterslides have a full size bouncy castle and a water slide. Bouncy castle water slide rentals are very popular for younger kiddos. Don't let the Texas heat ruin your outdoor plans for a bouncy castle water slide rental. You can beat the heat with our water slide rentals and turn on the fun! Trust your waterslide inflatable rentals to the best. Don't forget to add a
dunk tank
,
rental of pop-up tents
,
tables and chairs to rent
,
kids picnic tables to rent
, and
sno-cone
machines! The delivery prices listed for Water Slide Rentals are to our standard delivery areas. We do service additional areas. Those additional delivery prices will be shown in the cart after you enter your zip code.
Water Slide Obstacle Courses
Water Slide obstacle course rentals have become very popular. It wasn't long ago when you couldn't find a waterslide obstacle course to rent. Manufacturers didn't believe in wet obstacle courses. They have learned how to make water obstacle courses in the last few years that are fun and safe. Check out our
Tropical Water Obstacle Course Rental
.
Obstacle Course Water Slides
Obstacle course water slides are great for all ages and incorporate the fun of challenging obstacles with a water slide to cool things off a bit on a hot day. Water obstacle courses gained popularity over the last few years. We offer the
Rainforest water obstacle course
and the Tropical water slide obstacle to rent.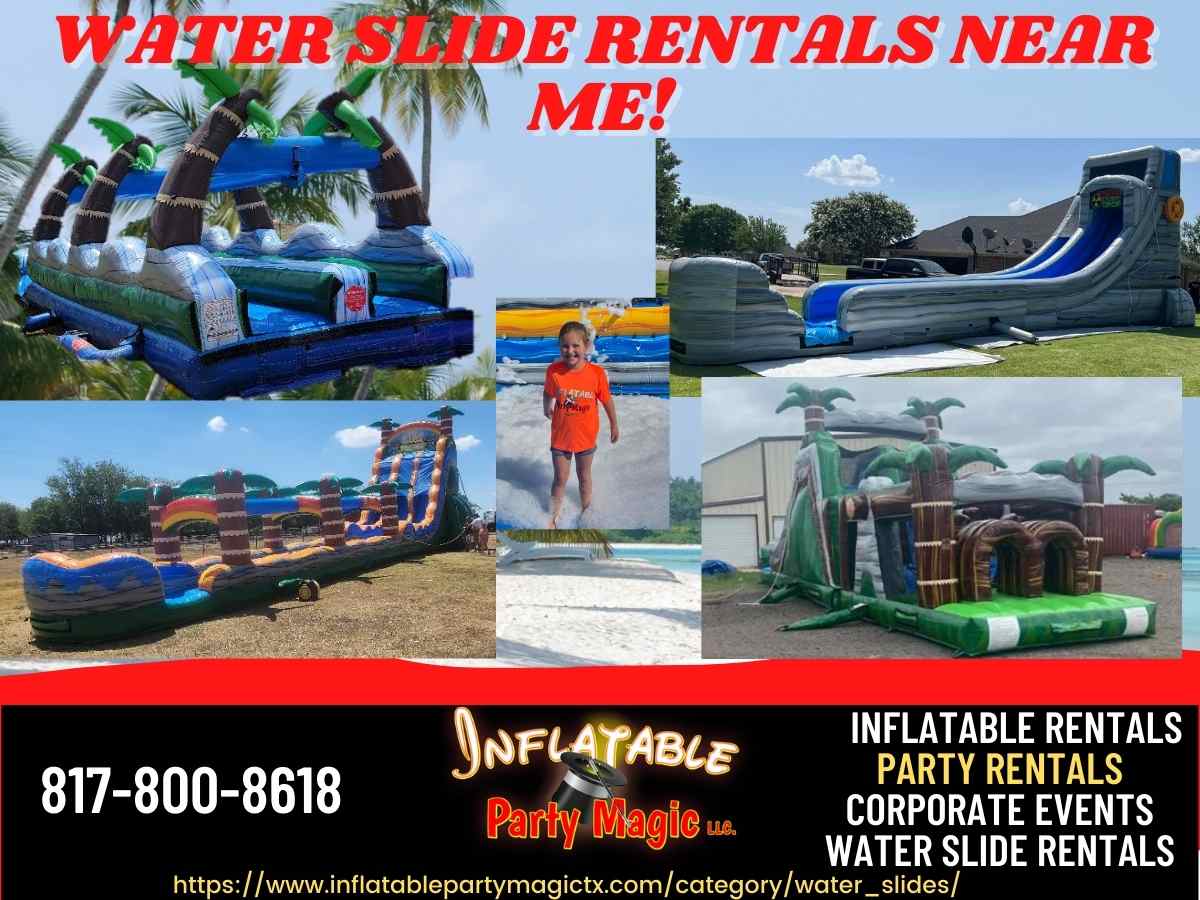 Inflatable Water Slides
Inflatable Water Slides near m
e is a hugely searched term. Inflatable Party Magic offers you a Texas-sized selection of inflatable water slides to rent. Inflatable Water Slide is a broad term with many different options. Make sure you compare size and style when renting an inflatable water slide as those differences can mean a difference in cost. Some water slides are much more fun and extreme than others. We have an example below with our Water Slide Video so you can see this water slide in action.
19 foot tall Tiki Island Water Slide Rental Video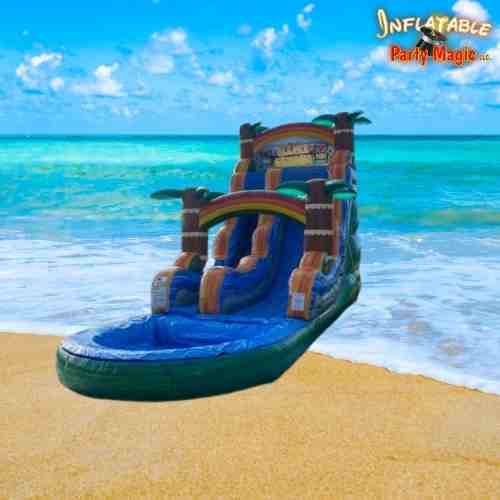 Water Slide Service Area
Our full water slide service area includes most of the DFW Texas area. If you do not see you city listed, call us. We sometimes deliver to other areas as well. We rent water slides to DFW Texas cities including Cleburne, Keene, Alvarado, Burleson, Midlothian, Maypearl, Crowley, Joshua, Godley, Lillian, Granbury, Glen Rose, Acton, Tolar, Lipan, Aledo,
Fort Worth water slide rentals
, Southlake, Trophy Club, Rio Vista, Grandview, Venus, Waxahachie, Red Oak, Cedar Hill, Whitney, Covington, Itasca, Blum, Hillsboro, Kopperl, Morgan, Arlington, Mansfield, Kennedale, Everman, Rendon, Briar Oaks, Benbrook, River Oaks, Kennedale, Forest Hill, Grand Prairie, Weatherford, Cresson, and other most cities located in between in North Texas. We also rent waterslides to the following counties: Johnson County, Hill County, Ellis County, Hood County, Somervell County, Bosque County, and Tarrant County. Rent your DFW waterslide today! Don't see your city? Call us to see if we do service your area. We do provide water slides in Texas to cities not listed for larger orders and events.
Looking for party rental items to add to your inflatable water slide party?
We rent all kinds of party rentals to add to your bouncy castle water slide inflatables. We rent all kinds of inflatables including obstacle course inflatables,
bounce houses
,
event party rentals
, extreme attraction party rentals, mechanical bulls, inflatable
dry slides
, outdoor movies screens, carnival games,
tables and chairs to rent
, concession machines,
spin art machines
, and so much more.
Does Inflatable Party Magic Rent Water Slides Near Me?
Yes! We do provide
water slide rentals near me
.
The first step in renting a water slide is finding one near you. A quick Google search for "water slide rentals near me" will bring up several results, but how do you know which rental companies are reliable and trustworthy? One way to ensure you're getting a quality rental is to ask for recommendations from friends or family members who have rented water slides before. You can also read online reviews to see what other customers have to say about their experiences with different rental companies.
What to Look for in a Rental Company When Searching for "Near You Water Slides"
Once you've found a few rental companies in your area, it's important to do your research to ensure you're renting from a reputable and safe provider. Here are some things to look for when choosing a rental company:
Safety: The safety of your guests should be the top priority of any rental company. Look for a provider that takes safety seriously, with proper training for their staff and regular inspections of their equipment.
Variety: A good rental company will offer a variety of water slide options to fit different ages and preferences. Look for a company with a range of sizes and styles to choose from.
Cleanliness: Inflatable water slides can be a breeding ground for germs and bacteria, so it's important to choose a rental company that takes cleanliness seriously. Look for a provider that thoroughly cleans and sanitizes their equipment between uses.
Pricing: Of course, price is always a consideration when renting a water slide. Look for a rental company that offers competitive pricing without sacrificing safety or quality.
Tips for a Safe and Enjoyable Experience
Once you've found a rental company and selected your water slide, it's important to follow some safety guidelines to ensure a safe and enjoyable experience for all guests. Here are some tips to keep in mind:
Follow instructions: Make sure to read and follow all instructions provided by the rental company, including how to properly inflate and deflate the slide.
Supervision: Always have adult supervision when the slide is in use, especially for younger children.
Weight limits: Pay attention to weight limits for the slide, and don't exceed them. Overloading the slide can lead to accidents and injuries.
Clear the area: Make sure the area around the slide is clear of any obstacles or hazards, and avoid setting up the slide on uneven or sloping ground.
Frequently Asked Questions about Water Slide Rentals
Our Water Slide Service Area
NOTE:
Travel fees do apply to many areas.
Let Inflatable Party Magic make your Water Slide Party in DFW Texas a magical success!