Water Slides
Water Slide Rentals Fort Worth Texas
Rent an Inflatable Water Slide in DFW Texas
Please note: Water Hoses are not provided for your rental. You must provide your own water hoses (enough to get from your water outlet to where you want to set the water unit)
Grow water hoses will not supply enough water pressure to correctly operate most water slide rentals. (grow water hoses are the ones that are small and coiled and expand as you stretch and add water) You will have to have other water hoses available if you typically use grow hoses.
Inflatable Water Slide Rentals to Burleson and Fort Worth as well as the surrounding DFW Texas cities is our specialty. Inflatable Party Magic has the largest selection of water slide rentals as well as water bounce house rentals in the North Texas area. Our water slide inflatables to rent offer fun and unique entertainment. Inflatable Party Magic's blow-up water slide inflatables are Texas-sized so we can offer a great selection of huge water slides rentals at a better value than anyone else can. Try one of our giant inflatable water slide rentals to cool off and turn up the heat at your birthday party or event. Our bounce house water slides are the best in the industry. We offer a huge selection to suit all age ranges.
The inflatable water slides to rent from Inflatable Party Magic are great for kids, teens, and adults to have a great time! It can be hard to find teen water slide rentals and adult water slide rentals but rest assured, we have you covered. Rent water bounce houses with confidence from Inflatable Party Magic and see the difference our 20 years of experience makes.
If you want to rent an inflatable water slide, we have the biggest selection of water slide rentals in the DFW North Texas area. Check out all of our waterslides to rent today!
Water Slide Delivery Area

We rent water slides to Cleburne, Keene, Alvarado, Burleson, Midlothian, Maypearl, Crowley, Joshua, Godley, Lillian, Granbury, Glen Rose, Acton, Tolar, Lipan, Aledo, Fort Worth, Southlake, Trophy Club, Rio Vista, Grandview, Venus, Waxahachie, Red Oak, Cedar Hill, Whitney, Covington, Itasca, Blum, Hillsboro, Kopperl, Morgan, Arlington, Mansfield, Kennedale, Everman, Rendon, Briar Oaks, Benbrook, River Oaks, Kennedale, Forest Hill, Grand Prairie, Weatherford, Cresson, and other most cities located in between in North Texas. We also rent waterslides to the following counties: Johnson County, Hill County, Ellis County, Hood County, Somervell County, Bosque County, and Tarrant County.
Why Rent a Water Slide from Inflatble Party Magic?
Why should you rent a water slide from Inflatable Party Magic? We have been in business since 2002 serving the DFW Metroplex area with quality water slide rentals and excellent customer service.
Burleson Water Slide Rentals in Texas
and
Fort Worth Water Slide Rentals in Texas
are two of our largest DFW North Texas cities to provide water inflatable rentals. We still provide 8 hour rentals at one low price. Let us show you why Inflatable Party Magic can make your party the best party ever! To book a water slide rental, you choose from the selection of water slide rentals below and click on the title or image for more details and to make an easy online reservation. If you prefer not to use online booking, you can simply call us at 817-800-8618 and we will happily make your reservation for you. Please note that for safety reasons water slides are not available for Customer Pickup. Some of the bounce house combos that have waterslides in them can be picked up. If they are available for customer pickup, it will be noted with a price for customer pickup.
We rent
Texas water slide rentals near me
in all sizes and styles such as giant waterslides, slip- n- slides, and bounce houses with water slides in them. If you looking for the coolest and the latest designs in waterslides, you have come to the right place. No matter what you call them blow-up slides, water slides, waterslides, bouncy slides, water slides to rent near me, water infltables slides for rent, or water inflatable slides, we have your water rentals taken care of. If you are looking for teen water slide or adult water slides, our company offers them as well as water slides for smaller children. You can easily find water slides for smaller kids, but it is much harder to find adult water slide rentals. At Inflatable Party Magic, we know the importance of fun for teens and adult waterslide rentals.
DFW Water Slide Rentals
Ready to Rent a blow up water slide inflatable near me? We have you covered in the DFW North Texas for water slide inflatable rentals. Check out our video and our huge selection of water inflatables to rent. Our water bounce house are the best in North Texas!

Let Inflatable Party Magic help you make a splash at your next birthday party!
Types of water slide rentals
There is always some debate over water slides to rent. Many people like to make it two words and call them water slide rentals,others call them waterslide rentals with one word, some call them waterslide inflatables, and some refer to them as water slide inflatables. Inflatable Party Magic offers
rentals of water obstacle courses
. No matter how you want to spell it, we have the waterslide rentals to make your event the hottest event around. We rent water slides near me!
Vertical Water Inflatable Rentals
Vertical Water Slide rentals are the most popular inflatable rental in Texas since it is hot and people love to slide down fast. Inflatable Party Magic has a large variety of water slides ranging from 12ft. tall to 24ft. tall. Water inflatables are also offered in single lane and double lane for racing. The size that you will need will depend on the age range of your participants, their skill level, and of course your budget. We definitely offer something for everyone! Most vertical water slide rentals are great for ages 5 to adult, but each slide details the age requirements.
Slip N Slide rentals
Inflatable Party Magic slip n slide rentals were the first ever waterslides rentals in the DFW Area. These waterslide rentals are still desired for teens and adults since they have such a competitive side to them. Slip n Slides have dual lanes so that two competitors can race each other to the finish. They get a running start and dive belly first on their sliding lane and try to beat their competitor to the end. These water inflatables take speed and agility! Slip n Slides are perfect for ages 5 to adult.
Bounce House and Slide Water Combo rentals
Bounce House with water slide rentals, sometimes called
bounce and slide water combo rentals
, are great for the younger crowd. These water bounce house rentals combine a standard bounce house with a water slide and climbing wall. Some of them even offer pools at the end and obstacle courses inside. They will keep younger kids occupied all day. Bounce house water slide combos are perfect for ages 2 to 12.
Don't let the Texas heat ruin your outdoor plans. You can beat the heat with our water slide rentals and turn on the fun!
Don't forget to add a
dunk tank
,
rental of pop-up tents
,
tables and chairs to rent
,
kids picnic tables to rent
, and
sno-cone
machines!
The delivery prices listed for Water Slide Rentals are to our standard delivery areas. We do service additional areas. Those additional delivery prices will be shown in the cart after you enter your zip code.
Looking for party rental items to add to your inflatable water slide order?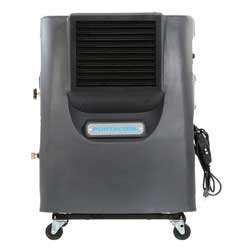 Portacool Rentals Fort Worth
Add a portacool rental to your party or event to cool down your party guests. We rent portacools to DFW cities near you.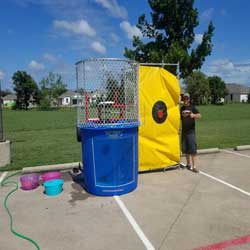 Dunk Tank Rentals Fort Worth
Looking for some cool fun to add to you water slide rentals? A dunk tank rental may be just what you are looking for. Our dunking booths are well maintained and just waiting for you. We deliver dunk tanks near you.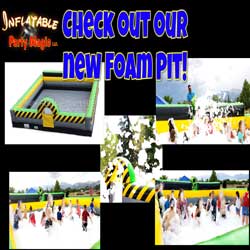 Foam Pit Rental Fort Worth
Ever considered renting a foam pit? They are loads of fun and can be the perfect complement to your DFW waterslide inflatable rental. We rent foam pits near you!
Water Slide Rental near me?
Inflatable Party Magic delivers water slide rentals near you and
Water Slide Rentals in Cleburne, TX
, Keene,
Water Slide rentals in Burleson, TX
,
Water Slide rentals to Fort Worth, TX
,
Water Slide rentals in Benbrook, TX
,
Water Slide rentals in Weatherford, TX
, Keller,
Water Slide rentals in Southlake, TX
, Water Slide rentals in Trophy Club,
Water Slide rentals in Grand Prairie, TX
,
Water Slide rentals in Cedar Hill, TX
,
Water Slide rentals in Crowley,TX
,
Water Slide rentals in Mansfield, TX
,
Water Slide rentals in Arlington, TX
,
Water Slide rentals in Aledo, TX
,
Water Slide rentals in Godley, TX
,
Water Slide rentals in Joshua, TX
,
Water Slide rentals in Midlothian, TX
,
Water Slide rentals in Maypearl, TX
,
Water Slide rentals in Waxahachie, TX
,
Water Slide rentals in Venus, TX
,
Water Slide rentals in Alvarado, TX
,
Water Slide rentals in Granbury, TX
, Water Slide rentals in Glen Rose, Water Slide rentals in Tolar, Water Slide rentals in Whitney,
Water Slide rentals in Itasca, TX
,
Water Slide rentals in Grandview, TX
, Water Slide rentals in Cresson, Water Slide rentals in River Oaks, Water Slide rentals in Whitney, Water Slide rentals in Blum, Water Slide rentals in Hillsboro, and Water Slide rentals in more DFW Texas Cities.