Bounce House Rental
Bounce House Rentals DFW
Are you searching for a bounce house rental? We offer the largest selection of bounce house rentals. Inflatable Party Magic offers the #1 selection of DFW rentals of bounce houses. If you have been tirelessly searching bounce houses near me, you have finally found what you are looking for. You can trust that your inflatable bounce house rental will be clean and sanitized when it arrives to your location. Our goal is to make your rental experience the best it can possibly be and provide you with new standards to measure other bouncy house rental companies by. Bounce House near me is made easy with our 24/7 online booking. We make renting a bounce house fast and simple. Trust Inflatable Party Magic to your bounce house rental.
Rent a Bounce House in DFW Texas
Rentals of Bounce Houses in DFW from Inflatable Party Magic are the best bounce houses in Texas. Our company offers the largest selection of inflatable jump houses to rent in many popular themes and generic styles. We have over 20 years of experience and provide customer service that is superior to other bounce house companies. Bounce Houses are not only a party staple, they provide the opportunity for kids to get exercise while playing and having fun. Rent a bounce house from our company and experience the difference. Checkout all we have to offer and you will find the best DFW bounce house rental.
Looking for more than just bounce house rentals? All the awesome party rentals we offer are shown below. Our selection even includes extreme attraction party rentals with items like bungee trampoline rentals, rock walls, bumper cars, mechanical bulls, and more exciting entertainment rentals to add to your bounce house party rentals for larger events.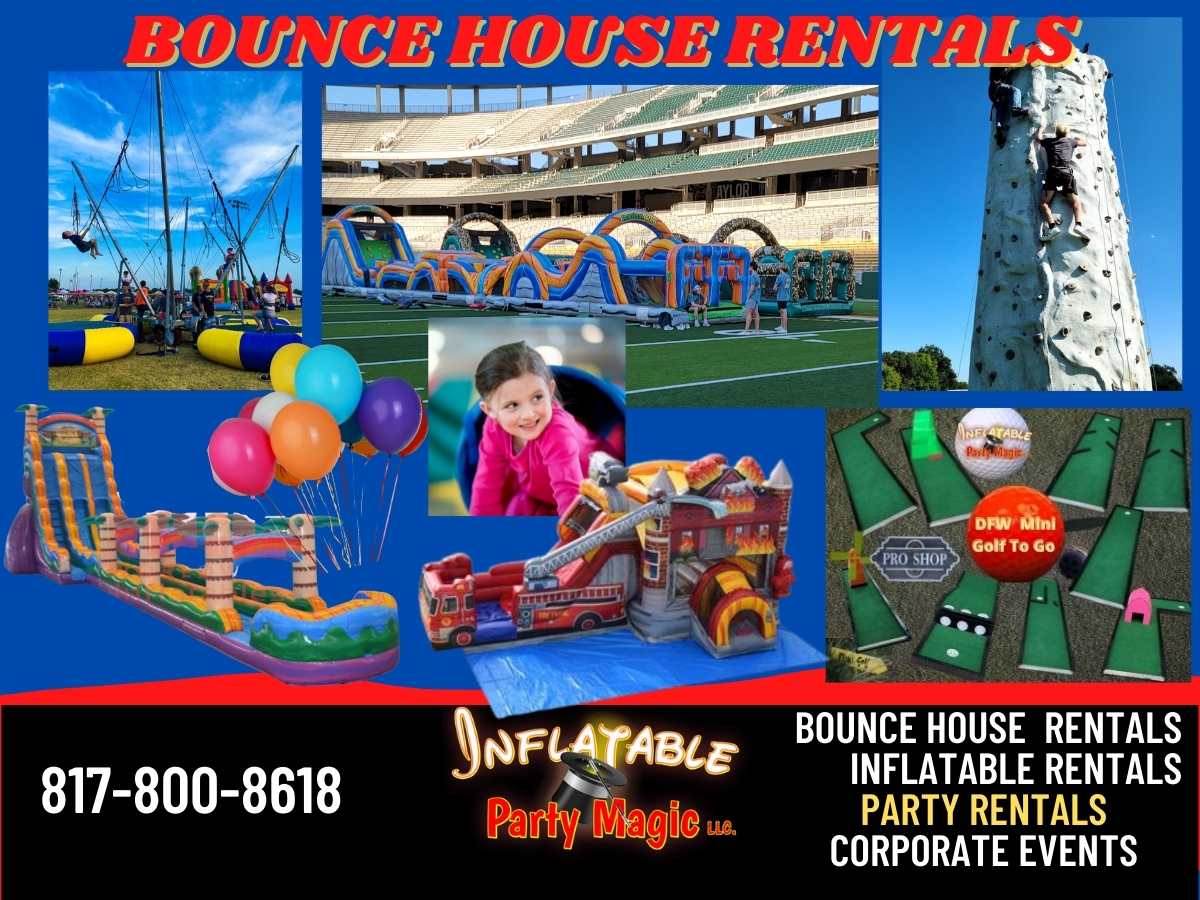 Hours for Bounce House Rentals
Displayed price is for up to an 8 hour Bounce House rental. Inflatable Party Magic still offers 8 hour rentals for the same price most companies charge for 4 to 6 hour rentals. Choosing more than 8 hours will add 7% per hour to your bounce house order.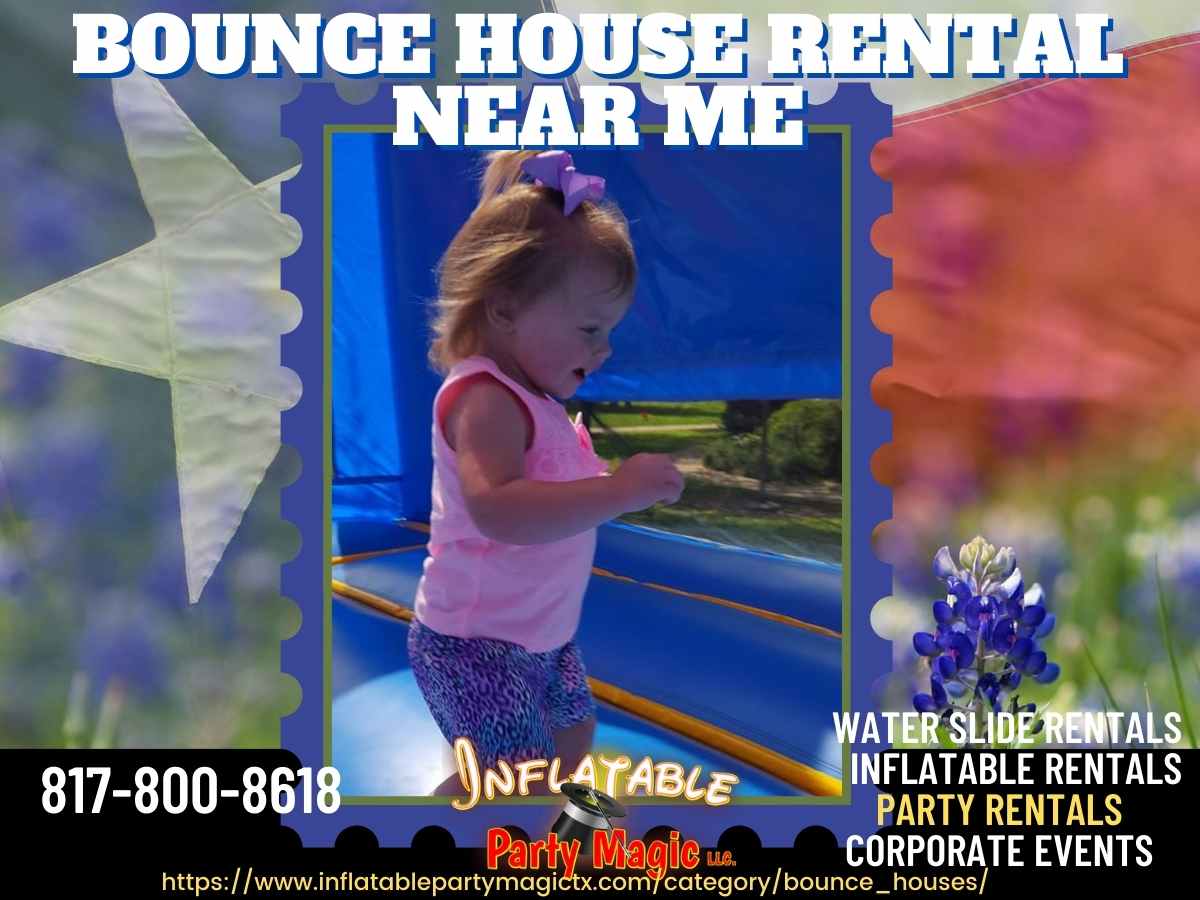 Looking for a Bounce House to Rent?
Our company has the largest selection of bounce houses to rent.
Texas Bounce house rentals near me
can be found at Inflatable Party Magic. We have jumpers for rent near you in most DFW North Texas cities. Our inflatable jumping house rentals are high quality and well maintained. We employ a full time cleaning crew to ensure our party rentals are safe and ready for use at your party.
Bounce house near me
can be hard to find. You will search
bounce houses near me
and obtain many results, but not all will actually be near you and many will not have what you want. With our huge selection of bouncy houses, you should have no problem finding one that works for your party. You will find so many different themes and styles with all the latest bouncy house rental themes such as Disney Princess,
Justice League
, Toy Story, Minions, Disney Cars,
Dinosaur
, Circus, Unicorn,
Mermaid
, and more. Your bouncer will be the center piece of your party. After all, you want a main attraction for your party or event. Let the inflatable bouncy be your main attraction! We do not use illegal banners on our jumpers and ensure that any theme you rent from our company is licensed and legal for use. You can feel free to take pictures of the moonwalks you rent from us and share them on your social media page without having to worry if using pictures of that theme will get you in trouble. We only use inflatables we have bought thru the proper licensing channels for our safety and yours. Checkout one of our really cool
bouncy house rentals near me
. The bounce house combines a regular bouncer with a jam box. It has speakers and you can bluetooth your favorite music while you jump or dance.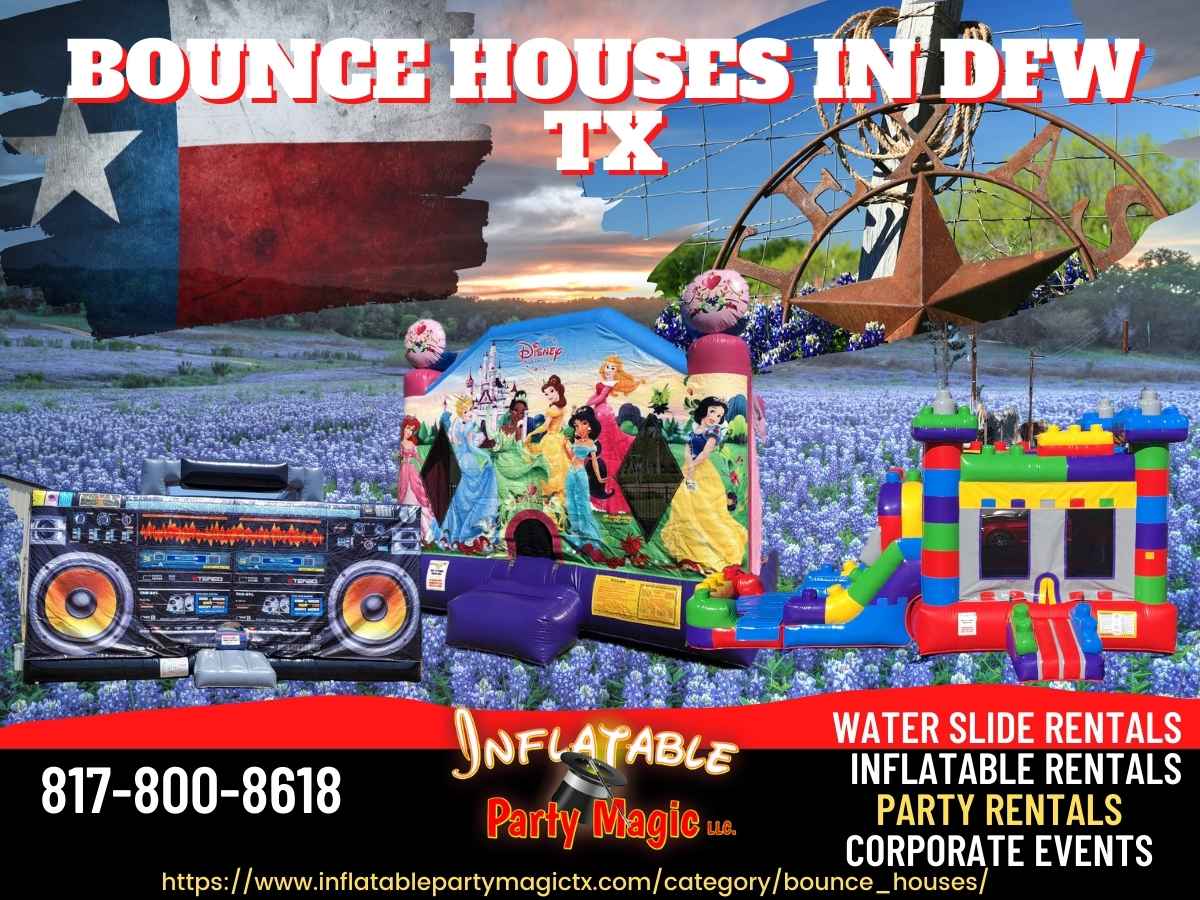 The reason you should trust Inflatable Party Magic for your DFW Bounce Houses :
Inflatable Party Magic has been providing bounce houses in DFW since 2002 and are fully insured and state inspected. All of our jumping bounce houses are high-quality commercial vinyl that is lead-free and safe for children to play in. DFW
Bounce House Rentals
are our specialty. Inflatable Party Magic sanitizes its equipment after every use with CDC-approved cleaners for your safety and confidence in our products. Let us provide your bouncer rental for your next party! We take pride in what we do and rent the best jump houses at the most value for your money by still offering up to
8-hour
rentals for one low price. All of our staff our fully trained in customer service, safety, and industry standards for the setup of a bouncer before they ever arrive at your home. We want your DFW
jump house rental
to go perfectly.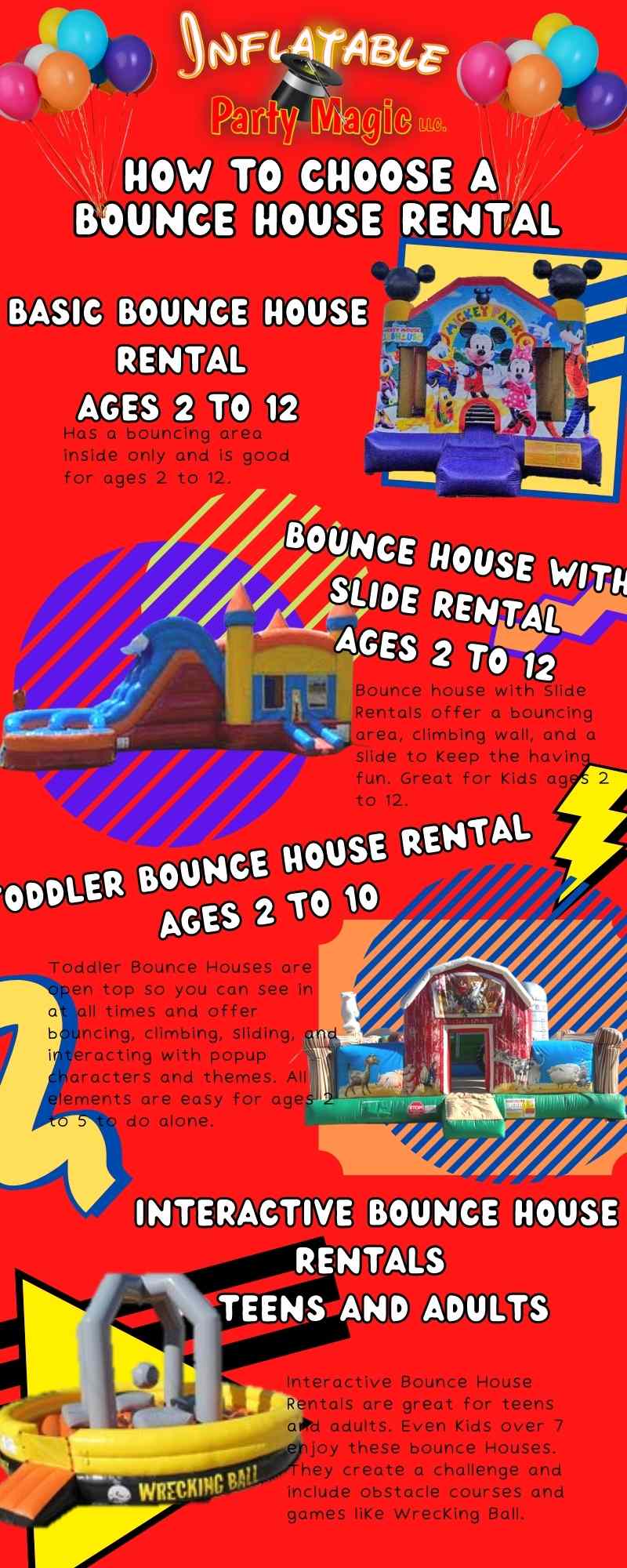 How to Choose a Bounce House Rental
We get lots of calls on
How to rent a bounce house
, which is why we developed our age recommendations for the different styles of bounce houses. We have listed the types of jump houses available and the ages that are recommended for that type of bouncy. We also explain why these are the best types for those specific ages. We can make your bounce house birthday party the best. Let us take care of your children's bounce house needs. Different types of jumper rentals are great for different ages and skill levels. With our suggestions below, we try and help you make an informed decision by explaining the suggested age levels for each type and why each bounce house is better suited for that age group. We hope the information described below helps you to make an informed decision on your bouncer rentals. If you are confused on the ages for a bounce house, the information below should help you understand the ages for a bounce house rental and which bouncing house you should rent for your age group.
Bouncy Castle Rentals Age 2 to 12
Standard bouncy castles are great for smaller children up to about age 12. Adults can get in a bounce house, but there is a weight limit and the number of participants at a time must be reduced. Additionally, jumpers should not have mixed ages and sizes as all participants share the bouncing space and larger participants can fall on and injure smaller participants. We offer jumpers for all ages, but the standard
jump house rentals
are best for ages 2 to 12. Children's bounce houses are our specialty. We feel confident that you will find the perfect bouncer rental for your party with the huge selection we offer. Check out our
Interactive Inflatables
rentals for adult bouncy castle rentals.
Toddler Bounce Houses Best Bounce Houses to rent for ages 2 to 10
Toddler Bounce House rentals
are the best for ages 2 to 10, but the fun factor starts going away after age 7 with most children. Bounce houses for toddlers include a jumping space throughout, pop-up obstacles shaped like characters to interact with, and a slide. These are perfect because the attention span of a smaller child is not very long. They like to stay busy so they can jump a little then at the same time, hug or interact with a pop-up character or shape and then move over just a few feet and climb or even crawl up a small slanted climbing wall and slide down a small slide geared just for them. The other cool thing about toddler bounce house rentals is that they do not have a top on them so smaller kids can see the sky above them and not feel insecure or trapped all the way around. Toddler jump house rentals can be used well for ages 2 to 10, but are highly recommended for ages 2 to 7. Adults can get in them as well as they are commercial inflatables, but the fun factor on this definitely ends at 10 as the elements within are much smaller.
Bounce House with Slide Rentals Best Bounce Houses to rent for ages 7 to 12
Bounce House with Slide Rentals
are great for ages 7 to 12 as they offer a bouncing area, a basketball goal, climbing wall, and a slide. These are also called jumper slide rentals at some companies or bounce house combo. Older kids love to be challenged and have more to do than just jump. The bouncers with slides keep them busy and offer a larger climbing wall and slide than the toddler jump houses to rent. Adults can get in these, but keep in mind that you must crawl in a small hole in the front of the bouncing area to enter the bounce house and get to the slide. The small hole to crawl into the bouncing area of the bounce house combo rental can be a bit difficult for teens and adults. The slides within these are smaller for kids and the fun factor ends at about 12.
Best Adult Bounce Houses to rent Ages 7 to adult
The Best teen and
adult bounce houses to rent
are
Bounce House Obstacle Course Rentals
. The obstacle courses are set up for ages 5 to adult in most cases but offer a challenge for even teens and adults and they race through an inflatable obstacle course bounce house that is double lane with challenging obstacles and climbing walls until they finish with a slide at the end. The race to finish first is on! The other type of bounce house that is great for teens and adults are the interactive bounce house inflatable games.
Interactive Bounce Houses for Teens
pose a challenge and most times involve multiple players at a time making it great for groups of participants to play together. We hope this information helps you to make an informed decision on which bounce house to rent is better for the age group you are entertaining. Click the button below to learn more about bounce houses for teens and adults. This will take you to our interactive bounce houses.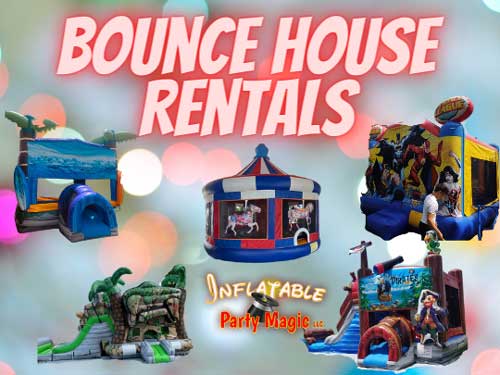 Searching for a moonwalk rental?
Are you searching for a moonwalk? Moonwalk rentals are the same a bounce house and jump house rental. The names change over time, but they offer the same great bouncing fun. They have been referred to as many different things over the years. Moonwalk rentals or Moon Walk Rentals were actually the first name given to what we now call bounce houses.
Trust us with your moonwalk, bouncy castle, bouncy house, jumping balloon, or jump house rental. We have done this so long that we are familiar with all the names bounce houses have been called and see people searching for all the terms.
Don't Forget to Add the Inflatable Bounce House Rental!

Don't forget to add the inflatable bounce house rental to your party or event! No party is complete without a bouncing house to keep the kids entertained. If you are looking for bounce house rentals near me, watch our video and get some inspiration. We rent bounce houses near you in Cleburne, Burleson, Fort Worth, and other cities in the DFW North Texas area. Bounce house birthday parties are the best! Jumpers can make any social event more fun! If you need to entertain the children, you cannot forget the bounce houses. Many customers rent a bounce house for days the kids are out of school and during the summer just to keep them busy. It doesn't have to be a birthday party, family reunion, school function, church party, etc, to rent the bouncer. Bounce Houses are one of the oldest forms of kids entertainment. Over the years they have been called bouncers, jumping castle, jumping house, jumphouse, jumper, bouncy castle, bouncy house, moonwalk, blow-up house, etc. No matter what you want to call them, we can help you. We have been doing this long enough to know what you are talking about no matter what you choose to call your moonbounce rental.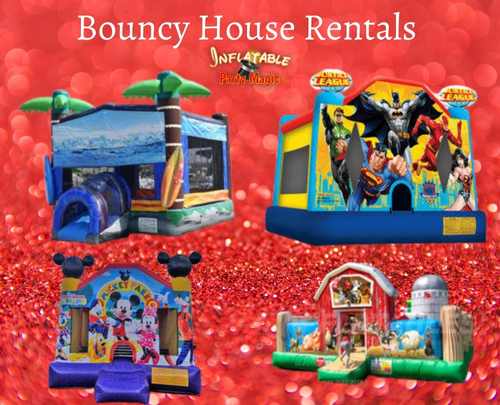 What Types of Parties and Events do Bouncers Rent for?
Bouncers are great for
school
field days,
corporate
events, birthday parties, city events, church youth group and children's group events, and so much more. The possibilities are endless when you add a bouncy house rental to your special day. Don't forget to add the
dunk tank
rentals and
Tables and Chairs
! We also offer
bounce house with slide
to rent if you are thinking the kids might want a little more to do than just bounce. Check out bouncers house rentals for your next parties. Looking for adult bounce houses to rent? Checkout our interactive inflatable game rentals for adult and teen bounce house rentals. Looking for some extreme entertainment? Checkout our
Euro Bungee Trampoline
and Rock Climbing Wall.
Looking for Affordable Bounce Houses?
We are not the cheapest bounce houses you will find, but our bounce houses are affordable. How much does it cost to rent a bounce house is the number one question we get. When considering the cost to rent a bouncing house, always take into account the quality and cleanliness. With our company you will always clean and quality bounce houses and party rental equipment and are fully state compliant under
Texas State bounce house and safety laws
. We pride ourselves in providing the best bounce houses at an affordable price. Check our pricing against other entertainment company pricing and see for yourself.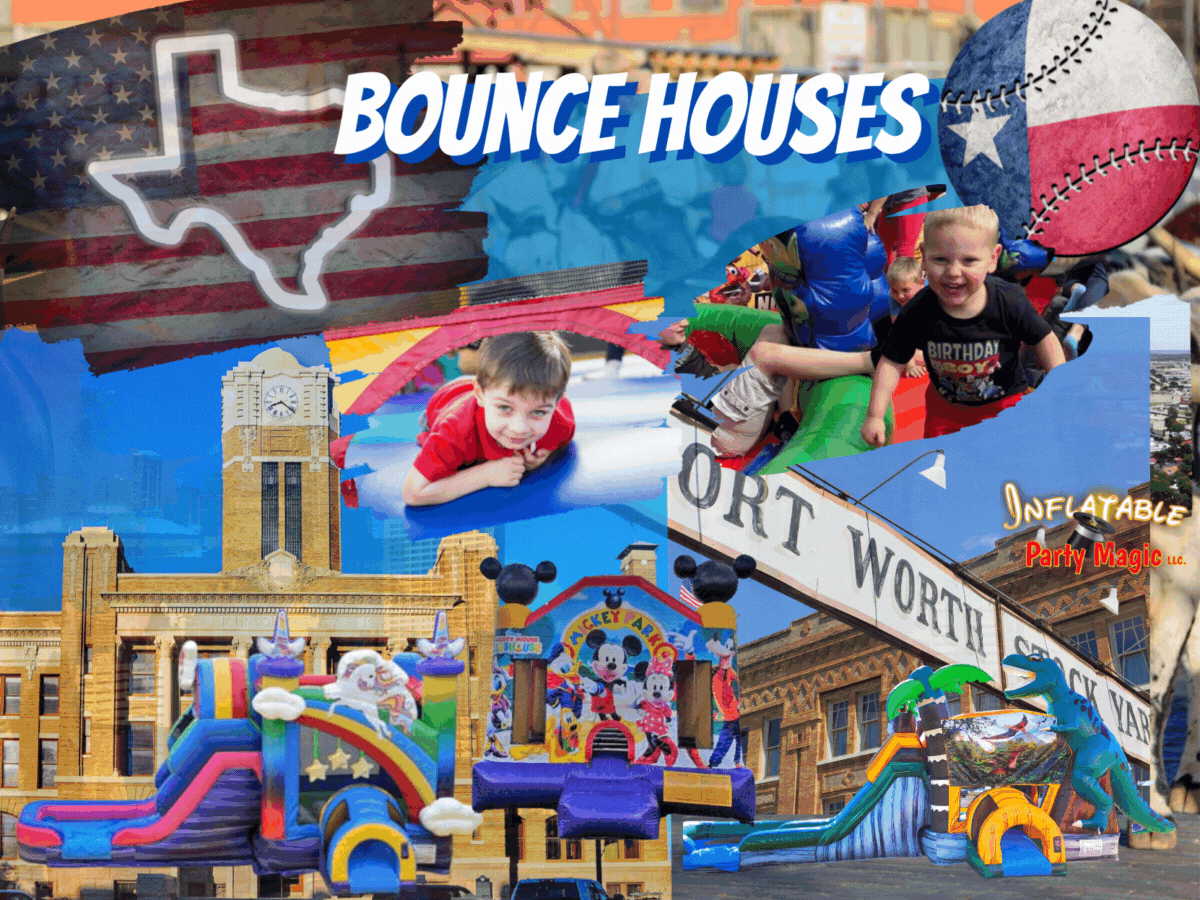 How to Rent a Bounce House:
To book and rent a bounce house, you simply browse the many selections below and click on the title or image for more details and to make a reservation. You will then select your date and times for the rental. You will be prompted for all the information necessary to process your rental and then make a deposit to reserve it for your date. You will receive a confirmation email almost immediately after placing your jumper order. We will also send you reminder emails the week leading up to your party. If you should need to reach us at any time for assistance in renting your jump house, you can contact us by phone at 817-800-8618 or simply reply to any emails that you have received. Renting a
bounce house in DFW TX
near me is simple if you follow the steps above. The bouncy castle rental delivery prices listed are to our standard delivery areas. We do service additional cities and those additional delivery prices will be shown in the cart after you enter your zip code. Jumping House rentals are what we do to most DFW Texas cities.
We Rent Bounce Houses to DFW Texas Cities:
We rent bounce houses to Cleburne, Keene, Alvarado, Burleson, Midlothian, Maypearl, Crowley, Godley, Joshua, Lillian, Granbury, Glen Rose, Acton, Tolar, Lipan, Aledo, Fort Worth, Southlake, Trophy Club, Rio Vista, Grandview, Venus, Waxahachie, Red Oak, Cedar Hill, Whitney, Covington, Itasca, Blum, Hillsboro, Kopperl, Morgan, Arlington, Mansfield, Kennedale, Everman, Rendon, Briar Oaks, Benbrook, River Oaks, Kennedale, Forest Hill, Grand Prairie, Weatherford, Cresson, and other most cities in between in North Texas. We also rent jump houses to the following counties: Johnson County, Hill County, Ellis County, Hood County, Somervell County, Bosque County, and Tarrant County. Bouncy house rentals are the best way to add fun to your party.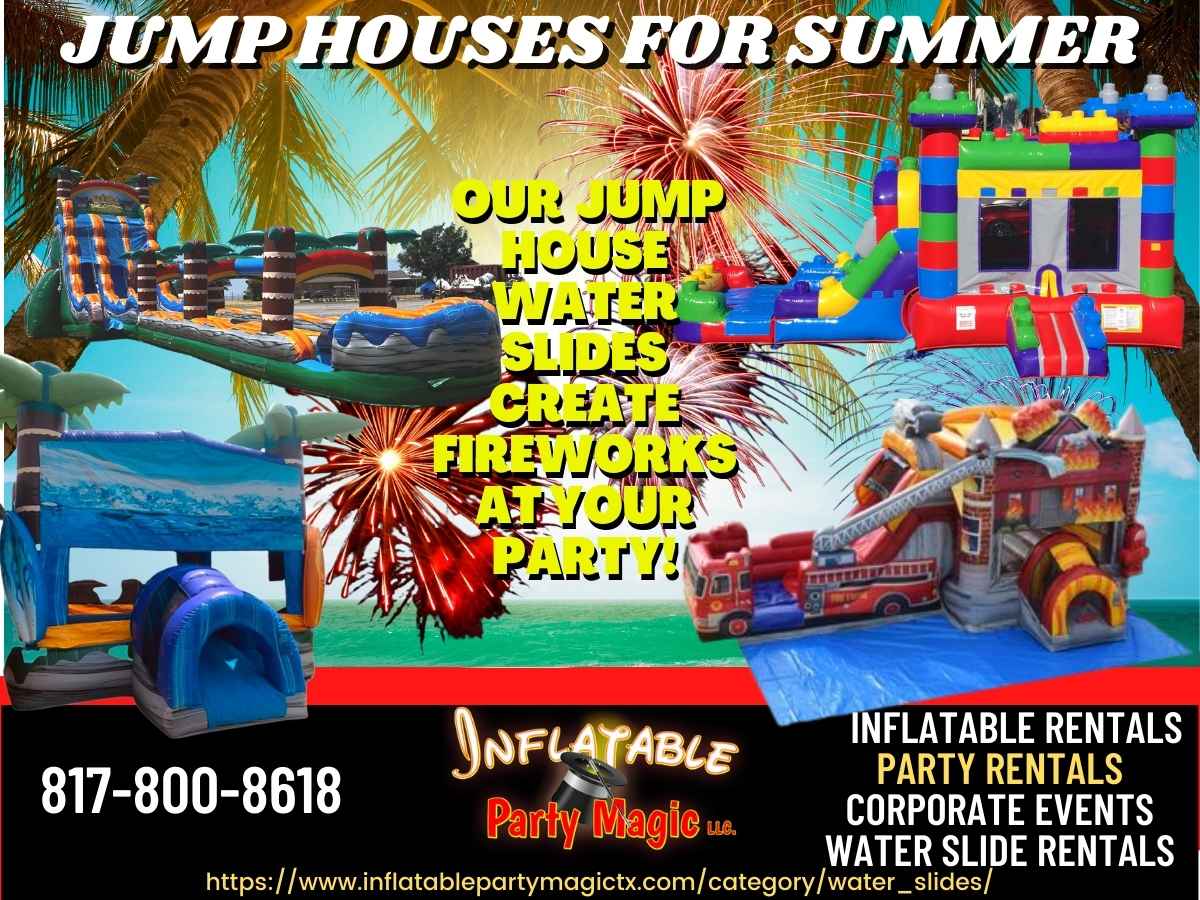 DFW Jump House Rentals for Summer
If you are looking to rent a jump house in the DFW area for summer use, check out our
wet combo bouncers
or our
water slides
. These jump house rentals combine a bounce house with a water slide. All kids love to bounce in the jumping area, but on a hot day they want the water also. That is what makes these jump house rentals so popular. What is more fun than a jumping house for a kids birthday party or even a school event. Jump houses entertain the masses. What kid doesn't love to jump? What parent doesn't love to see their child get exercise and burn off some of that bottled up energy at the same time. Rent a DFW Jump House for the summer and keep your kids happy and fit.
Jumping Houses are a Great Form of Exercise
Did you know that Jumping Houses are a great form of exercise? The constant bouncing and jumping is providing exercise that your child won't even realize they are getting. Say the word exercise and most kids say no thanks! Put a jumpy house in front of them and say go have fun and watch the exercise begin. The jumping is great cardio and will help burn calories in a fun way. We have had mom groups get together in the summer and take turns once a week renting a bounce house and sharing so their kids get the exercise a they get mom time.
Looking for the Perfect addition to your DFW Bouncy House Rental?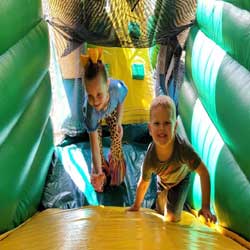 DFW Toddler Inflatable Rentals
Needing something to keep your toddlers busy? Our toddler bounce house inflatable rentals are exactly what you are looking for. We deliver toddler bounce houses near you! You will love our toddler bounce house combos. See our complete
delivery area page
. Adding a toddler bounce house with your other bouncy house rentals can provide fun for all ages that will be attending your event.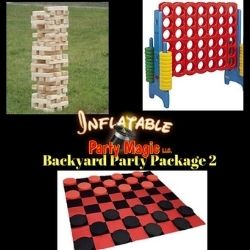 Backyard Party Package Rental
Looking for the perfect party add-on for your bounce house rental? The Backyard Party Package rental is the perfect addition to any party. All ages love the Giant Connect 4, Jenga, and Checkers. Need to run stations at your birthday party or event? This party package will help you with that. Check out all of our
jump house party packages
.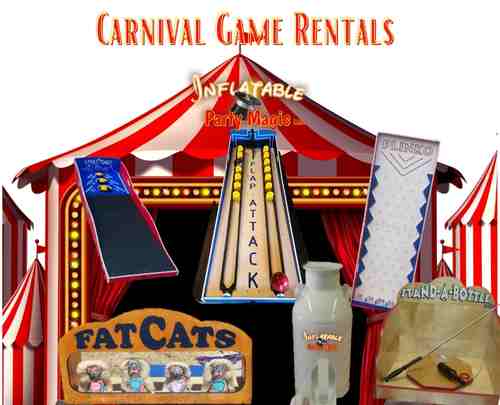 DFW Carnival Game Rental
Carnival Game Rentals
are a great addition to your bounce house fun. You can create the perfect carnival or circus theme party. Many fall festivals like to use bounce house rentals and carnival games combined to create the perfect fall festival. We have a great selection of carnival games to fit every budget.
We Rent Bounce Houses
Inflatable Party Magic is the best choice for all of your
DFW Texas bounce house rental
needs. We offer jump house rentals to most DFW Texas cities. Our equipment rental to DFW Texas includes:
Cleburne bounce houses rental
,
Keene bounce houses rental
,
Burleson bounce houses rental
,
Fort Worth bounce houses rental
,
Everman bounce houses rental
,
Forest Hill bounce houses rental
,
Benbrook bounce houses rental
, Keller,
Southlake bounce houses rental
, Trophy Club bounce house rental,
Grand Prairie bounce houses rental
,
Cedar Hill bounce houses rental
,
Crowley bounce houses rental
,
Mansfield bounce houses rental
,
Arlington bounce houses rental
,
Aledo bounce houses rental
,
Weatherford bounce houses rental
,
Willow Park
,
Kennedale bounce houses rental
,
Godley bounce houses rental
,
Joshua bounce houses rental
,
Midlothian bounce houses rental
,
Maypearl bounce houses rental
,
Waxahachie bounce houses rental
,
Venus bounce houses rental
,
Alvarado bounce houses rental
,
Granbury bounce houses rental
,
Glen Rose bounce houses rental
,
Tolar Bounce Houses Rental
, Whitney,
Itasca bounce houses rental
,
Grandview bounce houses rental
,
Cresson bounce houses rental
, River Oaks,
Briar Oaks bounce houses rental
,
Rendon bounce houses rental
, Whitney,
Rio Vista bounce houses rental
,
Blum bounce houses rental
,
Covingtonbounce houses rental
,
Hillsboro
, and more. We also rent bounce houses
bounce house near me
and to
Tarrant County bounce house rental
.
Rent a bounce house in DFW Tx from Inflatable Party Magic to make your party a magical success!
Frequently Asked Questions About Renting a Bouncing House