Backyard Frame Game Party Package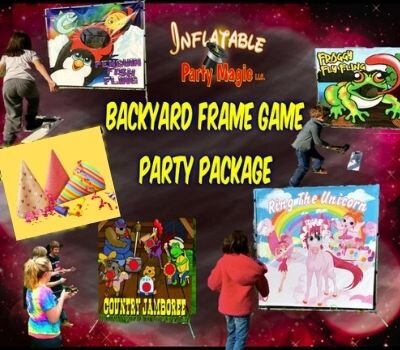 Setup Area: 47.6" L x 17.7" W x 46" H
Actual Size: 47.6" L x 17.7" W x 46" H
Description
Backyard Frame Game Party Package Rental
Inflatable Party Magic LLC is helping you take the fun of party game rentals to new heights with all 4 of our frame games in one package. This Backyard Frame Game Party Package includes the following, Country Jamboree Shooting, Flying Froggy mallet game, Ring the Horn on the Unicorn game ring toss, and the Penguin Fling foot launch. These can all be used inside or outside to create fun in any type of weather.
Country Jamboree Frame Game
The Country Jamboree has guns with suction darts on them so you can try to hit your target and beat your opponent. Your suction dart will stick where it hits and when all the competitors finish shooting their gun, you can see who got the closest to each target and has the most points. How great is your aim?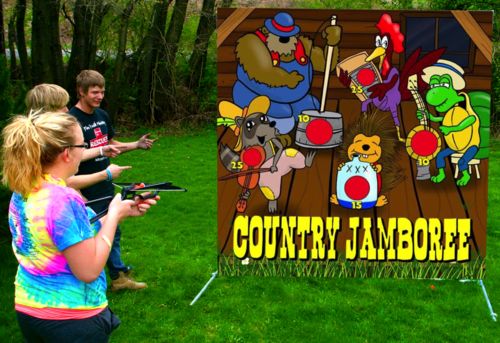 Flying Froggy Frame Game
Flying Froggy is a game of skill and downright fun. You use your launching hammer to launch your frog through the hole as accurately as you can. It is a little harder than it looks though. You have to hit your launching pad in just the right place to make it through the hole. People will become addicted to this game trying to do again and again. This is a game that all ages can play. Don't be surprised if the kids beat you at this game because sometimes kids get it figured out sooner than the adults. It has a rubber mallet so it does not take much strength to hit the launcher and make the froggy jump. Do you have what it takes?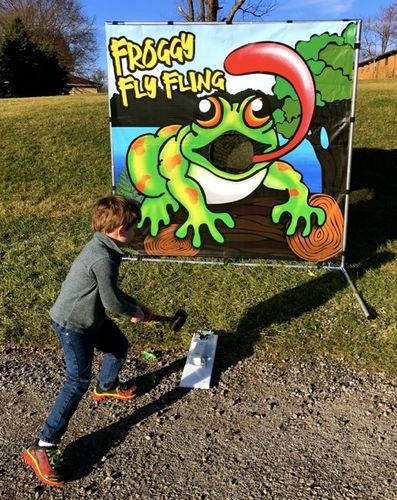 Ring the Horn on The Unicorn Frame Game
The Ring the Horn on the Unicorn provides rings that you toss and try to get it on the unicorn's horn. It is a game of ring toss with a hanging ring. It adds a little bit of excited the game of ring toss. What little girl doesn't want a unicorn at their Party. Everyone will love to ring the horn of a unicorn.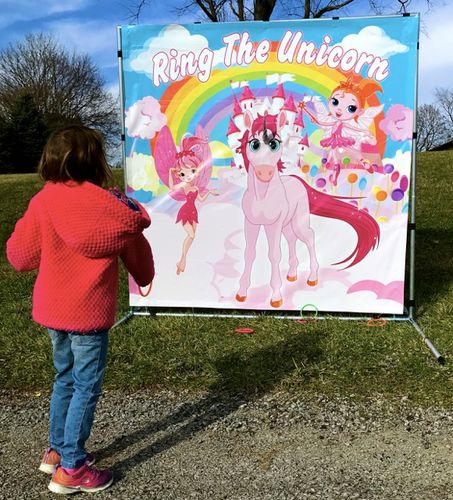 Penguin Fling Frame Game
The Penguin Fling is a game with a foot launch pad that allows participants to stomp on the foot launch and see if they can launch their fish through the hole. It is a little bit harder than it looks to make the fish through the hole. You have to learn to stomp in just the right spot. Your kids will probably figure it out before you do. All age levels can play this game and have a blast. How is your foot launching skill?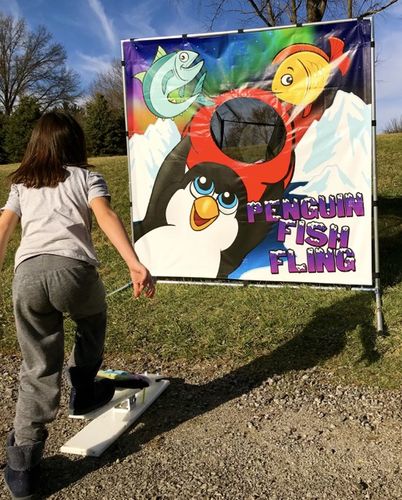 So clear some space and get your frame game on! These frame games are perfect for getting kids and adults playing together. Everyone at your party will get involved and enjoy the competition and time spent together.

Great for backyard parties, indoor parties, carnivals, school events, church events, or corporate events!
Delivery Area
Inflatable Party Magic LLC has been the #1 provider of inflatable party rentals in the Dallas and Fort Worth, Texas areas for over 18 years. Try us for your next party or event and find out why our customers recommend us to others We proudly deliver the backyard frame game package to many Texas cities including Cleburne, Keene ,Burleson, Fort Worth, Keller, Southlake, Trophy Club, Grand Prairie, Cedar Hill, Crowley, Mansfield, Arlington, Aledo, Weatherford, Godley, Joshua, Midlothian, Maypearl, Waxahachie, Venus, Alvarado, Granbury, Glen Rose, Tolar, Whitney, Itasca, Grandview, Whitney, Blum, Hillsboro, and more.