Bringing the Fun of Bounce House Rentals in Granbury Tx
Best Selection of Granbury Bounce House Rentals
Let us bring the fun of bounce house rentals in Granbury to your party or event!
Granbury bounce house rentals
are made simple and fun with Inflatable Party Magic. If you are looking for the
best bounce house rentals in Granbury TX,
you have found the right company. Are you looking for an exciting way to make your next party or event one to remember? Look no further than Inflatable Party Magic! We specialize in bringing the fun of bounce house rentals to Granbury and its surrounding areas. We offer the best selection of high-quality inflatables to ensure you can find the perfect bounce house for your party or event. Our easy-to-use online ordering system makes finding and booking your bounce house rental simple and stress-free. So, what are you waiting for? Let Inflatable Party Magic be you go-to source for bounce house rentals in Granbury.
You Can Trust Inflatable Party Magic for Your Granbury Bounce Houses
Top 5 reasons you can Trust Inflatable Party Magic:
20 Years of Experience Delivering bounce houses in Granbury
Fully Trained and competent Delivery Staff to ensure safety and fun
High-Quality Inflatable Bounce Houses & Rental Equipment
Fully Insured and State Inspected per Texas Amusement Laws
Great 5- Star Reviews You Can Trust Stating such things as "Friendly Service" and "They have an amazing selection and the service is A+"
Shop By Category Category Name Category Name Category Name Category Name Category Name Category Name Category Name Category Name
Why You Should Trust Inflatable Party Magic for Your Bounce House Rentals in Granbury
Bounce House Rentals in Granbury for all ages


Up to 8 hour rentals for one low price- Don't accept 4 to 6 hour rentals for the same price



Reliable and Quality Service in Granbury since 2002




Confirmation and reminder email and text communications so you can feel confident in your waterslide rental.




Largest Selection of Bounce House Rentals in Granbury Texas




Clean and Sanitized Bounce Houses to Rent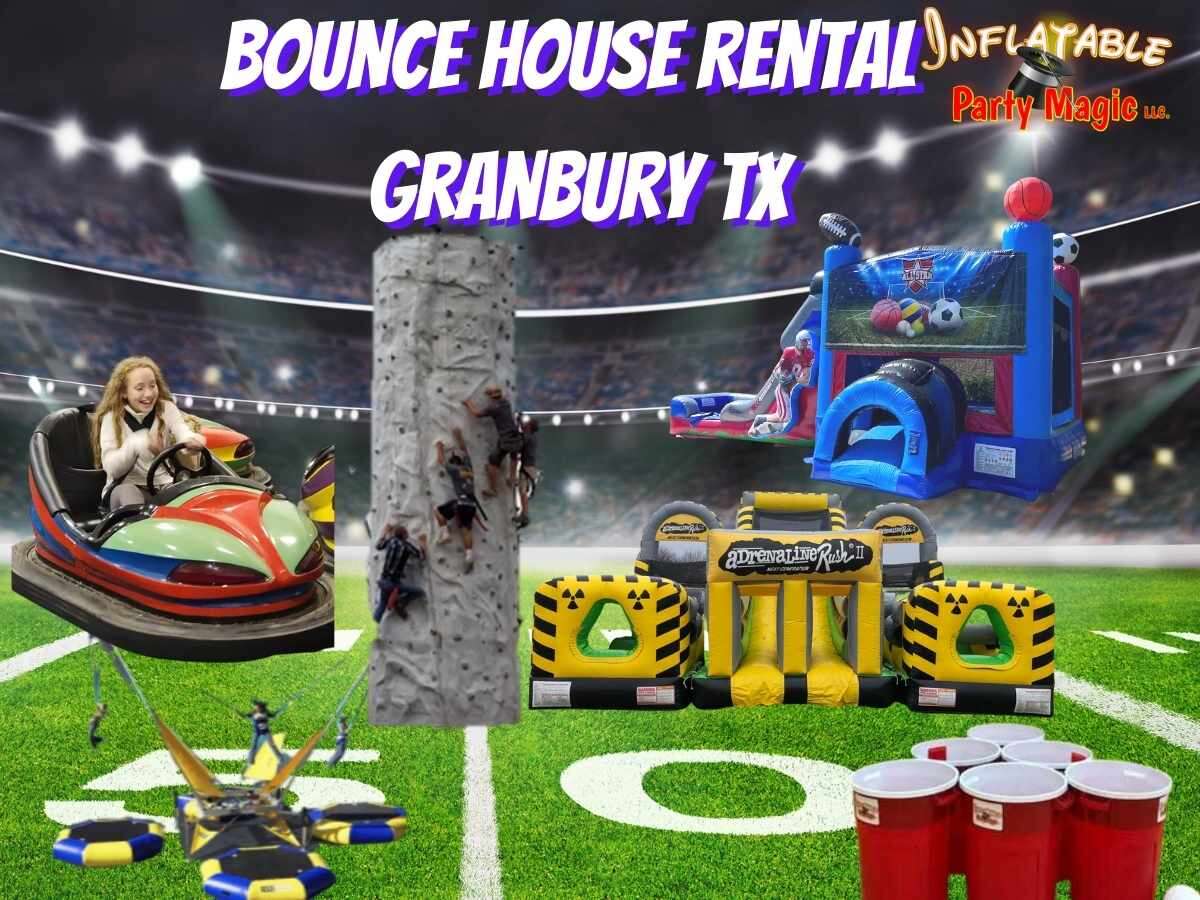 Get more than just Granbury Bounce House Rentals
Don't let your name fool you though, we do much more than inflatable bounce house rentals. You can get so much more fun than inflatable bounce houses in Granbury with Inflatable Party Magic. Our company is your best choice for inflatables and event rentals. If you are looking for the best quality and most impressive party rentals, we carry nothing but the best. Our event rentals include
bounce houses
,
water bounce houses
,
inflatable obstacle courses
, tents, table and chairs,
mini golf
courses,
rock climbing wall
, dunk tanks,
euro bungee trampolines
,
mechanical bull rentals
, bumper cars, concession machines,
trackless train
, carnival games, and other event rental equipment. You can feel certain that Inflatable Party Magic will professionally take care of your needs. We have been rated number one in Granbury by our customers for the last 20 years. Since 2002, we have been providing moonwalk and party rentals to the Granbury and Tolar area offering
8-hour rentals
for an affordable price.
Bounce House Rentals Granbury
Granbury Inflatable Bounce House Rentals and Event Rentals
Inflatable Party Magic is the premier provider of bounce house rentals and event rentals in Granbury, TX. With years of experience, our team of professionals can help make your event unforgettable.
Experience You Can Trust
We have years of experience in providing the best jump house and event rentals for Granbury. We are the bounce house leader in the area with professional staff members who know what it takes to make your special day a success! You can expect top-notch products and services from our company. Our staff will work with you to find the best rental for your needs, so you can rest assured that your event will be one-of-a-kind. We are the Event leader in the area, so you can trust us to make your event one to remember.
Add Value to Your Event
Inflatable Party Magic offers more than just bounce houses! We also provide an array of other event rentals that can add value to your gathering. There is no limit to the types of event rentals we can offer to your party. Premium Products & Services Our bounce house rentals and other event rentals are top-of-the-line, so you can rest assured that you're getting the best value for your money. We use only premium bounce house and equipment manufacturers who are leaders in the industry and have proven safety records to ensure you safety while offering the maximum amount of fun at your party.
Expertise to Add Value to Your Event
Our team of experts has the knowledge and experience necessary to add value to your event — from setting up decorations to helping you plan activities — we'll be there every step of the way.
Safe and Secure Rentals
At Inflatable Party Magic, safety is our top priority. We make sure all of our equipment is safe and secure before we set it up for your event. Rest assured that your guests will be safe while having fun!
Types of Events We Specialize in:
Birthday Parties

Corporate Events

School Parties and Events

Field Days

City Events

Festivals

College Events

Any Type of event you might need entertainment, tents, tables, and chairs.
Book you your Granbury Party Rentals today!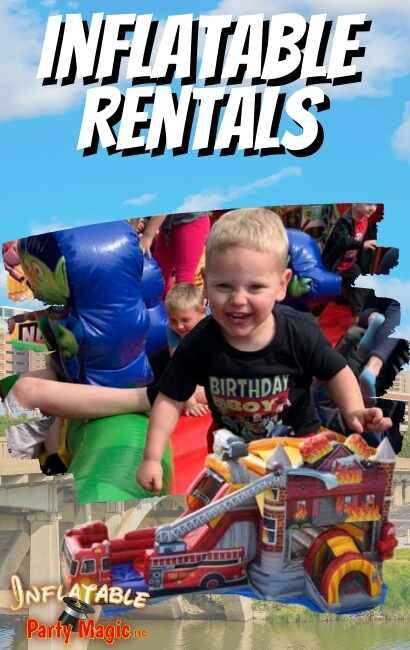 Guide to Renting a Bounce House
How to Choose the Best Granbury Bounce House for My Party
If you need some help with deciding what bounce houses are best for the age group you are entertaining, we have listed some information we think might help. Selecting an age-appropriate bounce house can be the hardest part of renting a bounce house.
Standard Bounce Houses
Ages 2 to 12
Standard bouncy houses rental or small bounce house rentals are great for smaller children up to about age 12. Adults can use the bounce house, but there is a weight limit and the number of participants at a time must be reduced. Additionally, bouncy houses rental should not have mixed ages and sizes as all participants share the bouncing space and larger guests can fall on and injure smaller guests. Some people all call these moonwalks and bouncy houses.
Toddler Bounce Houses
Age 2 to 10
Toddler bounce house rentals in Granbury
are the best for ages 2 to 7, but can be used by ages 2 to 10. Bounce houses for toddlers include a jumping space throughout the inflatable, pop-up obstacles shaped like characters to interact with, and a small toddler friendly slide. These are perfect because the attention span of a smaller child is not very long. Smaller kids like to stay very busy so they can jump a little then at the same time, hug or interact with a pop-up character or shape and then move over just a few feet and climb or even crawl up a small slanted climbing wall and slide down a small slide geared just for them. Another feature about toddler bounce house rentals is that they do not have a top on the bounce house so smaller kids can see the sky above them and not feel insecure or trapped all the way around. Toddler bounce houses in Cleburne can be used well for ages 2 to 10, but are highly recommended for ages 2 to 7. We are always asked can adults also use the Toddler Bounce House and the answer is yes. Adults can get in the toddler bounce houses as they are commercial inflatables, but the fun factor on this definitely ends at 12. Toddler jumper have smaller elements, which shrinks the fun factor between ages 10 -12.
Bounce House with Slide Rentals
Age 5 to 12
Bounce House with Slide Rentals are great for ages 5 to 12. The bouncy house slides offer a bouncing area, basketball goal, climbing wall, and a slide. Smaller children as young as 2 years of age can safely play on the bouncy house slides, but they might not be able to climb the climbing wall. These types of bounce houses are also called jumper slide rentals at some rental companies. Older kids love to be challenged and have more to do than just jump. The bouncy castles with slides keep them busy and offer a larger climbing wall and slide than the toddler bounce houses to rent. Adults can safely use the bouncer combos too, but keep in mind that you must crawl in a small hole in the front of the bouncing area to enter the bounce house and get to the slide. This can be a bit difficult for teens and adults. The slides within these bouncer slides are smaller for kids and the fun factor ends at about 12.
We also have water bounce houses with slides to rent for summer months. The water bounce house rentals are the same as bounce houses with slides except they add water over the slide area. Some people also call these waterslide bounce houses. They are different from regular waterslides because they also have a bouncing area.
Adult Bounce Houses
The Best teen and
adult bounce houses
to rent in Granbury are the Bounce House Obstacle Courses. The inflatable bounce house obstacle courses that we rent are set up for ages 5 to adult in most cases but offer a true challenge for teens and adults as they race through an inflatable obstacle course bounce house that is double lanes with challenging obstacles and climbing walls until they finish with a slide at the end. The race to finish first is on to see who can reach the end of the slide first!
The other type of bounce house that is great for teens and adults are the interactive bounce houses or inflatable games. Interactive Bounce Houses for Teens are challenging and most of the time involve multiple players, which makes it great inflatable rental for larger groups of participants to play together. These are great for corporate team-building exercises or school field days.
We truly hope this information helps you to make an informed decision on which inflatable bounce house is best for your party crowd. Jumping house rentals make the party entertainment complete. Our goal is to make sure you choose the right bounce house so your event can be amazing!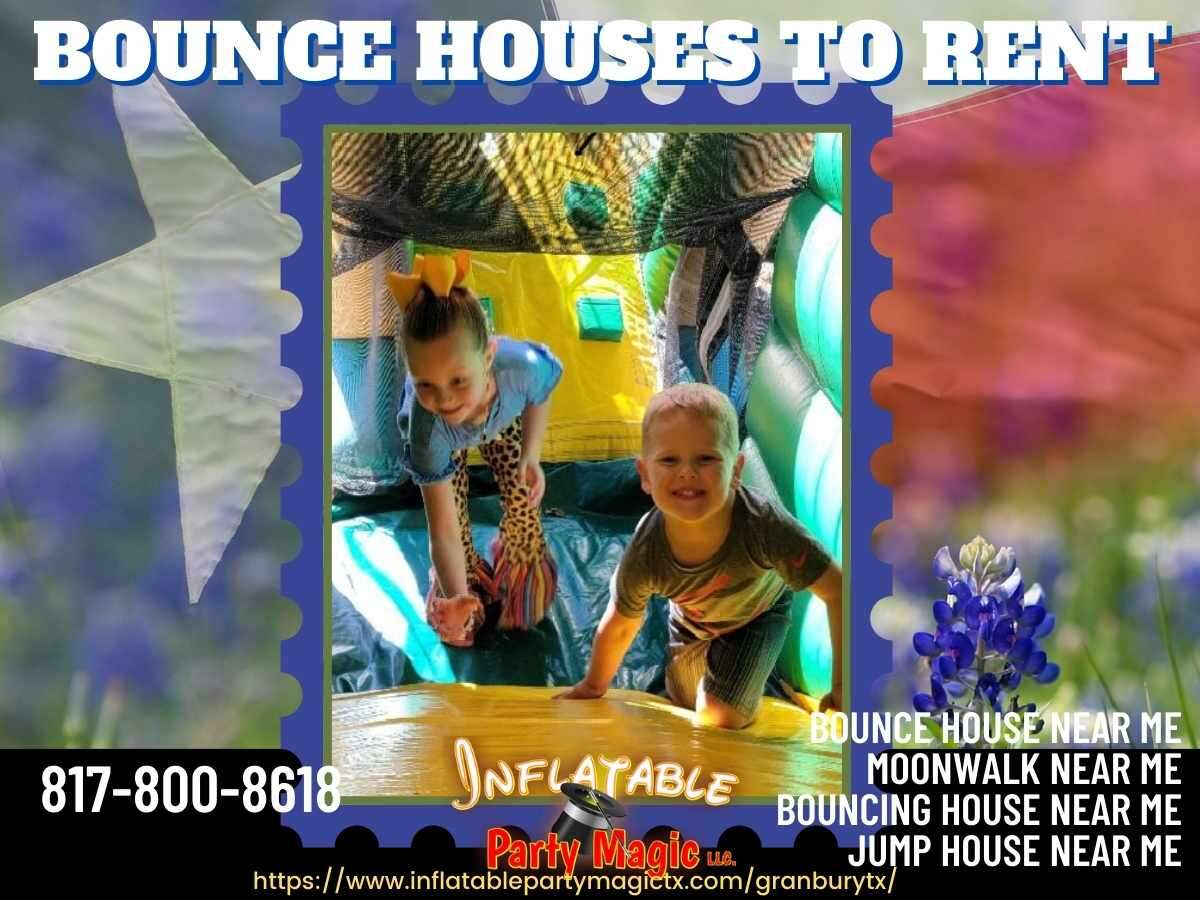 Fully Insured and State Compliant for Texas Bounce House Rentals
Have you seen inflatable companies stating they are fully insured and state compliant? Wonder what this means? Under Texas State Law, the bounce house industry is regulated by the Texas Department of Insurance (TDI). The TDI is charged with ensuring that bounce house companies maintain a standard insurance policy to protect their customers and themselves and mandating annual state safety inspections for every inflatable. During the inspection process, the bounce house company must setup each inflatable for the inspector and the inspector is to make sure that each inflatable meets all safety requirements. A safety inspection report, similar to a motor vehicle inspection report, is issued for each inflatable.
Inflatable Party Magic is fully insured to provide your bounce house and party rentals and we are state inspected annually for safety and as required by
Texas State law
. Additionally, our event rental equipment is maintained well and cleaned after every use for your safety and satisfaction. Our inflatable rentals are replaced every few years so that our equipment presents well at all times.
See what our Customers Have to Say
Don't take our word for it! Click the link below to see what our customers have to say about our service. Inflatable Party Magic has over 500 5-star reviews. You can see for yourself the type of service we provide to our customers.
One customer stated
"We had such a great experience from the beginning, when we booked to the day of the party. We will be using for all future events. The employees were great, the bounce house was in perfect condition. Thanks for helping make our sons birthday party such a success!"
Check out what other customers had to say about our products and services!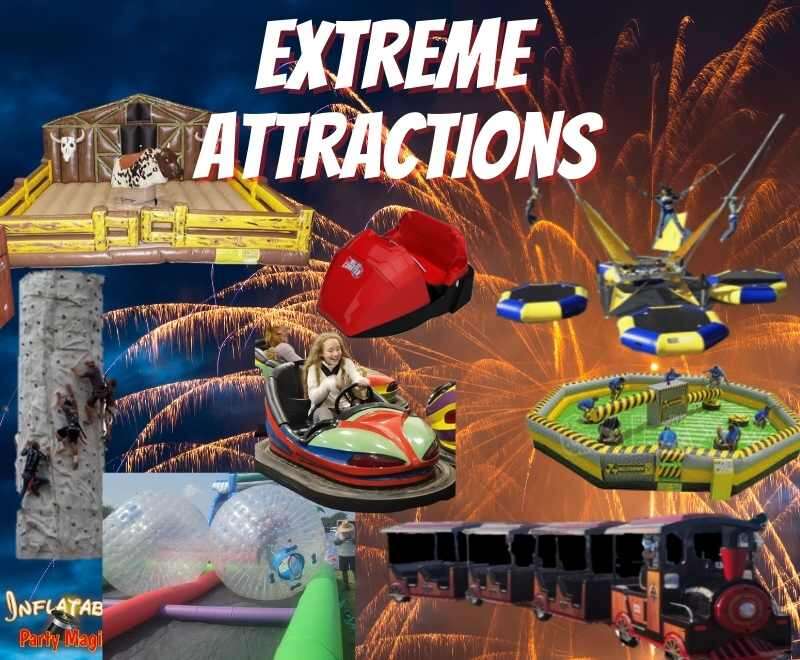 Add-on's for your bounce house rentals
If you need something to add-on to your bounce houses to create a larger event or fun for a larger age range, consider our extreme attractions. The larger event equipment rentals can entertain smaller kiddos all the way to adult helping you create a family fun event.
The Extreme Attractions that we offer include:
Granbury Euro Bungee Trampoline Rentals
Ready to have some fun on a Euro Bungee Trampoline in Granbury? What is better than just bouncing on a trampoline? Tie a bungee up to you AND bounce! This unit allows you to jump high in the air by hooking yourself into a harness attached to bungee cords. You will be amazed at the acrobatics you are able to do with all of the air time you get. Everyone will be "flipping" out at your event over this attraction. This is great for church, school, and corporate events. Everyone will be coming from all around so see what this is all about. This is the same Euro Bungee attraction you see at amusement parks and in malls. Now you can bring it to your Granbury event and
rent a euro bungee
trampoline!
Granbury Toxic Meltdown Rental
This
Toxic Meltdown Rental Granbury
in Granbury will make your party awesome! If you are looking for a unique game rental Rental in the Granbury Texas area that is different and will appeal to all ages? The Toxic Meltdown Game is just that game. The Meltdown is an 8 player wipeout style game that has participants jumping, Dodging, and ducking to prevent the spinning boom arms from knocking them off their podium. The spinning boom arms are at slightly different levels to create more difficulty. This game will challenge all participant's stamina, agility, and reaction speed. Are you ready to go truly extreme? How fast can you jump, duck, or dodge? Will you be the last one standing? Worried about falling off? Don't worry yourself as you are falling into a toxic inflatable 30' X 30' octagon-shaped landing. The inflation makes for a soft landing and a great time. Inflatable Party Magic offers Granbury this cool new attraction that will really amp up your next event and allow multiple players at a time since it can accommodate up to 8 players at a time. This is the perfect big event piece to please almost any party or event goer. It is not only fun to be a participant, but it is even more exciting to those watching. It will have everyone on edge in anticipation with each swing of the arms. Rent the Toxic Meltdown at your party in Granbury!
Granbury Virtual Reality Roller Coaster Rental
Rent a Virtual Reality Roller Coaster in Granbury! Our VR Coaster offers the best and latest in gaming rentals. This coaster allows 2 riders at a time to experience the thrill of over 28 different roller coaster rides that will be perfect for all different age levels and experience levels. This coaster will keep even the biggest thrill-seekers entertained and asking for more, but also offers rides that are good for toddlers, school age, high school, college-age, and even adults. There are so many coaster programs to choose from that will customize the experience to the rider. The
Virtual Reality Coaster Granbury
rental in Granbury, Texas is a complete virtual reality roller coaster simulator with awesome visual sceneries, scenarios, vibrations, and even wind. No matter which way you turn, you will see something different and can look at a 360-degree view all around you while on the coaster. You will feel like you are on a real coaster and even find yourself screaming and moving from side to side just like you would on a roller coaster. This ride is just as much fun for spectators to watch the riders enjoy and react to the ride.
Need help deciding on the larger extreme rentals? We can help and would love ot assist you. Contact us by phone at 817-800-8618.
Extreme Attraction Add-on's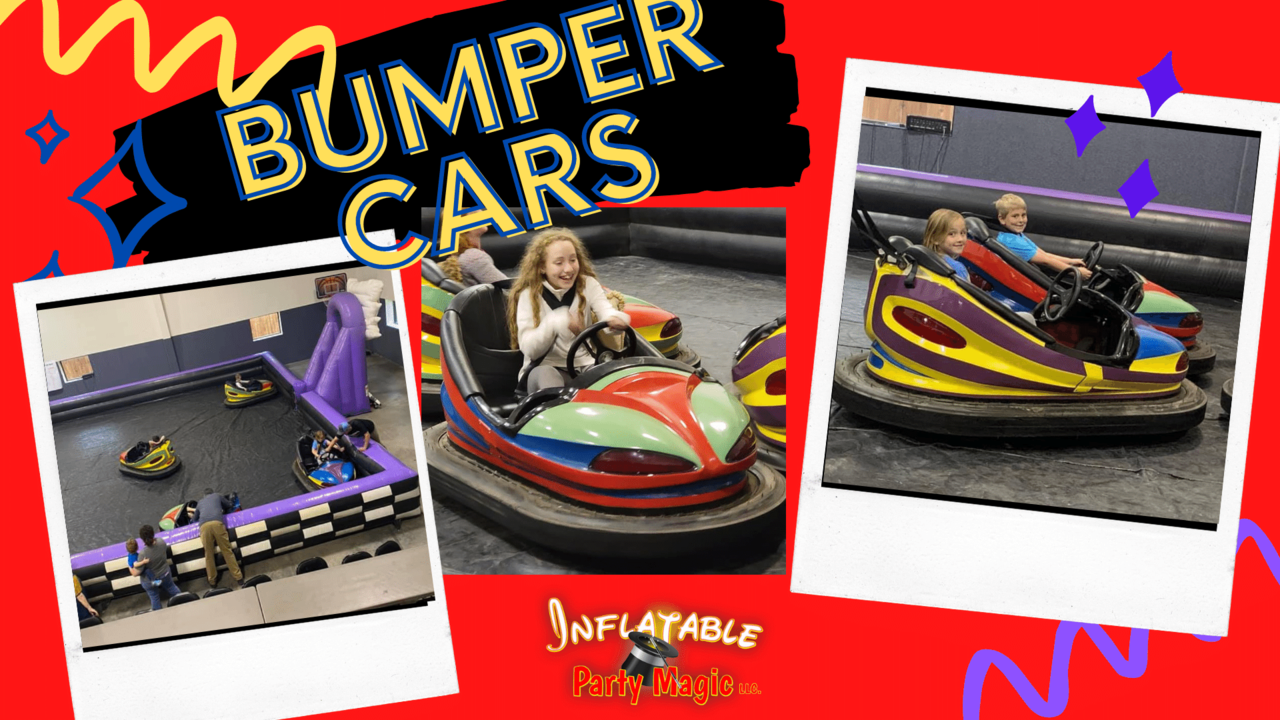 Bumper Cars to Rent Granbury

Bumper Car Rentals are a great option as an add-on to your party. Our bumper cars to rent in Granbury provide the ultimate in excitement! These bumper cars are fast and furious. The bumper car arena features 4 bumper cars and a fully padded side wall arena allowing participants to bump and have fun without worry to the spectators. Participants will love how fast these cars move while inside the bumper cars and will also love how comfortable the seat belts are while in use. Unlike some older style bumper cars that "hurt" when you bump Inflatable Party Magic Bumper Car Rental with arena allows riders, a comfortable bumper car experience with just fun felt throughout your experience. You also get a staff member who operates the cars via remote with a kill switch if in the event for a safety reason such as a child decides to unbuckle the seatbelt and get out we can stop all riders instantly to ensure a safe transition from riding to exiting the bumper car rental ride. This is also equally important to note if participants are not following rules and listening to directions given by the operator is able to completely stop the ride. This will be the best event you have ever hosted! Price is for a 2 hour rental. Rent your bumper cars in Granbury from us! Granbury Bumper Car Rentals
Our Granbury Bounce House Rental Service Area

We deliver the following:
If your bounce house rental for your party is outside our normal service area, just let us know! We do deliver even farther out, and special accommodations can sometimes be made for your party or event near Granbury.
NOTE: Extra fees may vary depending on how far you are outside our service area.
We rent Jump Houses in Granbury Tx
Inflatable Party Magic rents jump houses in Granbury and surrounding cities. We service many churches in Granbury, Texas and have built many lasting relationships. We absolutely love renting bounce houses to Granbury and enjoying the wonderful surroundings.
Lake Granbury
is absolutely beautiful with the City built around it and the splendor of the lake's beauty. Granbury, Texas sets the bar high for Entertainment is just as popular as places to eat and shop in Granbury. The
Historic Downtown Granbury
square area has it all providing a great selection of antique shops, unique Boutiques, eating places, and entertainment. Granbury has no limitations of parks and places to have parties. Many Granbury lake communities have parks in them. Hewlett Park and Granbury City Park are two of our favorites. If you are considering having your party at one of the city parks, do not forget to contact the parks and recreation. For a list of Granbury Parks and Facilities
connect
to their website. The Granbury, Texas Parks and Recreation is located at 400 N Park St, Granbury, Tx 76048.
According to some
Granbury Tx
started as a square and log cabin courthouse. Many buildings on the courthouse square are now registered historic landmarks. What a difference the courthouse of today is from a log cabin years ago. Granbury also serves as the county seat for Hood County.
Our mission for providing Granbury Bounce House Rentals is simple; we want to provide the best quality equipment at the lowest prices we can offer them while maintaining a high level of customer service and satisfaction so we can make your party the best party ever. Inflatable Party Magic carries everything you need to complete your
party
or event.