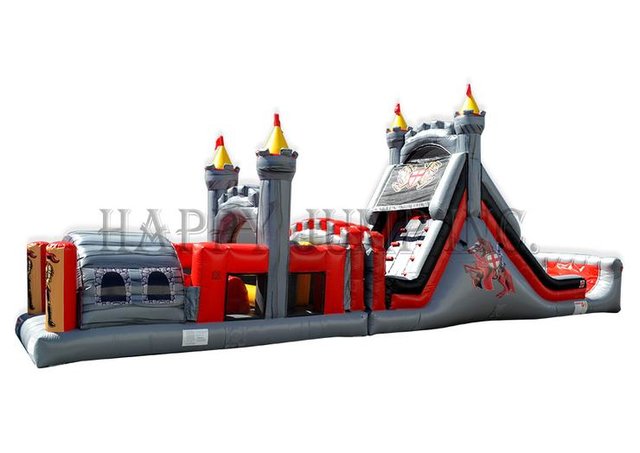 Excalibur Obstacle- 2 piece Obstacle
Actual Size: 15' X 52' and 15' tall
Setup Area: 17' X 54' and 15' tall
Outlets: 2
Age Group: 5 to adult




Excalibur Castle Themed Inflatable Obstacle Course Rental
Rent Obstacle Courses in Fort Worth
Inflatable Party Magic LLC offers this 52ft. Excalibur Castle Inflatable Obstacle Rental is Medieval themed and features a dual lane challenge for 2 competitors at a time. With the Excalibur, a knightly challenge is brought to new levels and excitement for all participants. During your challenge, you will tackle dummies, crawl through or under obstacles, go through a tire race, and climb the final rock-climbing wall to begin a fight to the finish on a 17 ft tall slide. With this inflatable obstacle course rental, the excitement is turned up a bit at the end with a slide that is straight down.
2 Competitors will start this inflatable by entering through the crawl holes on their side and start rushing through the many different levels of obstacles as fast as they can while watching the competitor next to them and trying to keep an eye on where they are in the course. It is a fight to make it to the last climbing wall and slide to the finish to win the race through this awesome and challenging course.
Specifics on the Excalibur Obstacle
This inflatable is 15' X 52' and 17 ft tall and comes in 2 pieces. It is great for children 3 to 13. Older participants can enjoy this obstacle, but the elements are set up so the younger crowd can do it easily. The Excalibur has all the elements of the bigger obstacles, but has a smaller climbing wall and slide. The climbing wall has blocks that are positioned easier for children to climb making it the perfect inflatable course for elementary through middle school-age kids and events.
How to Reserve the Excalibur Obstacle Course Rental
To Reserve the Excalibur online, you just click a few buttons and it is fast and simple. You simply click the add to cart button below, select your date and times, then complete the requested information and pay your deposit. A confirmation email will go out to you quite quickly. If you need help with your online reservation or would prefer for us to make the reservation for you, please do not hesitate to contact us and we will be very happy to assist you and take your deposit over the phone.
Inflatable Party Magic Has been providing Obstacle Course Rentals and Party Rentals to the Fort Worth and
DFW Texas area since 2002. Our services have become a standard in the rental industry and our services are trusted by many. Try us for your next party or event and see why our customers rate us #1 in the party rental and event rental industry. We can help to make your party or event a highly magical experience.
This inflatable will create a challenge and bring out a Knightly competition at your next party!