Toddler Bounce House Rentals

We have a huge selection of toddler bounce house rentals that fit any party theme or gender. Toddler bounce house rentals offer all the elements of a bounce house combo for older kids, but made with elements that are easier for toddlers to navigate.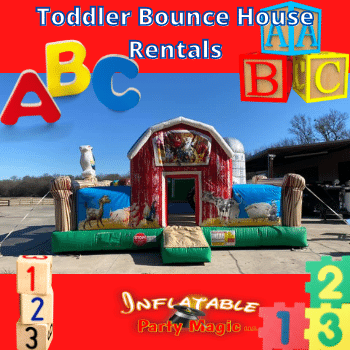 Rent a Bounce House for Toddlers in DFW Texas

We rent Bounce Houses for toddlers in the DFW Texas Area. Toddler jump houses from Inflatable Party Magic are the best choice in bounce houses for toddlers. We rent toddler inflatables that offer bounce areas with slides, climbing walls, and pop-up character obstacles. They will keep kids busy and not wanting to stop all day long. All Toddler inflatables are rented dry. For bounce houses that can be used wet, checkout our wet combo bounce houses or water slides.

What Makes Bounce Houses for Toddlers different than regular bounce houses?

Bounce houses for toddlers are designed to keep toddlers busy. Toddlers have a short attention span and can be scared of a confined or enclosed environment. The toddler jumpers are open top so toddlers can easily see the world above them, which gives them a sense of security. The open top concept of a toddler inflatable also reduces the noise level of the blower and the air surrounding them since it does not surround them over the top.

Additionally, toddler inflatables offer elements inside that are on a smaller scale and designed just for them. For instance the slides as smaller than a regular bounce house with slide combo and they are very slanted so they can slide down easily and without assistance. The climbing wall to the slide is also very slanted so it easier for the kids to climb up or even crawl up on their own without assistance.

Your toddlers will not get bored with our DFW toddler bounce house rentals since they will be challenged and entertained at every turn. Kids will get their exercise while having a blast jumping, sliding and interacting with character pop-ups that are positioned throughout the inflatable to keep their attention.

Check out our great selection of toddler inflatable bounce houses below:
  Toddler Inflatable Rentals
Frozen Toddler Bounce House Playland- Rents only Dry Year Round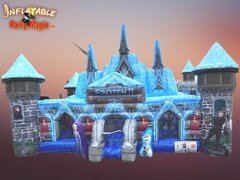 Mickey Park Toddler Bounce House- Rents only Dry Year Round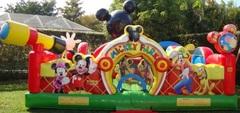 Farmyard Toddler Bounce House- Rents only Dry Year Round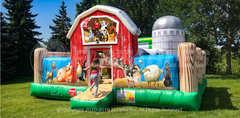 Toy Story Combo- Rents only Dry Year Round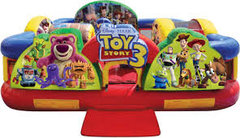 Toytown Toddler Combo- Rents only Dry Year Round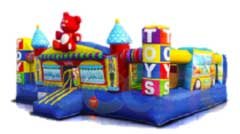 Animal Kingdom toddler Combo- Rents only Dry Year Round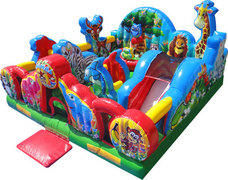 Noah's Ark Toddler Combo- Rents only Dry Year Round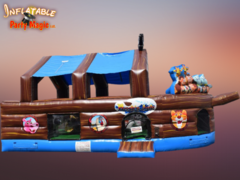 Lil Pirate Playground Toddler Combo- Rents only Dry Year Round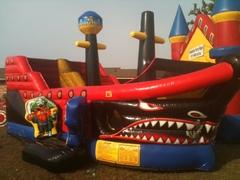 Rescue Heroes Toddler Combo- Rents only Dry Year Round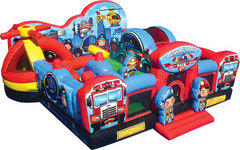 Crabbie Playland Toddler Combo- Rents only Dry Year Round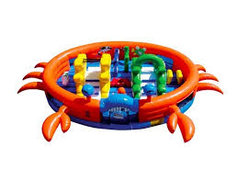 Inflatable Jungle Themed Train Toddler Obstacle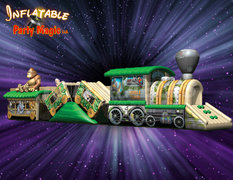 Lego Land Small Combo with Dry Slide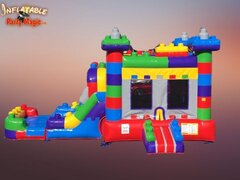 Lego Land Small Bounce House Water Slide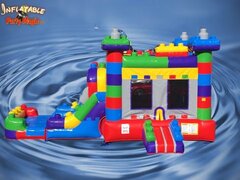 Gingerbread Christmas House Toddler Combo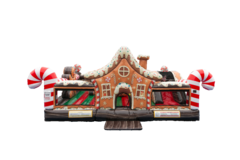 Elf Christmas Bounce House Rental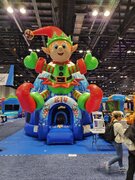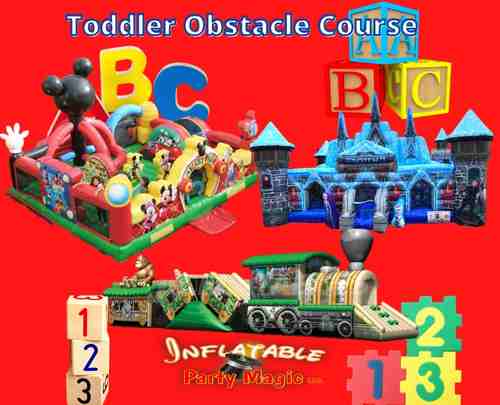 Toddler Obstacle Course Rentals
Toddler obstacle course rentals are very popular. We have so many customers that want to rent a toddler obstacle course that is specific to toddlers and small children. Toddler bounce house obstacle courses come in many forms. We offer toddler bounce house obstacles with bouncing areas, climbing walls, slides, and character pop-ups such as the bounce house combos. Check out all the
Toddler bounce house obstacle courses to rent
such as the
Frozen toddler bounce house
obstacle and the
Jungle Train Toddler obstacle
. The Toddler bounce house obstacles that are labeled as toddler bounce house combos incorporate a bouncing area, but the Jungle Train Toddler Obstacle is a true race to the finish obstacle that is setup for smaller kids to enjoy. We rent the best toddler obstacle courses in DFW Texas. Let us help you bring the fun to your birthday party or Pre-K event.
Toddler Bounce House Rental DFW Video
Toddler Bounce House Rental DFW Texas are big at Inflatable Party Magic. Check out this youtube video on that shows you the specific details of a toddler inflatable. This video was a tour of the
Crabbie Playland Toddler Bounce House
to rent.
What is the suggested age for toddler bounce houses?
Toddler bounce houses are great for ages 2 to 10. It is stated that up to age 12 could enjoy them, but the climbing walls and slides are really geared for smaller kids and are not as large as what you would find in a
bounce house with slide
for older kids. The fun factor of the toddler jumpers are ages 2 to 10 for sure. They are great inflatable rentals for birthday parties for toddlers, pre-schools and elementary schools. Older kids and even adults can safely use the toddler inflatable as our bouncers are all commercial grade and will support even adults. The fun factor is just not there for adults. Keep safety in mind as well, it is never advised to mix different age groups and sizes together in an inflatable at one time as it can be dangerous if a larger person falls on a smaller person or child.
Jungle Train Toddler Obstacle Course Rental
Looking for the perfect toddler obstacle course inflatable rental? This Jungle Train toddler bounce house obstacle rental could be just what you are looking for. Check out our video on this toddler obstacle course rental. Are you having a train themed party? Don't forget to add the
trackless train rental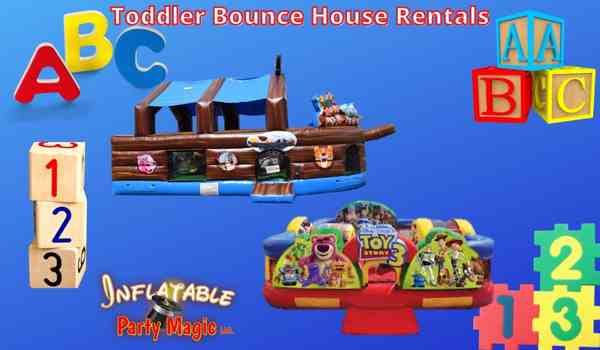 Add Additional Fun Party Equipment to Your Toddler Bounce House:
Looking for other items to add to your toddler bounce house? Don't forget to add the tables, chairs,
jumpy house rentals
, party games,
obstacle courses for toddlers
, concession machines such as
cotton candy machine
,
backyard and carnival games
, popcorn,
bounce house waterslides for toddlers
, snow cone, etc. to your toddler bounce houses. Inflatable Party Magic offers everything you need to make your party a complete success. You can add on items or even
party packages
to complete your party needs with just a click of a button. Party games are very low in cost to add to your order, but add that extra something to occupy the kids and keep them fully entertained.
We Rent Toddler Bounce Houses to DFW Tx
Inflatable Party Magic rents toddler bounce houses to DFW Tx cities of Cleburne, Keene, Alvarado, Burleson, Midlothian, Maypearl, Crowley, Godley, Joshua, Lillian, Granbury, Glen Rose, Acton, Tolar, Lipan, Aledo, Fort Worth, Southlake, Trophy Club, Rio Vista, Grandview, Venus, Waxahachie, Red Oak, Cedar Hill, Whitney, Covington, Itasca, Blum, Hillsboro, Kopperl, Morgan, Arlington, Mansfield, Kennedale, Everman, Rendon, Briar Oaks, Benbrook, River Oaks, Kennedale, Forest Hill, Grand Prairie, Weatherford, Cresson, and other DFW North Texas cities. We also rent toddler inflatables to the following counties: Johnson County, Hill County, Ellis County, Hood County, Somervell County, Bosque County, and Tarrant County Let Inflatable Party Magic LLC Create the magic and excitement for your child's next birthday party!
Looking for something to add to your toddler bounce house rentals?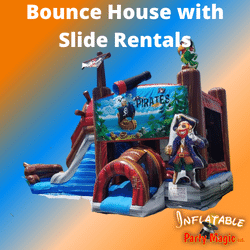 Bounce House with Slide Rentals DFW
Looking for something for the older kids to do at your toddlers birthday party? Add a bounce house rental. Our jump houses are second to none. We rent bounce houses near you!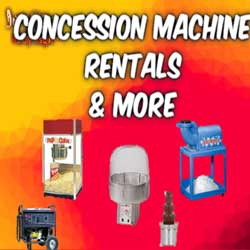 Concession Machine Rentals DFW
DFW concession machine rentals add that little touch to any birthday party or event. Let Inflatable Party Magic make your next birthday party rental the best event ever!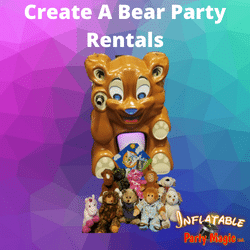 DFW Create A Bear Parties
Are you looking for the perfect party rental for your next birthday party? The create a bear party offers a different choice in the way of a birthday party and every child leaves with a new stuffed friend. We rent create a bear parties near you!
What does Inflatable Party Magic offer and Where to?
Cleburne toddler bounce house rental,
Burleson toddler bounce house rental
,
Fort Worth toddler bounce house rental
,
Benbrook toddler bounce house rental
, Keller toddler bounce house rental,
Southlake toddler bounce house rental
, Trophy Club toddler bounce house rental,
Grand Prairie toddler bounce house rental
,
Cedar Hill toddler bounce house rental
,
Crowley toddler bounce house rental
,
Mansfield toddler bounce house rental
,
Arlington toddler bounce house rental
,
Aledo toddler bounce house rental
,
Weatherford toddler bounce house rental
,
Kennedale toddler bounce house rentalt
,
Godley toddler bounce house rental
,
Joshua toddler bounce house rental
,
Midlothian toddler bounce house rental
,
Maypearl toddler bounce house rental
,
Waxahachie toddler bounce house rental
,
Venus
,
Alvarado toddler bounce house rental
,
Granbury toddler bounce house rental
,
Glen Rose toddler bounce house rental
, Tolar toddler bounce house rental,
Itasca toddler bounce house rental
,
Grandview toddler bounce house rental
,
near me toddler bounce house rental
,
Rio Vista toddler bounce house rental
,
Blum toddler bounce house rental
,
Covington toddler bounce house rental
,
Cresson toddler bounce house rental
,
Keene toddler bounce house rental
,
Rendon toddler bounce house rental
,
Forest Hill toddler bounce house rental
,
Briar Oaks toddler bounce house rental
, River Oaks toddler bounce house rental, Whitney toddler bounce house rental, Hillsboro toddler bounce house rental, and more. Don't see your area? Call us to see if we service your area? You can contact us at 817-800-8618.
Rent your bounce house for toddlers in the DFW TX area from Inflatable Party Magic and let us make your party or event a magical success!
Frequently Asked Questions
Q: Can I trust Inflatable Party Magic with my Jumping House Rentals for Toddlers?
Absolutely, you can trust Inflatable Party Magic for your bounce house rentals for toddlers. With over two decades of dedicated service in the event rental industry, our reputation is built on a foundation of unwavering customer commitment and meticulous attention to safety and satisfaction.
Our team is rigorously trained to prioritize your safety, ensuring that all our inflatable bounce houses and party rental equipment are not only cleaned but also sanitized after each use. We take pride in adhering to the stringent regulations set by the Texas Department of Insurance (TDI), meeting all
insurance
requirements and
annual safety inspections
for amusement ride rentals. In fact, we hold insurance policies with limits that exceed the state's minimum requirements, because we believe in going the extra mile for your peace of mind.
From intimate backyard gatherings to large-scale corporate events, we've successfully catered to a diverse range of occasions across DFW Texas, ensuring that fun is had by all, from kids to adults. You can conveniently place your toddler bounce house rental orders online or reach out to us at 817-800-8618 for personalized service.
Inflatable Party Magic is more than a business; it's a family legacy. Founded in 2002 and nurtured alongside my father, the company has grown with my son now playing a pivotal role. This isn't just a business to us; it's a cherished tradition that we're proud to share with you.
Our customers are an extension of our family, with many having been with us since the start. We've celebrated milestones and watched families grow, now serving the next generation of party-goers. We'd be honored to welcome you into our circle of delighted customers and show you firsthand why Inflatable Party Magic is the trusted name for toddler bounce house rentals in North Texas.
Q: What is your cancellation policy for Toddler Bounce Houses?
We understand that plans can change, and we're here to help make adjustments as easy as possible. If you need to reschedule your toddler bouncer rental to a new date, we're happy to assist you with no additional change fees.
In the event that you need to cancel:
Before Delivery: Your deposit is non-refundable, but don't worry! We'll issue you a raincheck valid for one year from the original event date.
After Full Payment: If you've paid more than the deposit, we offer two options:

Receive a refund for the amount above the deposit, minus a small 5% restocking fee to cover transaction costs.
Opt for a raincheck for the full amount paid, allowing you to apply 100% of your payment to a future rental within the next year.
We strive to be as flexible and accommodating as possible, ensuring your experience with us is stress-free and enjoyable, even if your plans have to change.
Q: Are your Bounce House Rentals Clean?
Absolutely, cleanliness is at the core of our user experience for bounce house rentals. We take great pride in ensuring that each inflatable bounce houses are thoroughly cleaned and sanitized before it arrives at your event. Our cleaning process is designed to meet the highest standards, because we believe that a clean bounce house is fundamental to a fun and safe experience.
Q: How long are the rentals for the quoted price?
We're delighted to offer you more bounce for your buck! Our toddler bouncy house rental rates are designed with your maximum enjoyment in mind – that's why the price you see is for an extended fun time of up to 8 hours. This is our standard, not the exception, setting us apart from many competitors who may offer shorter rental periods of 4 to 6 hours for a similar price.

There are some exceptions. For those special occasions that require a unique touch, we have select specialty items such as the mechanical bull, bungee trampoline, virtual reality coaster, train, rock wall, etc available that are mandatorily staffed and priced per hour. These exceptions are clearly detailed in their descriptions, ensuring transparency and ease of planning.

If you have any questions or need further clarification, we're just a call or text away at 817-800-8618. Our goal is to make your rental experience as seamless and enjoyable as possible, from the moment you land on our website to the final minutes of your event.
Q: What are the Rules for a Toddler Bounce House?
Toddler Bounce House Rules
No Silly String!!!- Please- No Silly String!!!
This ride is only to be used by riders 2 years of age to adult.
Compatible age groups only at a time on equipment. Age groups must not be mixed for reasons of safety.
The maximum number of customers of each age group that play at one time are as follows:
Under 5 years - up to 10 participants at a time
5- 8 years - up to 6participants at a time
9-13 years- up to 2 participants at a time
Older Teens Adults- 1 to 2 participants at a time
NO Pets
Additional Rules
1. Always be sure riders have removed shoes and sharp objects.

2. Do not allow riders to play or climb on outside walls, sides, or roof
of the unit, Nor inside rafters.

3. No food, drinks, pets or water inside the units.

4. Never put a water hose in or spray water on as units can become slippery.

5. at least 1 adult must be present at all times to supervise riders.

6. In case of rain or high winds over 15 mph- 1) remove riders 2) unplug the motor
extension from the wall outlet.

7. Do not turn motor off and on repeatedly, as this could harm to children
This could also burn out the motor.

8. Never move a unit for any reason. Inflatable Party Magic completely sets up
and stakes down the unit upon delivery. Units are not to be unstaked or moved
for any reason

9. Never play or jump on a partially inflated unit.

10. Always follow number of riders listed on contract.

11. Be sure to remove all personal items from unit. We are not
responsible for there return.

12. Never add more extension cords to the motor or move the unit
without first obtaining an okay from Inflatable Party Magic.

13. No Horseplay!! (ex. flipping, pushing, fighting, rolling, climbing, etc.)

14. Make sure entry door is zipped or closed accordingly after each rider enters
into unit and remains zipped while riders are playing inside.
Q: What are the Power Requirements for a Bounce House?
Bounce House Power Requirements vary by inflatable, but every bounce house takes at least one blower. Some take more than one blower
For each blower, you will have to be within 100 foot of your power source.

That power source must support 12amps. A 20 amp breaker will only support one blower (this is what most plugs are on unless it is a commercial building and then you will come times have a 30amp breaker).

If your inflatables require more than one blower, you will need to find another plug within 100ft that is on a separate breaker. If you do not have the required electrical available within 100 foot of where you pan on sitting your inflatable, you can rent a generator.
Q: What are the Setup Requirements for a Bounce House?
First and foremost , we need a clear pathway with an adequate gate or door to get an inflatable through. You will minimally need a 4 foot wide path and gate or entry door. Some inflatables are larger and take a larger opening.

Inflatables will be dollied to the area you want to set them in so we need a clear path. We can not lift inflatables over an Air Conditioning unit or go up stairs.

Bounce House and Inflatable Setup Requires a flat surface or one with very little grade to it.

Grass is the preferred setup surface as the inflatables can be staked down for ulitmate safety.

Inflatable bounce houses can be setup on concrete as well, but we have to know that up front as they cannot be staked down on concrete and must be anchored with sandbags to keep it safely anchored. **Please note that sandbag setups are an extra charge and will not be allowed in winds over 15mph to ensure ultimate safety and manufacturer regulations are fully met.

Indoor setups are also an option for setup. We do need to know this at the time of booking so we can supply the necessary items to keep the inflatables from moving around on gym floors. Please make sure the height of your indoor space so we can ensure the inflatable that you choose will properly fit in your space.
Q: How do I order a bounce house?
Ordering a bounce house for a toddler is a breeze with Inflatable Party Magic! Here's how you can secure your fun in just a few steps:
Choose Your Bounce House: Browse our selection and pick the perfect one for your event.
Add to Cart: Once you've made your choice, add it to your cart.
Enter Details: Fill in your address and personal details for the rental.
Secure with a Deposit: Complete your booking by paying the deposit.
And that's it—you're all set for a magical time!
Prefer a personal touch? Call us at 817-800-8618, and we'll assist you with your booking. Remember, you can book online anytime, 24/7, at your own convenience.