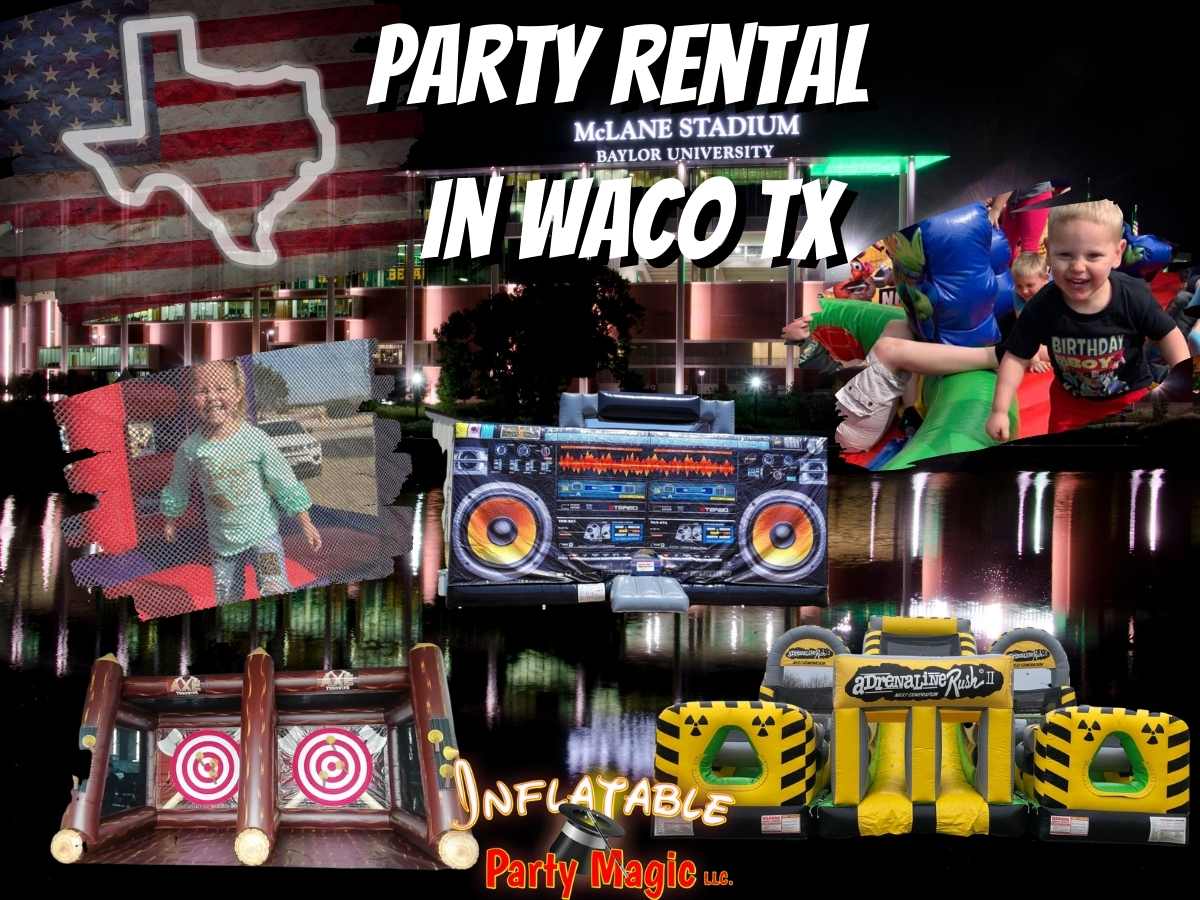 Waco Party Rentals!
The best
Party Rentals
in Waco Tx come from Inflatable Party Magic. We are Located a little ways from Waco and mainly offer party rentals on a larger scale to that area, but service many churches, colleges, schools, etc. We do have a $1300.00 minimum to provide services in Waco and a $100.00 Delivery fee. We offer easy online booking or personal service and booking by calling our office. We are largest Party Rental company in Texas. We help you create the ultimate party planning experience. Our selection of party equipment is Texas sized leaving no stone unturned for your party.
Waco Party Rental
planning has never been so easy and stress-free! Let us take your party headaches away with our
8-hour rentals
for the price of one day. Most of our competitors only offer 4 to 6-hour party rentals. No matter what type of party your are having, we can help! If you are looking for party rentals in Waco, you have found the right party rental company. We have everything you need to create the perfect party or event in Waco. We want to be your "Heart of Texas" Party Rental company!
We carry everything PARTY! Inflatable Party Magic is a name you can trust as we have been bringing party entertainment and birthday party rental fun to the DFW Texas area for 20 years. Our company has so much to offer in the way of party entertainment rentals. We are not just a bounce house party rental company. Inflatable Party Magic rents bounce house rentals, water slide rentals, toddler bounce house rentals, bounce houses with slide rentals, mechanical bull rentals, trackless trains, interactive inflatable games, inflatable obstacle course rentals, photo booths, large inflatable movie screens, carnival games, giant games, tables and chairs, and tents, Rock Wall Rentals, Euro Bungee Quad Jumper Rentals, Bumper Car Rentals, and Portable Mini Golf Course Rentals to complete our party rental line-up. Party Rentals delivered with a smile. Why take your party somewhere and have time limits. Have the party delivered to you so you can invite the number of guests you really want to invite for the length of time you choose without running in to overage charges. Let's get your party started!
We provide the following party rental services:






College Party Rentals




City Event Rentals




Country ClubEvent Rentals




Daycare Entertainment Rentals




Festival Rentals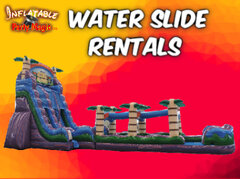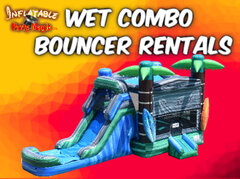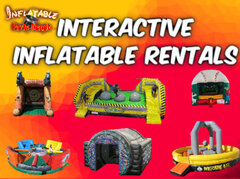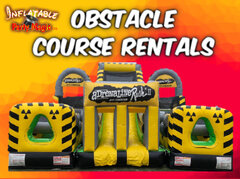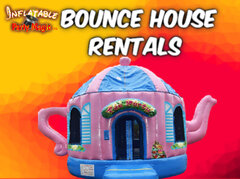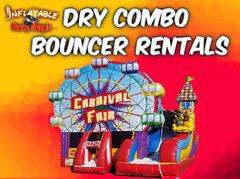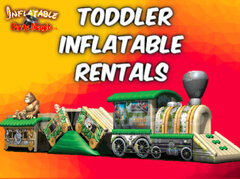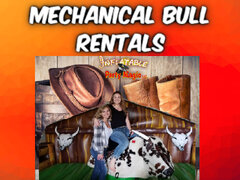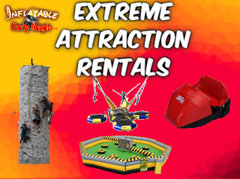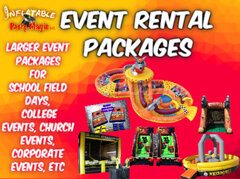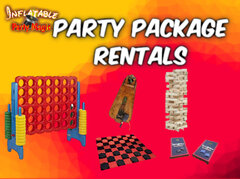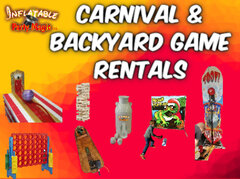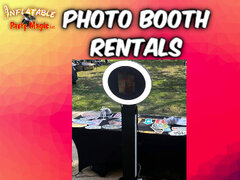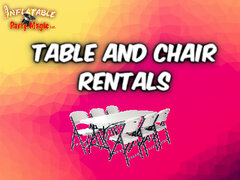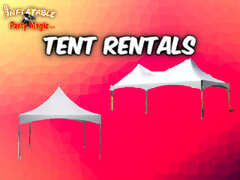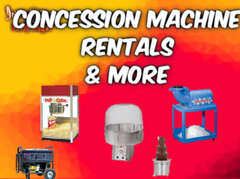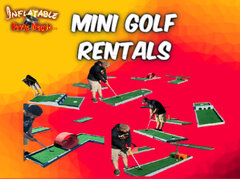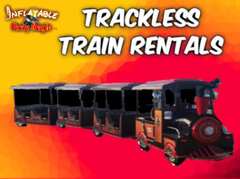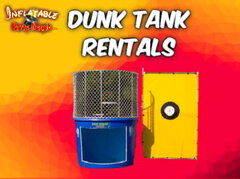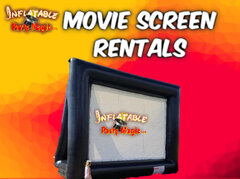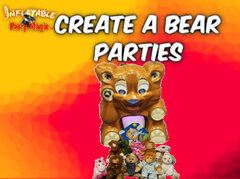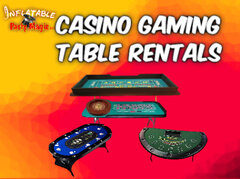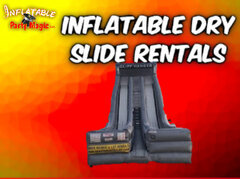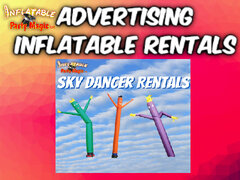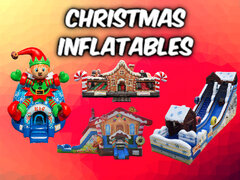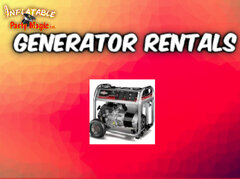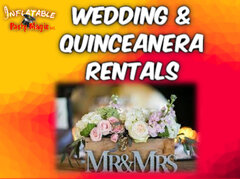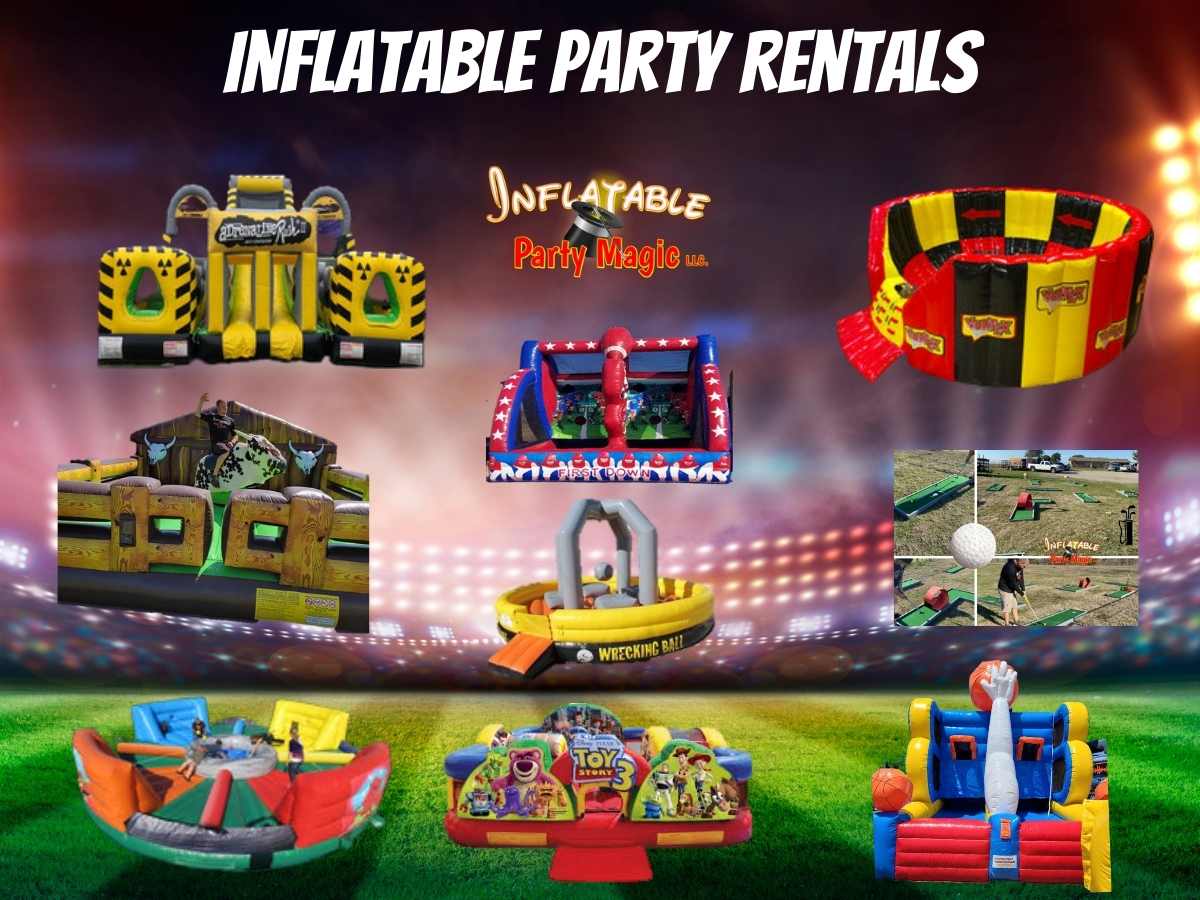 Inflatable Party Rentals Waco Tx
If inflatable Party Rentals in Waco Texas are what you are looking for, Inflatable Party Magic has you covered. After all that is our name! We started with inflatables and have grown our inflatable rentals by leaps and bounds over the years. We have the largest selection of unique inflatables in the DFW area. Over the years, we have branched out into many other items other than inflatables to make your party experience the best it can be. We want to be your one-stop party shop! We believe in quality party rentals. You can rest assured that your
inflatable party rentals
, party tents, tables, chairs, giant games, and other party rental equipment will be clean and sanitized before they are brought to you. Our company is state inspected and fully insured for all inflatable rentals and other party rentals as well.
Inflatable Rentals Waco Tx
Waco Event Rentals
Checkout all the Event rentals we offer below. Let us be your one stop Waco party rental company. Planning a party celebration or large event has never been so easy! Inflatable Party Magic provides everything you need to plan the perfect event with just a click of a button. If you are searching for cheap party rentals, we are not the cheapest, but we are also not the most expensive. Our company values quality products and excellent customer service. We will always show up for your events. The last thing you need to worry about on your party day is if your event rental company will show. Our reputation speaks for itself and you can trust us to show up and provide a high quality service. Your celebration was meant to be special. Don't let a sub-par party rental company ruin your party celebration.

Trust our 20 years of experience in the party rental industry and let us provide your rental equipment. Parties of all sizes are what we do. Our company has the experience to do small backyard parties all the way to large corporate parties. Trust us for an easy party with lots of experience and very little work on your part. We have the party rental equipment and trained staff to do it all. We know that parties are not just about the party, but the complete party rental experience. We can make your party planning experience a positive memory.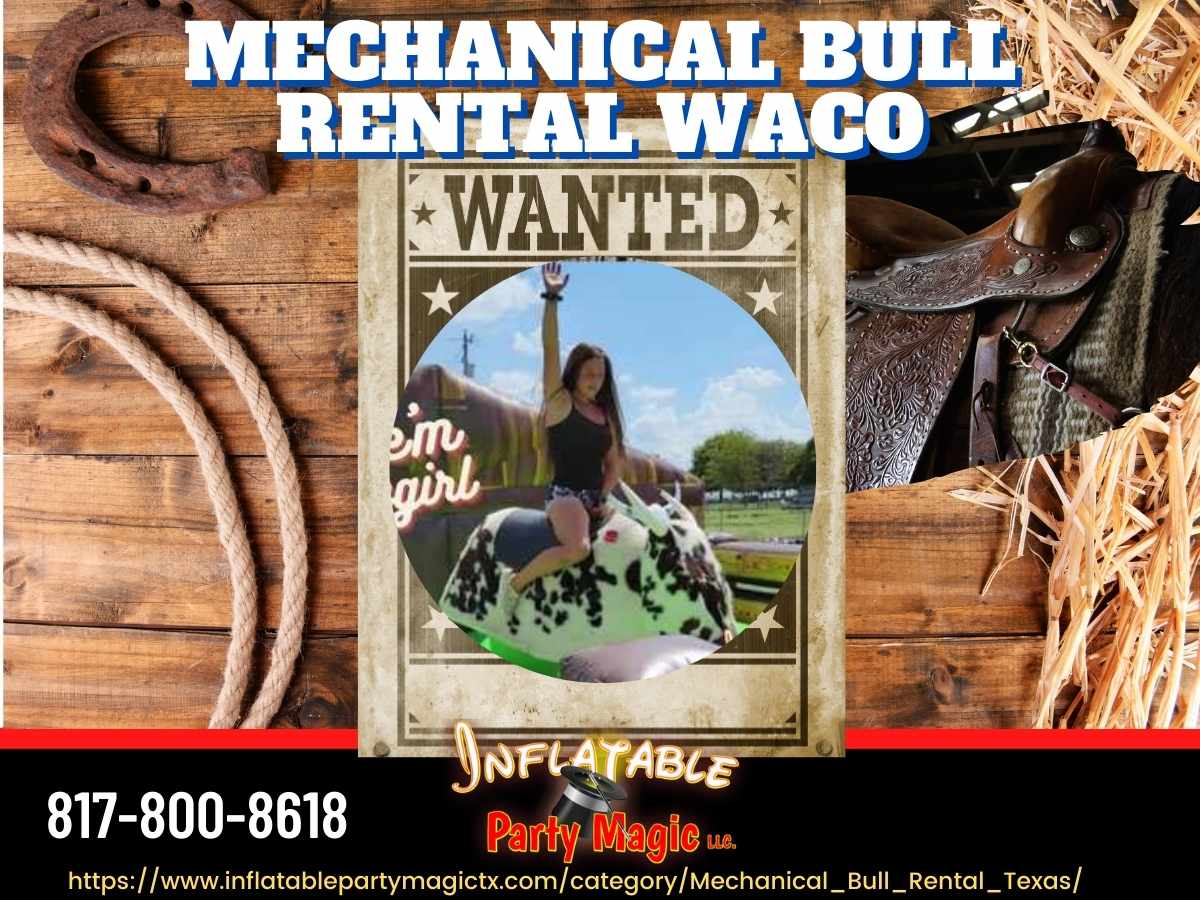 Mechanical Bull Rentals Waco Tx
Mechanical Bull Rental Waco have never been easier than with Inflatable Party Magic. Our Waco Mechanical Bull Rental offers a luxury bull ride with a trained and fun operator. Our bull ride rentals are always staffed by trained professionals that know how to make the ride the most fun it can be. Our mechanical bull is priced for a 2 hour rental. You can add extra hours to your Mechanical Bull Ride in Waco, for an additional fee. Checkout our bull riding rentals by clicking below.
Waco Mechanical Bull Rental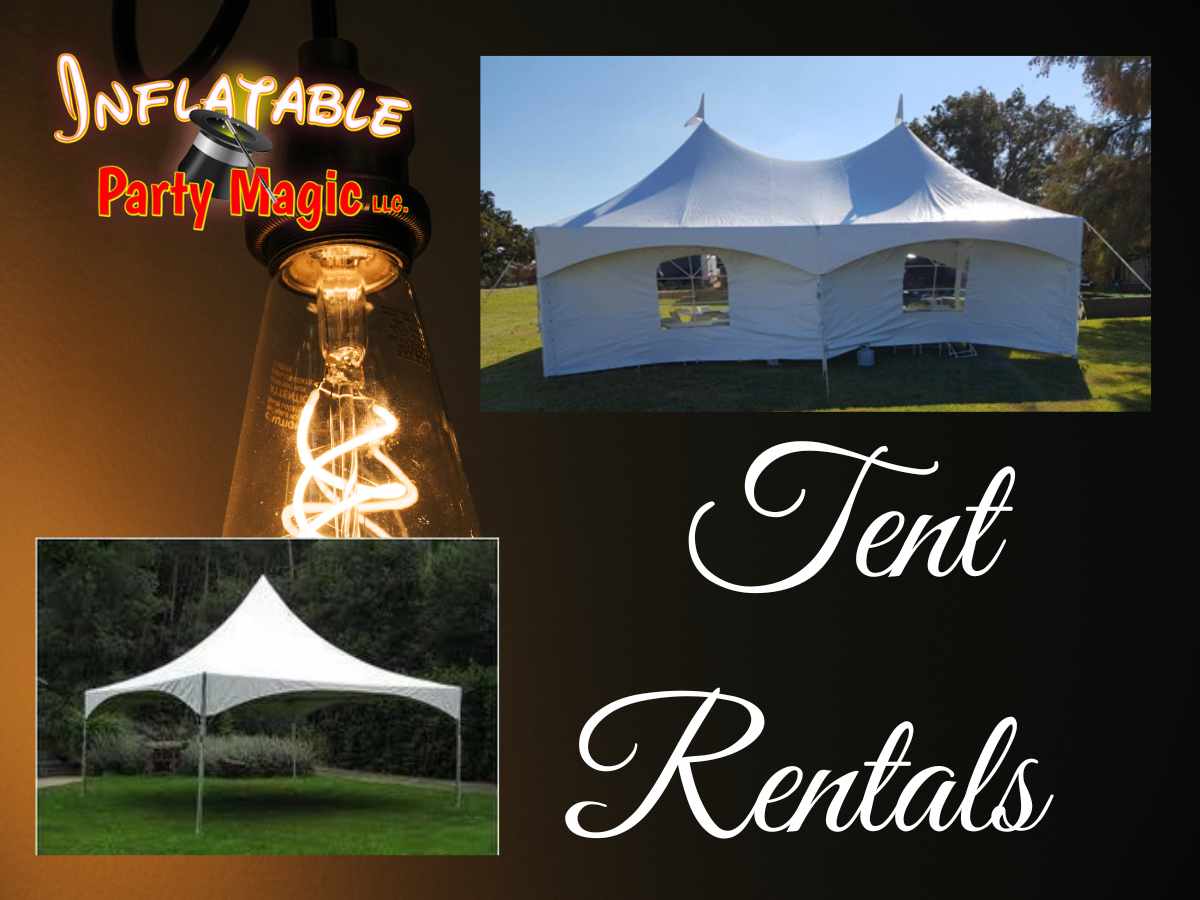 Tent Rentals Waco
The best tent rental in Waco Texas. Inflatable Party Magic rents all sizes of tents. We specialize in high Peak tent rentals. Our Waco Tent Rentals offer many sizes of tents to rent including 20 x 20 Tent all the way to 40 x 50 Tent rentals and everything in between. Need to rent tent walls or lights for tents? We offer those also. Our tent rental to Waco include setup and take down by professionally trained staff. Not sure which size tent to rent for your party? Checkout our Tent Rental Page by clicking the link below and checkout our tent rental seating chart to assist you in choosing the correct tent for the number of guests and type of seating that you plan to use at your party.
Table and Chair Rentals Waco Tx
Need to rent tables and chairs for your Waco party? We rent tables and chairs to go with our tent rentals and other party rentals. The chair rentals to Waco include white chairs and black chairs as well as white garden chairs for upscale events. Table Rentals in Waco include folding rectangle tables, round tables, and cocktail tables. Table and chair rental packages are also available that include both tables and chairs at a reduced rate.
Tent Rentals Waco Tx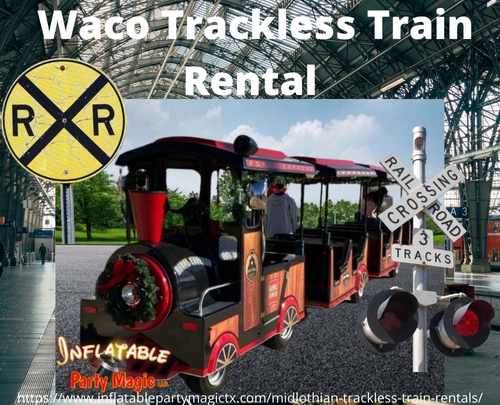 Trackless Train Rental Waco
The best trackless train rental in Waco Tx is from Inflatable Party Magic. Our Waco trackless train is absolutely beautiful and carefully crafted for safety by Royal trains. Our Trackless Train Waco is a luxury train that provides train rides for kids and adults. We love to encourage family and toghetherness. What better way to spend time together than a train ride.

Our train rental Waco is great for corporate parties, city events, church events, school events, college families days, fall festivals and so much more. Check out Waco Trackless Train rental today by clicking the link below.
Waco Trackless Train Rental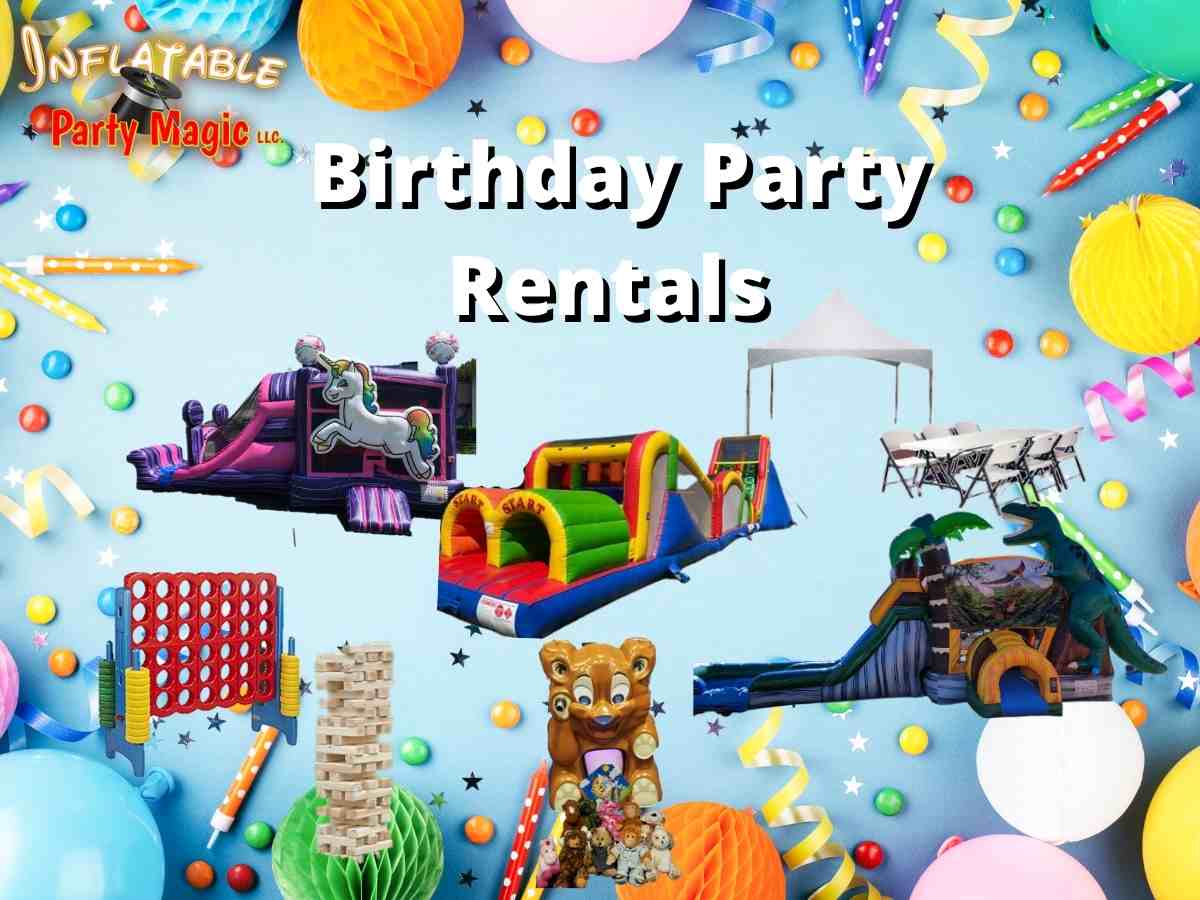 Waco Birthday Party Rentals
We rent everything you need for birthday parties near me. If you are looking birthday party rentals in Waco, we can help. Planning a birthday party doesn't have to be stressful! Let us show you how to make
birthday party rentals easy.
We rent jump houses, water slides, party games, giant games, trackless trains, concession machines, create your own bear-at-home parties, tents, tables and chairs, and pretty much anything your birthday might need for entertainment. Our jump house with slide rentals are our number one rental for backyard birthday parties, followed by obstacle course inflatables rentals for older kids and teens, and then of course our water slide inflatables for summer birthday parties. Our water slide inflatables rentals are the largest selection you will find anywhere for a party. We offer inflatable rentals for small children all the way to adult. Creating easy birthday parties are our specialty. Let us make your next event the best with a touch of magic! Let us make your birthday party a magical memory!
Birthday Party Rentals Waco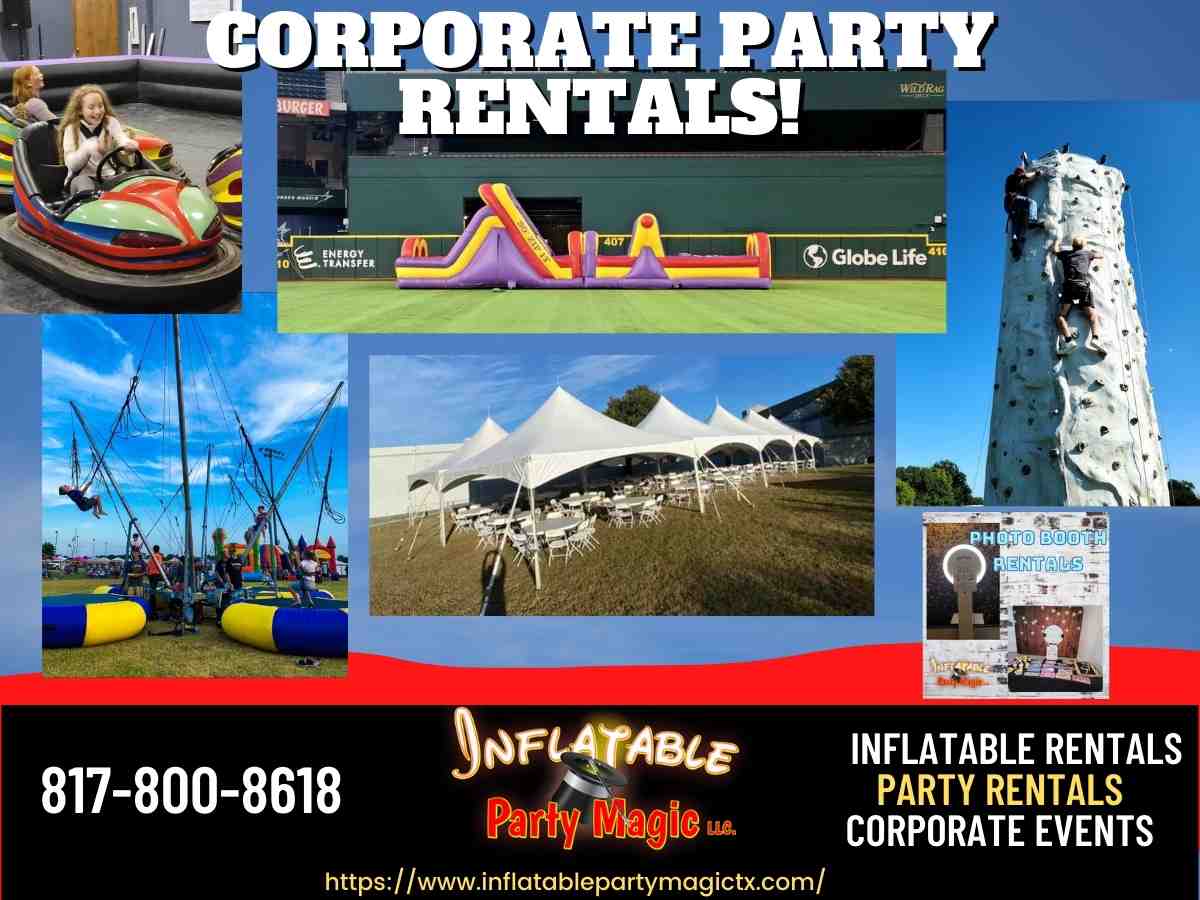 Corporate Party Rentals Waco Tx

Corporate party rentals in Waco are simple with Inflatable Party Magic. We do smaller corporate events and larger corporate parties in Waco and Surrounding areas. Everything you need for corporate entertainment is at your fingertips with our company. We rent tents, table, chairs, rock climbing walls, euro bungee trampoline, mechanical bulls, dunk tanks, carnival games, trackless train, Giant yard pong, giant corn hole, cash cubes, mini golf course, inflatable obstacle courses, virtual reality roller coasters, and so much more to complete your corporate event party rentals. We have even made selecting your corporate party rentals easy with pre-made event party packages. Click below to check out our event rental party packages. Trust us to your Waco Party Rentals. Waco Corporate Party Rentals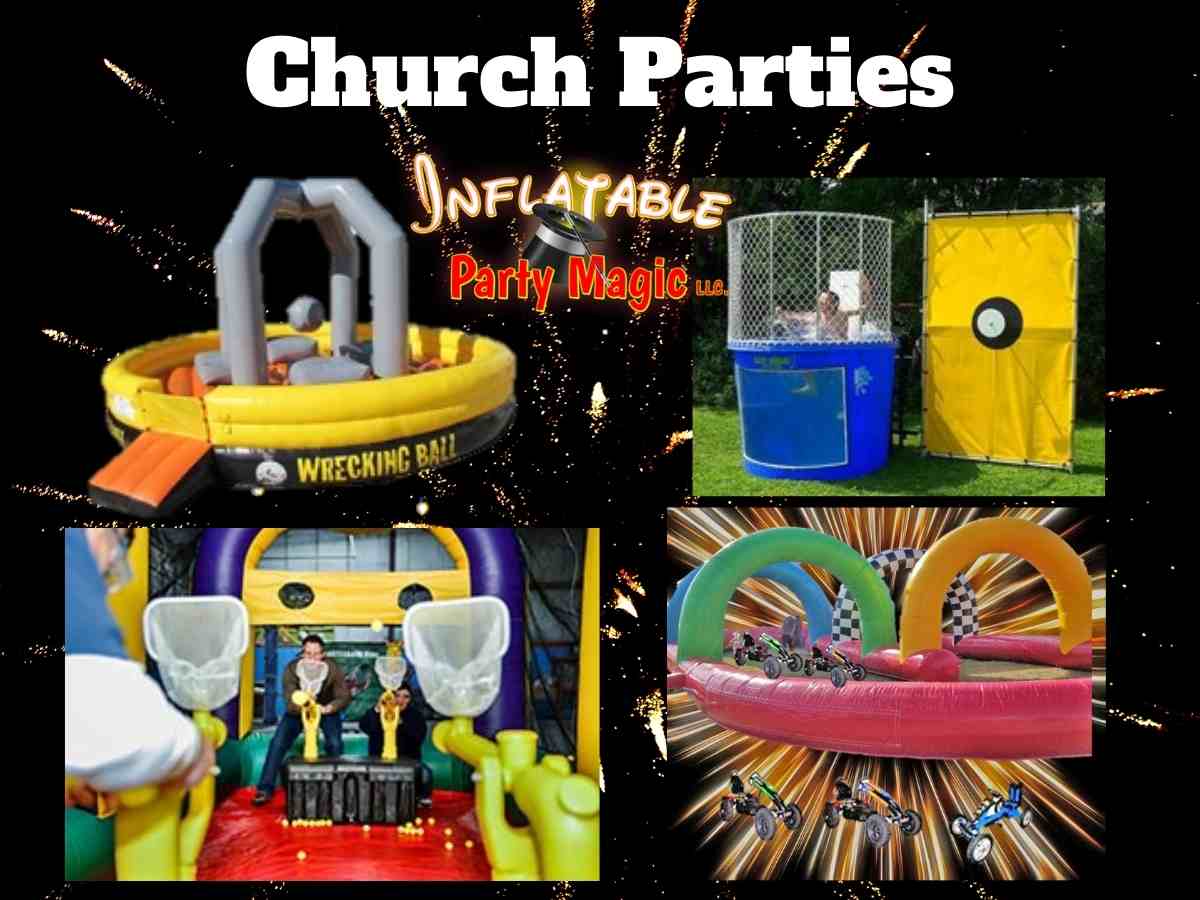 Waco Church Party Rentals

We make planning your Waco church party rentals simple and fun! We rent party equipment that can take care of church youth group parties, church children's ministry parties, church family day parties, and even church staff parties. Inflatable Party Magic has the party rental entertainment that churches want.


Church Youth Group Rentals in Waco Texas

We rent party equipment to church youth groups in Waco on an ongoing basis and know exactly what will work best for your event. Put our experience to work for you! For church youth events, we rent interactive inflatable games that encourage a challenge and some even teamwork. These inflatable challenge games work for larger group activities and are great for team building. The games we recommend for large groups are nine square in the air, Wrecking ball, Human Foosball, Human Hamster Balls, Human Whac A mole, Warp Zone, Toxic Meltdown, bumper cars, foam pit cannon ball blaster, inflatable obstacle courses, and many other inflatable games. We also rent mini-golf courses, rock climbing walls, mechanical bulls, and euro bungee trampolines for larger church youth group events. Your youth group will not be bored with the activities that we off for church youth group parties. Let us show you what we can offer your Waco youth group!


Waco Church Children's Ministry Party Rental

Waco Children's ministry group parties use many of the same things that youth groups do. We offer a huge selection of inflatable obstacle courses to Waco that offer challenges for different age groups. We also offer games that appeal to the younger children as well such as Interactive play cones, basketball throws, giant connect four, Giant Jenga, and more. Don't be afraid to use the interactive inflatables for the younger kids. We have some great interactive games for rental such as demolition ball, cannon ball blaster, jousting, mini golf, trackless trains, and so much more. We also rent basic jump houses, bounce houses with slides, giant inflatable slides, water slides, foam pits, and more. Check out our interactives category for the best church group rentals in Waco Texas! Waco Church Party Rentals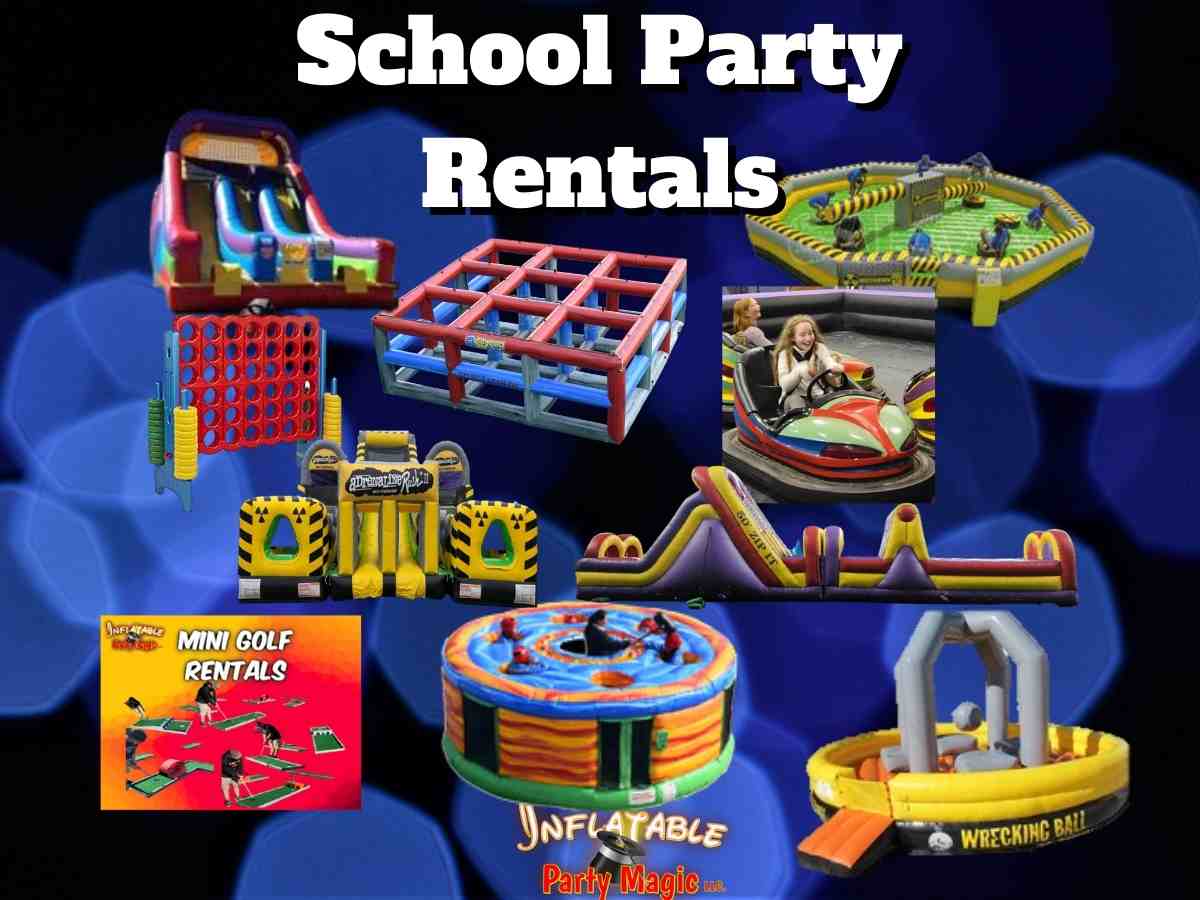 Waco School Party Rentals

Waco School Party Rentals and School Event Rentals in Waco Tx such as school field days are simplified with our party rentals for schools. Inflatable Party Magic offers a huge selection of party rental equipment that works well for school activities and fun! School fun in should include party rentals that service a large group and run groups of people through fast. One of the favorite school event rentals in are the inflatable obstacle courses. The inflatable obstacle course rentals run 2 kids a time through very quickly as they race to the finish. Then your next set of two participants are ready to compete. This keeps your line moving quickly. Inflatable Dry slide rentals also work well for large groups and move a crowd through quickly. Interactive inflatable game rentals in Waco offer many options for inflatable games involve between 2 and 10 players at a time. 9 square in the air uses 9 players at a time and can rotate kids quickly. Other games such as human foosball encourage team play and use of to 10 players at a time. Don't forget the Toxic Meltdown Game Rental! The meltdown inflatable rental in Waco is an 8 player inflatable game with a mechanical arm that you must duck under and jump over. These are just a few of the items that would make your school party rentals the best. Click on the button below to view our interactive game category to see the many products we have that work well for school and group rentals. School Party Rentals Waco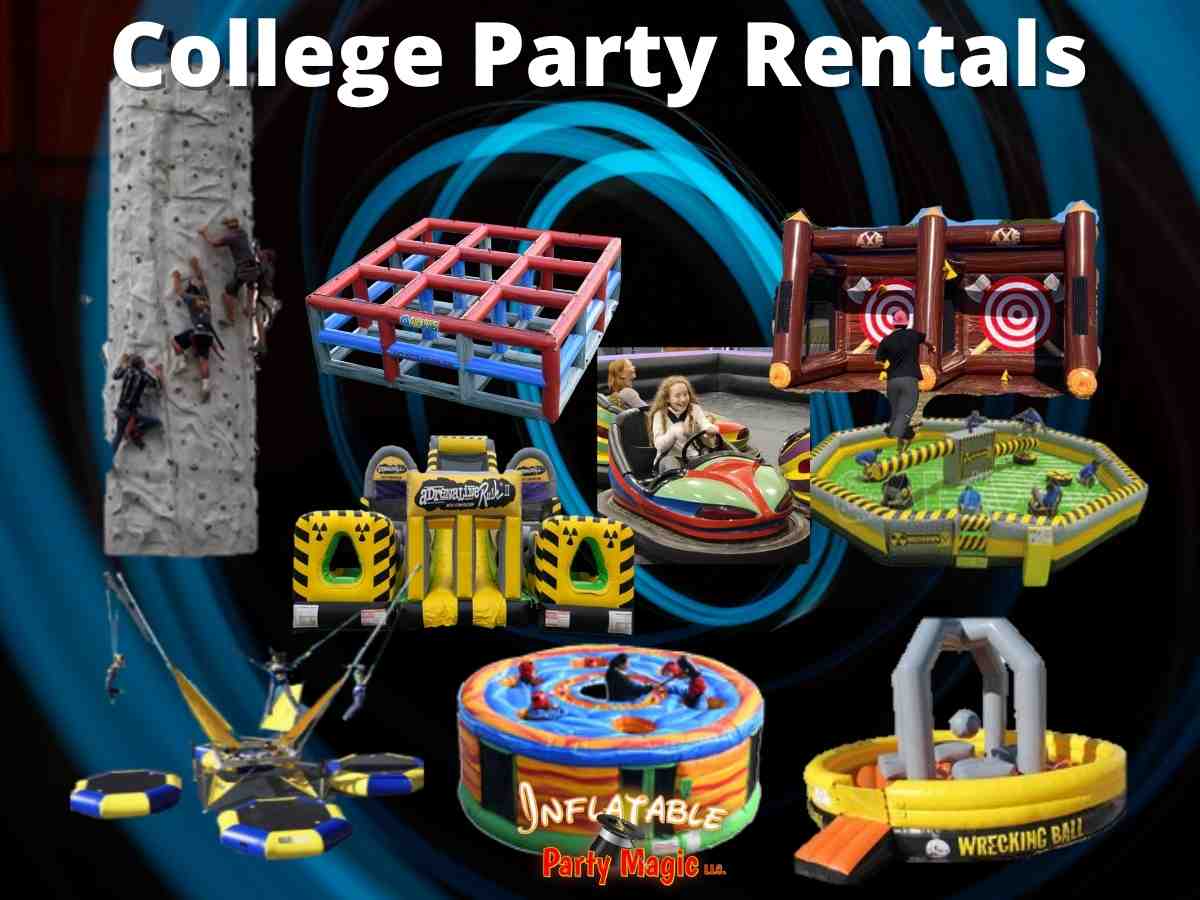 College Party Rentals Waco Tx
Looking for College Party Rentals Waco Tx? We have the college party entertainment for all of your college events in Waco. We are not like other rental companies. We understand college entertainment and we rent college fun in Waco! Inflatable Party Magic has party rental equipment such as rock climbing walls, bumper cars, euro bungee trampolines, axe throws, the meltdown mechanical ride, mechanical bull, inflatable obstacle courses, interactive inflatable games for teens and adults, and so much more. We can supply your fun.
We have experience with College Fun Days, Game Day Parties, Family Fun Days, Open Houses, Sorority Parties, Frat Parties, and more..
Take a look at our
Interactive Inflatable Game Category
and our
extreme rentals category
for the things college-age people want to do. Click below for our event party packages in Waco so you can create your college fun with the click of one button!
Waco College Party Rentals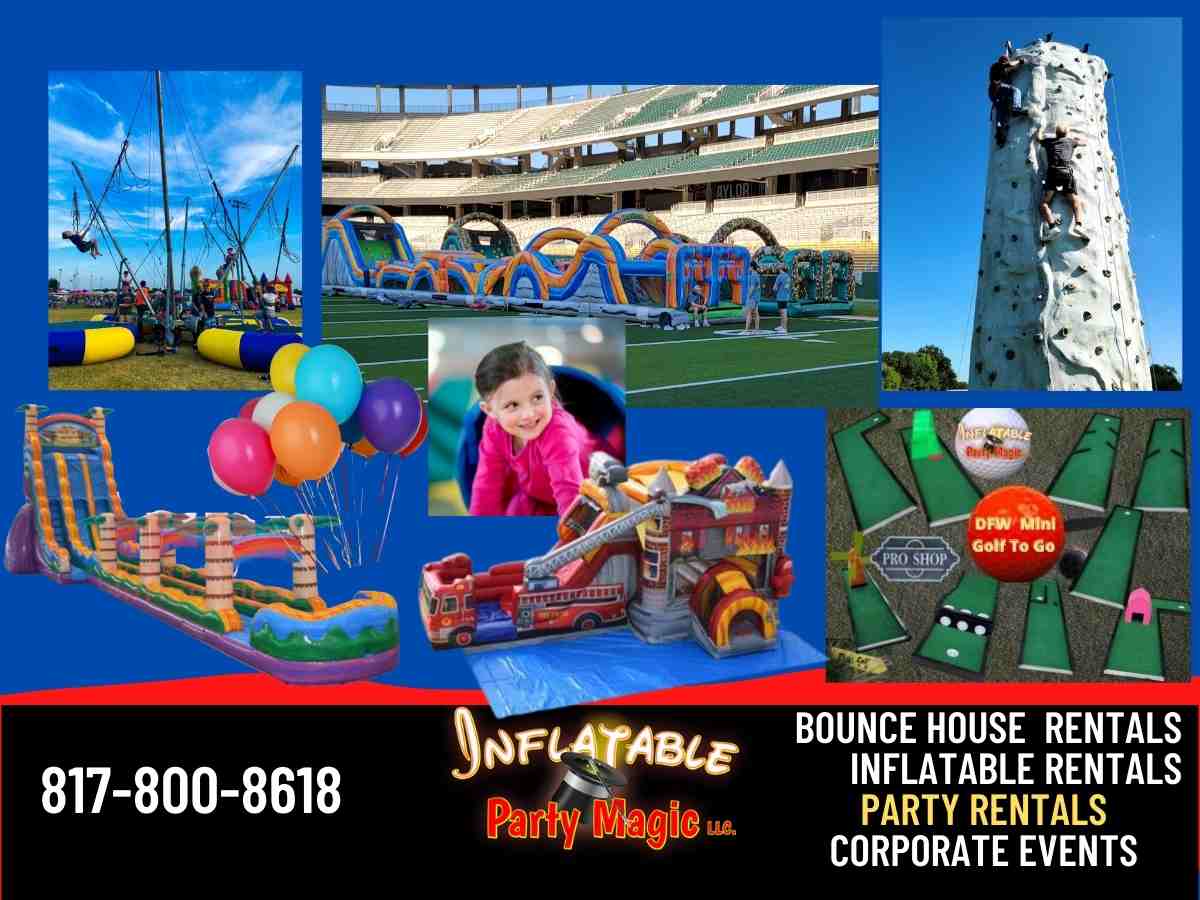 Top 5 Reasons to Choose Inflatable Party Magic for The Best Waco Party Rental Experience



Inflatable Party Magic has been around for 20 years making kids smile in the Waco and DFW Texas area.




We clean, sanitize, and inspect our equipment after every use to ensure cleanliness and your safety.




The delivery drivers our company employees are fully trained adults that are responsible for safely and correctly setting up your inflatables and other rental equipment. We only use teenagers as helpers to our adult drivers.




Our rentals are 8 hours for a one-day price.




We are fully insured and state inspected as required by Texas State Law to setup and operate inflatables and other amusement rides.



Best Party Rental Waco Texas:
Best
Waco Party rental
is what we do! You can trust Inflatable Party Magic to ensure that your experience is as easy and carefree as possible. After all, this is your special day and the least we can do it take the stress off of you so you can enjoy time with your party guests. When our delivery staff arrives, they will only need you to show them where you would like the party equipment set up and then sign our paperwork. They will take care of everything else. We also provide party rentals to
Cleburne
.