Event Rentals in Fort Worth Texas
The Best Event Rentals in Fort Worth are from Inflatable Party Magic. Let us show you how Fort Worth Events are done!

Welcome to Inflatable Party Magic, your one-stop-shop for event rentals in Fort Worth, Texas! We are the ultimate source for entertainment rentals, offering everything you need to put on the best event possible. Whether you're planning a birthday party, corporate event, school function, or anything in between, we've got you covered with a wide range of rental items that will make your event unforgettable.

Our rental inventory includes everything from tents, tables, and chairs to bumper cars, mini golf courses, rock climbing walls, and dunk tanks. We also offer euro bungee trampolines, Virtual Reality Roller Coasters, inflatable obstacle courses, inflatable games for adults, bounce houses, carnival games, mechanical bulls, and much more. With such a vast selection of entertainment rentals, we can help bring any party to life!

We understand that planning an event can be stressful, which is why we take pride in providing exceptional customer service. Our team is dedicated to making your rental experience as easy and stress-free as possible. We offer delivery and setup services, so you don't have to worry about a thing. Plus, our rentals are always clean and well-maintained, ensuring that your event goes off without a hitch.

At Inflatable Party Magic, we are committed to providing the best possible rental experience for our customers. Our dedication to excellence has earned us over 500 5-star reviews, making us one of the most trusted event rental companies in Fort Worth and beyond. We take pride in our reputation and strive to maintain it with every rental we provide.

If you're planning an event in Fort Worth, Texas, look no further than Inflatable Party Magic for all your event rental needs. Our wide range of rental items, exceptional customer service, and commitment to excellence make us the premier choice for entertainment rentals in the area. Contact us today to learn more about our rental inventory and how we can help make your event a success!
  Event Rental Party Packages
Corporate Picnic Dream Package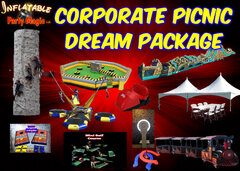 Event Rental Platinum Package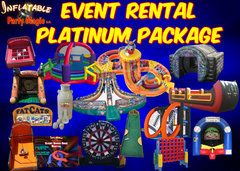 College Event Rental Package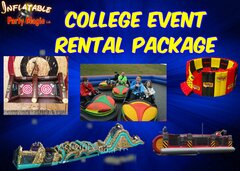 Youth Group Event Rental Package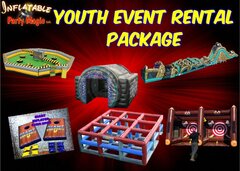 Event Rental Ultimate Package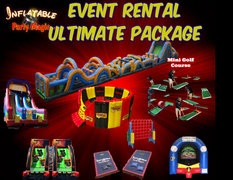 Event Rental Toxic Package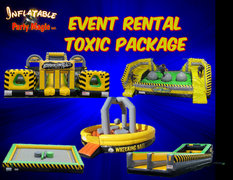 Childrens Event Rental Package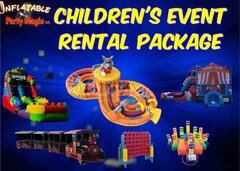 Youth Group Water Slide Event Rental Package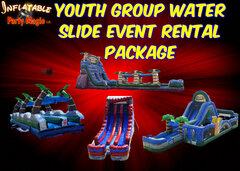 Childrens Water Slide Event Rental Package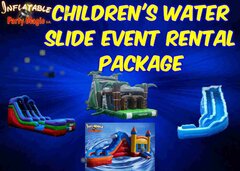 Event Rental Knock Out Package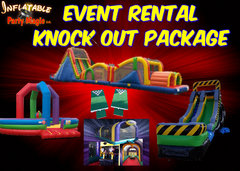 Event Rental Field Day Package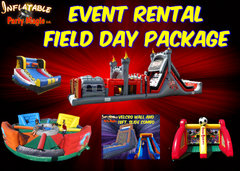 Youth Group Event Fun Package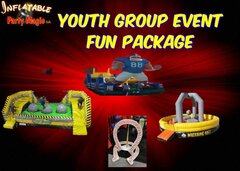 Childrens Event Rental Fun Package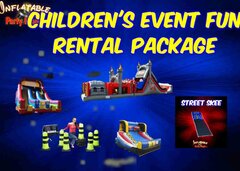 Event Rental Challenger Package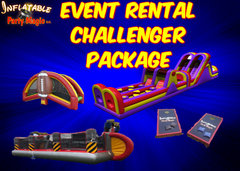 Event Rental Fun Package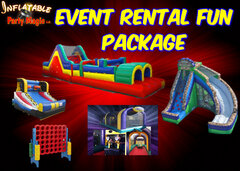 Event Rental Specialty Package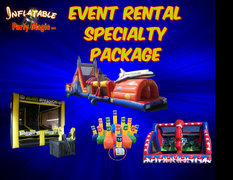 Super Bowl Party Package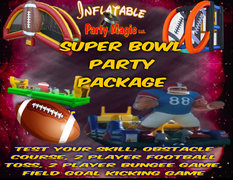 Football Party Package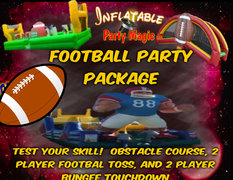 The Sports Package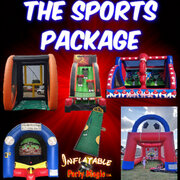 Baseball Opening Game Day Choice 2 Party Package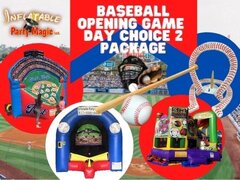 Baseball Opening Game Day Party Package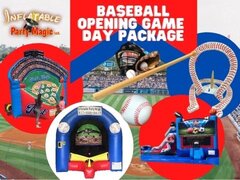 Baseball Triple Play Game Party Package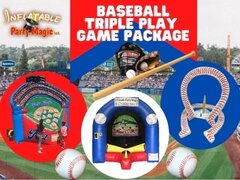 Air Dancer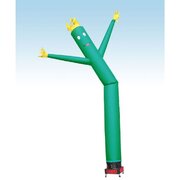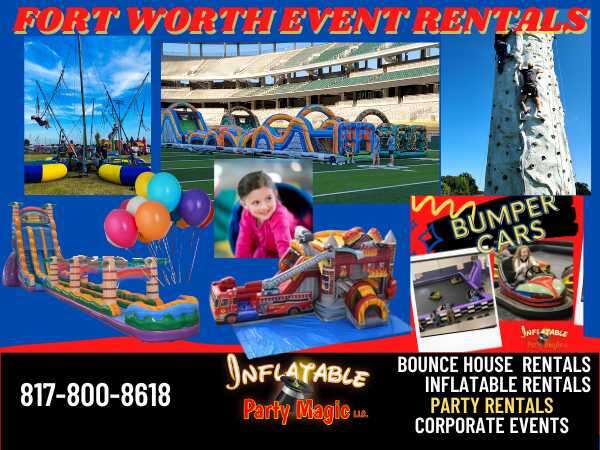 The Best Fort Worth Event Rentals in Texas
We make event rentals in Texas as easy a click of a button. Our company can completely take care of your party or large event needs. With over 20 years of experience, we can offer professional Event Rentals and event services to cities, festivals, churches, colleges, small businesses, large corporations, country clubs, golf clubs, charter schools, public schools, private schools, and more.
We are located in Cleburne, Texas, but proudly provide party event rentals to many cities in Texas.
Trust Inflatable Party Magic to provide entertainment at your next large event in Texas!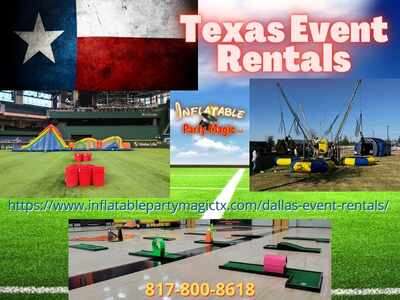 Fort Worth Event Rental Entertainment


The most important thing for your Fort Worth Event rental is the entertainment. That is what we do best! Let us take the stress away from planning your big event in Fort Wroth Texas. Inflatable Party Magic has provided event rentals in Texas to places like the Texas Rangers, Large Universities, Military Bases, large corporations, Country Clubs, Churches, City Festivals, and more. Our experience is varied so we can make your experience the best it can possibly be.

Items like the hamster balls featured in this picture are great for large groups and team building. Many large events plan the food and the shelter first and put the most energy into making sure those elements of their event are perfect. We agree those areas of your event are important, but not the most important. Your guests won't be talking about the seating or food you had a year from now, but they still be talking about the fun they had if the event was fun and memorable. The things that entertain them are what creates the fun and memories that last! We can help you create fun memories that last for a lifetime.
How Can Inflatable Party Magic Make your Event the Best in Fort Worth?

Our company has everything you need to make your event the best in Fort Worth Texas! Our 20 years of experience make us your best choice for service and event setup. Below you will find some of the most rented items for Big events in Texas. If you don't see the items below that you were looking for to make your Texas Event the best, call us at 817-800-8618. We offer many more items.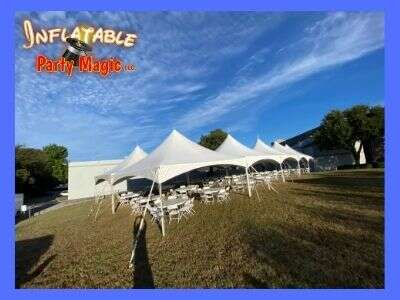 Tent Rentals
We rent the tents and tables and chairs to make your DFW event shine. Dallas Event Tent Rentals and table and chairs rentals are the best from Inflatable Party Magic. Our tents are high peak tents to add a touch of elegance to your event. Tent rentals in Dallas for events provide the much needed shelter and gathering space for your guests.

Our company can provide tables and chairs also. We rent round tables to keep everyone together for round table discussions or rectangle tables to best utilize your space. Seating isn't a problem either. We offer basic rental chairs as well as upgraded padded seating in the form of garden chairs.
Bumper Car Rentals
Bumper car rentals are the best event rental! Bumper cars are good for all ages. If your event caters mainly to adults, the bumper cars can provide hours of entertainment and teambuilding. If you are having a family day and want to entertain children and adults, the bumper cars are still great option as children can ride with an adult or even operate alone if they are tall enough to reach the foot feet.

Our bumper car rentals seat two participants at a time and will provide fun. the bumper cars that we rent are full size bumper cars that absorb most of the hit themselves. They are very comfortable and safe for all ages. We operate them in an inflated arena so they are confined to safe and fun area. Try the bumper cars for your next event and leave your guests begging for more.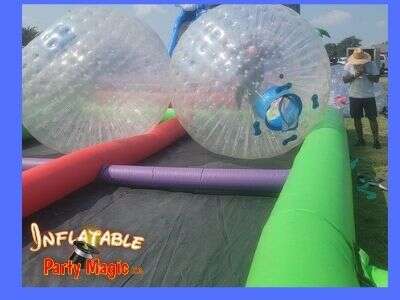 Hamster Ball Event Rentals
Dallas Hamster Ball Rentals or Zorb Balls as they are sometimes call can be the center of your Dallas Event. Rent our Hamster Balls in Dallas event. If you are looking for fun in a unique way to get your party going, Hamster Ball Event Rentals are it. Participants get into a ball and see if they can beat their competitor while acting like a hamster in a ball. These are also called zorb balls and they come with a track and staff to operate them to ensure your safety and fun at all times.

The Zorb balls are great entertainment for college events and church events. Many corporations use them for team building also. You want you team to learn and work together and have fun together. Nothing like adding a little competition to get the ball rolling! We rent hamster balls near me.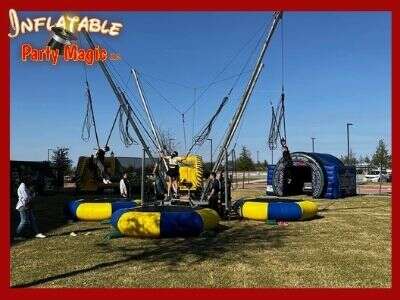 Euro Bungee Trampoline Rentals
Texas Euro Bungee Trampoline Rentals can jump start your event. Everyone loves the bungee trampoline. Up to four participants can enjoy the experience at one time. This event rental is safe for children and adults so they can be used for a variety of events.

Colleges are frequent renters of the bungee trampolene rentals in Fort Worth. Your guests can jump to new heights while others watch and cheer them on until their turn comes.

Corporate events use the euro bungee trampoline event rental to ease office tensions and get their team interacting together in a fun and relaxed way. Sometimes all you need is to open the door to fun and the tensions disappear.

We also rent the bungee jump to church events and church summer camps in Fort Worth. This is an event they will always remember.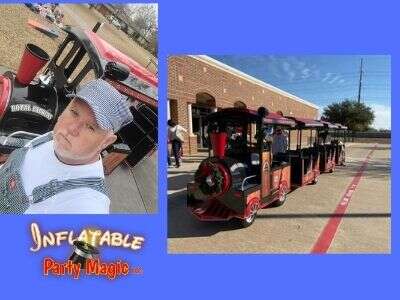 Trackless Train Rentals
Let the Party Magic Royal Express add a touch of class to your next event! Our trackless train rental is not just for kids. It is built with a luxurious look and ride. Our train rental can transport kids and adults. Colleges frequently rent our train to transport college students around for campus tours. That is just one of many ways are train is used for event rentals. Rent our kids train for your Texas Event.

Churches and Schools frequently rent our kiddie train for festivals and large events in Tx. Kids and their families can enjoy the train together for a full family entertainment experience.

Business and corporate events use the train for company picnics and family days. Employees appreciate their employers fostering a since of family entertainment and togetherness.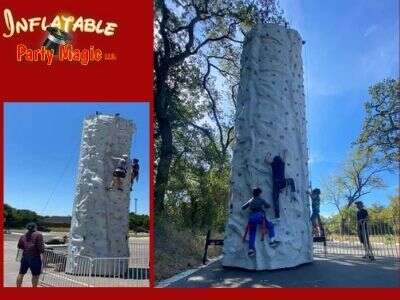 Rock Wall Rentals
Climb to new heights with our Rock Climbing Wall rental for Fort Worth Event entertainment! Our Rock Climbing wall is 24ft. Tall and offers 4 stations so that 4 participants can enjoy themselves at one time. Our trained staff stay with our rock wall and help your guests make the most of their rock climbing experience in a safe and controlled environment. The rock climbing rental offers an extreme adventure that can be enjoyed with friends, co-workers, fellow-students, and more.

Rent our Rock Climbing wall in Fort Worth for your festival, large city event, church, college, school, or business event. More people will come to your event if you share the entertainment ahead of time and offer fun things to enhance the fun.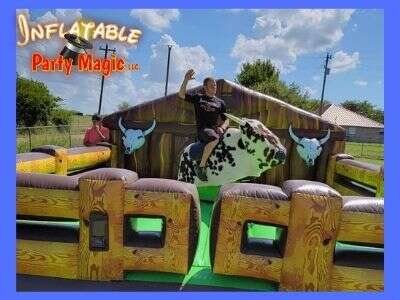 Mechanical Bull Rentals
We are #1 for Mechanical Bull Rentals! We make mechanical bull rentals fun. Anyone can run a mechanical bull, but not everyone can create excitement at your event. Our trained staff will make sure your bull ride remains safe and full of fun. Bull rentals are very popular for corporate events, college events, church events, and high school after prom's and project celebrations. Make your event memorable for all your guests with a mechanical bull event rental. Spectators have as much fun as the riders. Everyone in attendance at your event will have fun with the bull riding experience.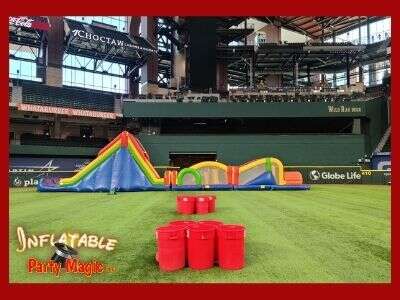 Inflatable Obstacle Course Rentals
We Inflatable Obstacle Course Event Rentals for Large Event rentals s are the best from Inflatable Party Magic. We offer the largest selection of obstacle course inflatables to rent in Texas. Our company realizes that smaller children enjoy obstacle courses on a different level than adults. We carry obstacle courses to rent for children and we rent obstacle courses for adults. We want to challenge every age range at your event. Large events want obstacles and we can help! You can rent obstacle courses and games such as Jumbo Yard Pong or Giant Inflatable Corn Hole and have all the entertainment your event needs in Fort Worth.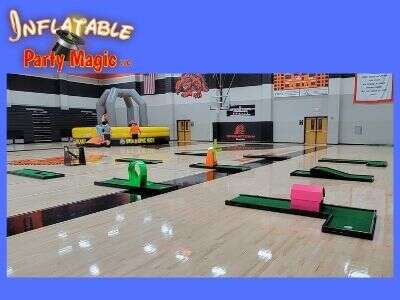 Mini Golf Rentals
The Best Mini Golf Course Rental for Festival and Event entertainment. We offer mini golf course rentals in 9 hole, 6 hole, or 3 hole. The differing holes can make our golf course rentals fit any event budget. Mini Golf is great for all ages and there it is not necessary to have a attendant at all times as most of your guests will already know how to play. Our mini golf rentals come with a rack to hold balls and clubs to make it easy and organized.

We think you will love our mini golf course rentals as well as the obstacles that each provide. This is a great way to ennteratain for youth events or small business events.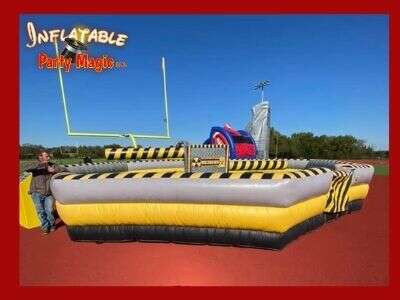 Meltdown Inflatable Game Rental
Fort Worth Meltdown Inflatable Game Rental for your event can work through 8 participants at a time. The fun the game creates is endless. It is also called the Wipeout Inflatable Game. The excitement builds when Participants stand on one of the 8 pedastools and they must jump over the lower swinging arm and duck under the upper swinging arm without being wiped out. Just when they think they have it figured out the operator will reverse the pattern on them. This is great for group event entertainment. It doesn't matter what age or what type of event you are having, this game is sure to please.

Church youth groups love this game for their parties and events. Our college events have been big fans as well. Let us make your Texas Large Event a success!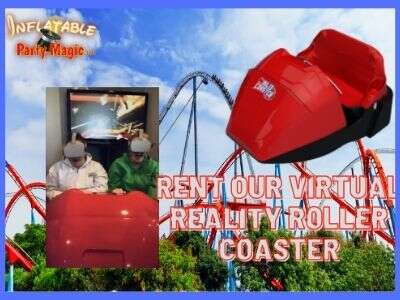 Virtual Reality Roller Coaster Rentals
Fort Worth Virtual Reality Roller Coaster Party Rentals can add that bit of awesomeness you are looking for! Create the ultimate virtual experience that can be enjoyed by any age. Our virtual reality roller coaster rental in Texas offers over 30 different roller coaster rides to choose from. No matter what direction you look, you will see the virtual surroundings that make your guest's ride seem very real. The experience is great everyone will rave about their ride for months to come.

This Roller Coaster rental can be enjoyed indoors or outdoors. We will supply the coaster and a television screen so that spectators can enjoy the ride also and view what the riders are experiencing and reacting too. Our trained staff will stay with your VR Coaster to ensure you have consistent fun with every ride.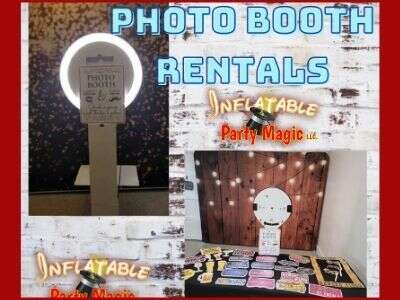 Photo Booth Event Rentals
Fort Worth Photo Booth Event Rentals from Inflatable Party Magic create the memories that last a lifetime! Memories of your event will be captured on in a digital photo booth. Your event guests will receive their pictures either by email or text immediately. At the end of the event, the event coordinator will receive a zip file with copies of all pictures that were taking during your event.

Our Fort Worth photo booth rental comes with a table full of props to add fun to your event. There are several different backdrops you can choose from to create the perfect background for your photos.

Trust Inflatable Party Magic to your Fort Worth Photo Booth Event Rental!
We Rent to Fort Worth Events
Inflatable Party Magic provides Event Rentals and Party Rentals to Fort Worth and surrounding cities such as Arlington, Mansfield, Grand Prairie, Southlake, Keller, Aledo, Weatherford, and more. We provide
DFW Texas Events
and
Dallas Events
also.
We have been trusted by businesses in the Dallas/Fort Worth area such as
Billy Bob's
Texas, the
Texas Rangers
, Americold, United States, Military Bases, large churches, colleges, schools, country clubs, and more.