Toxic Meltdown Game Rental Texas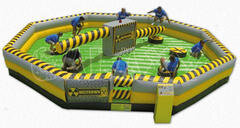 Setup Area: The rental price for this item is for 2 hours
Actual Size: 30′ x 30' Octagon- needs 15ft in height
Age Group: 5 to adult
Description
Toxic Meltdown Inflatable Rental DFW, Texas
Rent the Wipeout Eliminator Game

The Toxic Meltdown Inflatable Rental is the best inflatable game for teens and adults! Looking for a unique game rental Rental in the DFW Texas area that is different and will appeal to all ages? The Eliminator Game as the Meltdown is sometimes called is just the game you are looking for. Why is it called the Eliminator Game by some? As participants are knocked off, they are eliminated from the competition. Can you survive the Eliminator?
All ages can play on this game and it is fun for all. Teens and adults can be hard to satisfy, but this game will provide the fun for all. The Meltdown inflatable game is commonly called Wipeout also. The Toxic Meltdown Game is the same game. The Meltdown is an 8 player wipeout-style game that has participants jumping, Dodging, and ducking to prevent the spinning boom arms from knocking them off their podium. The spinning boom arms are at slightly different levels to create more difficulty. This game will challenge all participant's stamina, agility, and reaction speed. Are you ready to go truly extreme? How fast can you jump, duck, or dodge? Will you be the last one standing? Worried about falling off? Don't worry yourself as you are falling into a toxic inflatable 30' X 30' octagon-shaped landing. Will you be wiped out? The inflation makes for a soft landing and a great time. Inflatable Party Magic offers this cool new Eliminator Game that will really amp up your next event and allow multiple players at a time since it can accommodate up to 8 players at a time.
The Meltdown Inflatable is great for churches, schools, corporate parties, festivals, and even backyard birthday parties.
This is the perfect big event piece to please almost any party or eventgoer. It is not only fun to be a participant, but it is even more exciting to those watching. It will have everyone on edge in anticipation with each swing of the arms.
Price Listed is for 2 hours.
Toxic Meltdown Wipeout Game Rental Specifics
The Meltdown is also referred to as the Wipeout Inflatable Game is a 30 ft X 30 ft octagon. It is best for ages 7 to adult. The price for the Wipeout Game is for up to 2-hours If your event is shorter than 2 hours, we can accommodate this timeframe difference, but the price would be the same. You can add additional time to your rental. It is $150.00 per hour for every hour after the first 2 hours. The Toxic Meltdown does require staffing from Inflatable Party Magic and is included in the per-hour rental price. After the first 2 hours, the prices will drop to 150.00 per hour for every hour after that. Book now if you would like to be sure this makes it to your event. It is great for schools, churches, and Corporate events. The mobile rock climbing wall rental is also a great extreme attraction add-on to the meltdown, It will keep your event moving with lots of extreme fun!
To Book the Toxic Meltdown Rental
You can now book easily online! To book this Toxic Meltdown Game Rental, you can simply click on the add to cart button, select your date and times, then simply follow the directions, and pay your deposit. You will receive an email confirmation soon after placing your order. If you need assistance placing your order or would like someone to complete the order over the phone for you, please do not hesitate to call us and we can complete your order and take your deposit over the phone. Inflatable Party Magic is family-owned and operated, and we want to make sure you feel right at home in using us to make your party perfect. We look forward to helping your party or event be one to remember! Don't forget to rent Toxic Obstacle Course, Toxic Leaps and Bounds, Toxic Bungee Run, to complete your toxic rentals!
We Rent the Toxic Meltdown Inflatable Game Rental to DFW Tx Cities
We rent the Toxic Meltdown Inflatable Game Mechanical Ride to DFW Tx cities of Cleburne, Keene, Alvarado, Burleson, Midlothian, Maypearl, Crowley, Godley, Joshua, Lillian, Granbury, Glen Rose, Acton, Tolar, Lipan, Aledo, Fort Worth, Dallas, Southlake, Trophy Club, Rio Vista, Grandview, Venus, Waxahachie, Red Oak, Cedar Hill, Whitney, Covington, Itasca, Blum, Hillsboro, Kopperl, Morgan, Arlington, Mansfield, Kennedale, Everman, Rendon, Briar Oaks, Benbrook, River Oaks, Kennedale, Forest Hill, Grand Prairie, Weatherford, Cresson, and other cities in the following counties: Johnson County, Hill County, Ellis County, Hood County, Somervell County, Bosque County, and Tarrant County
Toxic Meltdown Inflatable Rental Video

Check out our video for the Toxic Meltdown or Eliminator as some call it. The amount of fun that can be had on this game is unlimited. This mechanical game rental is perfect for ages 7 to adult. Church Youth groups love this game since 8 people at a time can participate.
Shop By Category Category Name Category Name Category Name Category Name Category Name Category Name Category Name Category Name
Our Toxic Meltdown Game Rental Service Area

Inflatable Party Magic provides the following services:
If your Toxic Meltdown Inflatable Game Rental for your party is outside our normal service area, just let us know! We do deliver even farther out, and special accommodations can sometimes be made for your party or event in DFW Texas.


NOTE: Travel fees do apply to some areas.