Indoor Party Rentals Burleson & Cleburne Texas
Indoor & Rainy Day Party Rentals in Cleburne, Burleson, Midlothian, Arlington, Mansfield, Fort Worth, Venus, Granbury, Aledo & More
Inflatable Twister for Indoor Parties
With our selection of indoor inflatable party rentals, you can enjoy indoor parties even if the weather does not cooperate.

Inflatable Twister is always a great indoor party rental option as it is only 3 feet tall so 8ft ceilings will work with this unit. Who Does not love Twister? It does not matter if you have kids, teens, or adults, everyone loves twister. It can literally add hours of fun. The inflatable version puts a great twist on this classic game. This is even a great spectator activity.
Click for Twister Information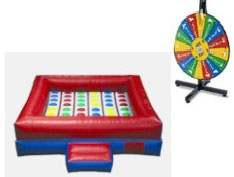 Hula Hoop Toss
Hula Hoop Toss makes a great indoor party rental attraction as well. It only stands 5ft. tall so it will fit in most living rooms, bedrooms, garages or even small shops. This game provides enjoyment for all ages. It is an addicting game of skill! Participants will not stop trying to hoop the largest point value.
Click for Hula Hoop Toss Information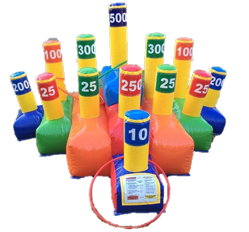 All Star Hoops Game Indoor Rental
The All Star Hoops basketball throw is also an excellent indoor party rental item that gives two challengers at a time the chance to go one on one shooting hoops. All ages love this game and it goes perfectly indoors in any venue that has at least 8ft ceilings. This unit is exactly 8ft. tall.
Click for All Star Hoops Information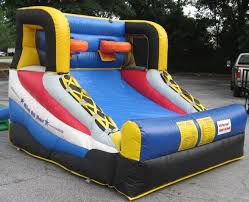 Toddler Bounce House Combo Rentals
Toddler Combos are also great indoor party rental additions! They do not have roofs, but will only range from 9ft. tall to 10 ft tall. Toddler combos are not really just for toddlers. They have a bouncing area, popup obstacle interactives throughout and a small slide. They will occupy up to age 10 pretty well. We have many of these to choose from. Pictured is our Toy Story Toddler combo. Follow this link to view all of our toddler combos on our dry combo page to find the perfect fit for your party.
Click to view all of our Toddler Combo Rentals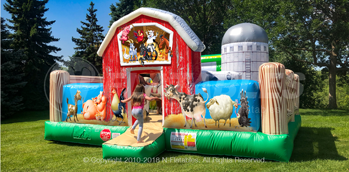 Interactive Play System Cone Indoor Rental
Interactive Play system lights are amazingly fun! It does not matter how old or young you are, you will love chasing down the light pattern and being the first hit the lights as they go off in a different sequence and pattern every few seconds. If you ever played the game Simon, you will love this game. It is Simon on Steroids. The beauty of this game is it can go literally anywhere. The cones are only a few feet tall and they can be arranged in any pattern necessary to fit into the space you have to work with. These light systems have made so many indoor party rentals a fun and magical event for all.
Click here for IPS Cones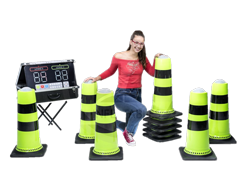 Virtual Reality Roller Coaster Rental
You have to try our VR Roller Coaster Rental!! The Roller Coaster is not very tall so it can go indoors and create the perfect indoor party rental. The coaster itself will break down easily so we can get it through doors and change your party from boring to Mega fun in just a matter of minutes. The virtual reality experience is so real to life that you will think you are on an actual roller coaster. Wind will really blow through your hair and sounds will make you think you are climbing the tracks. No matter what direction you look, you will see a different scene or angle of the coaster you are on. With the Inflatable Party Magic VR Coaster, you can choose from over 28 different coaster experiences. There is literally something for all ages.
Click to View VR Coaster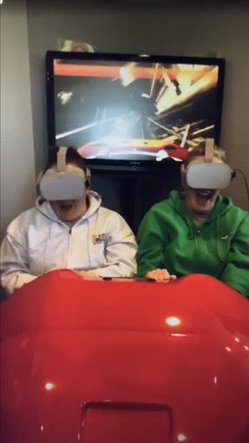 Carnival Game Rentals
Carnival and Backyard games can also change your party experience when you move your party indoors. These games will keep the kids busy and trying out their skills. It can be just what you need to keep the kids happy and interacting with each other in a limited space. You can usually move these around to fit them virtually anywhere. Inflatable Party Magic even offers packages you can rent that make it more affordable to do multiple games. You can usually find savings coupons in addition on these game in our specials section. The pictures here just give you a sample of some of our packages, but we have so much more!

Mini Golf is a great indoor party rental option as well. We offer up to 9 holes. You will find this with our carnival and backyard game section as well.
Click to view our Carnival & Backyard Games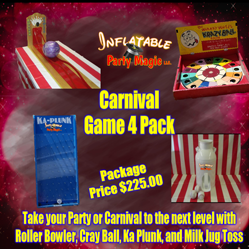 Create A Bear Rentals
Create a Bear Mobile Bear stuffing is the way to go with a home party that needs to be indoors. Your child can create their new best friend! Experiencing this with all their friends is priceless. You will love seeing the way your children light up as their new stuffed animal comes to life. No need for party favors as each child will go home with a stuffed animal they chose and helped create and a backpack. This is one of the most unique indoor party rentals that we offer. Your kids will not be disappointed.
Click to view Create A Bear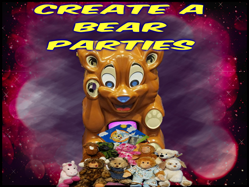 Portable Mini Golf Rentals
Portable Mini Golf Rentals offer even more indoor party rental options. Everyone likes to play mini golf. You can transform you garage, living room, or extra room into a mini golf course with our Portable Mini Golf Holes. Inflatable Party Magic offers cool obstacles to go with your golf course and more. You can choose the best course to fit your needs as we offer 3 holes, 6 holes, or 9 holes of mini golf.
Click to view Mobile Mini Golf Rentals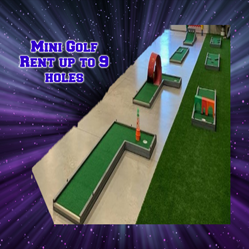 Why Inflatable Party Magic for your indoor party rental?
Inflatable Party Magic has so many possibilities for your indoor party rentals. We offer more than any other party rental company in Texas when it comes to indoor rentals. We deliver to many texas cities such as Burleson, Cleburne, Grandview, Godley, Venus, Midlothian, Waxahachie, Alvarado, Arlington, Fort Worth, Mansfield, Granbury, Glen Rose, and more. The indoor party equipment we offer is kept very nice and maintained excellently for your use. We want every customer to feel like they are our only customer! Our company has been in the party rental business since 2002 so we bring years of experience to your party or event. Trust us to make your party a magical experience.