Dry Combo Bouncers
Bounce House with Slide Rentals DFW Texas
DFW Bounce house with slide rentals offers bounce areas with slides, climbing walls, and some even have obstacles. We rent jumpers with slides to the DFW Texas area. These bounce house combos will keep kids busy and not wanting to stop all day long. The bounce house slide is best for ages 2 to 12. Don't worry Mom & Dad, you can play with the kids since the top of the age rating is for fun factor only. All of our inflatables are commercial and made with high-grade vinyl that even teens and adults can play on.
Rent a Bouncy House with slide
We rent bouncy house with slide to most DFW Texas cities. Bouncy House slide combos are the most rented type of bounce house. The great thing about the bouncy house with slide is that kids will not get bored since they are challenged at every turn. Your kids will get their exercise while having a blast jumping and sliding. Your kids will get their exercise while having a blast jumping and sliding.
We have a large number of themed and unique bounce house combos to choose from such as the Carnival Fair Bounce House Combo. You can be assured that all of our themed combos are properly licensed for use and can be photographed and shared on social media safely and without worry of any type of copyright infringement. We do not use knock-off inflatables or illegal themes or banners on our inflatables. Check out our licensed Spiderman Combo or the Disney Princess jumping house with slides. You will love the selection of bounce house slide rentals we have to offer.
All the DFW Bounce house combo rentals on this page are for dry use only. If you want to rent a jump house slide that you can use wet, please see our bounce house water slide rentals. with slide Rentals.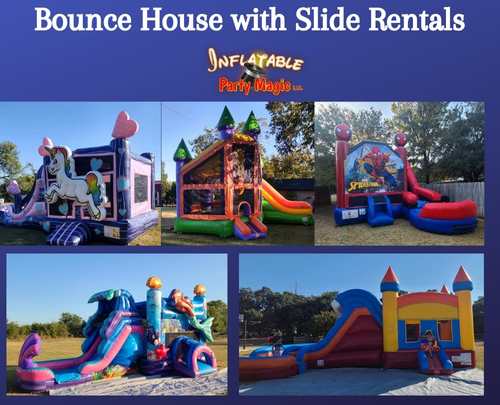 Why should I rent a bounce house with slide?
The dbounce house with slide, often called bounce house combo or a moonwalk with slide, offer the kids so much to do all in one inflatable. While they can still bounce just like a traditional bounce house, they can also shoot a basketball inside the bounce house, climb the climbing wall to the top of the slide and then slide down. The sliding action keeps them going and going all day long. These have become a great option for backyard birthday parties and events. Sense the slide brings the children out of the unit and makes them start over, this allows for line and crowd control easily. Bounce House with Slides are the perfect spring bounce house rental. The weather is nice, but not hot enough for a water slide so rent a bounce house with a dry slide.
Age Specifics for Bouncy Castle with Slide
The best age range for bouncy castle with slide rentals are 2 to 12. Adults can use the bouncy castle combos as they are commercial grade and will support the weight. With that being said, these jumper slide combos are not specifically designed for adults and teens and will not provide the fun and enjoyment they will provide for children. If you are looking for an inflatable to entertain mainly teens and adults, check out our
interactive inflatables
or
obstacle course rentals
. They offer a challenge for every age level. Rent one of our bouncing house combos for your next party!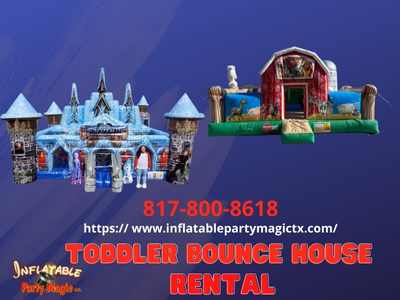 Toddler Bounce House with Slide Rentals
Toddler Bounce Houses with slides inside are also considered dry bounce house combos. The reason why
toddler bounce house
rentals have become so popular are because they have an open top concept so that toddlers can see the light above them and not feel so closed in. Not to mention, the noise level is completely different since there is not a top and the sound escapes.
Toddler combos
offer bouncing throughout them, but the bouncing space is broken up with interactive popup characters and obstacles throughout the bouncing space. In addition, they will have a small slide and climbing wall that is slightly slanted and positioned in a manner that makes it very easy for a toddler to climb up and slide down without assistance. Rent a bounce house for toddlers today!
Backyard Birthday Party Bounce House with Slide Ideas:
I you need backyard birthday party ideas to add to your bounce house with slide rental, we can help. We offer everything you need to make your party a complete success. You can add on items or even party packages to complete your party needs with just a click of the button.
Party games
are very low in cost to add to your order, but add that extra something to occupy the kids and keep them fully entertained. Don't forget to add rentals of
tables, chairs
, party games,
dunk tanks
, concession machines such as cotton candy, popcorn, snow cone, or maybe event a
kids train rental
l, etc.
Inflatable Party Magic Dallas Fort Worth Texas Delivery Areas
Inflatable Party Magic delivers bounce house with slide rentals near you in the DFW North Texas cities of Cleburne, Keene, Alvarado, Burleson, Midlothian, Maypearl, Crowley, Godley, Joshua, Lillian, Granbury, Glen Rose, Acton, Tolar, Lipan, Aledo, Fort Worth, Southlake, Trophy Club, Rio Vista, Grandview, Venus, Waxahachie, Red Oak, Cedar Hill, Whitney, Covington, Itasca, Blum, Hillsboro, Kopperl, Morgan, Arlington, Mansfield, Kennedale, Everman, Rendon, Briar Oaks, Benbrook, River Oaks, Kennedale, Forest Hill, Grand Prairie, Weatherford, Cresson, and other cities in the following counties: Johnson County, Hill County, Ellis County, Hood County, Somervell County, Bosque County, and Tarrant County and most places that fall in between. Don't see your area? Call us to see if we service your area? You can contact us at 817-800-8618.
Additional information for Bouncing House with Slide Rentals:
Please note that the bouncing house with slide rentals are rented for dry use only and cannot be used as
water slides
. For bounce house with water slide rentals please see the water slide or wet combo page and rent from that section. Units rented from this section and used wet will be charged a $100.00 cleaning fee. The dry bounce house combos are great spring bounce house rentals. Bounce house combos to be used wet are listed on the
Wet Combo
Page. Book from there if you want to use your unit wet. Let Inflatable Party Magic LLC Create the magic and excitement for your child's next birthday party!
Bounce House with Slide Rental DFW Texas
Check out our video for bounce house with slide rentals for Mansfield and the DFW Texas area. Bounce house combos with slide rentals are awesome for ages 2 to 12. Watch this video and see if the jump and slide combos are right for your birthday party rentals.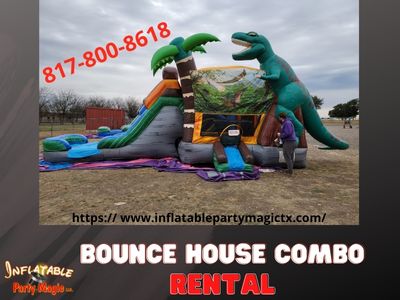 We Rent Bounce House with Slide to DFW Texas Cities!
We rent bounce house with slide combos as follows:
Cleburne bounce house and slide rentals
,
Burleson bounce house and slide rentals
,
Fort Worth bounce house and slide rentals
,
Benbrook bounce house and slide rentals
, Keller bounce house and slide rentals,
Southlake bounce house and slide rentals
, Trophy Club bounce house and slide rentals ,
Grand Prairie bounce house and slide rentals
,
Cedar Hill bounce house and slide rentals
,
Crowley bounce house and slide rentals
,
Mansfield bounce house and slide rentals
,
Arlington bounce house and slide rentals
,
Aledo bounce house and slide rentals
,
Weatherford bounce house and slide rentals
,
Kennedale bounce house and slide rentals
,
Godley bounce house and slide rentals
,
Joshua bounce house and slide rentals
,
Midlothian bounce house and slide rentals
,
Maypearl bounce house and slide rentals
,
Waxahachie bounce house and slide rentals
,
Venus bounce house and slide rentals
,
Alvarado bounce house and slide rentals
,
Granbury bounce house and slide rental
,
Glen Rose bounce house and slide rentals
, Tolar, Whitney,
Itasca bounce house and slide rentals
,
Grandview bounce house and slide rentals
, River Oaks, Whitney, Hillsboro,
near me bounce house and slide rentals
,
Rio Vista bounce house and slide rentals
,
Blum bounce house and slide rentals
,
Covington bounce house and slide rentals
,
Cresson bounce house and slide rentals
,
Keene bounce house and slide rentals
,
Rendon bounce house and slide rentals
,
Forest Hill bounce house and slide rentals
,
Briar Oaks bounce house and slide rentals