Waxahachie Bounce House Rentals
Waxahachie bounce house rentals from Inflatable Party Magic offer the best customer service and products available: Let us show you why we have been the #1 bounce house company in Waxahachie for over 20 years.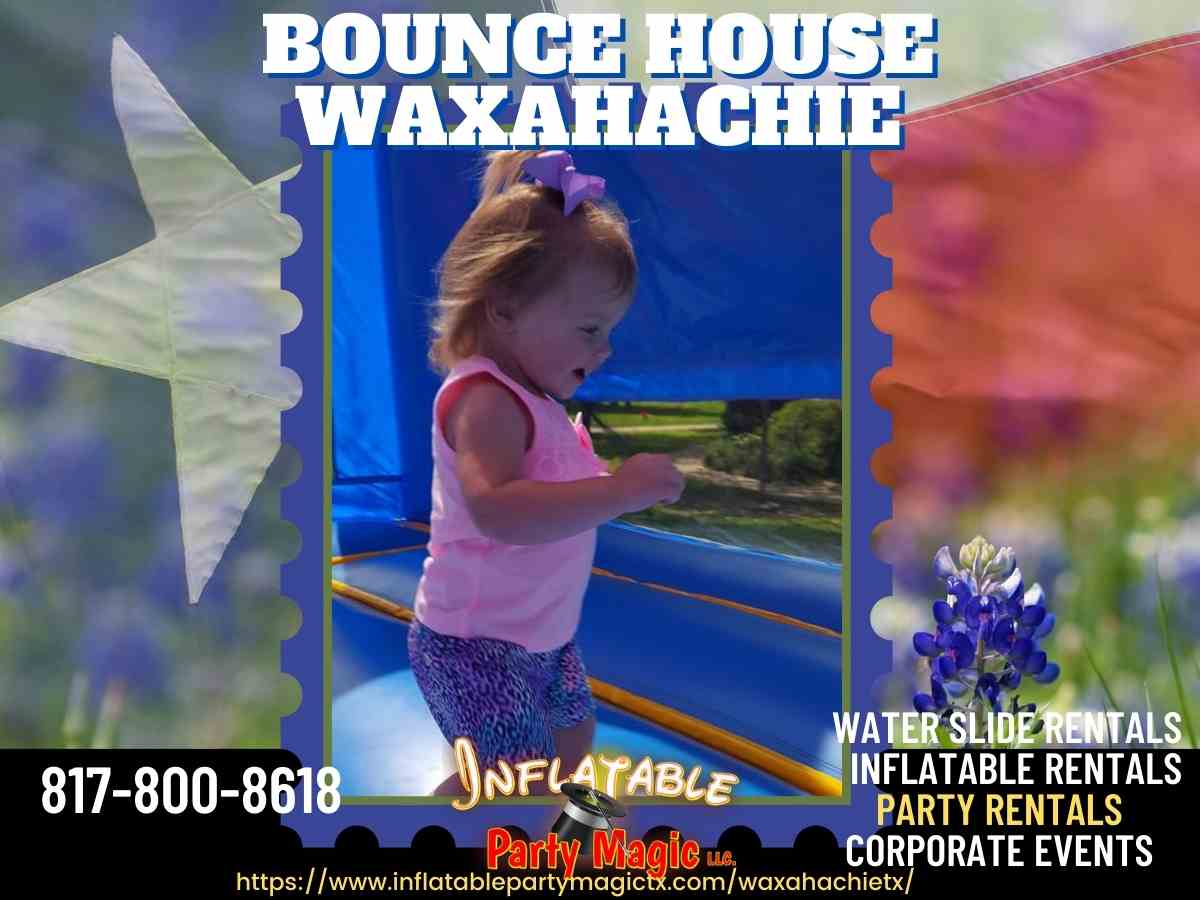 Best Bounce House Rentals Waxahachie
The
Best bounce house rentals Waxahachie
are from Inflatable Party Magic. If you are looking for the all around best Waxahachie bounce house rental, you have come to the right place. Our Company offers Waxahachie bounce house rentals with not only great selections but also stand-out Customer Service. If you value quality of products and service, Inflatable Party Magic is the bounce house rental company for you. We rent
bounce house rentals in Waxahachie
with a proven track record for quality and customer service. Our company takes pride in or business and can offer everything you need for your party. We have largest party rental and bouncer selection in Waxahachie.
Don't let the name fool you! We do so much more than bounce house rentals. We provide a complete line of party and event rentals. Our company specializes in not only backyard party rentals, but also larger events in Waxahachie, Texas such as corporate events, field days, church youth and children's groups, grand openings, college rentals, and so much more. Waxahachie Bounce House Rentals, Waxahachie waterslides to rent, obstacle course bounce house rentals, canopy tent rentals, table and chair rentals, trackless train rentals, rock climbing wall rentals, Euro bungee rentals, mechanical bull rentals, bumper cars, mini-golf rentals, carnival games, virtual reality roller coaster gaming rentals, Dunk Tanks, party rentals & event rentals are our specialty. Our customer service is unparalleled in the jumper rental industry. Let us be your one-stop event and bounce house rental company in Waxahachie, Texas. Rent your Waxahachie bounce house today!
Bounce House Rental Waxahachie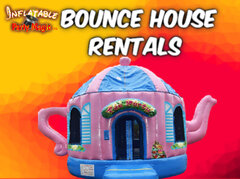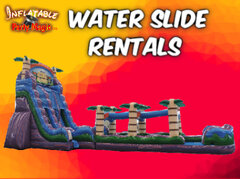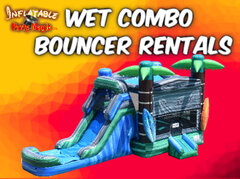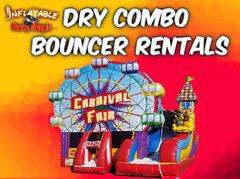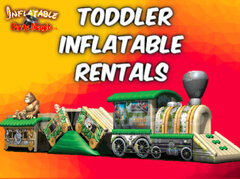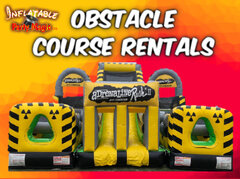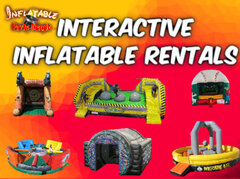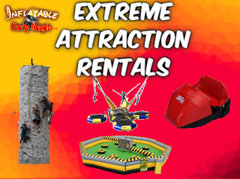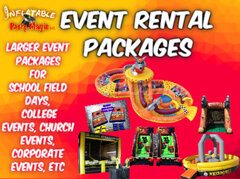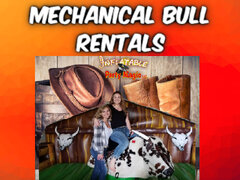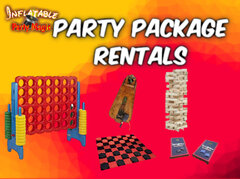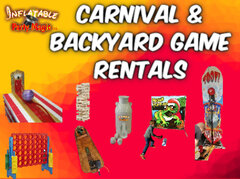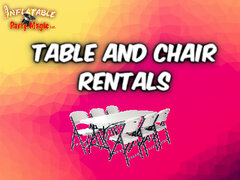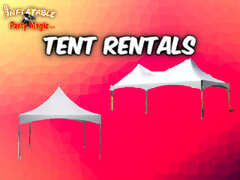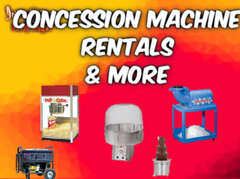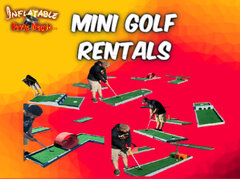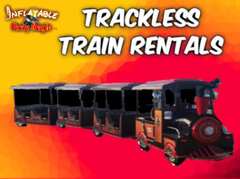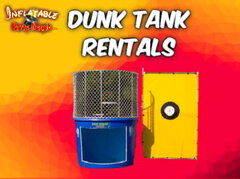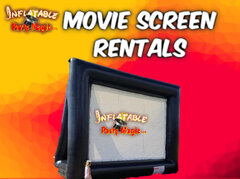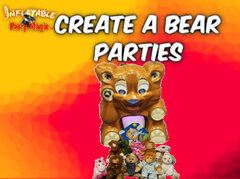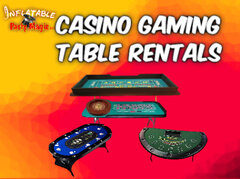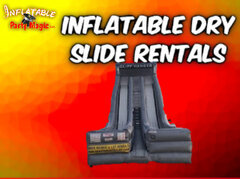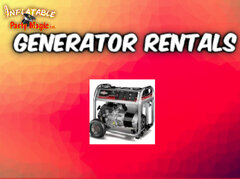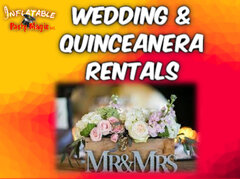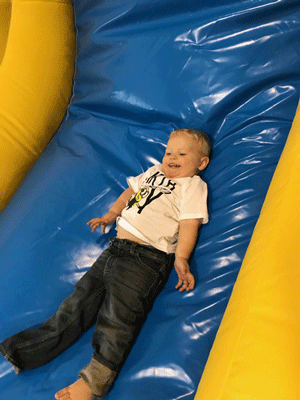 Trust Inflatable Party Magic for your Waxahachie Bouncy Houses
You can trust inflatable Party Magic for your Waxahachie
Bouncy House Rentals
. When we started in 2002 our main goal was to provide 8-hour event party rentals at the lowest possible price while still providing excellent customer service and quality rental items. After 20 years of service, we still provide those same 8-hour rentals at the lowest price we can and bring to you high-quality, clean bouncy castle rentals paired with excellent customer service. Our company has years of experience and we are fully insured and are state inspected annually for safety and as required by
Texas State
law
.
Our mission is to provide the best quality equipment at the lowest prices we can offer them while maintaining a high level of customer service and satisfaction. Our friendly and professional staff are trained and held to the highest standards. They will ensure that your party and event rentals are delivered on time and setup safely to ensure your event is a success Our company takes pride in our business and services so we can be the best at not only bouncy house rentals in Waxahachie Tx, but also larger scale event rentals. We believe in bringing value to your rentals while ensuring your bouncers are clean and well taken care of. The bouncy houses we rent are high quality and come from reputable manufacturers that comply with U.S standards for safety and quality assurance. Our company is the largest and most complete inflatable bounce house rental company in Ellis County. Let Inflatable Party Magic take care of your Waxahachie inflatable jumping house and party rental needs! You will see why our customers are talking about us and referring their friends to be part of our party rental family!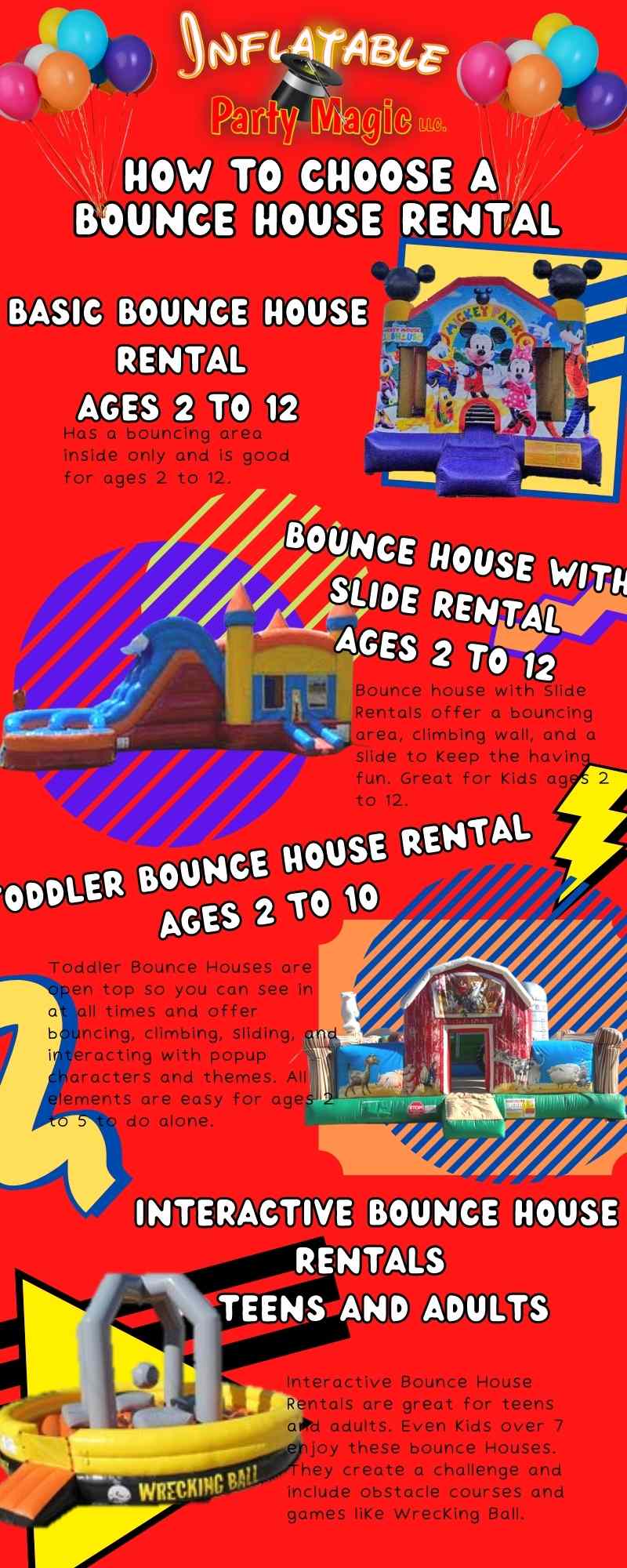 How to Choose and Rent Bounce Houses Waxahachie
It can be hard to decide which bounce house Waxahachie to rent. Let us help you decide. Knowing your bounce house rental options can help you make an informed decision based on your party guests. We offer the best kids bounce houses and adult bounce houses in Waxahachie!
Types of Waxahachie Bounce Houses to Rent
The type of bounce house you select should depend on your the ages and needs of your party guest. The types we will discuss are Bounces Houses, Bounce House with Slide, and Interactive Bounce Houses for Adults and teens.
Basic Bounce House Rental Waxahachie
Ages 2-12
Basic bounce house rentals are what most people think of when they use the term bounce houses; however, that term can be quite broad since a lot people call everything inflatable a bounce house rental. The difference is that a basic bounce house rental is has just a jumping are. They are generally inflatable castles with a place to jump inside. Our company does rent much more elaborate basic bounce house than most. We rent basic small bounce houses with licensed themes such as
Disney Princess
, Minion, Mickey Mouse, Justice League,
Unicorn
, Paw Patrol,
Frozen
, Batman, Disney Cars, Football, Sports, Dinosaur, pink castle, Carnival, Circus and many more. No matter what you call them moonwalks rentals, bouncy castle rentals, jumpy castle rentals, jumping castles, jumper rentals, bouncer rentals, water bounce house rentals, blow up house rentals, etc. we rent them.
Toddler Bounce House Rental Waxahachie
Ages 2-10
Toddler bounce house rentals in Waxahachie are very popular in Fall and Spring. The are our most popular rental for small children. Toddler bounce houses offer an open top concept so you can see in, but it doesn't work well in summer months. The toddler bounce houses include bouncing, interacting with character popups, climbing, and sliding. These are discussed in further detail below.
Waxahachie Bounce Houses with Slides
Ages 2-12
The Waxahachie bounce house with slide rental is the most popular item we offer for birthday parties and smaller events. Ages 2 to 12 are the perfect age for a jump and slide as they offer a bouncing area, basketball goal, climbing wall, and a slide. Smaller children as young as 2 years of age can safely play on the bouncy house slides, but they might not be able to climb the climbing wall. These types of bounce houses are also called jumper slide rentals at some rental companies. Older kids love to be challenged and have more to do than just jump. The jumping castles with slides keep them busy and offer a larger climbing wall and slide than the toddler bounce houses to rent. Adults can safely use the bouncer combos too, but keep in mind that you must crawl in a small hole in the front of the bouncing area to enter the bounce house and get to the slide. This can be a bit difficult for teens and adults. The slides within these jumping balloon slides are smaller for kids and the fun factor ends at about 12. We also have water bounce house with slides. The water bounce houses are the same as bounce houses with slides but you can add water over the slide area. Some people also call these water slide bounce houses. They are different from regular water slides because they also have a bouncing area. Toddler bounce house rentals also fall in this category of bounce houses with slides. Bounce houses for toddler have many items that are designed just for them to keep their attention and make it easy for use. Toddler bounce house combos are the best choice for smaller kiddos and offer so much to keep them busy.
Interactive Bounce House Rental Waxahachie
Ages 7 - Adult
Interactive Bounce House Rental Waxahachie is what the older kids adults want. After all, a bounce house has a small hole to crawl through which can be difficult for adults and teens. Then when you get inside there is just the option to bounce. Adults and teens generally need more than that to entertain them. The interactive bounce houses are like obstacle courses, human hamster balls, Wrecking Ball, Toxic Meltdown Mechanical Game, Hungry Hungry Hippo Inflatable, foam pits, and more. Checkout all of our
adult bounce houses
.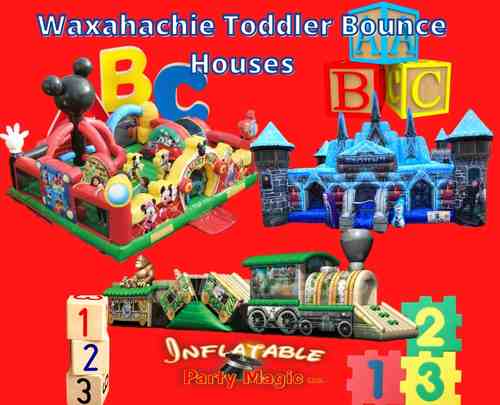 Waxahachie Toddler Bounce Houses
Waxahachie Toddler Bounce Houses are the one of most requested jump houses. Toddler jump houses include a bouncing area, character pop-up obstacles for the kids to interact with, a small climbing wall, and a slide.
The elements inside the toddler bouncy castle are all geared for toddlers and small children to have the maximum amount of fun without adult assistance. Don't worry though, you can enjoy these toddler bounce houses with your children. They are commercial bouncy castles in Waxahachie and can be used by all ages.
One of our most popular toddler bouncers is the
Animal Kingdom Toddler Bounce House
and we have many others. Check out our
Toddler bounce houses to rent
.
We Rent Bounce Houses Waxahachie Tx
We rent bounce houses Waxahachie to zip codes 75165, 75167, 75065, and 75168. We are located near
Waxahachie
. Inflatable Party Magic is able to service your bouncy castle rental needs within our delivery area with only a small travel fee. Waxahachie is an extremely valued service area for our business including residential customers, churches, schools, and businesses is rich in culture, historic homes, antique shopping and fun activities all located near Waxahachie Historic Downtown. One of our favorite Waxahachie parks to setup at is Getzendaner Park located at 400 S Grand Ave, Waxahachie, Tx. 75165. If you are considering having your party at one of the Waxahachie City Parks, do not forget to contact the
parks and recreation department
to reserve your spot and time and take care of any paperwork they may have for you. The Waxahachie Parks and Recreation Department can be reached by phone at (469) 309-4271. Trust our company for your bounce house in Waxahachie and let us show you why our company is voted #1 for Waxahachie bounce houses.
All About Waxahachie
Waxahachie was founded in 1850 and grew to be the Ellis County Seat.
Waxahachie cotton growing
led to it's prosperous economy and Ellis County being named as the nation's largest cotton producing county in the early 1900's. In 1895, the Ellis County courthouse was completed and remains as the town's most impressive landmark today as a result of being the County Seat for Ellis County. The
History of Waxahachie
and Ellis County is very interesting and it's continued prosperity makes it one of the largest areas our company services. Inflatable Party Magic also
rents bounce houses to Maypearl, Tx
and
Midlothian bounce houses
.
Frequently Asked Questions About Bounce Houses in Waxahachie