Waxahachie Water Slide Rentals
Best Inflatable Water Slides in Waxahachie
The Best Water Slides in Waxahachie are from Inflatable Party Magic: Quality and customer service come together with Waxahachie Water Slide Rentals.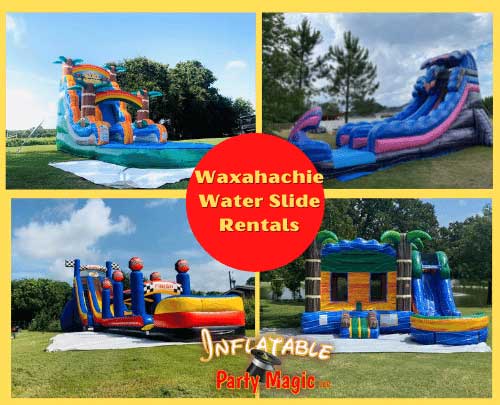 The Hottest Water Slides to Rent Waxahachie Texas
Are you ready to cool off with a water slide rental Waxahachie? Inflatable Party Magic has the largest selection of water slide rentals in Waxahachie , Texas. We offer water slides for kids, teens, and adults. Waxahachie water slide rentals are not just for the kids. Inflatable water slides come in many forms and styles to satisfy all users. Our company has slip in slide water slide, vertical water slides from 10ft. tall to 24ft. tall, and bounce houses with water slides attached to them.
The city of Waxahachie,
has some great places to have parties including the city parks. Rent a water slide in
Waxahachie, TX
!
  Water Slides
Hours for Water Slide Rentals
Displayed price is for up to an 8 hour water slide rental.
Inflatable Party Magic still offers 8 hour rentals for the same price most companies charge for 4 to 6 hour rentals.
Choosing more than 8 hours will add 7% per hour to your water slide rental order.
Please note: Water Hoses are not provided for your water slide rental. You must provide your own water hoses (enough to get from your water outlet to where you want to set the water unit)
Grow water hoses will not supply enough water pressure to correctly operate most water slide rentals. (grow water hoses are the ones that are small and coiled and expand as you stretch and add water) You will have to have other water hoses available if you typically use grow hoses.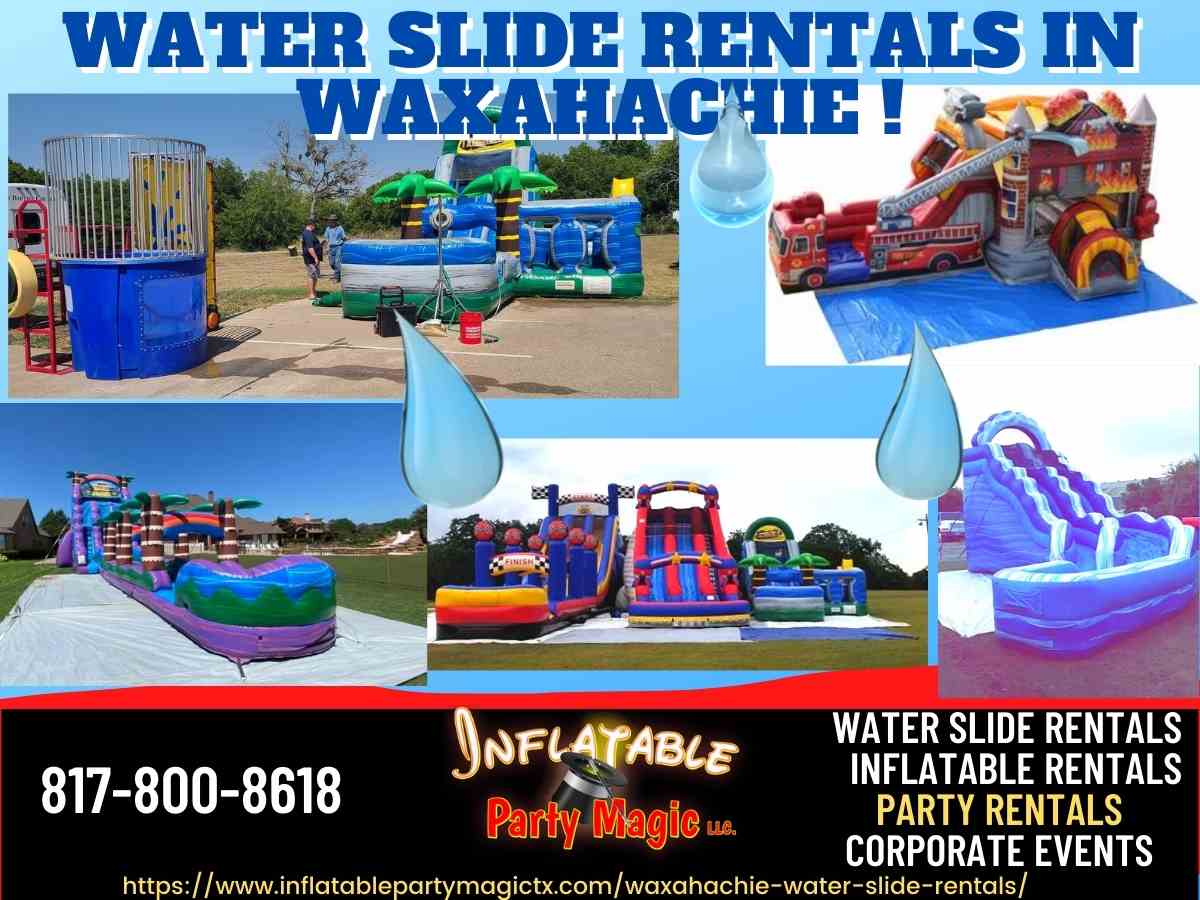 Types of Water Slide Rentals in Waxahachie
Inflatable Party Magic offers over 70 water slides inflatable rentals ranging from 10 foot tall water slides to 24 foot tall water slides and everything in between. Our company also offers different styles of water slides such as water obstacle courses, slip n slide water slides, bounce houses with water slides attached, and vertical water slides. We feel the more options you have, the bigger chance you will find the Waxahachie waterslide inflatable rental that best fits your personal needs.

Remember Water Slide inflatable Rentals are not just for kids! Water Slide Rentals for Teens and adults are our specialty. Inflatable Party Magic wants to make sure that teens and adults can share in the fun of Water Slide rentals. Adult water slide rentals are huge for our company. We know that Adults still wanna have fun as there is that inner kid just waiting to come out and play. In fact, the adults are infamous for kicking the kids off and stealing the fun for the day.

Rent a water slide jumper in Waxahachie for your next party or event!

Bounce house water slide rentals are perfect for smaller kids. They can bounce and slide the day away. We have so many options in the way of water slides to rent. Check out our water slide rental category to see them all.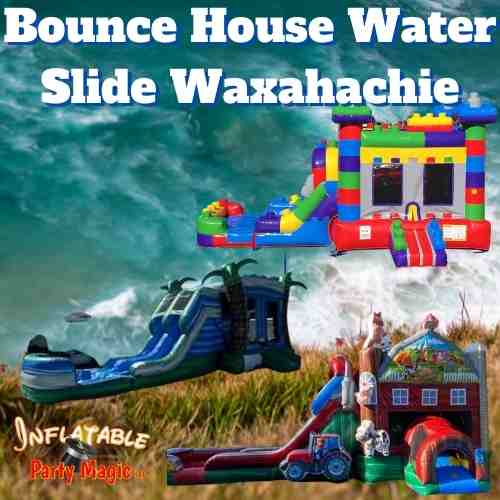 Waxahachie Water Slide Bounce Rentals
Waxahachie water slide bounce house rentals are searched for everyday. Many people call water slides bounce house water slides. We offer the best selection of water slide bounce houses in Waxahachie. Water Slide Bounce House rentals are actually different than water slides rentals. Water slide bounce houses have a bouncing area, basketball goal, climbing wall, and a water slide. Some of them even have a double water slide so the kids can compete. You will not be disappointed in our bounce house water slide rentals in Waxahachie. Check out the many Waxahachie Waterslide bounce houses to rent such as the
Paw Patrol Waterslide bounce house
or the
Fire Truck Water Slide Bounce House
. All of our water slide bounce house rentals can be found under
wet combo bounce house
.
Waxahachie Water Slide Bounce House to rent
is your best choice for smaller kids and mixed ages. If you need help selecting the best water slide rental for your party, call us at 817-800-8618 and we can help you select the best water bouncy house for you party guests.
Waxahachie Water Slide Cleaning

You can rest assured that our water slide rentals in Waxahachie are cleaned and sanitized to vey strict standards. We use CDC approved cleaners and clean them after every use and sanitize again before leaving them with you. We want you to be confident with your Waxahachie inflatable water slide rental decision.


Best water slide inflatable rental my age group?

Need some help deciding which water slide inflatable to rent in Waxahachie will work best for your guests? We would be glad to help you and recommend the best type for the age group you are satisfying. The Bounce House with Water Slides are great for ages 2 to 12. Smaller kids also do well with stand alone water slides between 10ft. to 16ft. tall. Teens and adults love slip and slides and water slides 17ft. and above. You can contact us at 817-800-8618 for personalized assistance in deciding which Waxahachie water slide rental will best suit your needs.
Other party rental items do you offered in Waxahachie
Inflatable Party Magic also offers Waxahachie inflatable rentals and
bounce houses
, carnival games,
obstacle courses in Waxahachie
, interactive inflatable games, dunk tanks, trackless trains, rock climbing walls, bungee trampolines, mechanical bulls , mini-golf, tables and chairs, tents, concessions, and more. We can handle the rentals for any size party or event you are having. Our business was established in 2002 and we have gained extensive experience during this time with smaller backyard parties, school events, corporate events, church events, and college events. Using our quality equipment and experienced and friendly staff is how we make your Waxahachie or DFW event the best event ever.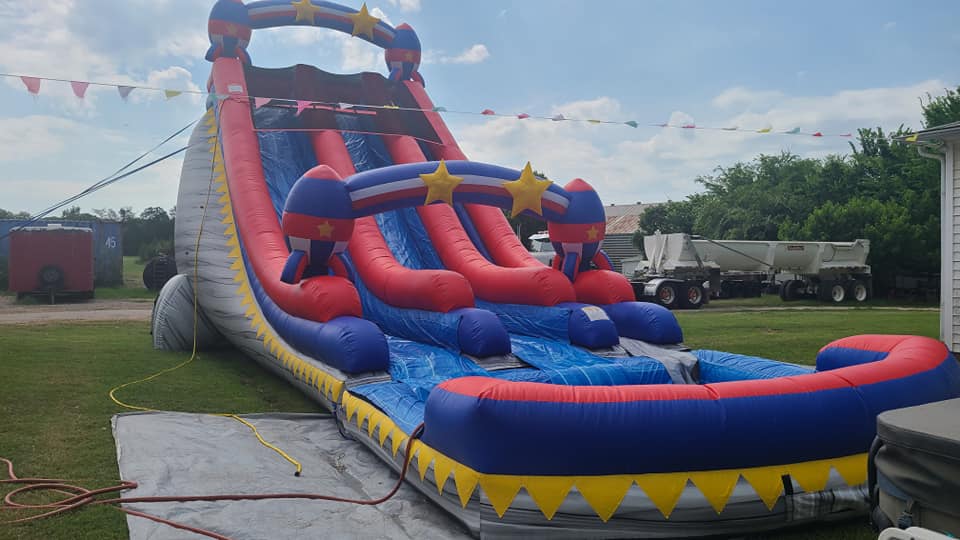 18ft. Tall Tsunami Water Slide Rental Waxahachie
Check our waterslide rentals Waxahachie Tx. Our line of 18ft. tall water slides are great for teen water slide rentals and adult water slide rentals. Don't plan a party without renting a water slide. It is easy to rent a water slide in Waxahachie. Simply choose a date, and select your water slide and fill in the blanks.
18ft. Tall Water Slide Rental Waxahachie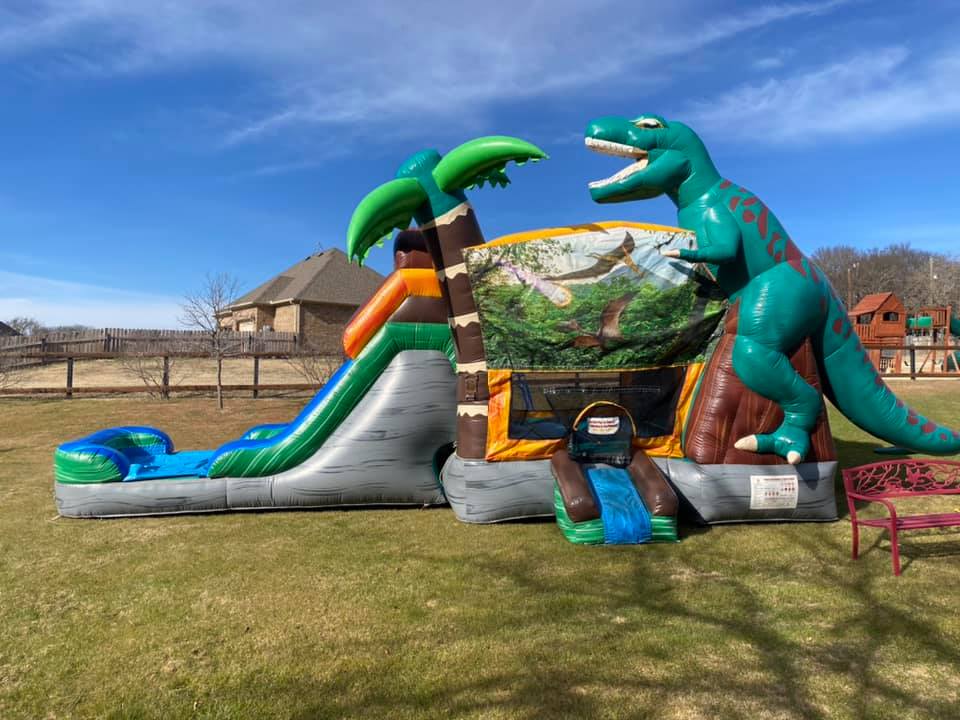 Waxahachie Water Bounce House Rentals
Try our Bounce House Water Slide Rentals in Waxahachie. These are great for smaller kids. The water bounce house rentals have a bouncing area, basketball goal, climbing wall, and water slide. The kids will have a great time in this jumper with water slide.
Waxahachie Water Slide Bounce House Rental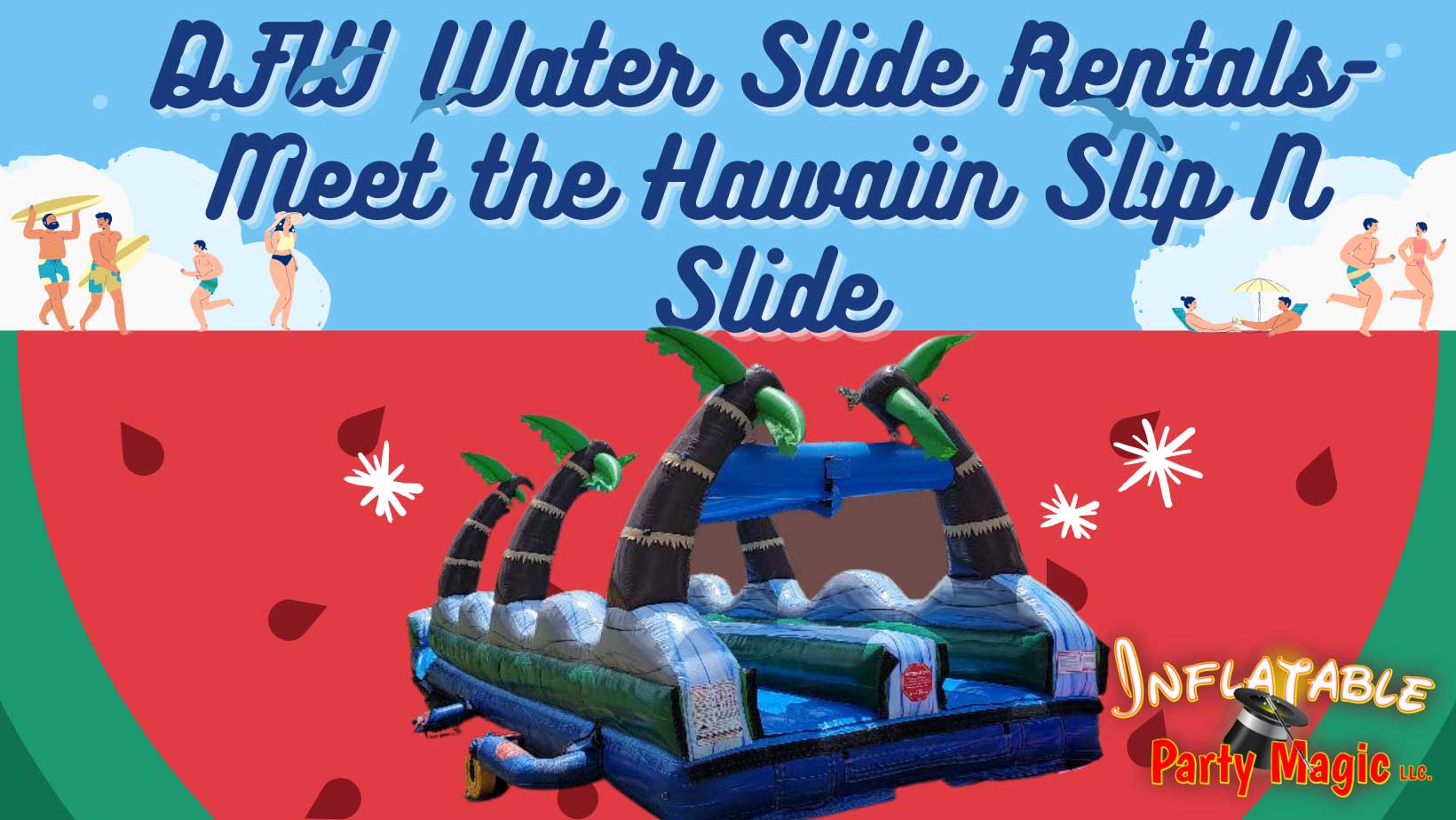 Slip N Slide Water Slide Rental Waxahachie
Try a slip n slide water slide rental in Waxahachie . These waterslide rentals are perfect for ages 7 to adult. They are double laned and made for competition. Run hard, dive onto the slide belly first and see who makes it to the end first. These are awesome teen waterslides!
Island Slip N Slide Water Slide Rental Waxahachie
We rent Water Slides in Waxahachie
We rent Water slides in Waxahachie and surrounding areas with zip codes of 75165, 75167, 75168, and 75065. Trust Inflatable Party Magic for all your water slide inflatable needs. The
best selection of waterslides to rent
in Waxahachie are from our company. You can expect your inflatable water slide rental to be clean and on-time. Most companies charge more than we do for 6 hour rentals. Enjoy our water bounce house rentals in Waxahachie for up to 8 hours for the posted price. Our company can setup in Waxahachie Parks such as Getzendaner Park and Lion's Park since we are fully inspected and insured to rent inflatable water slides. Waxahachie is one of favorite places to setup water slide inflatables. Our staff love the local restaurants such as Country Cafe and Pop's Burger Stand. We also provide
Waterslides in Cleburne
,
Maypearl water slides
,
Alvarado waterslides
, and water slides to other DFW cities.