School Field Day Rentals, DFW Tx
School Event Rentals in Fort Worth Texas


Inflatable Party Magic has your school field day rentals and events covered! Field Days are our specialty as we have been doing school field days for over 19 years and currently service a large number of school districts and private schools near Fort Worth and the surrounding DFW cities. In our 19 years, we have learned a lot about field days, what kids like, and what makes them a success. Trust us to make your special day one for kids to remember for a lifetime. After all, field days just happen one day a year. We have the largest selection of interactive inflatables and games in the DFW Texas Area. If you are looking for competitive events for your students, look no further as we have it all. Interactive Inflatable games encourage a healthy and fun form of competition.
Field Day Rentals come in many forms and options. We have tried to help a little and formulate event rental packages that are already packaged together for you to make it easy. We have taken our most popular interactive game rentals and combined them into pre-made packages to make it easy to plan your school event rental. These are great for any school party or event. Not just field days.

Check out all of our packages including the package shown above to see what will make your field day rentals a success!
Want to create your own field day rental package? We offer the interactive inflatable game rentals individually also so you can create your own perfect school field day. The games you will find in this category are the games that are generally used for the field days due to their competitive nature and multiple participant fun.
You can also add
water slide rentals
to the mix and cool them down at the end of the competitions. Many school districts offer the water slides for field days and end of the school year parties. In Texas May is hot and water slide rentals can offer the perfect getaway from the heat.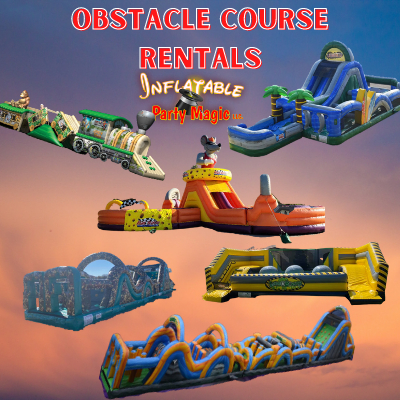 Obstacle Course Rentals for School Field Days
Obstacle Course rentals are always a hit for field days with two competitors racing through challenging popups, obstacles you must crawl through or under, tire race, log jam, rock climbing wall, and finally a slide to fight for the first place finish. Inflatable Party Magic has a large selection of Obstacle Course Rentals to make your Fort Worth area field day complete.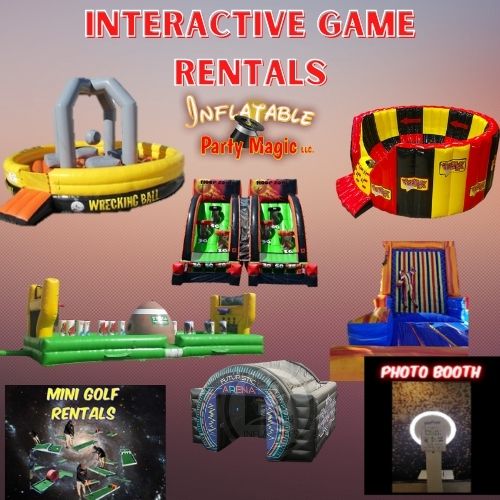 Interactive Game Rentals for School Field Days
Interactive Inflatable Game Rentals are what field days are made of. These games bring on the competition and offer play for multiple participants. Inflatable Party Magic offers a huge selection interactive inflatable game rentals that make any field day great are the Wrecking Ball, the Tugga Touchdown, Human Foosball, Warp Zone Interactive Play System Games, Dunk Tanks, Cannon Ball Blaster, Leaps and Bounds, Basketball Games, Football Games, min-golf, Soccer Darts and so much more.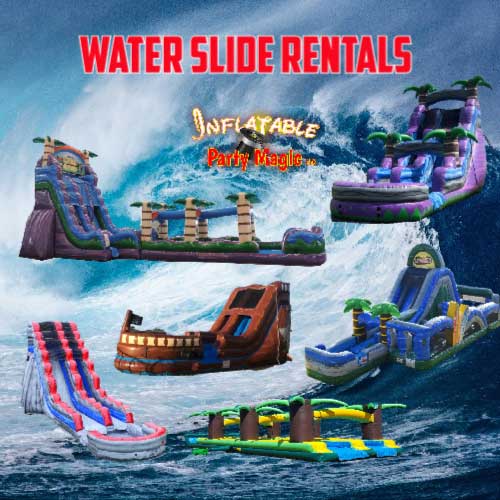 Water Slide Rentals For School Field Days Texas
Water Slide Rentals offer school field days a way to cool off and still keep up the competition. We offer water slides for all ages and have many styles. Even water obstacle courses are available. Check out our Texas-sized selection of water slides today to make your field day one that the kids will talk about for years to come!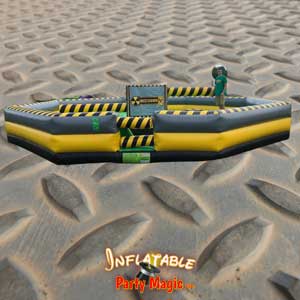 Toxic Meltdown Game Rental DFW Texas Area
Try our Meltdown Game if you Looking for a unique game rental Rental in the DFW Texas area that is different and will appeal to all ages? The Toxic Meltdown Game is just that game. The Meltdown is an 8 player wipeout style game that has participants jumping, Dodging, and ducking to prevent the spinning boom arms from knocking them off their podium. The spinning boom arms are at slightly different levels to create more difficulty. This game will challenge all participant's stamina, agility, and reaction speed. Are you ready to go truly extreme? How fast can you jump, duck, or dodge? Will you be the last one standing? Worried about falling off? Don't worry yourself as you are falling into a toxic inflatable 30' X 30' octagon-shaped landing. The inflation makes for a soft landing and a great time. Inflatable Party Magic offers this cool new attraction that will really amp up your next event and allow multiple players at a time since it can accommodate up to 8 players at a time. This is the perfect big event piece to please almost any party or event goer. It is not only fun to be a participant, but it is even more exciting to those watching. It will have everyone on edge in anticipation with each swing of the arms.


Toxic Meltdown Game Rental Texas
Why School Field Day Rentals are Important
School Field Days are the one day a year that the student body comes together in a spirit of competition and teamwork to achieve greatness. Inflatable Party Magic offers rentals of interactive inflatable games, obstacle courses, carnival games, and water slides that will challenge each student's strengths and create friendly and fun competition. The students will come together in fun and remember the teamwork they put forth as they went through each station of their field day. Let us show you the magic we can create for your next field day or school event. After all, this is the one day a year that will create memories to stay in the hearts and minds of the students forever.
Inflatable Party Magic has been serving Texas Schools with event rentals for over 18 years. We service schools in the Texas cities of Cleburne, Arlington, Fort Worth, Southlake, Trophy Club, Keller, Azle, Godley, Alvarado, Grandview, Maypearl, Waxhachie, Venus, Cedar Hill Benbrook Mansfield, Grand Prairie, Crowley, Rio Vista, Itasca, Hillsboro, Blum, Whitney, Granbury, Glen Rose, Tolar, Acton, and many more. If you question our service to your school district, please contact us.
Below we have several samples of games and events that will make your field day the best it can be. For a complete listing of our interactive field day rental inventory, you can view by
choosing to enter site here
. Check out our pre-made event rental packages or put your own package together by visiting our interactives page.
Inflatable Party Magic offers interactive inflatable game rentals that make any field day great. Check out just a few of the games below.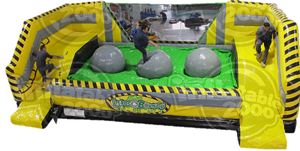 Inflatable Party Magic presents the Leaps and Bounds inflatable game rental, which is an awesome game and a new concept for kids, teens and, even adults. It's an extreme challenge and hours of toxic fun! Have you ever wanted to try your inner Ninja or Leap Frog jumping skills? Now is your chance
This game features a series of three giant inflatable balls in which challengers must run or leap across from ball to ball like a frog to the other side! But don't worry if you fall off, this floor of the pit protected by our super-soft Zero Shock landing mattress. If you have never landed on zero shock, you are missing out on a lot of fun. This game is a great addition to a Ninja Warrior Course. If you are setting up a Ninja Warrior Challenge, you won't be able to leave this game out.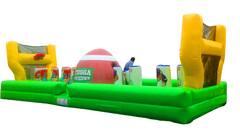 Inflatable Party Magic LLC presents this Tugga Touchdown field day game rental that will have you saying "He is at the 10, the 5, end zone, TOUCHDOWN"!!! Tugga Touchdown is one of the latest interactive bungee games with a twist. Two opposing competitors pull against each other in a competitive bungee tug-o-war. They are hooked up to the same bungee cord while pulling against each other and trying to get as close as they can before they dodge, juke, and jump past defenders as they battle each other on the competitive inflatable gridiron. Get past the defensive line and try to spike the ball in the end zone! Can you score more points than your competitor in this cool interactive game?
This game is not only fun to play, but very fun to watch as well. If you are looking for a game that will entertain teens and adults, you have found your game. The Tugga Touchdown is a game of strength, agility, and skill all rolled into one inflatable game. It will have all sports enthusiasts wanting more time and turns to prove they can beat their competition.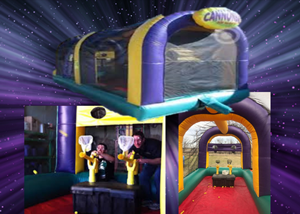 Inflatable Party Magic LLC Bounce House and Party Rentals features the inflatable Cannon Ball Air Blaster game with inflatable arena for 4 players. With this game, you can have 2 to 4 players at a time to work participants through very quickly making it an awesome field day game. You can build excitement quickly with the Cannon Ball Blaster by simply stepping inside the inflatable arena, putting on the goggles, and manning your personal air cannon! Try to shoot your soft foam balls at your competitors target nets from the distance of 20ft. away from each other. This game takes the skill of aim and fun to a whole new level of awesomeness.
Field Day Delivery Area
Our Delivery area for school field days include the DFW cities of Cleburne, Keene, Burleson, Fort Worth, Benbrook, Keller, Southlake, Trophy Club, Grand Prairie, Cedar Hill, Crowley, Mansfield, Arlington, Aledo, Weatherford, Godley, Joshua, Midlothian, Maypearl, Waxahachie, Venus, Alvarado, Granbury, Glen Rose, Tolar, Whitney, Itasca, Grandview, Cresson, River Oaks, Whitney, Blum, Hillsboro and more.