Itasca Bounce House Rentals & Water Slide Rentals
Rent a Bounce House in Itasca, Tx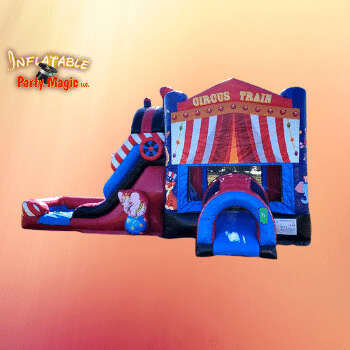 Itasca Bounce House rentals and water slide rentals in Itasca from Inflatable Party Magic is your best resource for party and event rentals. Our bounce house rentals and party rentals are still
8-hour rentals
for one low price. If you are looking to rent bounce houses, water slides, obstacle courses, inflatable games, mini-golf courses, trackless trains, and more high quality and impressive rental equipment in Itasca, you have come to the right place. We not only rent inflatables in Itasca, but also offer rentals of tables and chairs, tents, trackless trains,
Toxic Meltdown rentals in Itasca
, rock climbing walls,
Itasca mini golf
,
Itasca mechanical bull rentals
, carnival games, dunk tanks, and more.
Customers rate us number one in our area for quality and customer service in the inflatable bounce house and party rental industry. Located near the city of Itasca, Texas our business is able to service you within our standard delivery area with no extra delivery fees. Inflatable Party Magic has been in business for over 19 years and strives to be the best at party rentals in Itasca. We are the largest and most complete business to rent a bounce from. We also rent water slides in Itasca and provide Itasca obstacle course rentals are the largest selection you will find. We are fully insured and are state inspected annually for safety as required by Texas State law. Our staff are fully trained and held to the highest standards and accountability in the industry.

Our mission in Itasca inflatable party rentals is simply to provide the best quality jump houses and equipment at the lowest prices we can offer them while at the same time, maintaining a high level of customer service and satisfaction. Bounce House rentals Itasca is our fastest growing business segment. Our friendly and professional staff will ensure that your party and event rentals are delivered on time and set up safely so that your event becomes a cherished memory. Our customers are the reason we love what we do! We would love to add you as one of our customers in party rentals to Itasca, Texas.
Bounce House Rentals Itasca TX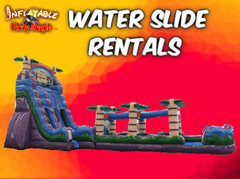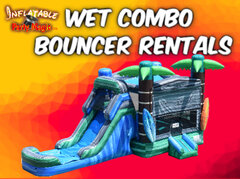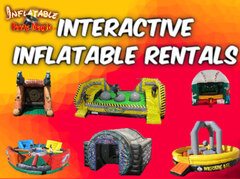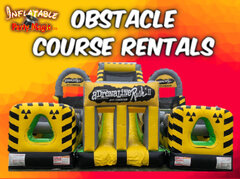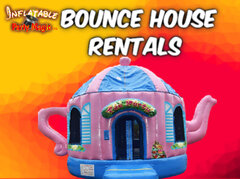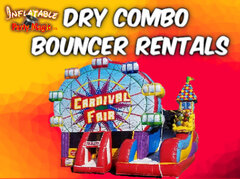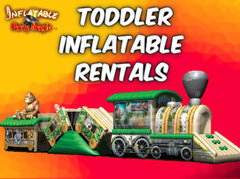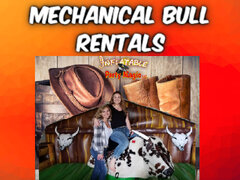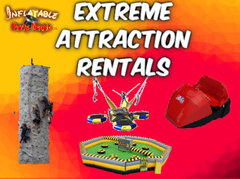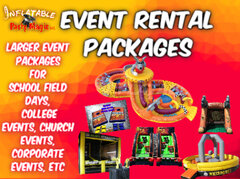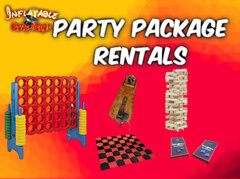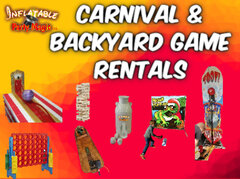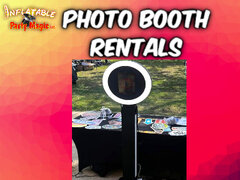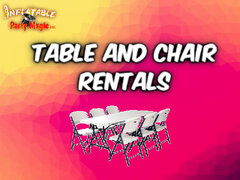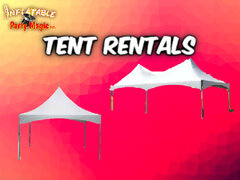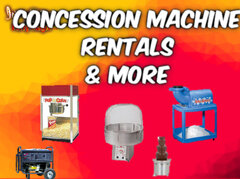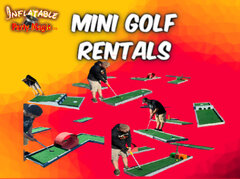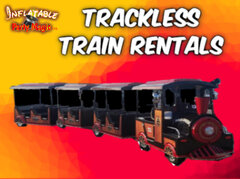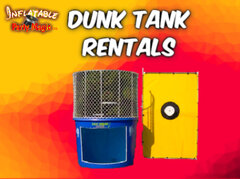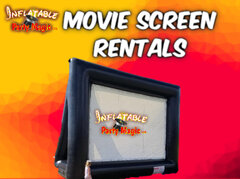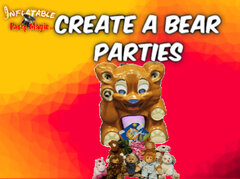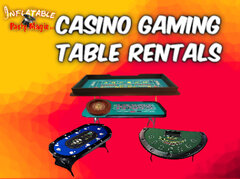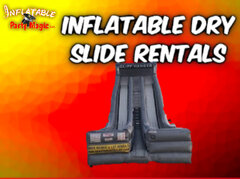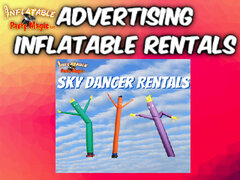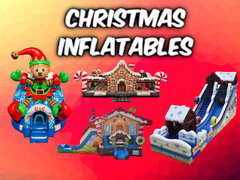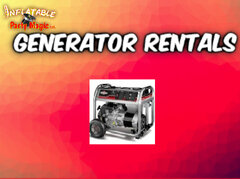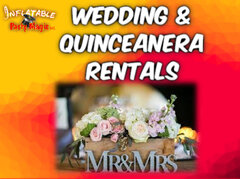 Itasca is one of our favorite places to provide party and event entertainment. We love the small town feel that the city of
Itasca
has to offer it's residents and the visitors. It has many things you would only find in small communities such as the
Old Time Country Store
This well kept secret of a store offers great food and homemade meal starters just to away a little of the secret. It is our goto when in Itasca.
Itasca ISD
is home to the Wampus Cats. This little town has more school spirit than some big town schools. This little town is a great place to raise a family. Itasca is home to a few great restaurants as well. To be a small town, it has great food. Main St features Karen's Mexican Food and Milano's Pizza.
If you want your Itasca party to be the best it can be with unique inflatables and party rental items, we can help. Our business offers a complete line of bounce houses to rent, water slide rentals, inflatable waterslides near me, bounce house with slides, toddler bounce house for rent, obstacle course rental, interactive inflatable games, Create A Bear Parties, tents, tables, chairs, carnival and backyard games, dunk tanks, frozen drink/margarita machines, concession machines and more. Complete party packages are offered so you can save on renting multiple package items. Check out our complete
inventory here
to see how we can make your next event a success. Inflatable Party Magic is proud to be Itasca 's #1 party and event rental company.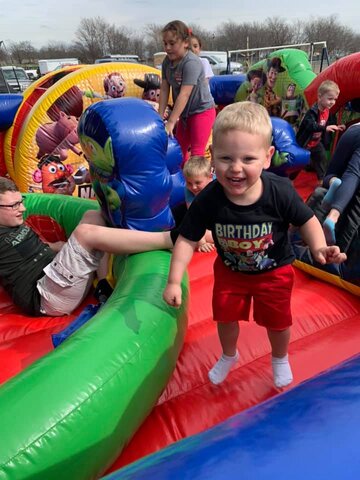 Itasca Bounce House Rentals
Bounce House Rentals Itasca
Bounce House Rentals Itasca offers a complete line of licensed and themed jump houses as well as neutral themed and colored bounce houses. Our equipment is cleaned and maintained excellently to ensure your safety and complete satisfaction. Inflatable Party Magic has everything you are looking for no matter what you call moonwalks, bouncy castles, jumping houses, jumpy things, bounce houses, etc. We rent inflatable bounce houses with many themes to choose from that are the most popular and current themed bounce houses to rent such as Disney Princess, Minion, Mickey Mouse, Justice League, Unicorns, Paw Patrol, Frozen, Batman, Disney Cars, Football, Sports, Carnival, Circus and more. Rent a bounce house and check out our huge selection of bounce house rentals in Itasca, Tx today!
Combo Bounce House with Slide Rentals in Itasca
Dry Bounce and Slide Rentals Itasca
Wet Combo Bounce House with Slide Rentals Itasca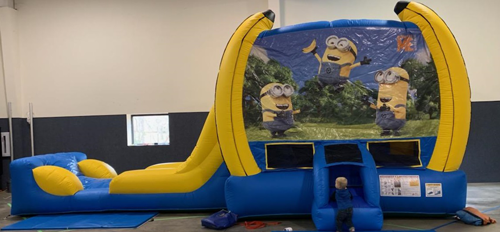 Itasca Bounce House with slide rentals have become party and event necessity since they offer kids a variety of varied experiences. At Inflatable Party Magic, we offer a huge selection of jump house and slide rentals with many different styles that include varied activities. Bounce House with slides encourage a fun form of exercise and kids will play all day on these inflatables since there is so much to do inside.
Itasca Toddler Bounce House Rentals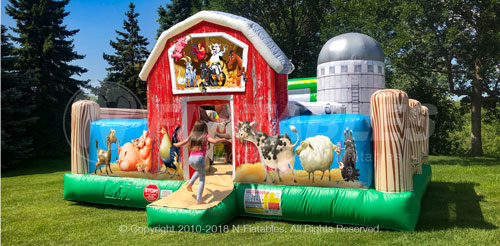 Are you looking to rent a toddler bounce house in Itasca? Toddler bounce houses are a huge hit with toddlers and small children. Regular bounce houses only offer a jumping experience, which can be a little frightening for little ones. Toddler bounce house rentals have an open top concept so the kids can see the light above them and not feel closed in. Toddler jump houses offer bouncing throughout, but the bouncing space is broken up with interactive popup characters and obstacles throughout the entire bouncing space. Additionally they have a small slide and climbing wall that is slightly slanted and positioned in a way that makes it easy for toddler to manage alone. Rent one our toddler bounce houses today in Itasca and see why our customers are loving our toddler inflatables.
Itasca Water Slides Rentals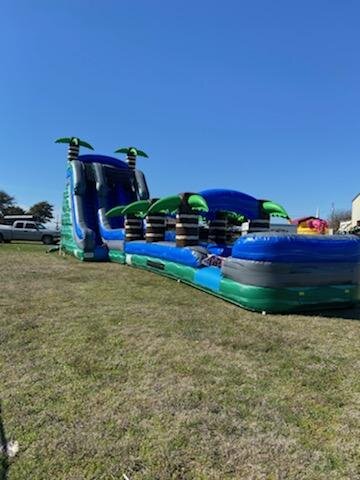 Ready to rent a Water Slide in Itasca? Inflatable Party Magic offers a Texas-sized selection of inflatable water slide rentals to choose from. We offer rentals of slip-n-slide water inflatables, Water Bounce House Combos, and all sizes of vertical water slide rentals ranging from 12ft. tall to 24 ft tall. No matter what age you are looking to entertain, Inflatable Party Magic has you covered. You will not find a better selection of inflatable water slides to rent anywhere else in Itasca area. Let us take show you why our Water Slides to rent in Itasca, Tx are the best!
Obstacle Course Rentals and Interactive Inflatable Game Rentals Itasca, Texas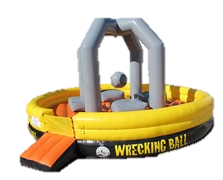 Itasca Interactive Inflatable Games and obstacle course rentals are our specialty! They offer exactly what you want in the way of inflatables that challenge all different age levels. If you are looking for an inflatable rental to get teens up, moving, and competing, interactive inflatable game rentals are what you are looking for. Interactive inflatable game rentals are a broad term and include a variety of inflatables. In this category, you will find rentals of obstacle courses, Bungee inflatables such as Hungry Hippo Chow Down, Rapid Fire, and Tugga Touchdown, The Wrecking Ball, Interactive Play Systems, and games such as Soccer darts and Football Tosses. They have become huge for
Itasca school events
and church events. Inflatable Party Magic offers the largest selection of Interactive Inflatable game rentals in Itasca, Tx.
Rent an obstacle course in Itasca as they are the best inflatables to rent if you are trying to please someone that is competitive. Inflatable Obstacle course Rentals provide the perfect addition to parties for teens, adults, After-Proms, College Events, Middle School, Corporate Parties, and Elementary school functions and field days.
At Inflatable Party Magic, Inflatable obstacle course rentals are our specialty and they offer exactly what you want in the way of inflatables that challenge all different age levels. They are a great way to get teens up, moving, and challenging each other in a good way. Trying to find activities for teens and adults can be really difficult, but we have the answer. Give one or some of obstacle courses in Itasca rentals and interactive game rentals a place at your next event and watch the competition begin. Obstacle Course Rentals are great for kids, teens, and adults. Inflatable Party Magic offers many sizes and challenges so you can find the right obstacle for your event and crowd. These inflatables are perfect addition for field days, after proms, graduation parties, and adult events.
Itasca Table and Chair Rentals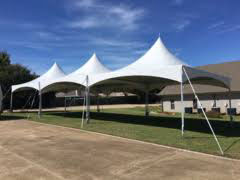 Are you looking for tables and chairs to rent in Itasca? Inflatable Party Magic provides everything you are looking for in the way of Itasca table and chair rentals. Here you will find rentals of tables and chairs, tents, patio heaters, generators, wedding chair rentals, chocolate fountain, and more. We rent folding tables in 6ft and 8ft. lengths as well round tables. We offer basic folding chairs as well as upscale resin garden or as they are sometimes referred to Wedding Chair Rentals.
Tent Rentals in Itasca, Tx
Itasca Tent Rentals from Inflatable Party Magic will bring the experience to you. You will fall in love with our High Peak commercial tent rental. If you want to rent a tent in Itasca, Inflatable Party Magic offers very high quality and make a statement of their own.
Create A Bear Parties in Itasca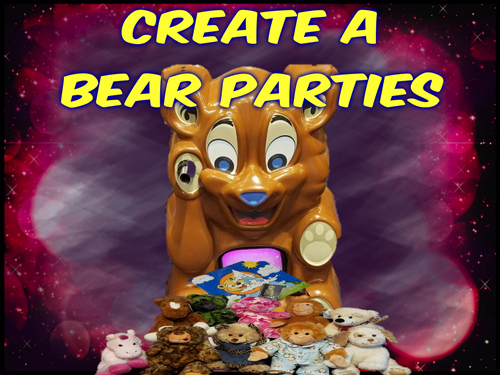 Inflatable Party Magic offers Itasca this unique party idea with Create a Bear parties that can be done in your own home or location in Itasca. Why should you have to load up kids and go to the mall to make bears or have a party somewhere else? You can stuff your own bear or animal at your party where ever you decide you want your party to be. Create A Bear is a perfect solution for a birthday party, church, school, or daycare event because sometimes kids want to do something different. TED is our cute little Bear that helps your kiddos make their new stuffed best friend. With Create a Bear there is no need to purchase party favors since they leave with their new stuffed best friend and back pack to carry it in.
Carnival Game Rentals Itasca and Backyard Game Rental in Itasca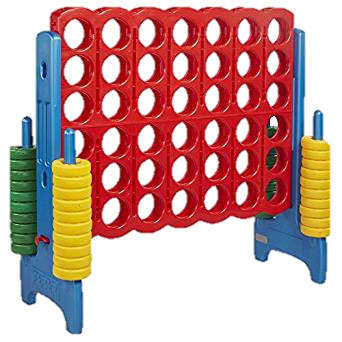 Want to rent carnival games in Itasca? Inflatable Party Magic has a great selection of carnival and backyard games to make your party a success. The many carnival games and backyard games offered include giant games such as connect 4, Jenga , operation, ring toss, and checkers. We also carry other backyard games such as corn hole, flying froggy, penguin fling, ring the horn on the unicorn, yard pong, and more. Rent a carnival game near me! One of the best things about carnival and backyard party games is that they can go indoors if the weather is not what you expected for your party. Sometimes the weather changes rapidly and with these games, the party can go on.
Itasca Dunk Tank Rentals
dunk tank rentals Itasca
Ready to rent a dunk tank in Itasca? Inflatable Party Magic offers a Itasca dunk tank rentals for event fun and entertainment. Dunk Tanks are the perfect addition to any school, community, corporate, fundraising, or church function. If you ever wanted to get back at your friend or boss, this is your opportunity to do it the politically correct way. Our dunk tanks feature a safety window so you can see who or what is in the water at all times so safety stays in the forefront. Hurray and Book a dunk tank rental for you next event in Itasca, Texas soon!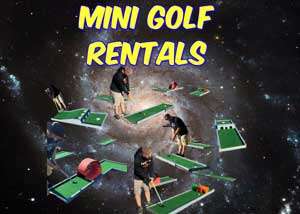 Itasca Mini Golf Rentals
Want to Rent a Mini-Golf Course in Itasca? Inflatable Party magic now offers mini-golf course rentals in up to 9 holes for the Itasca, Tx area. You can rent all 9 holes or choose just 3 or 6 holes depending on the size and length of your event. Inflatable Party Magic's mini-golf also offers LED lighting so each hole is professional in appearance. Our mini golf is fun for all ages and all event types. Mini-Golf can provide
coporate events
with that extra something needed for fun and excitement as well bonding and ice-breaking time if you are looking for activities to get your employees interacting well together.
Itasca mini golf rentals It can also be used for backyard birthdays, church or school events. The possibilities are endless! This game is great for all ages no matter is if it is kids or adults. We service Itasca and surrounding areas for parties and events.
Itasca Mini-Golf Course Rentals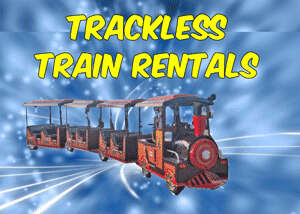 Trackless Train Rentals Itasca, Tx
Itasca Trackless Kiddie Train Rentals from Inflatable Party Magic. All Aboard the Party Magic Express! If you are looking for a trackless train rental in Itasca Texas or surrounding areas, look no further! Inflatable Party Magic has just added this beautiful trackless train party rental to make your next event completely magical. The Party Magic Express train rental in Itasca offers a nostalgic look and feel. The details on this locomotive are unbelievable. You will see lights and hear whistles & horns all while enjoying your train ride experience. You will think you are riding on a big train. We want adults and kids to enjoy our train together for a total family experience. Sit back and enjoy your ride while our conductor shows you the scenery while you sit in luxury. We do need a flat surface to operate our train on. It can safely operate on grass, turf, dirt, and concrete.
Trackless Train Rental Itasca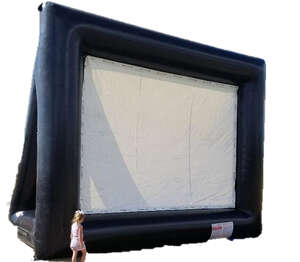 Itasca Movie Screen Rentals
Are you ready for a night at the movies? Itasca Movie Screen Rentals are the best. We rent huge 22ft movie screens in Itasca for larger event rentals. Need a smaller inflatable for your backyard or a smaller event? We also have a backyard movie screen rental in Itasca measuring 11' X13' (border) with 10'X6' movie screen. Let us bring them to you with our huge movie screen rentals. It is like being back at the drive-in minus your car. If you book the package, you pick and bring the DVD or Blu Ray that you would like to watch and we supply all the equipment you need to have a night under the stars. We do not handle any movie licensures. It is your responsibility to find out what licensures if any are needed to project your shows. Swank Movie Licensing can help you determine if you need a license and they can help you obtain licensure. If you already have all the equipment you need and just need a movie screen, we also rent the inflatable without the audio-video equipment.
Itasca Movie Screen Rentals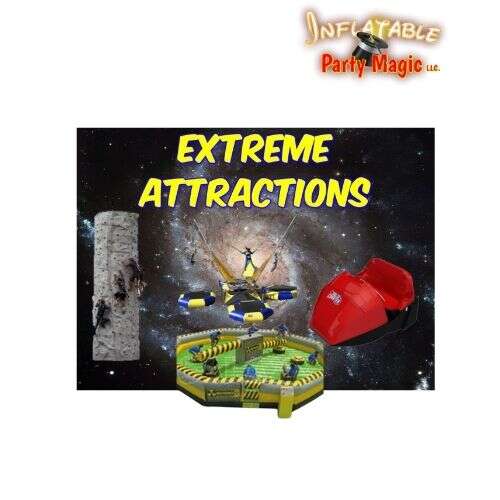 Itasca Extreme Attraction Rentals
Ready for some Extreme Attraction Party Rentals in Itasca? Inflatable Party Magic has decided to add some extreme attractions for your next party! Be ready for the fun line-up that includes rentals of a Euro Bungee Trampoline, Rock Climbing Wall, Portable Mini-Golf Course, Meltdown Game, and a Virtual VR (Virtual Reality) Roller Coaster gaming. Is Itasca ready for some extreme sports fun? The different stations for each one add difficulty with each step up to challenge even the most daring person. You will get the opportunity to challenge yourself to climb high, jump higher, and flip faster! The ultimate thrill-seekers will love these and not be able to get enough! These Itasca Extreme Party Rentals are the perfect additions to any church, school, or corporate party event. We staff these games upon delivery during the rental, so you can kick back and enjoy the party.
Rock Climbing Wall Rentals Itasca
Ready to climb to new heights with a Itasca
rock climbing wall
rental? Inflatable Party Magic offers this cool rock climbing wall to rent in Itasca that will really amp up your next event. This Rock climbing wall rental is 4 station Rock Wall Rental. Each Climbing Station offers a different level of difficulty that will challenge even the best climbers. Just a beginner? That's okay, as there are easier and more difficult areas on the wall. Challenge yourself to get higher with each try until you finally make it to the top and hit that button! Fears of heights are no more with the confidence you will gain while participating in this rock climbing wall. People will see the tall rock from all around wanting to come and join your event. Rent a rock wall in Itasca now!
Itasca Euro Bungee Trampoline Rentals
Ready to have some fun on a Euro Bungee Trampoline in Itasca? Inflatable Party Magic now offers Euro Bungee rentals. What is better than just bouncing on a trampoline? Tie a bungee up to you AND bounce! This unit allows you to jump high in the air by hooking yourself into a harness attached to bungee cords. You will be amazed at the acrobatics you are able to do with all of the air time you get. Everyone will be "flipping" out at your event over this attraction. This is great for church, school, and corporate events. Everyone will be coming from all around so see what this is all about. This is the same Euro Bungee attraction you see at amusement parks and in malls. Now you can bring it to your Itasca event and
rent a euro bungee trampoline!


Itasca Toxic Meltdown Rental

This
Toxic Meltdown Rental
in Itasca will make your party awesome! If you are looking for a unique game rental Rental in the Itasca Texas area that is different and will appeal to all ages? The Toxic Meltdown Game is just that game. The Meltdown is an 8 player wipeout style game that has participants jumping, Dodging, and ducking to prevent the spinning boom arms from knocking them off their podium. The spinning boom arms are at slightly different levels to create more difficulty. This game will challenge all participant's stamina, agility, and reaction speed. Are you ready to go truly extreme? How fast can you jump, duck, or dodge? Will you be the last one standing? Worried about falling off? Don't worry yourself as you are falling into a toxic inflatable 30' X 30' octagon-shaped landing. The inflation makes for a soft landing and a great time. Inflatable Party Magic offers Itasca this cool new attraction that will really amp up your next event and allow multiple players at a time since it can accommodate up to 8 players at a time. This is the perfect big event piece to please almost any party or event goer. It is not only fun to be a participant, but it is even more exciting to those watching. It will have everyone on edge in anticipation with each swing of the arms. Rent the Toxic Meltdown at your party in Itasca!
Itasca Virtual Reality Roller Coaster Rental
Rent a Virtual Reality Roller Coaster in Itasca! Our VR Coaster offers the best and latest in gaming rentals The VR Coaster rents for $595.00 for the first two hours with unlimited rides and then $225.00 for each additional hour. This coaster allows 2 riders at a time to experience the thrill of over 28 different roller coaster rides that will be perfect for all different age levels and experience levels. This coaster will keep even the biggest thrill-seekers entertained and asking for more, but also offers rides that are good for toddlers, school age, high school, college-age, and even adults. There are so many coaster programs to choose from that will customize the experience to the rider. The
Virtual Reality Coaster rental in Itasca
, Texas is a complete virtual reality roller coaster simulator with awesome visual sceneries, scenarios, vibrations, and even wind. No matter which way you turn, you will see something different and can look at a 360-degree view all around you while on the coaster. You will feel like you are on a real coaster and even find yourself screaming and moving from side to side just like you would on a roller coaster. This ride is just as much fun for spectators to watch the riders enjoy and react to the ride.
Extreme Attraction Rentals Itasca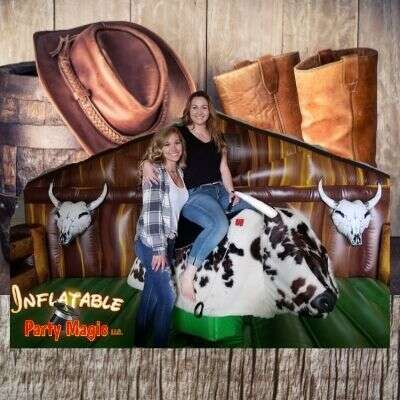 Itasca Mechanical Bull Rentals

Looking for a Mechanical Bull to rent in Itasca? Inflatable Party Magic offers mechanical bull rentals in Itasca and near you in the DFW Texas area. Our bull rental is a deluxe bull and offers extra settings as well a an upgraded landing mat with a quality look and feel.

Our Itasca mechanical bull rentals are priced for up to three 3 hours. You can add additional time for an added cost. The bull rental is staffed by our trained employees for safety and fun.

See if you can ride the bull and make an 8 second ride at your next Itasca event! Mechanical Bull Rentals Itasca
Itasca Party Rentals and Itasca Event Rentals


Inflatable Party Magic LLC is your party rental specialist in Itasca, Tx. We have everything our need to create your perfect party. Our business have been providing party rentals for over 18 years so not only do we stock the party rental items you need, but have the experience to guide you in creating the ultimate party no matter the size of the party. We have successfully helped with backyard parties, larger school and church parties as well as corporate parties.

Itasca event rentals can also be taken care of by Inflatable Party Magic. Parties and events are very much the same, but events tend to be on a larger scale. Corporate event rentals include things such as team building, staff events, customer appreciation rentals, Grand Openings, and so much more. Church event rentals tend to incorporate children's events and youth events that cater to a wide variety of age groups interacting together during the event. Our company has the event rental equipment you need to accomplish the task of church event rentals in Itasca. College Event rentals are geared more towards young adults that want a challenge and yet still desire the fun on a unique basis. Inflatable Party Magic has inflatable rentals and extreme attraction rentals to capture Texas college event rental market.

We have more event rentals and party rentals for your Itasca, Texas event available on our main rental page. Please visit our home page for a complete listing of party rental and event rental services.
Our Delivery and Service areas
Inflatable Party Magic also rents bounce houses to
Grandview bounce house rentals and Grandview waterslide rentals
. We also deliver bounce house rentals to many Texas cities near you such as Cleburne, Alvarado, Burleson, Midlothian, Maypearl, Venus, Joshua, Lillian, Granbury, Glen Rose, Acton, Tolar, Lipan,Aledo, Fort Worth, Southlake, Trophy Club, Rio Vista, Grandview, Waxahachie, Red Oak, Cedar Hill, , Whitney, Covington, Itasca, Blum, Hillsboro, Kopperl, Morgan, Arlington, Mansfield, Kennedale, Benbrook, Grand Prairie, Weatherford, Cresson, Briar Oaks, River Oaks, Rendon, and other cities. Inflatable Party Magic also delivers to the following counties: Johnson, Hill, Ellis, Hood, Somervell, Bosque, Parker, and Tarrant.
For a map and complete listing of our delivery area outside of Itasca as well as pricing, visit our
delivery area page
.

Thank you for taking the time to visit our Itasca Bounce House Rental website!



Contact Inflatable Party Magic LLC Bounce House and Party Rentals

Visit our complete website at www.inflatablepartymagictx.com.