Bounce House with Water Slide- Make Your Party a Splash!
Make a Splash at Your Next Event with the Best Bounce House with water slide rentals in DFW Texas from Inflatable Party Magic! If you're searching for the best water slide bounce houses ,trust our company. Our 20-years of experience has equipped us with the expertise to provide the largest selection of water slide bounce houses in the DFW area while maintaining product quality and safety as well as excellent customer service. Be it a birthday party, a corporate event, or simply a day of enjoyment with friends and family, we guarantee a splash-tastic time for all. You will find a wide range of sizes and themes of water bounce houses to choose from so you can make your party or event unforgettable. Bounce water slides are the most popular water unit we rent. Let us help you make your party perfect with our bounce house with water slide to rent. We offer all the popular themes. What is better than a bounce house and a water slide all in one. Our bounce house with water slides offer a full size bouncing area, basketball goal, climbing wall, and water slide. Some of them offer double lane slides and pools at the the end.
Water Slide Bounce House: The Most Popular Water Inflatable to Rent
If you're looking for the ultimate in water slide bounce house rentals, our bounce house water slide combos are the way to go. These have become the most popular water inflatables to rent, combining the excitement of a bounce house with the thrill of a water slide. With a variety of sizes and themes to choose from, there's something for everyone when it comes to our jumping balloon water slides to rent. What kid doesn't want to play on the bouncy house with water slide?
  Wet Combo Bouncers
DFW Bounce House with Water Slides to Rent
Please note: Water Hoses are not provided. You must provide your own water hoses (enough to get from your water outlet to where you want to set the water unit)
Grow water hoses will not supply enough water pressure to correctly operate most water slides. (grow water hoses are the ones that are small and coiled and expand as you stretch and add water) You will have to have other water hoses available if you typically use grow hoses.
Tropical Rampage Bounce House with Double Water Slide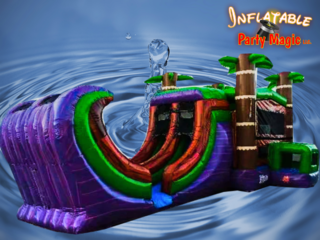 Jurassic Dinosaur Wet Slide Combo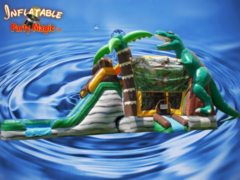 T-Rex Jurassic Dinosaur Water Bounce House with Double Lane Slide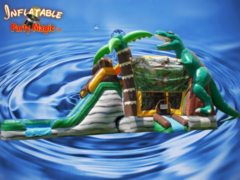 Candy Land Wet Slide Combo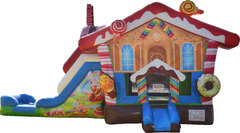 Platinum Wet 4n1 with dual Slide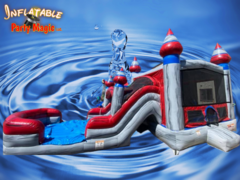 Unicorn 4N1 Wet Combo with Dual Lane Slide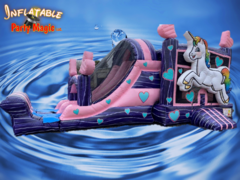 Unicorn Rainbow Combo wet use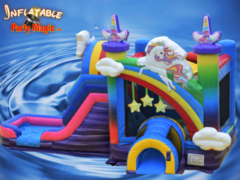 Fun House with Wet Slide Combo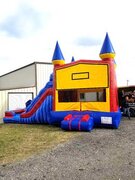 Storm 4n1 Wet Combo with dual laned slide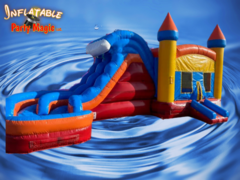 Hurricane 4n1 Wet Combo with dual laned slide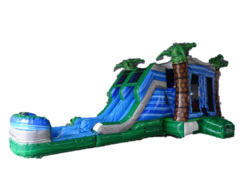 Mermaid Combo wet use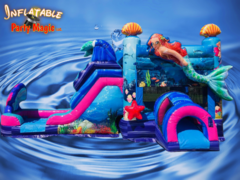 Lego Land Small Bounce House Water Slide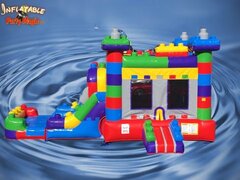 Castle 4n1 Wet Combo with dual laned slide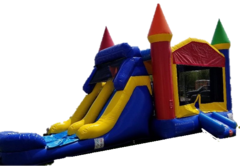 Butterfly Bounce House Water Slide Double Lane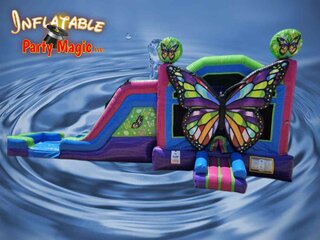 Pink Princess 4n1 Wet Combo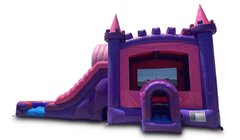 The Queen Wet Combo 4n1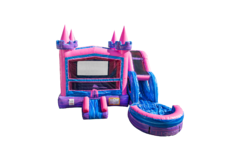 Pirates Revenge Bounce House Wet Combo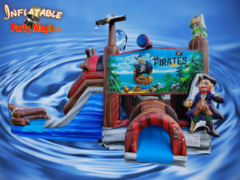 Pirates of the Carirbean Bounce House Wet Combo Rental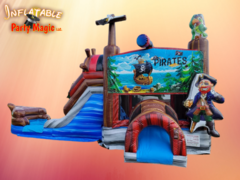 Farm Double Water Slide Bounce House Rental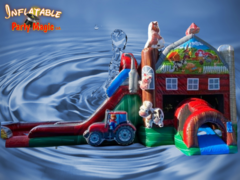 Cave 4n1 Combo with Dual Wet Slide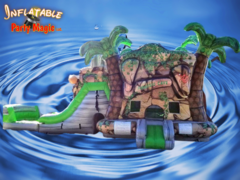 Circus Bounce House wet slide Combo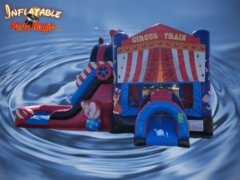 Majestic 4n1 Wet Combo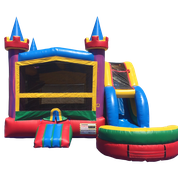 Bahama Breeze 4n1 Wet Combo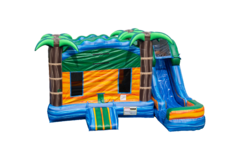 Dump Truck Bounce House Water Slide Double Lane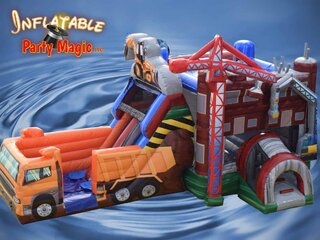 Fire Truck Water Slide Rental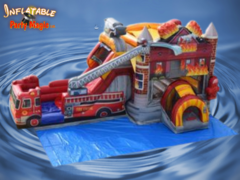 Surf the Wave Combo wet use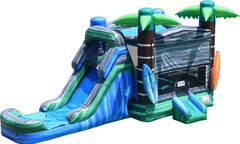 Mega Marble Mansion Bounce House with Wet Slide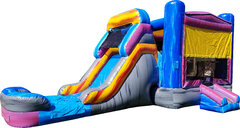 Despicable Me 4n1 Wet Combo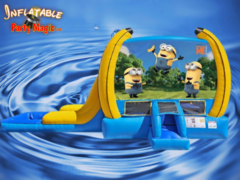 Paw Patrol 5N1 Wet Combo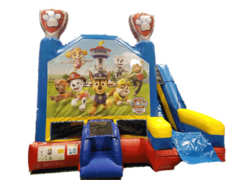 Purple Passion 4n1 Wet Combo with pool landing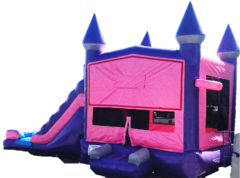 Extreme Sports Bounce House Water Slide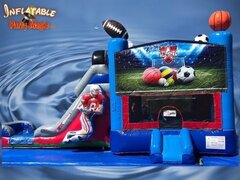 Spiderman 5n1 Bounce House Waterslide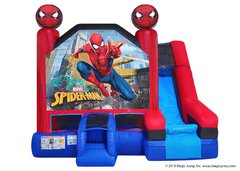 Justice League 5n1 Wet Combo Bouncer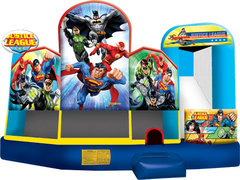 Disney Cars 5n1 Wet Combo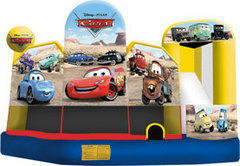 Choo Choo Train 3n1 Wet Combo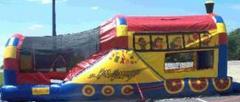 Create Your Own Package Standard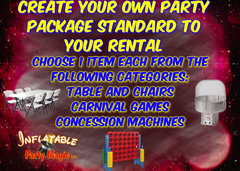 Create Your Own Package 2 Game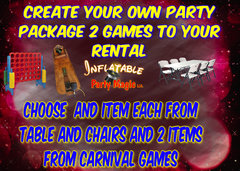 Create Your Own Package Basic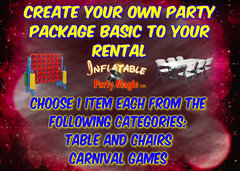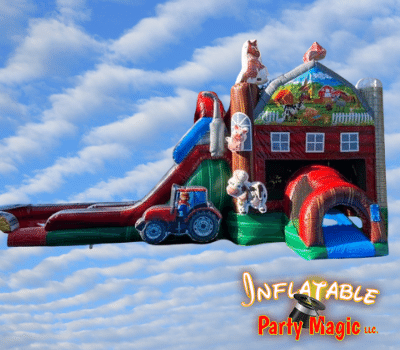 Water Bounce Houses for Smaller Kids and Toddlers
If you're looking for the best rental for smaller kids and toddlers, our water bounce houses are the perfect choice. These inflatables combine a bounce house with a water slide, keeping little ones busy jumping and sliding at your party. Not only are they a ton of fun, but they're also a safe and secure way to keep younger guests entertained. Water bounce houses are an excellent option for younger children and toddlers. Water bounce house rentals have become the most sought-after water inflatables to rent. Rent a water jumping castle for toddlers and younger kids to put the fun into your party!

Specifics on the Bounce Water Slide:
A bounce water slide is great for ages 2 to 12. Some of these bounce house with water slide combos are dual-lane which mean they will accommodate 2 children at a time on the slide. Single lane water bouncy houses only accommodate 1 child at a time on the slide. Each bounce house with water slide will specify if it offers a dual lane slide. All of our water bouncers are lead-free and built with safety in mind. We only use commercial manufacturers that are highly rated and insured to build our inflatables. You can rest assured that your children are playing on safe and cutting-edge equipment. The pictured combo to your right is the
farm water bounce house
. Check out all the bounce water slide options we have.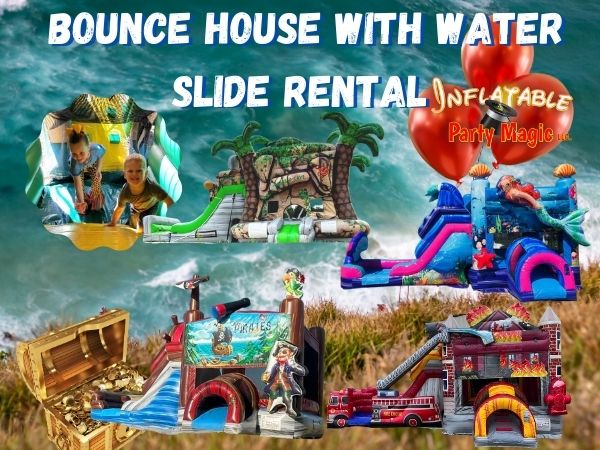 Bounce House with Water Slide Variety to Choose From
At Inflatable Party Magic, we understand that every event is unique. That's why we offer a wide variety of sizes and themes of bounce house with water slide to choose from when it comes to our water slide bounce house rentals. Whether you're planning a birthday party, corporate event, or just a fun day with friends and family, we have the perfect water slide to suit your needs. From tropical themes to princess castles, we've got it all. The possibilities are endless with all the water jumping castle choices you will find on our website. Rent a bounce house with waterslide to complete your party!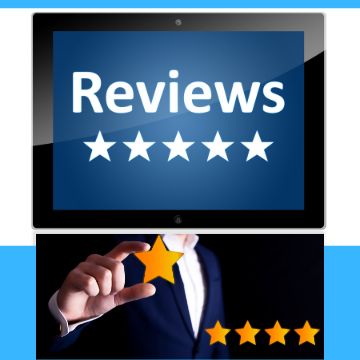 Trust Inflatable Party Magic to provide your Water Slide Bounce House Rentals
Trust Inflatable Party Magic to provide your water slide bounce house rentals in DFW. We have been renting bounce houses with water slides for over 20 years and take pride in what we do. Our customers and safety come first in our business.
We want you to be confident in your decision to use Inflatable Party Magic for your event. Take a look at our over 500 5-star customer reviews and don't take it from us. Our customers share their experiences with our products and customer services. You can also click on the Review picture to go to our reviews.
a week ago
We had such a great experience from the beginning, when we booked to the day of the party. We will be using for all future events. The employees were great, the bounce house was in perfect condition. Thanks for helping make our sons birthday party such a success!
9 months ago
100% recommend! The guys were professional and very friendly. We definitely got our money worth with the slide. We will be using this company from now on.
9 hours ago
They came and set up in about 10 minutes. Very fast and efficient. Great quality bounce house as well. The kids had the best time.
See all our
Reviews on Google
!
We rent Water Slide with Bounce Houses:

Looking for a water jump house near me? Inflatable Party Magic rents "water slide bounce houses near me" to the Texas cities of Cleburne, Keene, Alvarado, Burleson, Midlothian, Maypearl, Crowley, Godley, Joshua, Lillian, Granbury, Glen Rose, Acton, Tolar, Lipan, Aledo, Fort Worth, Southlake, Trophy Club, Rio Vista, Grandview, Venus, Waxahachie, Red Oak, Cedar Hill, Whitney, Covington, Itasca, Blum, Hillsboro, Kopperl, Morgan, Arlington, Mansfield, Kennedale, Everman, Rendon, Briar Oaks, Benbrook, River Oaks, Kennedale, Forest Hill, Grand Prairie, Weatherford, Cresson, and other cities in the following counties: Johnson County, Hill County, Ellis County, Hood County, Somervell County, Bosque County, and Tarrant County. Need to know if we service your area? Call us to see if we service your area? You can always contact us at 817-800-8618. The delivery prices listed for jumping balloon water slides are to our standard delivery areas. We do service additional areas. Those additional delivery prices will be shown in the cart after you enter your zip code.
Book a Water Bounce House Now for a Splash-Tastic Time!
Don't wait to book your water slide bounce house rental from Inflatable Party Magic. Our rentals book up quickly, especially during the busy summer season. With our 20 years of experience and commitment to customer satisfaction, you can trust us to deliver a high-quality, safe, and fun water jumping castle rental for your next event.

Below are just a few of our bouncy house with water slide rentals in the DFW area. Inflatable Party Magic has over 30 of the water jump houses to select from. We also rent dry
bounce house combos
if you are having a party without water.
Add Additional Event Rentals to Your Bounce House Water Slide Combo to Complete the Fun:
Need more to complete your bounce house water slide combo rental? You can't forget the
tables
, chairs, party games, cotton candy, popcorn, snow cone, photo booth,
mini golf courses to rent
etc. Inflatable Party Magic offers exactly what you need to make your party a complete success. You can add items or even party packages to complete your party needs with just a simple click of the button. Party games are low in cost, but high in fun when added to your order. Party and Event Extras offer that special party addition to occupy the kids and keep them fully entertained.
Are you looking for a stand-alone
waterslide to rent
? We have over 70 waterslides to choose from and can help you water party a blast. We also
rent bounce houses
without slides if you are looking for a more simple party rental without the water option or
water obstacle courses
for a bit of a challenge.
How to Rent a Water Bouncer:
Renting a water bounce house is simple. You can book your bounce house watersldie combo online or you can give us a call if you don't like doing things online and we will be happy to book your party rentals for you. If you choose to book online, you simply choose your date and event times and then answer questions and provide a $50.00 deposit to secure your rental quickly and easily online. You will find that our water slide bounce houses range in price from $275.00 to $350.00.
Our Water Slide Bounce House Rental DFW Service Area
NOTE: Travel Fees do apply to some areas.