Alvarado Water Slide Rentals

Inflatable Party Magic has the largest selection of Alvarado water slide rentals. We can handle any type of party your event you may be planning. Our inflatable water slides are the hottest water slides to rent in Alvarado. Our company can service all types and sizes of events. We rent waterslides to birthday parties, churches, schools, colleges, businesses and corporate parties, and more.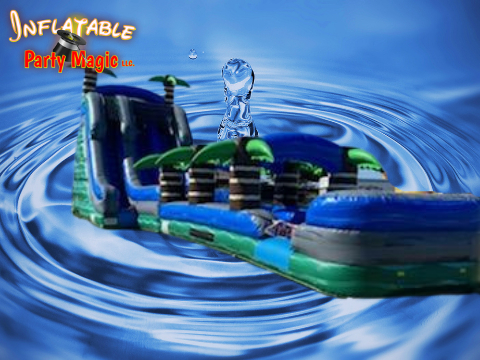 Best Water Slide Rentals in Alvarado
Cool off with the best water slide rental in Alvarado Tx. Inflatable Party Magic not only offers the largest selection of water slide rentals in Alvarado, Texas, but also quality products and excellent customer service.
You won't have to wonder about water slide prices as we make it easy and show all pricing with the picture of each waterslide. Inflatable Party Magic rents water slides in all price ranges. Look at our huge water slide selection below and you should be able to find one to fit your party and budget.
Renting a water slide has never been so easy! checkout our 24 hour online booking. Want personal assistance? give us a call at 817-800-8618 and we will help you book your water slide rental.
We offer water slides for kids, teens, and adults. Alvarado water slide rentals are not just for the kids. Inflatable water slides come in many forms and styles to satisfy all users.
Our company has 30 foot slip and slides in Alvarado, vertical water slides from 10 foot tall water slides to 24 foot tall water slides in Alvarado, and bounce houses with water slides attached to them.
Alvarado, Texas,
has some great places to have parties including the city parks. Inflatable Party Magic offers everything party! Check out our full line of Alvarado party rentals to make us your one stop shop in event entertainment rentals.
Water Slide Rentals Alvarado
  Water Slides
Hours for Water Slide Rentals
Displayed price is for up to an 8 hour water slide rental.
Inflatable Party Magic still offers 8 hour rentals for the same price most companies charge for 4 to 6 hour rentals.
Choosing more than 8 hours will add 7% per hour to your water slide rental order.
Please note: Water Hoses are not provided for your water slide rental. You must provide your own water hoses (enough to get from your water outlet to where you want to set the water unit)
Grow water hoses will not supply enough water pressure to correctly operate most water slide rentals. (grow water hoses are the ones that are small and coiled and expand as you stretch and add water) You will have to have other water hoses available if you typically use grow hoses.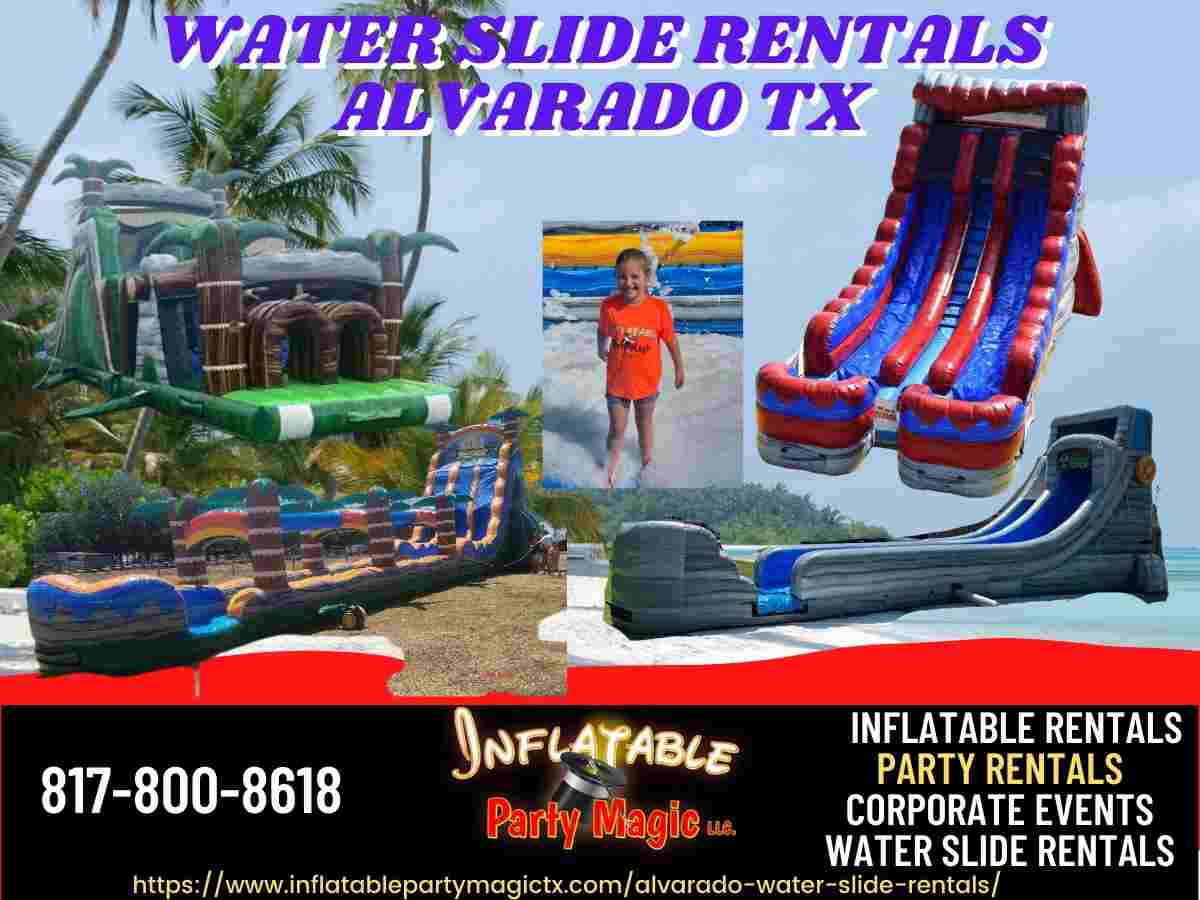 Inflatable Water Slide Rentals in Alvarado Tx
Inflatable Party Magic rents over 70 inflatable water slides in Alvarado ranging from 12 foot tall water slides to 24 foot tall water slides and just about everything in between. Our company also offers different styles of water slides such as water obstacle courses, slip n slide water slides, bounce houses with water slides attached, and vertical water slides. We feel the more options you have, the more of a chance that you will find the Alvarado inflatable waterslide rental that best fits your party or event needs. Remember Water Slide inflatable Rentals are not just for kids! Water Slide Rentals for Teens and adults are our specialty. Inflatable Party Magic wants to make sure that teens and adults can share in the fun of waterslide rentals. Adult water slide rentals are huge for our company. We know that Adults still wanna have fun as there is that inner kid just waiting to come out and play. In fact, the adults are infamous for kicking the kids off and stealing the fun for the day. In waterslide bounce houses, we have the most popular themes such as unicorn water slides, mermaid water slides, Paw Patrol water slides, Spiderman Water Slides, fire truck water slides, fire dog bounce house water slides, circus waterslide bounce houses, Frozen water slides, castle water slides, candy land water slides, Justice League water slides, tropical water slides, luau water slides, palm tree water slides, and much more. Check out all we offer to Alvarado water slides. If you are looking for Alvarado bounce house water slides inflatables, Inflatable Party Magic has you covered. We have water inflatable jump house rentals to entertain all ages from kids, teens, and adults. We have a Texas-sized selection of inflatable water slide bounce house rentals to choose from in Alvarado. No matter the age you are looking to keep busy, Inflatable Party Magic has a water slide rental for you in Alvarado, Tx. You will not find a better selection of waterslide bounce house rentals anywhere else in the DFW, Texas area. We also rent Alvarado bounce house with water slides inside. Rent a bounce house water slide in Alvarado for your next party or event! Your older kids and teens will love the larger water slide bouncer rentals. Teen water slide bounce house rentals and adult water slide rentals can be hard to find. We offer Giant Inflatable Water Slides to rent. Even adults love the 30 foot Slip and Slip rentals. Slip and Slides offer competitive fun for teens and adults. Inflatable Party Magic offers inflatable water slides rentals that everyone in your family can enjoy. Love us make your next party with an 18 foot tall water slide rental in Alvarado. Looking for something to To Do in Alvarado? There are so many options for fun, but if you want to stay home, let us bring the something fun to do to you! This video shares a bounce house water slide rental that we offer to the Alvarado Texas area. This bounce house water slide rental is perfect for smaller kids. They can bounce and slide the day away. We have so many options in the way of water slides to rent. Check out our water slide rental category to see them all.
Alvarado Water Slide Cleaning

You can rest assured that our Alvarado water slides are cleaned and sanitized to vey strict standards. We use CDC approved cleaners and clean them after every use and sanitize again before leaving them with you. We want you to be confident with your Alvarado inflatable water slide rental decision.


How to determine which inflatable water slide to rent in Alvarado for my age group

Need some help deciding which water slide inflatable to rent in Alvarado will work best for your guests? We would be glad to help you and recommend the best type for the age group you are satisfying.

Some pointers on choosing the best water slides for your age group are:
Ages 2 to 12: The Bounce House with Water Slides are great for this age group as this option includes a bounce house and a water slides. Smaller children tend to need something to keep their attention so multiple items within one unit are great. The slides on the water bounce house are also smaller. If you are wanting a vertical stand alone water slide for kids 2 to 12, Look at our water slides that are between 12ft tall to 16ft tall.

Teens and adults love inflatable slip and slides and water slides that 17 foot tall and above. 20 foot tall water slides are very popular with teens and adults.

You can contact us at 817-800-8618 for personalized assistance in deciding which Alvarado water slide rental will best suit your needs.
What other party rental items do you offer Alvarado?
Inflatable Party Magic also offers
bounce houses to rent
, and rentals of carnival games
Alvarado obstacle course rentals
, interactive inflatable games, dunk tanks, trackless trains, rock climbing walls, bungee trampolines, mini-golf, tables and chairs, tents, concessions, mechanical bulls, bumper cars, and more. We can handle the rentals for any size party or event your are having. Our business was established in 2002 and we have gained extensive experience during this time with smaller backyard parties, school events, corporate events, church events, and college events. Using our quality equipment and experienced and friendly staff is how we make your Alvarado or DFW event the best event ever.
We are the Best Place to Rent Water Slides in Alvarado Tx
Inflatable Party Magic is the best place to
rent water slides
in Alvarado Tx. Our company delivers to all of Alvarado with free delivery as it is part of our standard delivery area. Our company has been servicing the Alvarado area since 2002. We were one of the first companies to offer waterslide rentals to Alvarado. We have learned what kids and adults enjoy the most in the way of water slides to rent. Our company is fully insured and inspected so we can deliver to the parks such as the Alvarado City park and the
Alvarado School District
. We have provided rentals to the Alvarado High School and the Alvarado Elementary school. Our company takes pride in what we do and we strive to be your Alvarado water slide rental specialist. Let us show you the difference our company can make in your Alvarado water slide party. We also rent
waterslides to Midlothian
,
Burleson
, and
Aledo
.