Grandview Water Slide Rentals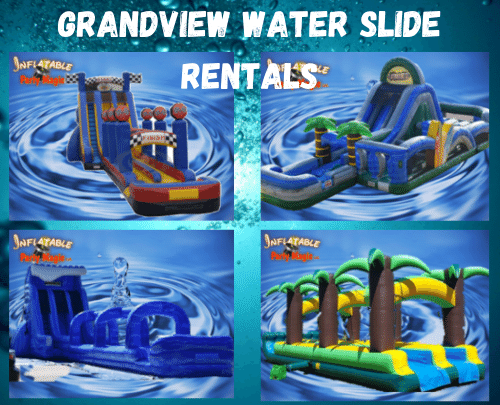 Inflatable Water Slide Rental Grandview Tx
Grandview Water Slide Rentals from Inflatable Party Magic are the best waterslides to rent in Grandview Tx. Are you ready to cool off with a water slide rental Grandview? We offer the largest selection of water slide rentals in Grandview, Texas. We offer water slides for kids, teens, and adults. Grandview water slide rentals are not just for the kids. Bounce house water slide rentals are available too! Inflatable water slides come in many forms and styles to satisfy all users. Our company has slip in slide water slide, vertical water slides from 10ft. tall to 24ft. tall, and
Grandview bounce houses
with water slides attached to them.
The city of Grandview,
has some great places to have parties including the city parks.
The Hottest Water Slides to Rent Grandview Texas
We are the most experienced inflatable water slide rental company in Grandview and the surrounding areas because we have been renting water slides since 2002. Our company takes pride in what we do and our employees are trained extensively in the area of safety and service to the customer. Rent a water slide from Inflatable Party Magic and see why we are the Hottest and most chosen company to rent a water slide in Grandview from.
Water Slide Rentals Grandview
  Water Slides
Hours for Water Slide Rentals
Displayed price is for up to an 8 hour water slide rental.
Inflatable Party Magic still offers 8 hour rentals for the same price most companies charge for 4 to 6 hour rentals.
Choosing more than 8 hours will add 7% per hour to your water slide rental order.
Please note: Water Hoses are not provided for your water slide rental. You must provide your own water hoses (enough to get from your water outlet to where you want to set the water unit)
Grow water hoses will not supply enough water pressure to correctly operate most water slide rentals. (grow water hoses are the ones that are small and coiled and expand as you stretch and add water) You will have to have other water hoses available if you typically use grow hoses.
What Age is a Water Slide Rental Best For?


Water Slide Rentals in Grandview are great for any age if you choose the correct water slide. Many companies, like our company, offer a selection of water slide for all ages. Our recommendations for ages on Water Slides are as follows:


Best Water Slides to rent for Ages 2 to 12
Water Slide Bounce house rentals are the best all-around water slide for children this age. The reason we recommend this type of slide for younger ones is for several reasons. One reason is that smaller children like to do multiple things and get bored with just one option. The water slide bounce house allows children to bounce, climb, and slide. This keeps them occupied and happy. The slides on the water bounce houses are smaller than stand-alone water slides and are also not steep. Even adults can enjoy the water bounce house rentals, but the fun factor ends at about 10-12. Not to mention that you have to crawl in a hole to enter the bounce house and get to the slide. This is a little difficult for adults and teens. That is why we put a max-age is for the fun factor.


Best Water Slides to rent for ages 7 to Adult
Vertical Water Slides and Slip N slides. Grandview Inflatable Water Slide rentals come in tall water slides that can range from 10ft. tall to 24ft tall and kids 7 and all the way to adult love these types of slides. Tall Inflatable Water slides are also available in double lanes so the participants can race adding another element of fun. and the slip n slide water slides are flat waterslides and are usually double laned. The Slip N Slide Water Slide rentals require participants to run and dive onto the slide and race to the end so they are no recommended for children under age 7.


Water Slide Rentals for Teens and Adult Water Slide Rentals
in Grandview, we recommend the Tall Water Slide rentals 17ft tall and larger. This size of water slide is fun for teens and adults. The added bonus of a double lane water slide rental adds a level competition and fun. The Slip N Slide water slides are also great for teens and adults as it requires physical agility and speed to be the first to the end of the lane. All or our slip n slide water slide rentals are double laned so the participants can race. That is what makes a slip n slide fun and challenging.

We hope this age recommendation for different type of water slide rentals helps you make your choice more easily on which Grandview Water Slide to rent.
Water Slide Rentals Grandview Options
Inflatable Party Magic offers over 70 water slides inflatable rentals ranging from 10 foot tall water slides to 24 foot tall water slides and everything in between. Our company also offers different styles of water slides such as water obstacle courses, slip n slide water slides, bounce houses with water slides attached, and vertical water slides. We feel the more options you have, the bigger chance you will find the Grandview waterslide rental that best fits your personal needs.

Remember Water Slide inflatable Rentals are not just for kids! Water Slide Rentals for Teens and adults are our specialty. Inflatable Party Magic wants to make sure that teens and adults can share in the fun of Water Slide rentals. Adult water slide rentals are huge for our company. We know that Adults still wanna have fun as there is that inner kid just waiting to come out and play. In fact, the adults are infamous for kicking the kids off and stealing the fun for the day.

Rent a water slide jumper in Grandview for your next party or event!

This video shares a bounce house water slide rental that we offer to the Grandview Texas area. This bounce house water slide rental is perfect for smaller kids. They can bounce and slide the day away. We have so many options in the way of water slides to rent. Check out our water slide rental category to see them all.
Water Slide Cleaning

You can rest assured that our water slides are cleaned and sanitized to vey strict standards. We use CDC approved cleaners and clean them after every use and sanitize again before leaving them with you. We want you to be confident with your Grandview inflatable water slide rental decision.


Which water slide inflatable rental do I need for my age group?

Need some help deciding which water slide inflatable to rent in Grandview will work best for your guests? We would be glad to help you and recommend the best type for the age group you are satisfying. The Bounce House with Water Slides are great for ages 2 to 12. Smaller kids also do well with stand-alone water slides between 10ft. to 16ft. tall. Teens and adults love slip and slides and water slides 17ft. and above. You can contact us at 817-800-8618 for personalized assistance in deciding which Grandview water slide rental will best suit your needs.
What other party rental items do you offer Grandview?
Inflatable Party Magic also offers Grandview inflatable rentals of bounce houses, carnival games,
Grandview obstacle courses
,
inflatable dry slides
, interactive inflatable games, dunk tanks, trackless trains,
mechanical bull in Grandview
rock climbing walls, bungee trampolines, mini-golf, tables and chairs, tents, concessions, and more. We can handle the rentals for any size party or event your are having. Our business was established in 2002 and we have gained extensive experience during this time with smaller backyard parties, school events, corporate events, church events, and college events. Using our quality equipment and experienced and friendly staff is how we make your Midlothian or DFW event the best event ever.
Check out our Texas-sized line
water slide rentals
and party rental that we deliver to Crowley, Waxahachie, Maypearl,
Midlothian water slides and party rentals
,
Mansfield water slides and party rentals
,
Fort Worth water slides and party rentals
,
Burleson water slides and party rentals
,
Alvarado water slides and party rentals
,
Arlington water slides and party rentals
,
Granbury water slides and party rentals
,
Godley water slides and party rentals
,
Maypearl water slides and party rentals
,
Waxahachie water slides and party rentals
,
Aledo water slides and party rentals
,
Weatherford water slides and party rentals
,
Crowley water slides and party rentals
,
Cleburne water slides and party rentals
, and more. You will not be disappointed in the quality or selection of water slides and other rentals we offer. Don't forget to add the table and chair rentals!